Crew chief Grubb stood strong when needed

By David Newton
ESPN.com
Archive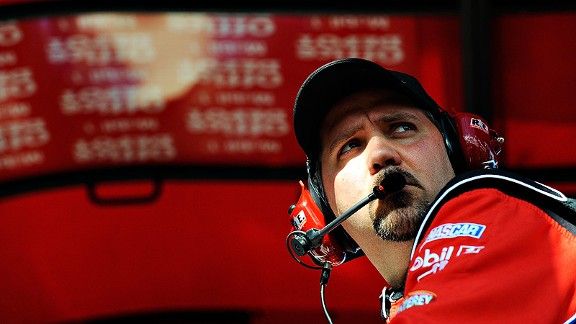 Jared C. Tilton/Getty ImagesCrew chief Darian Grubb made the right calls down the stretch to help Tony Stewart win the championship.
HOMESTEAD, Fla. -- One could argue that the most impressive thing about the 2011 Chase was Tony Stewart's winning five races after going through the regular season without any and capping it with an amazing come-from-behind victory in Sunday's finale.
One could argue that the most impressive thing was the class with which Carl Edwards handled defeat, losing the championship he craves so desperately by a tiebreaker after compiling an average finish (4.9) that would have won every Chase but this one.
The vote here, however, goes to Darian Grubb.
What Stewart's crew chief did in holding the No. 14 team together over the final five races after being told he wouldn't return in 2012, after being made to feel it was his fault the team struggled during the first 26 races, not only was impressive but also defied human instinct.
It would have been easy for Grubb to pack it in, particularly with the team in fifth place and seemingly out of contention 24 points back after the Charlotte weekend in which Stewart dropped the bombshell on him.
He could have become a virus, as we've seen lame-duck drivers do in a similar situation.
Grubb didn't. He took the high road at every turn. It was his dedication to winning the title as much as Stewart's rebirth behind the wheel that allowed this to become the best Chase ever, arguably the best season finale in NASCAR history.
It was almost surreal watching Grubb sit beside the three-time champion in the postrace news conference, holding his head high knowing the driver/owner he made crucial pit calls for throughout the day had at some point earlier this season lost enough faith in him to let him go.
It became even more surreal when Stewart said the only immediate plan he had for Grubb was, "I'm going to get him drunk."
Grubb sat there and smiled, never saying a negative word against his boss.
This wasn't Tony La Russa after leading the St. Louis Cardinals to the World Series title over the Texas Rangers.
La Russa retired.
Grubb was fired.
Perhaps when Stewart recovers from the late-night party he will rethink his decision, offer Grubb a ton of money -- he has a lot with the $5.6 million check that went to the champion on Sunday -- and move forward as a team.
Perhaps it's too late. Perhaps Stewart can't go back on an offer he made to Grubb's replacement. There was heavy speculation during the infamous Charlotte weekend that Steve Addington, Kurt Busch's crew chief at Penske Racing, would step into Stewart's crew chief role.
Sources told me Addington likely would not return as Busch's crew chief.
Perhaps Grubb's feelings were hurt to the point that he doesn't want to return. He has been offered a role at Hendrick Motorsports, where he won the Daytona 500 as Jimmie Johnson's interim crew chief in 2006, where as an engineer he helped Johnson win three of his five consecutive titles.
He also has been contacted, as he told me in the late hours Sunday night, by every organization in the garage about a job as a crew chief.
So Grubb has plenty of options. He says he'll likely take at least two weeks to make a decision.
It's still surreal.
Think about it. Stewart has won 11 races and a title in three years with Grubb calling the shots. He's made the Chase in each of those seasons, finishing no worse than seventh in points.
In his last three seasons with Greg Zipadelli, who led him to titles in 2002 and 2005 at Joe Gibbs Racing, Stewart won nine races and finished no better than sixth in points, failing to make the Chase in 2006.
Baffling.
"It is [baffling] to me, honestly," Grubb said. "I don't know what's going to happen. I was told early in the Chase before Charlotte I was not going to be here. We just kept fighting and doing everything we had to do every week.
"It did not change anything, what the outcome was going to be. We fought as if we were going to fight to win this championship, and we did it."
See, impressive. Even Stewart admitted Grubb was "the guy that they feed of in the pits" that "Darian is the guy that they read."
So when things looked their bleakest early in Sunday's race, when Stewart fell to the back of the field twice because of a hole in his grille that he aggravated further by running into the back of David Reutimann, the lame-duck crew chief held things together.
Grubb later came back to make what Stewart said was the key call, switching from a four-tire to two-tire stop in a split second when he realized a lug nut was hung in the air gun.
"That was huge," Stewart said.
Grubb didn't get excited and panic. He remained calm as he has been since arriving in 2009, in a way that didn't allow the team or Stewart to get down.
So what happens now? Stewart has made a lot of big decisions since leaving JGR after the 2008 season to become the driver/owner of Stewart-Haas Racing. He has perhaps the biggest one to make now.
"The good thing right now is that we are sitting up here right now as champions," Stewart said. "I don't think any of us are really too concerned other than having fun tonight and enjoying the accomplishments we have had over the last 10 weeks."
Grubb sat there and smiled.
Impressive.
Ed Hinton column | Terry Blount column | David Newton column | Racing Live! rewind | Recap | Results | Final standings
Nationwide Series: Stenhouse caps strong season with title
NASCAR gets a nod for forcing drivers to commit to one series and only one series, ending the string of five straight years that a full-time Sprint Cup driver had won the Nationwide title.
Ricky Stenhouse Jr. became the first full-time Nationwide driver since Martin Truex Jr. in 2005 to take home the hardware.
Kudos.
There still is the issue of Cup drivers dominating the wins. They captured 29 of the 34 wins, but as bad is it sounds, five times as many full-time Nationwide drivers won this year as in 2010.
You could see those numbers improve more next year. The invasion of Cup drivers into NASCAR's second-tier series likely will take a plunge with fewer competing because the reward isn't as great.
Carl Edwards said he could drive no Nationwide races or up to 20 depending on how things work out. He definitely plans to scale back heavily and devote more time to his family and possibly step into the broadcast booth as an analyst.
Kyle Busch is limiting himself primarily to Nationwide events that accompany Cup events.
Those two combined for 16 Nationwide wins this season.
The series still needs some help in terms of sponsorship. The companies paying the bills still want the big names and aren't willing to give the top dollar it takes to run a team.
The situation is so dire that Stenhouse doesn't have sponsorship for next season, although team owner Jack Roush has committed to giving him a ride in one of two Nationwide cars he hopes to field.
The series also gets a boost next season with Danica Patrick running a full-time schedule. The attention she draws alone will help, and if she shows any improvement over what she made from 2010 to 2011, she could be in contention for top five in points.
Former Indianapolis 500 champion Sam Hornish Jr. also should give the series a spark. He won two weeks ago at Phoenix, and team owner Roger Penske predicted the three-time IndyCar Series champion will be in Victory Lane a lot more.
Then there's the full-time return of the No. 3 to Nationwide when Truck Series champion Austin Dillon steps up to that series, another win for NASCAR.
Ryan McGee blog | Recap | Results | Final standings
Camping World Truck Series: 3 back in the limelight
Yes, Austin Dillon made the No. 3 with which grandfather Richard Childress and Dale Earnhardt won six Cup titles a champion again.
That raised the question of whether the 3 should return to the Cup series, in which Dillon likely will run a few races in 2012 before making the full-time jump in the next few years. The number should return. It has been idle long enough since Earnhardt's tragic 2001 death.
Dale Earnhardt Jr. agrees, even though Childress, who owns the number, says it won't happen.
"I just look at it differently,'' Junior said. "I don't look at the numbers tied to drivers as much as just the history of the number. The number is more of a bank, you know, that you just deposit history into. It doesn't really belong to any individual.
"Austin's ran that number, and you can't really deny him the opportunity to continue to run it. It just wouldn't be fair. Dad did great things. ... But even before that, the number was Richard's. Richard drove it. And someone else drove it before then.''
As for the Truck series, it could be in trouble. Sponsorship is an even bigger issue, and it is becoming increasingly difficult to sell to tracks because there isn't a financial advantage.
But NASCAR seems committed to the Truck series, a training ground for drivers such as Austin and his brother, Ty, who will move into a full-time ride for Richard Childress Racing next year.
Ed Hinton blog | Recap | Results | Final standings
David Newton covers NASCAR for ESPN.com. He can be reached at dnewtonespn@aol.com. Follow him on Twitter at @DNewtonespn.
Racing Resources says …
Sprint Cup Series

Tony Stewart won the Sprint Cup Series Ford 400 at Homestead-Miami Speedway on Sunday and with that won the 2011 championship, the third title of his career. It was his 44th win in his 464th start and his fifth win of 2011, all in the 10 races of the Chase. His five wins in the 2011 Chase are the most wins a driver has had in the playoffs. This was Stewart's 11th win with crew chief Darian Grubb and his third win at Homestead in his 13th start. His three Homestead wins are tied with Greg Biffle for the most. This was the seventh time the series champion won the last race of the season. The last time was Jeff Gordon in 1998. Stewart led four times in the race for 65 laps, including the final 36. Edwards led the most laps (119).
Stewart started the Chase ninth in points, the furthest back a driver has come back to win the series championship. This was the first time the series champion entered the Chase winless. Stewart won the 2011 championship on a tiebreaker after scoring the same number of points as Carl Edwards. He won the championship on the first tiebreaker, which is total wins. Stewart won five times in 2011 to Edwards' one.
The six victories for Stewart-Haas Racing in 2011 tied for the most in the series. This was the team's first Sprint Cup Series Homestead win, and SHR is only the fourth organization to win at Homestead.
Edwards (finished second) got his fifth top-5 finish at Homestead and 19th top-5 finish in 2011, the most of all drivers. His average finish of 4.9 in the Chase is the best ever by a Chase driver.
Martin Truex Jr. (third) earned his second top-5 finish at Homestead, third top-5 finish of 2011 and first in the past 12 races. He finished in the top 10 in four of the last five races.
Matt Kenseth (fourth) earned his third top-5 finish at Homestead. It was his 12th top-5 of 2011 and fifth top-5 finish of the Chase, and he finished fourth in points.
Jeff Gordon (fifth) got his sixth top-5 finish at Homestead, 13th top-5 finish of 2011 and third of the Chase, leaving him eighth in points.
Clint Bowyer (sixth) got his fourth top-10 finish in the past five races. He finished 2011 13th in points with four top-5 finishes and 16 top-10 finishes.
Kasey Kahne (seventh) had to pit 13 times to make adjustments to the car. He had 15 top-10 finishes in 2011, including seven in the past eight races.
Jeff Burton (10th) earned five top-10 finishes in 2011, including four in the last five races.
Jimmie Johnson (32nd) finished sixth in the standings, his lowest points position in his 10th full-time season.
Nationwide Series

Brad Keselowski won the Nationwide Series Ford 300 at Homestead-Miami Speedway on Saturday, his 17th career series win in his 168th race. It was his first win at Homestead, and he was the 13th different driver to win there. It's the 15th different track that he has won on. It was his fifth win of 2011, third-most in the series and his third win in the past seven races. All his wins came on 1.5-mile tracks. He led four times for 66 laps, including the final seven.
It was the 23rd career win for Penske Racing and the team's second win at Homestead. Penske won seven times in the series in 2011.
It was Dodge's seventh win of 2011 and second win at Homestead.
Ricky Stenhouse Jr. (finished second) earned his ninth straight top-10 finish. He clinched the series championship on Lap 28.
Carl Edwards (third) finished in the top three in his past nine starts. He clinched the owner's championship for the Roush Fenway Racing No. 60 car.
Clint Bowyer (fourth) got his seventh top-10 finish in 10 starts in 2011.
Denny Hamlin (fifth) had top-seven finishes in all five races of 2011. He drove the No. 18, which lost the owner's championship by three points.
Elliott Sadler (sixth) finished a career-best second in the championship, 45 points back. He rebounded from a loose lug nut penalty and a speeding penalty in the race.
Brian Scott (ninth) earned his fifth top-12 finishes in his past seven races.
Timmy Hill (21st) won the rookie of the year.
Camping World Truck Series

Johnny Sauter won the Ford 200 at Homestead-Miami Speedway. It was his fourth career win in his 86th start and his first win career win at Homestead in his fifth race there.
Sauter scored his second win of 2011 -- he also won at Martinsville in the spring.
Sauter led 44 laps, the most of all drivers. He led the most laps in all four of his Truck series wins.
Sauter finished second in the standings to champion Austin Dillon, six points behind. Sauter finished the season with two wins, 11 top-5 finishes and 16 top-10 finishes.
ThorSport Racing posted its seventh Truck series win overall and third victory of 2011.
Chevrolet posted its fourth win at Homestead and 15th victory of 2011.
Denny Hamlin (second) finished second in his first start at Homestead. He nearly took the lead on the final lap of green before the caution came out for rain.
Kevin Harvick (third) had his fourth straight top-5 finish at Homestead and ninth top-5 finish of 2011 in 10 starts (the last Truck series race for Kevin Harvick Inc.)
Rookie Nelson Piquet Jr. (fourth) finished 10th in the standings after six top-5 finishes and 10 top-10 finishes.
Joey Coulter (fifth) clinched rookie of the year and tied his career-best finish with a fifth-place finish.
Ty Dillon (sixth) had his second top-10 finish in his third series start.
Elliott Sadler (seventh) scored top-10 finishes in six of his nine starts in 2011.
Timothy Peters (eighth) ended the season fifth in points with seven top-5 finishes and 12 top-10 finishes.
Austin Dillon (10th) won the series championship on the strength of two wins, 10 top-5 finishes and 16 top-10 finishes.
James Buescher (12th) finished third in points with 10 top-five finishes and 19 top-10 finishes in 24 starts.

-- Racing Resources