Matt Kenseth Rolls Dice At Kentucky
Sprint Cup: Jimmie Johnson still in great shape
Superman apparently has a weakness.
Restarts.
And it apparently has gotten into his head to the point where it could play a role in his quest to win a sixth Sprint Cup championship.
Jimmie Johnson, dubbed Superman by Mark Martin in 2009, had a restart issue for the third time this season and second time in five races on Sunday at Kentucky Speedway.
It turned another dominant performance into a ninth-place finish for the five-time champion.
Johnson was so frustrated that he didn't hang around long to discuss his issues in detail -- a rarity for the Hendrick Motorsports driver -- saying only that Matt Kenseth broke the pace-car speed during a brief interview with PRN as he left the track.
Restarts have become such an issue for Johnson that TNT analyst Kyle Petty, warning ahead of time that he was being sarcastic, said, "Let's let Jimmie Johnson write the restart rules.'' But Johnson has left the door open for such criticism, something he rarely gets for anything but winning too much.
After the March 3 race at Phoenix, Johnson called out eventual winner Carl Edwards for the way he restarted the race.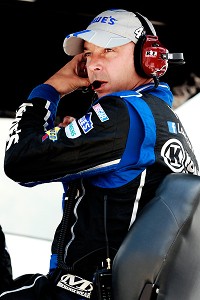 Chris Trotman/Getty ImagesDon't be too concerned about Jimmie Johnson and crew chief Chad Knaus, above. The 48 team still leads the Sprint Cup standings by 38 points.
"I felt like Carl didn't follow the restart protocol and was slower than the pace car on his last two restarts, and it gives the leader a huge advantage when that happens," said Johnson, who went on to finish second in that race.
After the June 2 race at Dover, Johnson accused Juan Pablo Montoya of deliberately slowing down to force him to jump the restart that drew a pass-through penalty and turned what appeared a sure victory into a 17th-place finish.
Then on Sunday, with 21 laps remaining, Johnson accused Kenseth of breaking the pace car speed moments before he spun out after restarting second.
"We were kind of in an awkward situation in that restart there,'' said Johnson, who rallied to finish ninth in a race he led 182 of 267 laps.
"The No. 20 [Kenseth] broke the pace car speed, which you aren't supposed to, but they aren't calling guys on that so I need to start trying that in the future."
Kenseth didn't appear to do anything wrong en route to his series-best fourth win of the year. He was surprised Johnson was upset.
What shouldn't get lost in all of this is that Johnson, weakness on restarts or not, remains the driver to beat. He easily could have won four of the past five races instead of one of five.
He's led 41.5 percent of the laps -- 471 of 1,137 -- in June. Second-best is Kyle Busch with 150, and all of those were at Dover.
Kenseth hadn't led a lap in three straight races, and wouldn't have been in position to lead at the end of this one had he and crew chief Jason Ratcliff not gambled with a no-tire stop.
That's something else that doesn't need to be lost. Kenseth had to gamble to be in position to keep Johnson from winning. So there's no arguing the No. 48 team remains the favorite.
But the list of legitimate challengers behind Johnson is growing:
• Kenseth -- Three of his four wins this seasons have come on 1.5-mile tracks that make up half of the 10-race Chase. If the playoffs started today he'd be first, and few are known for their consistency more.
• Clint Bowyer -- At some point he needs to win to become a true contender, but his third-place finish at Kentucky gave him an average finish of 5.0 over the past three races and 7.8 over the past seven. That'll keep you in championship contention.
Blount: Kenseth makes good call stick

Matt Kenseth and crew chief Jason Ratcliff made a great gamble late in the race at Kentucky to earn the win Sunday. Beating Jimmie Johnson and Chad Knaus? Icing on the cake, writes Terry Blount. Story
• Kevin Harvick -- Few have noticed because of his lame-duck status, but the Richard Childress Racing driver has seven straight top-10s to go along with his two wins. That's the kind of consistency that wins championships and makes you wonder if going to Stewart-Haas Racing next year is such a good idea.
• Kyle Busch -- His fifth-place finish was his fourth of sixth or better in the past five races, and he's capable of running off a string of wins anytime now that Toyota Racing Development appears to have found a good balance between power and engine durability.
• Joey Logano -- Don't laugh because he's on this list. His fourth-place finish moved him to 10th in points and gave him six straight finishes of 11th or better, an average of 7.6. Had Johnson not blown the restart right in front of him he had a car capable of winning.
There are several others, and many aren't in the top 10. A mere 22 points separate 17th-place Aric Almirola from 10th. Four-time champion Jeff Gordon in 12th is only two points out of the top 10 with his second straight top-10. Kurt Busch, the 2004 champion, is only 16 points out after his second straight top-10 and third in four races.
If you noticed defending Cup champion Brad Keselowski hasn't been mentioned as a contender at this point it's for good reason. The Penske Racing driver is 13th in points after being the victim of Kurt Busch's over-aggressiveness early at Kentucky.
He's had only one top-10 in his past nine races and has five finishes of 21st or worse. With Kasey Kahne and Tony Stewart outside the top 10 with a win each, Keselowski is in danger of becoming the first defending champion to miss the Chase since Stewart in 2006.
He could be in danger of becoming the first defending champion to finish worse than 12th in the standings over the past 40 years -- not counting 1992 champion Alan Kulwicki, who died in a plane crash in 1993.
So while Superman Johnson may have a weakness on restarts, he's in much better shape than the rest of the field.
And he'll be one of the favorites this week at Daytona International Speedway, where he kicked off the season with a victory in the Daytona 500.
ESPN Staff Writer
Covered Panthers, NFL for 11 years
More than 25 years experience covering NFL, college football and NASCAR
Joined ESPN in 2006
Nationwide: Keselowski Stays Afloat In Downpour
Nationwide: Cup boys dominate
Once again, the Nationwide Series proved to be a playground for the Sprint Cup organizations of Penske Racing and Joe Gibbs Racing.
The only difference is rain played a role.
Reigning Sprint Cup champion Brad Keselowski won the rain-shortened event on Friday night at Kentucky Speedway, giving Penske Racing two straight Nationwide wins and five this season. The only organization with more is JGR, which has six with Cup regular Kyle Busch.

Keselowski
Busch dominated much of this event, leading 74 laps. A slow pit stop left him back in the pack before the rain and he settled for fifth.
JGR teammates Elliott Sadler and Brian Vickers were second and fourth, respectively. That meant the only non-JGR or Penske driver in the top five was Truck series points leader Matt Crafton.
In Nationwide-only news, an engine problem reduced standings leader Regan Smith's 28-point lead over Justin Allgaier to eight over Sam Hornish Jr.
Smith finished 30th a week after finishing 32nd at Road America. The week prior to that he won at Michigan to build a 58-point lead that has all but disappeared.
Back to Cup/Nationwide news: Keselowski has proposed in the past that Cup drivers be allowed to compete in the Nationwide Series only for teams that aren't owned by a Cup team, as his and Busch's car are.
"There is a need for Cup drivers to be in there." Keselowski told reporters in Kentucky. "Does it need to be the whole Cup field? No. Are there more Cup drivers in there now than ever before? No. I still remember my first Nationwide start for JR Motorsports and there were like 26 Cup drivers in that race.
"We don't see that anymore. I think a lot of it is because of Kyle and his success and that isn't necessarily fair. On the other side of it, having been one of those guys trying to prove himself and driving as an inexperienced driver and not having all the resources that a Cup team has, you basically have zero shot at all of being successful or competitive."
Keselowski finished third two straight years for JR Motorsports before winning the Nationwide Series for Penske Racing in 2010.
Keselowski suggests Cup drivers either compete in their own equipment as Busch did a year ago at Kyle Busch Motorsports or for another team to balance out the competitive advantage Nationwide teams owned by Cup organizations have.
"I think it would return the competitive balance and give the drivers an opportunity to compensate for their disadvantages in experience and so forth." he said. "I think it naturally levels itself out. I felt that way at JR Motorsports. Even though we had some support from a Cup owner it still wasn't a Cup team and still wasn't a Cup-owned team in my mind."
It could work. Busch didn't win a race last season driving for KBM. His average finish was 11.1, compared to 4.8 this year with 11 top-5s in 12 races for JGR.
Busch said he is open to Keselowski's proposal.
"I don't mind that idea," he said. "I tried it last year with my team and it was fine. I felt like we had made a lot of gains throughout the year and late in the year my worst finish was 10th at Montreal and I got wrecked three times in that race.
"I don't mind racing my own stuff again, that would be fine."
Meanwhile, the Nationwide Series will remain a playground for Penske and JGR.
Camping World: Doozy for Dillon
Watching Ty Dillon prance and dance and hug his Richard Childress Racing team near the finish line at Kentucky Speedway on Thursday night was priceless.
Thank goodness we got to see it.
Dillon
Sprint Cup regulars Kyle Busch and Brad Keselowski were the odds-on favorites to celebrate. Had they, it wouldn't have been nearly as emotional as Dillon's celebration because this doesn't rank as a major accomplishment to them.
It was for Dillon, who collected his second career win in the iconic No. 3 and put himself back in the running for the championship.
That he beat Keselowski and Busch, "two of the best on four wheels right now, was really special.''
"I look up to those guys and I want to be like them," Dillon told reporters afterward. "To be able to beat them was really special."
I'll give him that, even though he shouldn't have to beat those two for the victory in NASCAR's third-tier series. He should have been racing series regular Ryan Blaney for the victory, but Blaney was forced into the wall trying to pass Busch for the lead earlier.
"I forced him to go to the bottom to block me and jumped back up to the top," said Blaney, who finished fifth. "And he just put us in the fence there off of [Turn] 4 and destroyed our right side."
Busch told reporters it wasn't intentional, that his truck got "super loose." Blaney agreed, but still felt he was the driver to beat before that incident caused by a driver outside the series.
"I honestly think we had the truck to win,'' Blaney said. "If we could've gotten in front of Kyle, I'm not sure the 3 could run us down.''
Dillon had little trouble running down Busch and getting around him with 26 laps remaining. Once he did he left the field behind.
The victory moved him up three spots to third in the standings, 40 points behind Matt Crafton. Jeb Burton is second, 22 back.
Now, as Dillon said on television afterward, he has a chance to contend for the title.
And he won't have to beat Keselowski or Busch for that.