Ryan Newman Wins Brickyard 400 From Pole
Sprint Cup: Job-seeking Newman steals the show
As a team owner, Tony Stewart's most blatantly successful motivational tool so far has been to fire a guy. Smoke tells you that you're gone at season's end, you produce results on the way out.
The other pattern we saw continuing in Sunday's Brickyard 400 was that sometimes Chad Knaus cannot cajole, coach or browbeat his crewmen into holding onto lug nuts.
Those two patterns melded to send the job-seeking Ryan Newman to a win, and deny Jimmie Johnson a fifth victory at Indianapolis Motor Speedway.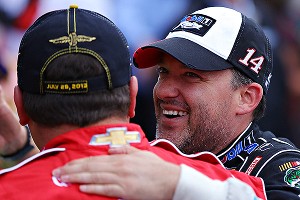 Justin Edmonds/Getty ImagesThe post-Brickyard 400 celebration between Ryan Newman, left, and Tony Stewart was bittersweet.
Look at 2011, when Stewart told crew chief Darian Grubb, before the Chase, that he was out when the season was over. Grubb proceeded to send Stewart to a resounding five wins in 10 playoff races, and the championship.
Now comes Newman, whom Stewart told a couple of weeks ago that there just wouldn't be room at Stewart-Haas Racing once Kevin Harvick arrives in 2014. Newman responded by driving a coolly calculated race, like the engineer he is, to win at Indy.
Look at 2010, the last of Johnson's five straight championships, when crew chief Knaus, troubled at the miscues of his over-the-wall crew and unable to get them into the sync he wanted, swapped all seven players for Jeff Gordon's seven, for the final two races of the season.
Now comes the final, crucial, highest-pressure stop of Sunday. All Knaus' crew has to do is get Johnson in and out with a smooth stop for four tires and gas, and Johnson is away to a NASCAR-record fifth Indy win.
The entire difference in Sunday's outcome you could see on the video replay of Johnson's stop. One motion of the right hand of the right-rear tire changer, down to the pavement and then back up to the wheel, changed the race for keeps. Whether he dropped a lug nut, or it wasn't glued properly to the wheel and fell off, or whether it got knocked off, wasn't clear.
But that one motion of a hand slowed down the stop so badly that after Newman's crew chief, Matt Borland, called for just two tires on the next lap, Newman returned to the track with a seven-second lead over Johnson.
Johnson has been known to make up such mistakes all on his own, on the track, but this time he couldn't run Newman down.
"I got within probably three seconds, beat myself up pretty bad," Johnson told reporters at the track. "I think Ryan was being smart, too. Once I got to a certain distance, I believe he decided to go 100 percent. He had plenty of speed today."
"Matt's call gave me the track position I needed, taking the two tires," Newman said. "I was just counting down the laps from that point on."
Stewart is by no means a hatchet-wielding boss. He goes for soft landings. He helped get Grubb a new job with Denny Hamlin, and he'll do what he can to help Newman find another ride.
Stewart called his emotions "extreme to extreme" -- having to inform Newman he wouldn't be returning, and then celebrating a much-needed win with not just an outgoing employee but a friend and fellow Hoosier he's known since they were racing midget cars "many, many moons ago."
"When you run a business, you've got to make decisions that you think are best for the company," said Stewart, who finished fourth in Sunday's race. "The hard thing is, you have to take emotion out of the equation."
That was tough for Stewart, who admitted that "I'm emotionally invested" in the businesses he runs.
"Even before Ryan came and drove for us, we were friends," Stewart said. "So that made that decision, and that phone call telling him, that much harder."
Then Sunday, "It's not just winning with a driver that drives for us," Stewart continued. "It's my friend out there that won the race today, too."
All told, Stewart concluded, "It's on the good end of the extreme this week."
Analysis: Newman Makes A Statement
Nationwide: Kyle Busch Dominant At Indy
Nationwide: The Busch Series
Oh, well. Look on the bright side, lovers of some semblance of competition:
At least Kyle Busch has had two straight close calls late in his two straight dominant Nationwide wins, the latest, on Saturday, a little more meaningful for him because it occurred at Indianapolis Motor Speedway.

Busch
Otherwise, here's the Busch league statistical update: Kyle is now batting .533 with eight wins, including two straight, in 15 starts. Nationwide sponsors it and NASCAR sanctions it, but Rowdy owns it.
A couple of weeks ago, after his win at New Hampshire -- made suspenseful only by a fuel cell drained nearly dry by green-white-checkered -- we harkened back to the series' pre-Nationwide name and called it the Busch Series in light of his dominance.
But Rowdy doesn't run the whole series -- just whenever he pleases. And when he does, he checks out all alone into a league of his own, making those who try to chase him look small-time in his wake.
Saturday, it appeared for a moment that a Nationwide regular, Brian Scott, might break up the Busch league, head-to-head, on the final restart with six laps left.
Joey Logano masterfully held Busch down on the inside entering Indy's notorious Turn 1. That caused Busch's car to push up the track into Logano's, and their contact allowed Scott to slip underneath both and get away ...
But that lasted only three laps. With three more left, Busch showed the dominance that let him lead a total of 92 of the 100 laps. He got past Scott and ran away into the distance again.
On the restart, "I got down into 1 and just lost all grip," Busch told ESPN reporters at the track. "I just slid. I was turning left, turning right, just trying not to get into Logano. I got into him, and we chased it up the racetrack."
"I pinned him really low into the corner," Logano said. "I took all the air off his car, but I had a good restart and got in front of him into the corner. So I did what the plan was, to put him down there, and hopefully he could hold onto his car and not slide up the racetrack.
"That wasn't the case," Logano said. "We went sliding up the racetrack, up into the marbles."
That gave Scott an opening and a shot at his first Nationwide win, but he had to settle for a career-best second place.
Focusing on corner entry that would keep clean air off Busch's car, Scott gave up the winning pass when "I just over-slowed into Turn 1 and allowed him to get to my bumper and move me up the racetrack."
After that, it was all Busch league again.
Camping World: Back to the future
It would be oversimplification just to agree with the consensus -- from NASCAR, drivers, fans and media -- that the Mudsummer Classic was a resounding success for dirt.
Owner Tony Stewart's spectacular show at Eldora Speedway on Wednesday evening was also a back-to-the-future milestone for a format. Not just a dirt format, but an ancient short-track format that clearly still works, and that NASCAR should keep in mind for the future.

Stewart
Five heat races, a last-chance race and then the big show broken into three segments. The 20,000-plus fans who packed Eldora's stands and knolls, and a national TV audience, were rewarded with result after result after result, early, often and then late.
Retired ringmaster Humpy Wheeler, longtime president of Charlotte Motor Speedway, a showman with deep roots in dirt tracks, has been advocating a breakup of some of NASCAR's major races -- I mean Cup and Nationwide, as well as Trucks -- into the heat and feature format.
Stewart's show amounted to a slamming, sliding, dirt-spraying PowerPoint presentation to illustrate Wheeler's argument.
The heat races were eight laps each, for seven cars each. Clearly, you don't need 43 cars -- or even eight cars -- for a good show. And you don't have to run 500 miles -- 4 miles are plenty.
And the fans were gratified with quick results -- 58-year-old Ken Schrader won the first heat. Dirt ringer Jared Landers won the second, but only after outdueling never-on-dirt Darrell Wallace Jr., who spun out of the dogfight but learned a lot, laughing all the way.
In the third, Timothy Peters reaffirmed that good drivers can adapt to dirt quite quickly, beating Kyle Larson, who came up on dirt. Kenny Wallace won the fourth, but not without a fight from reigning Trucks champion James Buescher -- again, good drivers get the hang of it quickly. Jeb Burton drove the point home to win the fifth.
In the last-chance race, 10 cars for 15 laps, it couldn't have gotten any better than 61-year-old Norm Benning slugging it out, slamming and sliding, over Clay Greenfield for the last transfer spot.
Best about the big show -- 150 laps broken into segments of 60, 50 and 40 -- was that no pit strategy was needed. Everybody stopped together, with equal time, after each segment. And positions didn't change due to pit exit order.
Pit stops don't belong in dirt racing. The action is all on the track. A lot of fans like the pit strategies in 500-mile racing on paved tracks. But keeping all the action on the track and away from the pit road might make sense in some major league races, even Cup.
Why not, for example, try the heat and feature format at a track such as Bristol, whose spring-race crowds have been in woeful decline? Couldn't hurt.
Maybe award points for winning segments, as Larson won the first 60 laps and Austin Dillon won the second and third segments, and the race.
Throughout the evening, there was none of this droning, yawning, well, "he's leading now but it's very early and there's a long way to go" stuff. Wham, bam, results every few minutes.
So, of course, agree resoundingly with the consensus that dirt triumphed mightily on Wednesday night at Stewart's track. But add that dirt triumphed because a short-track format was used -- a format that is as time-proven in racing as dirt itself.