Kasey Kahne Victorious At Pocono
Sprint Cup: Kahne gets assist from Kurt Busch
Maybe restarts are overrated. Or maybe Kurt Busch just made it look that way on Sunday.
You know that "killer run" Jeff Gordon thought Kasey Kahne used to beat him at Pocono? Moments after Gordon had made what appeared to be a textbook restart with two laps to go? And just after Kahne, admittedly weak on restarts anyway, had blown another one?
Pass it off, if you will, as the sheer willpower of Kahne, driving the best car in the field, to overcome his mistake and force the issue in a duel of teammates from powerful Hendrick Motorsports.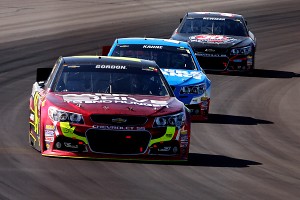 Elsa/Getty ImagesJeff Gordon appeared to be streaking to victory Sunday at Pocono, but Kasey Kahne had other ideas.
But this wasn't so much a matter of a killer run by Kahne as a killer push from Busch, who was overachieving again for his one-car Furniture Row team.
Busch won the race -- for Kahne.
"On that final restart, I spun my tires a little bit," Kahne told ESPN reporters at the track. "[Gordon] got a great jump."
But then, "Kurt pushed me all the way to Turn 1, which really helped," Kahne said.
Pocono Raceway, with its long, wide front straightaway, is more conducive to drafting, in places, than any other non-restrictor-plate track. So Busch -- restarting fourth, right behind Kahne, who was starting on the outside alongside leader Gordon -- propelled Kahne right on past Kahne's mistake.
Now this was not necessarily a conscious favor, as happened when Busch had pushed then-Penske teammate Ryan Newman to a Daytona 500 win in 2008.
Sunday, "the only option I had was to push Kahne," Busch said, "and I felt like we got hooked up in one of those two-car drafts, and got him clear of the 24 [Gordon]."
In the same moments Busch was trying to find a way to win himself. As it was, he settled for third, the fifth top-5 and ninth top-10 finish of the season for his underdog team.
"I wanted to go to [Kahne's] high side," Busch said, "but I would have definitely been a fish out of water in the gray in Turn 1."
That likely would have made for another wreck in Busch's season of chance-taking, and "it would have been pretty big," he said.
Give Kahne credit for taking the push and running with it, and continuing the rocket ride through Turn 1 and into 2, the notoriously precarious "tunnel turn" in the triangular track.
"I just drove down into 1 as far as I felt I could," Kahne said, "and I got some speed momentum down the back and beat Jeff to Turn 2. That was kind of the race at that point."
"I got a perfect restart," Gordon said. "It looked like I needed to block the inside, so I kind of protected the inside. And he blasted up there on the outside and flat outdrove me through 1."
But Kahne wouldn't have gotten that shot -- would have been left embarrassed by another poor restart when it mattered most -- if Busch hadn't propelled him there.
Kahne Captures Second Win At Pocono
Nationwide: Keselowski's turn
Kyle Busch wasn't there, so that helped. But Brad Keselowski was, so there went another chance for a Nationwide regular to win.

Keselowski
Give Keselowski credit. He makes a show of his forays into the second level. Saturday evening, he didn't take command at Iowa Speedway until there were 35 laps left. Before that, he let the sellout crowd watch him work back from a pit-road penalty and an overheating engine.
But when it was over, Keselowski, the only Cup driver in the field, had his third Nationwide win in three starts this season. Not as overwhelming as Busch's eight wins in the 15 races he has dropped into this year, but Brad K. is batting 1.000 in NASCAR's version of Triple-A ball.
He -- or rather, his circumstances -- left Busch's usual role, running away and dominating most of the race, to Nationwide points leader Austin Dillon, who led the most laps (116).
But on a pit stop under a caution that came out with 50 to go, Dillon's crew opted for four tires while most other teams were changing two, and made a track-bar adjustment that didn't work. Dillon came out of the pits fifth and wasn't a threat after that.
Keselowski took the lead with 35 to go, then beat Brian Vickers on a restart with 22 left, and that was that.
To show his stuff after the earlier ordeals, "We just needed to get up to the front," Keselowski told ESPN reporters in Victory Lane. "And at the end, we were able to do that, and it was ours to win."
His Penske Racing teammate, Sam Hornish Jr., finished second. But that 1-2 finish was more of a parade than a competition, Hornish acknowledged afterward.
"Brad was just playing with us there a little bit at the end," Hornish said. "He let me catch up to him."
See? Keselowski really is a showman. So if a Cup driver is going to drop into the second tier, he just makes it more fun than Busch's runaways.
Camping World: Blaney prevails
Pocono, was it? Nah, this had to be Daytona or Talladega, the way the finale to Saturday's Trucks show seemed.
Put the squatty pickups on the long frontstretch of the weird 2.5-mile triangle, and who needed restrictor plates for a push-and-pull war in the draft?
Ryan Blaney won it. First he battled an impromptu drafting tandem of Miguel Paludo and German Quiroga Jr. and then breezed away on the second green-white-checkered restart.
It was the second win of the season for the 19-year-old son of veteran Dave Blaney. He'd first been dazzling as a prodigy on the short track at Iowa in June.
In Victory Lane, Blaney the younger had legitimate reason to plug the Detroit manufacturer for his team, owned by Brad Keselowski.
"These Ford motors really gave us the pull we needed on restarts, and that's what it came down to," Blaney told Fox reporters -- quite rightly. He just had the horsepower.
On the previous restart, Quiroga in a Chevrolet took the lead with a strong aero push from Paludo's Toyota. But another G-W-C was forced when Ty Dillon and Johnny Sauter tangled.
Then Blaney motored on away while Paludo outdueled Quiroga for second at the end.
"Second place is huge for us," Paludo said of his career-best finish in Trucks. "We'd been struggling a little bit on hard luck."
"We went to the front," Quiroga said. "It was kind of easy. But then I couldn't keep it."
Blaney jumped five spots in the standings to third, 62 points behind leader Matt Crafton and 10 behind second-place Jeb Burton.