Carl Edwards Wins At Richmond
Sprint Cup: Another clunker for the 48
Lost in the controversy of Michael Waltrip Racing's alleged manipulation of the race result of the Federated Auto Parts 400 was five-time NASCAR Sprint Cup Series champion Jimmie Johnson losing the top spot in the regular-season point standings to Carl Edwards.
Following the spring race at Richmond International Raceway, Johnson had a 43-point lead in the Cup standings and people were joking that he could skip the fall Richmond race if he needed to be with his wife, Chandra, for the anticipated birth of their second child.
By mid-July, after the Watkins Glen road race, Johnson had increased his championship lead to 75 points and put himself in position where he could almost afford to take a two-week vacation and still make the Chase for the Sprint Cup.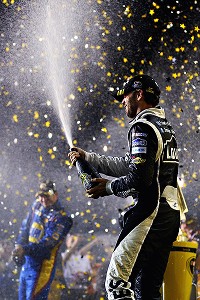 Tom Pennington/Getty ImagesJimmie Johnson still had much to celebrate Saturday night at Richmond: the arrival of his second child and a spot in the Chase.
Johnson easily made the Chase, but poor results in the four races since The Glen may have Johnson, crew chief Chad Knaus and the No. 48 Lowe's Chevrolet team thinking about working overtime instead. Johnson hasn't finished better than 28th in the past month and a 40th-place finish Saturday night at Richmond, combined with Edwards' victory, was enough to demote Johnson to second in the regular-season standings prior to the points reset for the Chase.
"Just a bummer we ended the regular season like we did," Johnson said in a postrace television interview.
As it turned out, Johnson's baby daughter, Lydia, arrived early Friday morning, putting into motion a contingency plan that saw Regan Smith practice and qualify the No. 48 car. Starting from the back of the field, Johnson was never in contention throughout the night. He spent several laps behind the wall as the Lowe's crew tended to a battery problem, then later crashed after a right front tire went down.
It's the first time Johnson has not occupied the top spot in the standings since the spring race at Martinsville, the sixth event of the season. Even had he maintained the top spot in the regular-season standings, Matt Kenseth still qualified as the No. 1 seed for the Chase with a series-high five race wins.
Johnson and Kyle Busch, with four wins each, start the Chase with a three-point deficit.
"That was a tough night," Johnson said. "We just would run through the right-front tire for whatever reason. The car was really tight, and it would wear it out that right front and it finally blew one of them.
"But as I look at the string of bad races we've had here over the last three or four weeks, at the majority of the tracks that resemble the Chase, we've been fast," he added. "I'm just glad Richmond and Bristol aren't in the Chase."
Johnson admitted that he is happy to have the stress from the anticipation of his daughter's birth out of the way and said the timing may have contributed to the No. 48 team's struggles at Richmond.
"I don't believe that the personal side has distracted my focus by any means," he told reporters in a postrace news conference. "It definitely hurts the efforts of the team. We tested here a couple weeks ago, felt like what we learned during the test was going to translate and be fine. We had confidence in the decision [for Johnson] not to be in the car yesterday.
"Without a doubt, it would have been best if I was in the car, but I'm not sure we would have gotten where we needed to," he added. "We were pretty far off tonight. Speed was OK on the short run, but it would run through the tire and blow the tire."
Despite burning through a huge championship lead in less than a month, Knaus is not concerned that the No. 48 team is in a slump that will get its quest for a sixth Cup series championship off to a slow start.
Johnson has never won a Cup race at Chicagoland Speedway, the Chase opener.
"We've started the Chase in a lot of different scenarios," Knaus told reporters prior to the Richmond race. "We've started leading the points. We've started 10th in points. We've started Chases with DNFs and have been able to come back and run competitively. So, we don't really focus on that stuff as much as everybody else does.
"We focus on how the team is performing. We focus on what we're capable of doing and how we're going to approach the situation. And right now, we're coming in with our heads high and our shoulders back and we're ready to go. We feel very confident that we've got a great race team and a great driver and good race cars, and we can go out there and race our way into this championship."
Johnson is equally confident as he mounts his latest attempt to claw closer to the record of seven Cup series championships shared by Richard Petty and Dale Earnhardt.
"When I look at the Chase and the tracks that are in the Chase, those are tracks that we're really good at historically," he said. "August is normally tough on the 48, and this year it was once again. There's always a little concern and without a doubt you want to enter the Chase with momentum. But we have won championships without momentum going into the first race and I'm still very confident and feel that going into the Chase it's a clean sheet of paper for everybody, and we're going to be where we need to.
"People can speculate and wonder all week long, but I really look forward to getting to Chicago and showing people what this team has in it."
Autos, Open-Wheel
Motorsports Writer for ESPN.com
Covered Indy car racing for 20 years
Work published in 12 countries
Did Bowyer Spin Out Intentionally?
Nationwide: Scott falls short
The furor over restart procedures that has been part of several Sprint Cup Series races this year was the story of the Virginia 529 College Savings 250 Nationwide Series race at Richmond International Raceway.

Keselowski
Brian Scott led 239 of the 250 laps, yet failed to take home the race win after losing out on a restart to defending Sprint Cup Series champion Brad Keselowski.
Prior to Friday night, Scott had led a total of 38 laps in his Nationwide Series career. He handled several other earlier restarts as the leader, but appeared to spin his tires for the critical restart against Keselowski at the start of the 240th lap.
"I think I just caught him off guard," Keselowski said after his 25th career Nationwide Series victory. "Things just didn't fall his way. The yellow came out at a time [Lap 229] that didn't suit his team's strengths.
"It did suit ours and we were close enough to capitalize."
Scott thought second-place runner Keselowski jumped the last restart.
"I was shocked," Scott said in an ESPN interview. "We weren't even to the entrance to pit road and he started going. That was two or three car lengths ahead of the restart zone, and he had me cleared by the time we reached the end of the restart zone.
"It took away our possibility to contend for the win and it eliminated what could have been an exciting finish for the fans."
It was the 19th consecutive Nationwide Series race win by a Sprint Cup Series driver at Richmond.
Nationwide Series championship leader Sam Hornish Jr. finished sixth at Richmond to increase his advantage over Austin Dillon to 16 points.
Camping World: Buescher bold
There wasn't any slapping involved this week, but emotions were still high following the Camping World Truck Series Fan Appreciation 200 at Iowa Speedway.

Buescher
Timothy Peters was anything but cool on the cool-down lap, pulling up alongside race winner James Buescher to slam Buescher's Chevrolet with the side of his Toyota, expressing his displeasure for the Lap 195 contact that sent him into a 12th-place finish.
Buescher took advantage of fresher tires than his rivals and had enough fuel to run 12 additional laps through two green-white-checkered attempts at a finish.
Buescher has won two of the past four Truck series races to close within 37 points of championship leader Matt Crafton, who finished seventh at Iowa.
"Slow and steady wins the race and we're coming for this championship," Buescher said from Victory Lane. "I told [crew chief Michael] Shelton in the hauler this morning: 'Don't put a set of tires on before Lap 100 because I'm going to want them later. No matter how hard I'm crying for tires, if we can do it, let's wait.'
"We were in position to do it and it worked out great."
Buescher gained track position by not taking tires during a round of yellow-flag pit stops on Lap 41. He was disputing third place with Peters behind the Fords of Ryan Blaney and pole winner Ross Chastain when he tapped Peters into a lazy spin in Turn 2 with five laps to go.
"My truck got tight after that caution, but I was holding my line and the 31 just got up into me," said Peters, who actually gained one position to lie fifth in the standings. "Fortunately we finished with the truck in one piece and we're still going to go after this championship."
Ty Dillon finished third at Iowa and is also third in the Truck series standings, 58 points behind Crafton.