Matt Kenseth Weathers The Chase Storm
Sprint Cup: Final restart dooms Kyle Busch
If a new predictor is in the bud here -- win Chicago, win the Chase -- and Matt Kenseth goes on to win it all, then we might look back from Homestead-Miami in November and say the 2013 Cup was lost on a lane choice.
Race leader Kyle Busch chose, by conventional wisdom, the outside lane for the final restart Sunday night at Chicagoland Speedway. Not only did he pick the better position to get into Turn 1, but he got his brother, hard-charging Kurt, a proven pusher from the second row, restarting right behind him.
Couldn't ask for a better situation from which to win the Chase opener, right?
Yeah, well ...
Kurt, who'd pushed Kasey Kahne to a win on a late restart at Pocono in August, couldn't get going this time. Kyle was left to charge solo, with space behind him, while second-running Kenseth, restarting inside, got a tremendous push from Kevin Harvick.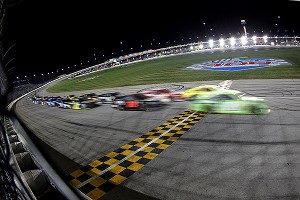 Todd Warshaw/Getty ImagesKyle Busch had the outside lane on the final restart, but Matt Kenseth had a hard-charging Kevin Harvick pushing him on the inside.
Then Kenseth, of course, was long gone, to his sixth win of the year and maintaining his top seed in the Chase.
So nothing was done to wilt the bloom of a new notion about NASCAR's playoffs. Since the opener was placed at Chicagoland in 2011, the winner of the race has gone on to win the Chase -- Tony Stewart in '11 and Brad Keselowski in '12.
Now comes Kenseth, who was favored to win this championship anyway, even before the marathon event at Joliet, Ill., that included 6½ hours of rain delays.
Further brightening Kenseth's prospects: Four of his six wins have come on 1.5-mile tracks, and four more of those remain on the Chase tour.
The key to Sunday night's finish was that "the 29 [Harvick] pushed him [Kenseth]," Kyle Busch told ESPN reporters at the track. "Kurt didn't get a good enough restart to get with me to push me forward, to keep us side by side, getting into [Turn] 1."
"Once the 20 [Kenseth] got out front, I was a little too loose," Kyle continued in a later interview with reporters at the track. "Just couldn't do anything with him. That was the race right there."
Kenseth acknowledged as much in Victory Lane: "Kevin gave me a great push on that last restart."
And the race as a whole might have gone a long way toward putting behind last week's controversies and penalties about scheming to manipulate the outcome at Richmond.
The standings have somewhat shaken out to leave the controversial figures behind and out of the conversation.
Kenseth and Busch, who were never involved in the Richmond mess, sit atop the standings on behalf of Joe Gibbs Racing. Jimmie Johnson, who overcame a rough night in the pits to finish fifth Sunday night, is right behind them, seeking a sixth title, 11 points behind Kenseth and three behind Busch.
Harvick, also non-controversial at Richmond, sits fourth, followed by Carl Edwards, who was controversial at Richmond only in that many believed he jumped the final restart to win the race.
And the feel-good drivers moved up in the standings: Kurt Busch from 10th to sixth, Jeff Gordon from 13th to seventh and Ryan Newman from 12th to eighth.
A blown engine dropped Joey Logano from his sixth seed -- controversial due to suspect radio traffic hinting at scheming at Richmond -- to 12th. Another blown engine dropped Dale Earnhardt Jr. to 13th.
Clint Bowyer, detonator of the Richmond explosion with his late spin, ran a so-so ninth Sunday night and didn't lead a lap, to remain eighth in the standings -- thus obscured enough in the Chase at this point to ease the outcries.
So all in all, coming out of the Chase opener that thus far has predicted the winner of it all and very well might for a third year, it's back to racing in NASCAR.
Just racing.
ESPN Pit Studio: Pre-Chase drama
Nationwide: Another Kyle runaway
There was Kyle Busch's runaway win, of course and as usual, and then there was the nearest thing to a race on Saturday at Chicagoland Speedway.

Busch
That would be Sam Hornish Jr. and Austin Dillon, racing for third on the track and vying for the Nationwide championship. Hornish won that little duel, passing Dillon with three laps remaining.
"We're still in the championship," Dillon told ESPN reporters at the track after finishing fourth and falling another point, to 17, behind Hornish. "It's just a point, and if he makes a mistake, we'll be there."
Hornish, naturally, saw it the other way: "We ended up gaining another point, which is what we need to do."
In a later interview, Hornish told reporters that "I feel like we had the kind of day we're supposed to at this point in time."
And that's how it has gone for Nationwide regulars as they compete among themselves for the leftovers while Busch regularly runs away on his visits from Cup. His usual solo challenger, Cup regular Joey Logano, wasn't much of a threat this time, although Logano did finish second.
Busch breezed to his 10th Nationwide win in 20 starts this season, and Saturday's race was his most dominant performance of the year. He led 195 of the 200 laps, breaking the record of 194 on a 1.5-mile track by the late Dale Earnhardt at Charlotte in 1986.
"Darn Dale Earnhardt Jr.," Busch said of the son who couldn't quite protect his father's record. "He got two tires and got the lead on that caution [early in the race], otherwise we probably could have made it 200."
Actually Earnhardt led only two laps, but provided a scenario where Logano was first to get past him for the lead. And Jeremy Clements led a lap under caution.
But the arithmetic nitpicking doesn't detract from the even stronger dominance than usual of Busch and his Toyota.
"I could just do anything I wanted to," he said. "I could go in any groove I wanted to."
"I'm pretty sure he didn't run a hard lap the whole race," Logano said. "Every time I thought I would catch him, he would bust a lap two-tenths quicker than the last one. He had a superior car."
As to why Busch has been so overwhelming this season, "it's probably a little of body and it could be some motor and some chassis setups," the Ford-driving Logano said. "It's hard to pinpoint exactly where it is, because he drives away so fast you can't figure it out quick enough."
Camping World: Blaney runs strong
Ryan Blaney didn't win the race, but he won his class -- which, for a 19-year-old competing in Trucks against two major Cup stars, just might be bigger than a race win.
Blaney
While Kyle Busch and Brad Keselowski dueled for most of the race Friday night at Chicagoland Speedway, with Busch eventually winning, young Blaney stayed in the mix with them and finished third.
"Those two guys are pretty good up front, so it was really cool to be able to run with them," Blaney told Fox Sports 1 reporters at the track, "and I had a lot of fun doing it."
Blaney drives for Keselowski's Trucks team, and at times tried to help his boss on the track by running up alongside Busch -- that sort of teamwork is still legal in NASCAR, so far.
But Keselowski lost the duel in which he and Busch, together, led 102 of the 150 laps.
"That's the most fun you can have running second, that's for sure," Keselowski said afterward.
Asked if he'd had similar fun, Busch replied, "That was tough, man. Brad and Ryan had some very good trucks."
This was Busch's fourth win of the season and 34th overall in the Trucks series, and his 17th win of 2013 in all three major NASCAR series combined.
Busch has won so much in Trucks and Nationwide that he tried to juice up his burnout act for something different Friday night, leaning out of his truck during the burnout -- and appearing almost to fall out when his truck suddenly ran out of gas and stopped. It took several minutes to push the truck to Victory Lane.
Points leader Matt Crafton finished fourth to increase his lead to 41 over defending champion James Buescher, who finished eighth.