Matt Kenseth 2-for-2 In Chase For The Cup
Sprint Cup: Kenseth has Gibbs team humming
As career moves go, Matt Kenseth's transfer from Roush Fenway Racing to Joe Gibbs Racing is making him look like a genius.
Since winning the Sprint Cup championship in 2003 with Roush, Kenseth was always in the hunt but rarely at the very front.
Informed in the summer of 2012 that he wouldn't be returning to Roush because of a lack of sponsorship, Kenseth found he still had plenty of market value when he was quickly signed by the Gibbs organization.
Coach Joe Gibbs knows a thing or two about teamwork and chemistry, and he recognized that his NASCAR Cup Series team had suffered from a lack of driver leadership since the departure of Tony Stewart into team ownership more than four years ago.
Gibbs had a strong three-driver lineup, but Kyle Busch, Denny Hamlin and Joey Logano didn't have the experience often necessary to steady the ship in rough times.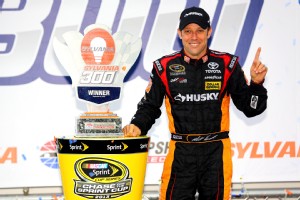 Jerry Markland/Getty ImagesWho's No. 1 in the championship standings? After two Chase races, it's clearly Matt Kenseth.
Kenseth filled that void, and in a win-win scenario, the move to Penske Racing was a success for Logano, who has produced his most successful Sprint Cup campaign to date, including a first-time berth in the Chase.
But Logano's accomplishments this year pale in comparison to Kenseth's. The Wisconsin native has earned a career-high seven wins this year, including back-to-back victories to kick off the Chase at Chicagoland Speedway and in the Sylvania 300 at New Hampshire International Speedway.
Kenseth leads the Cup Series by 14 points over teammate Busch, with six-time champion Jimmie Johnson third (minus-18).
Kenseth's 2003 Cup championship, achieved through consistency with only one race win, was what helped prompt NASCAR to create the playoff-like Chase for the championship. With two wins in the two Chase races to date this year, and four upcoming events on the Gibbs team's bread-and-butter tracks, NASCAR's longtime Mr. Consistent is suddenly the man to beat -- week in and week out.
He certainly wasn't expecting to back up his Chicagoland with another triumph at New Hampshire, where Kenseth's last top-5 finish came way back in 2005.
"I was a little bit worried about this weekend, more so than some tracks just because it has been a tough track for me," Kenseth explained in the postrace news conference. "But we had a great day of practice on Friday and were really, really fast in race trim. So I felt really confident with my car today.
"But to have a fast car and to be able to do all the right things with adjustments and strategy and pit stops and all that stuff and be out front and win is two different things," he added. "I'm thankful to be part of this group, and it just honestly doesn't really seem real that we won yet today."
Although Hamlin had a poor season that was compromised by an early injury, Busch is off to his best-ever start in the Chase. His pair of second-place finishes have him second in points to teammate Kenseth.
JGR president J.D. Gibbs thinks that the calming presence of Kenseth has had a positive impact on "Wild Thing."
"If you get the right people in your organization, the rest is easy," Gibbs said. "Those guys, Matt and Jason [Ratcliff, crew chief], have really jelled well. They've helped Kyle out and Denny, so it's just been fun to be a part of that whole process. We have three great drivers who communicate well with each other and work well together, and Matt kind of leads that off.
"Honestly, we've known Matt for a long time, but in all reality, we wouldn't have guessed seven wins," Gibbs added. "He just has such a good leadership role that Kyle and Denny really pick his brain, listen to him. It's good for our whole organization."
Kenseth was unusually emotional in Victory Lane after winning his 500th Sprint Cup Series start. He led a race-high 106 laps on the way to his 31st Cup race win.
The only other NASCAR driver to win his 500th start was Richard Petty, back in 1970.
"I'm just happy," Kenseth said. "I've said this over and over and you guys are probably sick of hearing it, but it's just been an unbelievable year. It's just been an amazing blessing to be part of this group, and I'm happy to have the success we're having.
"But even without that, honestly I've just made a lot of friendships and I really feel at home here. I just really enjoy being part of it, and when you can have success on top of it, obviously that makes it even more fun."
Next up for the Sprint Cup Series: Dover International Speedway, where Kenseth is a two-time winner -- most recently in the spring 2011 race.
Autos, Open-Wheel
Motorsports Writer for ESPN.com
Covered Indy car racing for 20 years
Work published in 12 countries
The Rundown: New Hampshire
Nationwide: Penske on a roll
Brad Keselowski won't repeat as Sprint Cup Series champion, but Joey Logano qualified for the Chase in his first year with Penske Racing and the team is having a monster season in the Nationwide Series.

Blaney
Anchor driver Sam Hornish Jr. won at Phoenix and leads the Nationwide point standings in Penske's No. 12 car. Meanwhile, the No. 22 car, shared by an all-star cast of four drivers, has notched up no fewer than 10 Nationwide race wins and leads the car owner point standings over the No. 54 from Joe Gibbs Racing.
Keselowski has claimed half of those 10 wins, along with two by fellow Cup star Logano and another pair by road racing ringer AJ Allmendinger.
Penske development driver Ryan Blaney's relatively unchallenged victory Saturday night in the Kentucky 300 at Kentucky Motor Speedway was the latest demonstration of the prowess of crew chief Jeremy Bullins and Penske's No. 22 Nationwide team.
Blaney, 19, won in just his 15th Nationwide Series start and backed up the confidence that prompted Roger Penske and Penske Racing president Tim Cindric to hire him.
"I've said it before, it really speaks numbers how good this team is," Blaney said. "To be able to win with four different drivers just shows how strong this No. 22 group is and how strong Penske Racing is as a whole. I want to thank everyone who made this opportunity possible."
Blaney had to survive a door-banging restart with teammate Hornish with 15 laps to go, then held off Austin Dillon down the stretch. He was the fifth driver to score his first career Nationwide Series win at Kentucky Speedway.
"That 22 has been very tough all year long, no matter who's gotten in it," Dillon said. "They've won with four different drivers this year. That's pretty impressive."
Bullins called Blaney's win the most special he has experienced in his professional career as a crew chief.
"To see the growth this young man has gone through in the last year has been pretty special to watch," Bullins said. "He proved tonight why he's in this car. We felt like we were coming here to win a race from the moment we rolled off the tailgate."
Hornish started the Kentucky race from pole position and was running second to Blaney with 15 laps remaining. But he nearly lost it in Turn 1 on a restart, almost taking out his teammate in the process. He dropped to 10th place while he controlled the slide, but rebounded to take fourth place at the flag.
"The Alliance Truck Parts Ford was fast early in the race, especially strong in clean air," Hornish said. "We weren't as strong in traffic as we were out front.
"On the second-to-the-last restart we were inside Ryan and I clipped the apron and then got loose," he added. "I was fortunate to save it, but it did cost us a chance at the win as well as a few positions."
Hornish leads Dillon by 15 points and Regan Smith by 45 points. The Nationwide Series' next event is at Dover International Speedway on Sept. 28.
Camping World: Vegas on deck

Crafton
The NASCAR Camping World Truck Series had the weekend off.
The Trucks next hit the track Sept. 28 at Las Vegas Motor Speedway, with Matt Crafton holding a 41-point lead over James Buescher.
Ty Dillon, Jeb Burton and Ryan Blaney round out the top five.