Jimmie Johnson Shows His Might At Dover
Sprint Cup: Five-Time just hitting his stride
Jimmie Johnson on Sunday posted a record eighth win at Dover International Speedway, passing Richard Petty and Bobby Allison, but remained eight points off the pace in the Chase for the Sprint Cup. And Johnson is cognizant of points that have already eluded him.
Matt Kenseth finished seventh and didn't seem particularly enthused by just maintaining some sort of margin on Johnson, the five-time series champion. And Kenseth's Joe Gibbs Racing teammate, Kyle Busch, felt pretty much the same about not finishing behind Kenseth for the first time this Chase.
All these mixed emotions and frets and laments underscore the homestretch feel the Chase has assumed just three races into NASCAR's 10-race playoff system. And even with all the perseverating among the breakaway three, their situation is preferable than for the other 10 title-eligibles. Beginning with Johnson's Hendrick Motorsports teammate Jeff Gordon and Richard Childress Racing driver Kevin Harvick tied at fourth, no driver is closer than 39 points to Kenseth.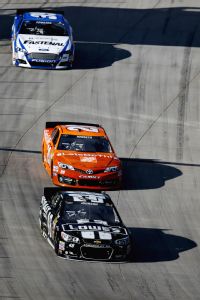 Tom Pennington/NASCAR/Getty ImagesChase leader Matt Kenseth filled Jimmie Johnson's rearview Sunday at Dover.
Though Johnson said the juncture has not been reached in the Chase to focus solely on whom he considers his direct competition, he admitted Sunday that he had begun considering the race in terms of his points impact measured against Kenseth and Busch. Both Gibbs drivers, he said, are "in it for the long haul."
"I was thinking about it when I was in the car," Johnson said. "My whole thought process was just how tough this championship's going to be. They're bringing their best and doing their best. You've got to deliver. That was my mindset when I was racing with both of those guys for three-quarters of the race."
Kenseth clearly measured his finish against Johnson and Busch, especially considering the way he and crew chief Jason Ratcliff labored to improve the No. 20 Toyota throughout the 400 laps.
"When you look up, it's everybody that finished in front of you. It's all cars that you're racing for points," he said. "Overall, for how bad I felt like we struggled with the car, that was a decent finish."
Busch considered his No. 18 Toyota "about a fifth- to seventh-place car much of the day and we ended up fifth," adding "it's frustrating to be fifth, but yet you look at the grand scheme of things and it's three straight top-5s to start the Chase, so not bad."
He enters the fourth Chase race at Kansas Speedway 12 points behind Kenseth.
Ceding six points to Johnson at a track where Kenseth has two wins and 13 top-5s -- even though Johnson passed two Hall of Fame drivers on the track's all-time win list (in roughly half the races) -- might have burned the house money Kenseth banked with a surprise win at Loudon, N.H., where he had been admittedly middling. Getting through Dover as the points leader for the third straight week didn't seem like a consolation.
"If we would have won I would say that, but no, not really," Kenseth said. "I mean, I feel like it's one of our best racetracks and you want to do better than seventh at one of your best tracks, and now that all the guys you're racing beat you. Overall, it was a solid day, but we wished for a little bit more."
Chad Knaus, Johnson's crew chief, left the Chase opener at Chicagoland Speedway feeling much the same, after a NASCAR official's incorrect call for a loose lug nut cost Johnson valuable time on a pit stop during an eventual fifth-place finish. A fourth-place finish followed at New Hampshire, and the win at Dover creates the unmistakable sense of positive momentum after lost opportunities. Johnson hadn't scored more points than Kenseth in a race in seven events before Sunday.
"The fact of the matter is this: I feel like in Chicago, if we hadn't had a botched-up little pit stop there at the first part of the race -- some of our doing, a little of assistance -- I feel like we could have won the race in Chicago," Knaus said. "I feel like last week in Loudon -- [we] got jumbled up on some restarts, couldn't get to where we needed to -- we could have beaten him there.
"What we're doing right now is we are just trying to establish a foundation and set ourselves up for the second half of the Chase. As long as we do that, we're going to be where we need to be."
By the looks of it, all there together.
Contributor, espnW.com
Brant James has covered the Daytona 500, Indianapolis 500, a World Series and Stanley Cup for the big hometown daily, an NCAA tournament and a Super Bowl. He's walked to the paddock with Kentucky Derby horses before post, ridden to the top of Mount Washington with Travis Pastrana and landed on an aircraft carrier with Dale Earnhardt Jr.
The Rundown: Logano At Dover
Nationwide: Hornish fumes
Sam Hornish Jr. accepted culpability for a crucial pit-road speeding penalty at Dover on Saturday, but the Nationwide Series points leader seemed irked by an early-race pit call that he believed set his No. 12 Ford on a wayward course. He was certainly unusually vocal about it, referencing crew chief Greg Erwin's two-tire call numerous times after the race.

Hornish
Hornish finished 17th -- as Penske Racing teammate Joey Logano became the first to win four consecutively at Dover in NASCAR's second-tier developmental series -- and had his margin in the driver standings narrow from 15 to four points over Austin Dillon, who finished sixth on Saturday, with five races remaining.
"You can't make one bad call and then have the driver speed on pit road and not give something up," Hornish said. "We'll talk about it and try to figure out how to not get ourselves in that position again, but we were fighting so free that first run that if I would have known we were going to put on two tires -- I even sat there and I told them while they were doing the two-tire stop, '[Logano] is doing four.' And then I even stalled it and we still didn't put four on. I knew we were kind of sunk at that point, but I think we still could have got out of it with a 10th- to 12th-place finish if I didn't speed on pit road, but we weren't going to win with the strategy we had today."
Hornish experienced severe handling problems as a 160-lap green-flag stint ensued, dropping a lap down. He was adjudicated a speeding penalty on an ensuing pit sequence and finished two laps down.
"It's real easy to have a day like this where you make one bad call on pit road and then there's not another caution the entire rest of the race -- you go 150 laps under green. When was the last time we had 150 laps of green-flag racing?" he asked. "And we take two tires at the beginning of it and then I speed on pit road. There was no time to make up anything. That's the tough part about running the Nationwide races, is that you sometimes have to take chances that you wouldn't like to because you're trying to stay ahead knowing you've only got 200 laps versus 400 [in a Sprint Cup race], and then you get yourself in trouble because you don't just put the four tires on there, you don't just give up a little extra speed on pit road. We all could have done it a little bit better today.
"None of us are going to hang our heads about it. We all know what the issues were, and we'll talk about it because whining about it now isn't going to help us get our points back. Keeping our heads down and going out there and having a good race next weekend at Kansas is what's going to continue to build the points lead back up."
Camping World: Peters rolls dice
Count Timothy Peters as a fan of NASCAR's new restart procedure.

Peters
Peters exploited an uncommon mistake on a restart by Ron Hornaday Jr. and beat the veteran to the line on a restart with three laps left, then bore off for his second Truck series win of the season at Las Vegas.
NASCAR, after mounting confusion and controversy regarding the ambiguity of its restart policy, announced three weeks ago that the second-place driver would be allowed to reach the start finish line before the leader, and Peters, second and on the low line, did everything by the letter.
Peters said he expected Hornaday to choose the outside lane on the restart as Hornaday had experienced handling problems near the white line during the race. Peters nudged past Hornaday entering the acceleration zone and blew past when Hornaday had an uncharacteristically poor burst at the green flag. He finished sixth.
"Thank goodness for the new rule change. It played into our favor tonight," Peters said. "We got a good bite, and it isn't too many times that you catch the restart king sleeping, and we caught him sleeping tonight."