Keselowski's Big Man On (ESPN) Campus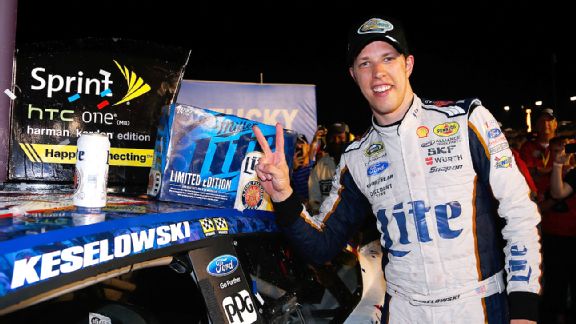 Matt Sullivan/NASCAR/Getty ImagesHang out with Brad Keselowski on Wednesday.
Welcome the 2012 Sprint Cup champion to our little corner of paradise Wednesday for what we like to call a "car wash."
Brad Keselowski will be all over TV, radio and digital media after a whirlwind trip to the ESPN campus before heading off to Indianapolis for Sunday's Brickyard 400 (coverage begins noon ET, ESPN).
What are some of the vital stats with seven races until the Chase begins? Keselowski sits in third place, just 36 points out of first. However, his three wins are tied with Jimmie Johnson for the most this season.
During Keselowski's 2012 title run, he won a career-high five races, the most in Sprint Cup. He also had the most top-10 (23) and top-5 (13) finishes in his career.
How To Spell K-E-S-E-L-O-W-S-K-I
What they're tweeting ...
Chatter Up!
He's won three races this season, including the last one before the Sprint Cup Series took a week off.

Keselowski
Brad Keselowski is looking like he's returning to the form of 2012 that netted him the championship.
Can he keep it up? What's the biggest obstacle he sees in his path?
You can ask him all that and more in a SportsNation chat beginning at 2 p.m. ET.
Podcast: Marty & McGee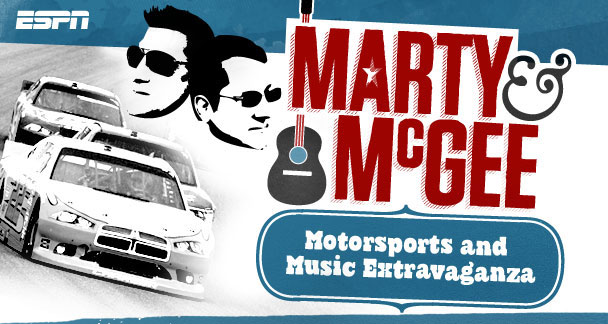 ESPN
Marty Smith welcomes Brad Keselowski to the 406 to discuss the Race Team Alliance, how dedicated he is to his truck team, Ryan McGee's dedication to NASCAR and much more. Listen