Bizarre moments dominate Daytona 500 weekend

By Terry Blount
ESPN.com
Archive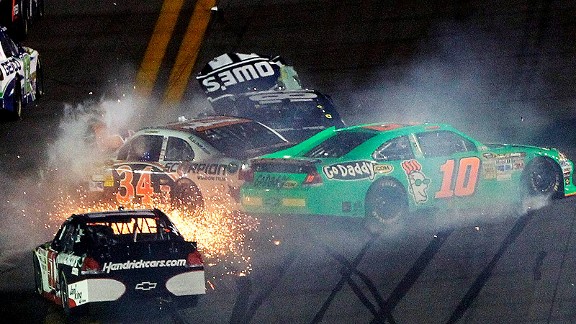 Tom Pennington/Getty Images/NASCARA Lap 2 crash in the Daytona 500 collected Danica Patrick and Jimmie Johnson, among others.
If someone had told you prior to the start of the Daytona (Fire and Rain Marathon) 500 that Danica Patrick would finish ahead of Jeff Gordon, Kurt Busch and Jimmie Johnson, surely you would have assumed she had a successful debut.
She didn't, finishing 38th. And obviously, neither did any of the big names above.
"I'm just really, really bummed to start the season this way," Johnson said after wrecking on the first lap. "To work as hard as everyone did to get this Lowe's Chevrolet ready and not even complete 2½ miles of green-flag racing is pretty sad."
A lot of things happened Monday night (like racing the Daytona 500 on Monday night) that no one would have believed without seeing it all unfold.
Possibly the only normal thing fans saw all night was the green-white-checkered finish when Matt Kenseth held off Dale Earnhardt Jr. and Greg Biffle to win the event for the second time in four years.
The checkered flag flew after 1 a.m. ET Tuesday, more than 36 hours after the scheduled start time Sunday.
It was a Daytona 500 filled with firsts. Here are several others:
• Juan Pablo Montoya crashing into a jet dryer under caution, causing a fireball that looked like something Red Adair needed to extinguish. Both vehicles were burnt to a crisp, but thankfully, both drivers (Montoya and Duane Barnes in the jet dryer) were not and escaped the explosion without any serious injuries.
• Drivers standing around on the backstretch during the red flag looking at photos Brad Keselowski tweeted after the explosion. Yes, apparently Brad had a cell phone in his race car.
• Kyle Busch and Carl Edwards pulling tear-offs from their windshields during the red flag, which meant they had to restart in the back. Don't these guys know the Sterling Marlin story from Daytona?
• Dave Blaney leading the race at the red flag, hoping for rain or an unfixable track to make him one of the most surprising 500 winners ever. And team owner Tommy Baldwin, up on the spotters' stand, hoping NASCAR would let him keep some of the parts from the car. The winning Daytona 500 car goes on display for a year, but Baldwin needed part of it, or most of it, to field a car in Phoenix this weekend.
• Crew guys being put on a bus on pit road to go to the backstretch and help the drivers get strapped in properly for the restart.
• Oh, the irony. After working for a day to get water off the track from rain, safety officials were spraying large amounts of water on the track to wash off the fuel that had poured out of the jet dryer.
During the red flag, NASCAR president Mike Helton went on the telecast and made the most accurate statement of the night: "These are a bizarre set of circumstances that nobody could have seen happening."
But it was entertaining and memorable.
Ed Hinton column | David Newton column | Racing Live! rewind | Recap | Results
Nationwide Series: Buescher survives the carnage
As crazy as all that was, the finish of the Nationwide race Saturday was as bizarre as it gets. You probably could count on one hand the number of times a driver has won a NASCAR event when he was outside the top 10 coming out of the final turn on the last lap.
That's exactly what happened to James Buescher in Saturday's Nationwide race when he somehow made it through the carnage to earn his first NASCAR victory.
Buescher had one of only six cars that made it to the end undamaged. He was 11th coming out of Turn 4 on the last lap before squeaking through all the crashing cars to win it. When Buescher crossed the finish line, more than a few people probably said "James who?"
Fans who follow the Camping World Truck Series know Buescher was a serious championship contender last season, finishing 29 points behind champion Austin Dillon.
Buescher, a native of Plano, Texas, is only 20. He's back in the CWTS this season (finishing 17th at Daytona on Friday night) and he's racing part time this year in the Nationwide Series.
Team owner Steve Turner was asked if this surprising win means Buescher will be in the car for his home race at Texas Motor Speedway in April.
"No, it doesn't," Turner said.
Buescher laughed and said, "Not for the first one," insinuating he hopes that changes for the November Nationwide race at Texas.
Besides Buescher winning, the other big surprise was seeing Nationwide regulars finish in six of the top seven spots, something that didn't happen in any Nationwide race last season except stand-alone events.
The last-lap wreckmania left Brad Keselowski (who finished second) as the only Cup regular in the top seven. Tony Stewart, who was trying to earn his fifth consecutive win in the February Nationwide race at Daytona, finished eighth.
Terry Blount column | David Newton column | Recap | Results
Camping World Truck Series: King for a day
The real no-name winner of the weekend wasn't James Buescher, but Camping World Truck Series driver John King.
King managed to somehow end up in front on a third green-white-checkered after the crashfest left half the field (18 of 36 trucks) in the garage at the end.
King, 23, was born in Kingsport, Tenn., just down the road from Bristol Motor Speedway, so he probably saw a wreck or two growing up. He was competing in only his eighth Truck race and never had posted a top-10. That is one heck of a way to get his first one.
"Man, I'm a rookie, I'm not supposed to be here," King said in Victory Lane. "This is unreal. I don't know what to say. I have never driven anything so smooth in my life as that race truck. It's just a dream come true."
A Toyota driver has won six consecutive CWTS events at Daytona.
Terry Blount is a senior writer for ESPN.com. He is the author of "The Blount Report: NASCAR's Most Overrated and Underrated Drivers, Cars, Teams, and Tracks." He can be reached at terry@blountspeak.com.
Racing Resources says …
Sprint Cup Series

• Matt Kenseth won the Daytona 500 at Daytona International Speedway. It was his 22nd career win in his 437th start. He last won at Charlotte in October 2011 (five starts between).
• Kenseth posted his second career Daytona 500 win (he also won in 2009), becoming the ninth driver to win multiple times at the Great American Race. He became the first driver to win the 500 after winning a duel since 2004 (Dale Earnhardt Jr.).
• Kenseth led twice for 50 laps, including the last 38 laps.
• It marked crew chief Jimmy Fennig's second Daytona 500 win (1988 with Bobby Allison).
• Roush Fenway Racing posted its 126th career Sprint Cup win and sixth victory at Daytona. Both of RFR's Daytona 500 wins were by Kenseth.
• Ford posted its 13th Daytona 500 victory. The manufacturer has won three of the past four Daytona 500s.
• Dale Earnhardt Jr. (second) had his fifth top-3 finish in the Daytona 500, and his sixth second-place finish in a Cup race since last winning at Michigan in June 2008.
• Greg Biffle (third) tied his best finish in the 500 (2010) and earned his third top-10 finish in 10 500 starts.
• Denny Hamlin (fourth) posted his career-best finish in the 500, and his first finish better than 17th in seven starts.
• Jeff Burton (fifth) posted his fourth top-5 finish in the 500. He has top-10 finishes in five of his past six races after not having a top-5 finish until the 32nd race of 2011.
• Kevin Harvick (seventh) had his fifth straight restrictor-plate top-10 finish. He finished in the top 10 in three of his past four Daytona 500s.
• Carl Edwards (eighth) now has three top-10 finishes in eight Daytona 500 races, all in the past three races.
• Danica Patrick (38th) made her Cup series debut, getting caught up in a Lap 2 accident.
• Ricky Stenhouse Jr. (20th) made his first Daytona 500 start, as did Landon Cassill (22nd).
• Jimmie Johnson (42nd) has finished 14th or worse in six of the past seven races.
• Race was slowed for 2:05:29 due to a red flag after a jet dryer was hit by Juan Pablo Montoya under caution and caught fire.
• Ended under green-white-checkered for the sixth time in the past seven Daytona 500s that went the full distance.
Nationwide Series

• James Buescher won the Nationwide Series race at Daytona International Speedway. It was his first career win in his 35th start. His previous best finish was second at Lucas Oil Raceway in 2011.
• It was Buescher's second Nationwide start at Daytona; he finished eighth in 2010.
• Buescher was running 11th entering Turn 3 on the last lap, avoiding the crash in Turn 4 to win.
• Turner Motorsports posted its fourth career win, all four with different drivers. All four wins were on last-lap passes, and all led only the last lap. It was Turner's first victory at Daytona.
• Chevrolet posted its 28th win at Daytona, the most by any manufacturer.
• Brad Keselowski (second) had his best finish in nine starts at Daytona.
• Elliott Sadler (third) had his best finish at Daytona in six starts.
• Cole Whitt (fourth) had his best career finish in his fourth series start.
• Austin Dillon (fifth) had his fourth straight top-10 finish in his past four Nationwide starts.
• Johanna Long (21st) made her Nationwide debut.
• Danica Patrick finished 38th.
Camping World Truck Series

• John King won the Camping World Truck Series race at Daytona International Speedway. It was his first career win in his eighth series start.
• King became the 12th different winner in 13 races at Daytona. It was his first start with Red Horse Racing. He led once for six laps.
• Red Horse Racing posted its sixth career win and second victory at Daytona.
• Toyota posted its sixth victory at Daytona.
• Timothy Peters has posted (second) top-12 finishes in all five of his starts at Daytona.
• Justin Lofton (third) tied his career-best finish.
• Travis Kvapil (fourth) posted his fourth top-4 finish in seven starts at Daytona.
• Jason White (fifth) had his second top-5 finish at Daytona.
• 2002 Daytona 500 champion Ward Burton (eighth) made his series debut.
• There were three attempts at a green-white-checker and then the race still ended under caution.

-- Racing Resources