Chase standings crowded at the top

By Terry Blount
ESPN.com
Archive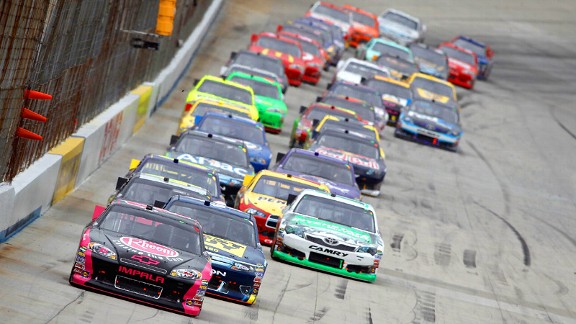 Todd Warshaw/Getty ImagesOnly 19 points separate the top nine contenders in the Chase, including co-leader Kevin Harvick, front.
This is a Chase like no other.
The Sprint Cup playoff never was tied after the first three races, until now. It never saw this many drivers this close in the standings after three races, until now.
Yes, I know what you're thinking. This is a different points system, so that's why it's closer. Wrong, stat man.
Even taking into consideration the change to fewer points available in each event, it's closer (percentage-wise) than ever at this stage of the Chase.
It's a dead heat at the top between Kevin Harvick and Carl Edwards. Seven other drivers are within 19 points.
If you do the math, only once in Chase history has the playoff been anywhere near this close after three races. That was last season, when eight drivers were separated by 85 points.
In the old system, each spot was worth an average of 4.5 points. Now it's worth 1.1 point.
Here's the real point: No one is going to run away with this Chase. Playoff parity is a fact.
Eleven of the 12 drivers still are within the number of points a driver can make up on another driver in one race. No doubt that's little comfort to Dale Earnhardt Jr. (34 points back in 10th) or Ryan Newman (41 back in 11th).
"You can't quit," Earnhardt said after a loose wheel Sunday led to a 24th-place finish. "We're still alive, and we will keep racing as hard as we can until the last lap at Homestead."
A cliché, yes, but this is a Chase in which the improbable can become the reality.
Who would have expected Tony Stewart to win the first two races? Who would have thought Kurt Busch, seemingly at odds with his team and crew chief Steve Addington a week ago, would win on Sunday at Dover and pull within nine points of the two leaders?
Nine teams will head to Kansas Speedway this weekend believing that they have as good a chance as anyone at winning the championship.
"It's so tight right now," said Jeff Gordon, who ranks ninth after his disappointing 12th-place showing Sunday. "Kansas is a great track for us. If we can run the way we ran there earlier in the year [fourth], we'll make up a bunch of those points that we lost today."
In this Chase, sometimes you can gain ground and lose it at the same time. Kyle Busch moved up 11 points in the standings with his sixth-place finish Sunday, but he dropped from sixth to eighth overall.
"It's deceiving because you shave points off, but then you lose two spots," Busch said after the race. "It's all right. We're back, which is all that matters. We're still in the thing, so you keep fighting."
Take Edwards, for example. He got caught speeding on pit road, fell to 30th, two laps down, but later finished third. He ended the day three spots better in the standings and 14 points above where he had started.
So Edwards got philosophical to describe this Chase.
"My buddy, Carl Fredrickson, had this book at his house," Edwards said. "It said you don't succeed by being the guy that does everything perfect. You succeed by being the guy that minimizes the mistakes, because everyone is going to make mistakes."
Three races into the 2011 Chase, four drivers have spent time at the top. This year, no team is great and no team is dominant. And that's not a bad thing.
Plenty of no-shows: It was impossible to ignore all the empty seats at Dover on Sunday. The 2012 Sprint Cup is set, but Dover should have only one Cup date in 2013, and the one it has shouldn't be in the Chase.
Move the Bristol night race into the Chase to replace Dover.
David Newton column | Racing Live! rewind | Recap | Results
Nationwide Series: Stenhouse pads points cushion
Four of the six Cup drivers in the Nationwide race Saturday at Dover finished in the top four. Carl Edwards now has seven Nationwide victories this season, one fewer than Kyle Busch, as the Cup duo continue to run roughshod over the field.
More importantly, season points leader Ricky Stenhouse Jr. won the Nationwide regulars contest by finishing fifth Saturday to increase his points lead over Elliott Sadler, who finished 14th. Stenhouse leads Sadler by 22 points with five races remaining.
"Top-5s are going win this championship," Stenhouse said after the race. "If we can run [in the] top five every week, that's what we need to do."
One driver to keep an eye on is 19-year-old Ryan Truex. He finished eighth Saturday and has placed 13th or better in the past four races, including two top-10s.
Camping World Truck Series: Win No. 50 for Hornaday
Maybe Ron Hornaday Jr. can set a new goal. Since he holds the Camping World Truck Series record for career victories at 50, he needs only three more to equal his age.
Victory No. 50 came Saturday night at Kentucky for his third win of the season to keep his slim hopes alive for a fifth championship. Hornaday is fifth in the standings, 42 points behind leader Austin Dillon.
Dillon finished second at Kentucky and leads James Buescher by only three points with five races to go.
Ty Dillon, Austin's 19-year-old brother, finished 18th in his series debut but likely would have finished better if not for running out of fuel.
Terry Blount is a senior writer for ESPN.com. His book, "The Blount Report: NASCAR's Most Overrated and Underrated Drivers, Cars, Teams, and Tracks," was published by Triumph Books and is available in bookstores. Click here to order a copy. Blount can be reached at terry@blountspeak.com.
Racing Resources says …
Sprint Cup Series

• Kurt Busch won the AAA 400 at Dover International Speedway. It was his 24th career victory in his 393rd start, which ranks 25th all time. It was his second win of 2011 and first win at Dover in his 23rd start there. His previous best finish at the track was fourth.
• Busch has three career Chase wins.
• Busch led five times for 90 laps, including the final 42.
• Busch and crew chief Steve Addington have won four races together. Busch has 10 Cup wins driving for Penske Racing.
• Penske Racing posted its 71st Sprint Cup victory. Penske has five wins in 2011, tying Joe Gibbs Racing and Richard Childress Racing for the most this season. Penske has seven wins at Dover.
• Dodge posted its fifth Cup win in 2011 and sixth victory overall at Dover.
• Jimmie Johnson (second) led the most laps at Dover for the sixth straight race in posting his ninth top-5 finish at Dover.
• Carl Edwards (third) was penalized for speeding on Lap 246 but recovered for a top-5 finish. He has run at the finish in all 15 of his Dover races. • Kasey Kahne (fourth) posted his first top-5 finish since Daytona in July.
• Matt Kenseth (fifth) had his eighth top-5 finish of 2011. It was his 12th top-5 finish in 26 races at Dover.
• AJ Allmendinger (seventh) recovered from a spin on Lap 6 to tie his career-best finish at Dover.
• Marcos Ambrose (ninth) posted top-10 finishes in both races at Dover in 2011.
• Jeff Burton (11th) has only one top-10 finish in 2011, but he has finished 11th three times this year. He finished 11th in both Dover races in 2011.
• Tony Stewart (25th), winner of the first two Chase races, has finished 21st or worse in the past three races at Dover.
Nationwide Series

• Carl Edwards won the OneMain Financial 200 at Dover International Speedway. It was his 36th Nationwide Series win in his 239th career start -- he is only one win behind Kevin Harvick for fourth all time. It was Edwards' seventh win of 2011, tying a career high in a single season.
• Edwards won his ninth race on concrete, the most of all drivers. He has won four of the six races on concrete in 2011.
• Edwards posted his third Dover win in his 14th start there. He swept both races at Dover in 2011. He won for the ninth time with crew chief Mike Beam.
• Edwards led four times for a race-high 179 laps. • Roush Fenway Racing posted its 122nd Nationwide Series win. RFR has 10 wins in 2011. The team has won five times at Dover.
• Ford posted its seventh win at Dover and 11th victory overall in 2011, the most of all makes.
• Brad Keselowski (second) has top-10 finishes in seven of his 10 Dover starts.
• Clint Bowyer (third) posted his second straight third-place finish in 2011. It was his eighth top-10 finish in 11 Dover starts.
• Kasey Kahne (fourth) posted his third top-5 finish at Dover and fifth top-5 of 2011 in 11 starts.
• Ricky Stenhouse Jr. (fifth) had his second straight top-5 finish at Dover and 13th top-5 of 2011.
• Trevor Bayne (sixth) recorded his best finish in the past 14 races.
• Mike Bliss (ninth) posted his first top-10 finish of 2011.
• Elliott Sadler (14th) ended a seven-race streak of top-10 finishes and lost eight points to points leader Stenhouse.
Camping World Truck Series

• Ron Hornaday Jr. won the Kentucky 225 at Kentucky Speedway. It was his 50th career win in his 295th series start and his third victory this season.
• Hornaday, 53, posted his third overall victory at Kentucky. He's the series' only repeat winner at the track. He has won three or more races in eight different seasons.
• Hornaday led four times for 42 laps, including the final 11.
• Kevin Harvick Inc. posted its 40th career victory and seventh win this season, tying Kyle Busch Motorsports for the most in 2011.
• Chevrolet posted its 11th win this season and fifth victory overall at Kentucky.
• Points leader Austin Dillon (second) has three straight top-2 finishes.
• James Buescher (third) has 17 top-10 finish in 19 races this season.
• Nelson Piquet Jr. (fourth) posted his fourth career top-5 finish.
• Brian Ickler (fifth) had his second top-5 finish in three 2011 starts.
• Ricky Carmichael (sixth) matched his best finish this season (Texas).
• Ty Dillon (18th) made his Truck series debut.
-- Racing Resources