Kyle Busch just racing hard for a championship

By David Newton
ESPN.com
Archive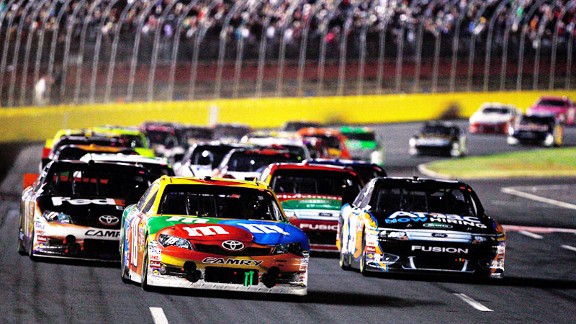 Chris Graythen/Getty ImagesKyle Busch, left, finished second at Charlotte after holding off points leader Carl Edwards, right.
You can debate whether IndyCar Series drivers were racing each other too hard early in Sunday's season finale at Las Vegas Motor Speedway, resulting in a horrific crash that took the life of Dan Wheldon.
There should be no debate on whether Kyle Busch raced points leader Carl Edwards too hard in the final laps of Saturday night's Sprint Cup race at Charlotte Motor Speedway.
Edwards said he thinks there should be. He immediately went to Busch's car on pit road while Roush Fenway Racing teammate Matt Kenseth celebrated the victory and expressed his displeasure with Busch for coming across the nose of his car in Turn 3 as the two battled for second.
"I just let him know that next time that happens, I'll just stay where I'm at and he can drive across my hood and wreck himself," Edwards said.
One could understand Edwards' complaint more had it been early in the race, as was the case at Las Vegas, where hard racing on Lap 11 turned into a 15-car melee that tragically sent Wheldon's car airborne into the catch-fence.
But what happened with Edwards and Busch was at the end of the race, between two drivers racing for a championship. They're supposed to fight tooth and nail for every position within reason, and it appeared Busch was well within reason.
"Certainly it's a tight race and Carl got a good run through the turn and got up to my left rear quarter panel, and typically that gets you a little loose," Busch said. "My car got loose and it started moving out a little bit, and I just held the wheel straight and it was essentially staying ... steering almost downhill.
"It did not get sideways like really loose, loose, that I about wrecked. It just started steering and kind of free-wheeling, so I just let it go. I ran him a little tight."
By racing him "tight," Busch side-drafted on Edwards' car to keep the RFR driver beside him and "give me another chance of redeeming myself going through 3 and 4 and getting back by him."
It worked. Busch held on for second to move within 18 points of Edwards with five races remaining, the first time he has been a championship contender this late in the season.
"There was no malicious intent involved to cause anything or to hurt his chances at finishing second or anything," Busch said.
Edwards still disagreed as he discussed the incident in the media center sitting at the opposite end of a table from Busch.
"There's a difference between racing hard and just cutting across the guy's nose," said Edwards, who has a five-point lead over Kevin Harvick. "What I told Kyle is I just wondered why coming off of Turn 2, when I got underneath him, he drove down instead of going up to the wall like we'd normally do."
It wasn't much different than the incident with 18 laps remaining that seriously damaged Jimmie Johnson's shot at winning a sixth straight championship.
Johnson and Ryan Newman were racing each other hard at about the same spot when Johnson came up on the track, got a little squirrely and slammed hard into the wall. He finished 34th to fall 35 points behind Edwards.
But instead of complaining that Newman raced him too hard, Johnson said it was his own fault. OK, he almost complained on Twitter, writing soon after the race, "Wow, that impact was huge . ... I'm alright, just with the 39 ..."
He didn't finish.
Edwards would have been better off not saying anything to Busch or reporters. Fans pay to watch drivers race hard, particularly at the end of a race with title implications, particularly in cars that are safer than ever, as we saw when Johnson walked away only slightly shaken up.
That doesn't mean they should race like lunatics early in this week's race at Talladega Superspeedway. They should show some restraint.
There's no debating that.
David Newton column | Racing Live! rewind | Recap | Results
Nationwide Series: Edwards gives Busch run for money
Kyle Busch gets a lot of grief for winning a lot outside the Cup series, but Carl Edwards is just as guilty.
The RFR driver won his eighth of the season and 37th of his career Saturday night at CMS. That's a winning percentage of 15.3, which is almost as impressive as Busch's 22.9.
Should Busch, with 51 wins, give up Nationwide next season -- which he's not -- it's not beyond imagination to think Edwards couldn't catch and pass him as the series' all-time winner.
Do the math. If Edwards were to win eight Nationwide races in each of the next two seasons, he would be at 53.
That isn't likely to happen. Edwards already has told RFR officials he doesn't plan to run many Nationwide races in 2012.
"Carl has told us he wants to take a break from the series and spend more time with his wife and kids," RFR president Steve Newmark said. "Whether that means he'll do zero races, four, six ... we'll have to sit down and talk to him about that."
That's good news for all of you who don't like Cup drivers crashing the Nationwide party.
That's also good news for RFR drivers Ricky Stenhouse Jr., the current points leader, and Trevor Bayne. With sponsorship dollars scarce, any races Edwards runs next season might mean fewer for what Newmark calls the future drivers of the organization.
Camping World Truck Series: Hornaday for hire
The good news for four-time series champion Ron Hornaday Jr. is he won his second straight race on Saturday at Las Vegas to climb into the championship picture.
The bad news is he still doesn't have a ride for next season.
With Kevin Harvick Inc. shutting down after this season, Hornaday's career could be near an end prematurely. There's not much of a market for a 53-year-old driver, even one as good as Hornaday.
He's now won three of the past five races and four overall to move within 21 points of Austin Dillon. The grandson of team owner Richard Childress, Dillon has a ride in the Nationwide Series next season. He also is set to drive in a few Cup races.
Hornaday? He has a great résumé with 51 wins and four titles, which is good news. He just doesn't have a ride, which is bad.
David Newton covers NASCAR for ESPN.com. He can be reached at dnewtonespn@aol.com. Follow him on Twitter at @DNewtonespn.
Racing Resources says …
Sprint Cup Series

• Matt Kenseth won the Bank of America 500 at Charlotte Motor Speedway. It was his 21st career win in his 431 start, tying Jeff Burton, Bobby Labonte, Benny Parsons and Jack Smith for 30th on NASCAR's all-time wins list. It was his second career Chase victory -- his only other Chase win came in 2007 at Homestead-Miami Speedway.
• Kenseth has four top-10 finishes in the five Chase races this year. It was his sixth straight finish of 14th or better at Charlotte.
• Kenseth won for the third time in 2011 (he also won at Texas and the first Dover race).
• Kenseth led three times for 46 laps.
• Roush Fenway Racing posted its 125th Cup victory, ranking fourth all time. RFR scored its fifth win of 2011, tying Hendrick Motorsports, Joe Gibbs Racing, Penske Racing and Richard Childress Racing for most this season.
• Ford posted its seventh Sprint Cup win of 2011. It was Ford's 28th victory at Charlotte, ranking second behind Chevrolet with 39.
• Kyle Busch (second) had only his second top-10 finish in the nine races on 1.5-mile tracks in 2011. It was his best finish of the 2011 Chase and seventh top-2 finish of the season.
• Carl Edwards (third) posted his eighth straight top-10 finish this season -- six of those eight were top-5 finishes.
• Kasey Kahne (fourth) has top-4 finishes in the past three races. He has only six top-5 finishes in 2011.
• Marcos Ambrose (fifth) had his third straight top-10 finish, the longest streak of his Cup series career.
• AJ Allmendinger (seventh) scored top-10 finishes in both Cup races at Charlotte in 2011.
• Denny Hamlin (ninth) posted his first top-10 finish of the Chase.
Nationwide Series

• Carl Edwards won the Nationwide Series race at Charlotte.
• It was Edwards' 37th Nationwide win in his 241st career start, tying Kevin Harvick for third all time. It was his eighth win of 2011, a personal best.
• Edwards hit the wall on Lap 32 and fell back to 27th after spending time on pit road under caution to repair the damage.
• Edwards and Kyle Busch finished 1-2 for the 18th time and seventh time in 2011.
• Roush Fenway Racing posted its 123rd series win and 11th victory of 2011, the most by any team.
• Ford posted its 17th win at Charlotte, the most of any manufacturer, and a series-high 12th win of 2011.
• Busch has finished first or second in 13 of his 20 starts in 2011.
• Trevor Bayne (third) tied his career-best finish.
• Elliott Sadler (fourth) won the Nationwide Dash for Cash ($100,000).
• Brian Scott (fifth) had his third career top-5 finish.
• Brad Keselowski (sixth) had a flat tire while leading with 30 to go, breaking a streak of three top-2 finishes.
• Ricky Stenhouse Jr. (ninth) leads Sadler by 15 points in the Nationwide standings.
Camping World Truck Series

• Ron Hornaday Jr. won the Sam's Food & Drugs 350 at Las Vegas Motor Speedway.
• It was Hornaday's 51st career win in his 296th series race and his fourth victory in 2011. It was his first win at Las Vegas in his 11th start there. It was his ninth win from the pole and his 25th victory with Kevin Harvick Inc.
• Hornaday led four times for 107 laps, including the final 32.
• KHI posted its 41st career victory and eighth win in 2011, the most of all teams. It was KHI's first win at Las Vegas.
• Chevrolet posted its 12th win this season and seventh victory overall at Las Vegas.
• Matt Crafton (second) had his fourth top-5 finish of the season and matched his best Las Vegas finish in his 11th start there.
• Timothy Peters (third) posted his seventh top-5 finish of the season, earning his best Las Vegas finish in his fourth start there.
• Johnny Sauter (fourth) suffered his worst Las Vegas finish in his third start there.
• Todd Bodine (fifth) has 10 top-10 finishes in 2011, including five in the past six races.
• Nelson Piquet Jr. (sixth) has top-10 finishes in four of the past six races.
• Norm Benning (15th) posted his career-best finish.
• Austin Dillon (17th) was involved in a Lap 2 accident while running second; he finished 15 laps down after receiving the free pass three times.
• James Buescher (21st) was involved in a Lap 47 accident while running 16th.
• Max Gresham (25th) made his series debut.
-- Racing Resources