Tony Stewart's Chase onslaught continues

By Ed Hinton
ESPN.com
Archive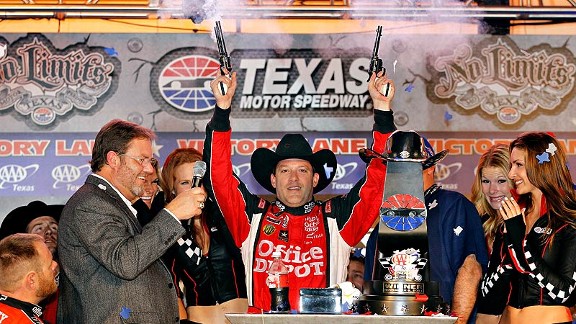 Chris Graythen/Getty ImageTony Stewart has four wins in eight Chase races and all the momentum heading into Sunday's race at PIR.
The thing about hot streaks is, they end. Usually without warning. Sometimes in disaster.
So all I'm sayin' is, let's not get carried away here. Let's not hand the Sprint Cup to Tony Stewart just yet, the way we tried to hand it to Denny Hamlin with two races left last year, praising him for calling his shot, sure he would follow through on his -- whoops!
Stewart's onslaught -- four wins in eight Chase races, including the past two -- might not end until February's Daytona 500 or beyond.
Then again, his run of fully backing up his crowing could end this very weekend where Hamlin's did last year: at Phoenix in the next-to-last race of the Chase.
Oh, and by the way, Carl Edwards, the Chase leader who seems so much to be Stewart's prey with only a three-point lead, has won two of the past three season finales at Homestead-Miami.
Edwards is a soft-spoken guy, always measured (at least before the media), never given to smack talk.
So now, it's hard to tell whether he is rattled by Stewart's onslaught of verbiage and driving.
Sunday night at Texas, after finishing second -- but losing clearly -- to Stewart, who continued verbal pummeling, Edwards spoke softly to reporters at the track when he said, "It would be really fun to be standing up there last one on stage at the banquet. I might have a couple jokes then. That would be a good time for them."
Rattled or polite? Who knows?
But his refrain Sunday, as it had been after Stewart's win the previous Sunday at Martinsville, remained: "There couldn't be a better place to finish than Homestead."
Edwards calls newly reconfigured Phoenix International Raceway the great unknown. Stewart points out he had the quickest car in the open tire test on the new surface, but that was back in August, in hotter weather.
Listen carefully to the unsung architect of Stewart's streak, crew chief Darian Grubb, who kept his head this past summer when Stewart was telling the world the team didn't deserve to make the Chase.
The Phoenix track "is going to change while we're there, with all the practice we have," Grubb said Sunday night. "We have to be smart how we adapt to those changes."
Thing is, Stewart has had some fast cars at Phoenix but hasn't actually won there in Cup since his rookie year, 1999. He hasn't won at Homestead since 2000, and that was before that track was reconfigured.
Hamlin, too, called his shot last fall, to a point. His idea was to get past Talladega, the crapshoot point in the Chase, then turn up the burners.
But at Phoenix, he and crew chief Mike Ford miscommunicated on fuel mileage; Hamlin had to pit late, finished 12th, and that was the end of all that confidence.
The winner of that race, by the way, was Carl Edwards.
"It's theirs to lose now," Stewart said of the championship and Edwards' team. "But I don't know that they have a choice now. ... We're going to take it if we want it. Today is a perfect example."
Stewart of all people ought to know that no "today" is a predictor of any tomorrow in NASCAR. He won the first two races of this Chase. Then in the next two, he proceeded to finish 25th and 15th while Edwards finished third and fifth. That's a "perfect example" of how Edwards still clings to the lead.
Edwards' situation is a classic example of what few, other than deeply traditional fans, want to see: His prospect is to win the championship with consistency and, so far, only one race win.
About that one win, at Las Vegas: Listen again carefully to the clear-headed Grubb.
Asked Sunday night whether he could remember a race this season when the 14 team was as dominant as at Texas, Grubb said, "Las Vegas is one we qualified, stayed up front, dominated the race," but then ... "had bad luck and finished second.
"Kick myself now, because I wish we'd done two tires there at the end to pull off that win instead of Carl. ... Those are points we know we gave up early in the season."
To be sure, as Grubb quickly added, things are clicking now. Clockwork. And the tendency is to hop onto the Smokewagon, because he's doing it right: gunning for a championship by winning races.
I like that, too. But I'm not counting on it just yet. I'm just sayin'. ...
Terry Blount column | Racing Live! rewind | Recap | Results
Nationwide Series: Bayne roars back into the spotlight
So what ever became of Trevor Bayne?
You know, the 21-year-old who won the Daytona 500 out of nowhere back in February, then was hospitalized with an illness that confounded his physicians, then was sidelined, then ... well ... slipped for a while from the public consciousness?
He was spotted alive and well -- and beaming again with those perfect teeth and impeccable manners and genuine enthusiasm -- in Victory Lane at Texas Motor Speedway on Saturday.
And he got there in a way that couldn't be ascribed a whit to the fickle drafts of restrictor-plate racing.
Bayne got his first Nationwide win straight up, by passing the previously dominant Carl Edwards and holding off Denny Hamlin after the final caution period ended with seven laps to go.
"Daytona is great, but that's restrictor-plate racing," Bayne told reporters at the track. "I hate to say it, but a lot of people could be in Victory Lane there. But to win at a mile and a half, that has been one of my dreams, and Texas is by far one of the toughest places to drive. ..."
And so, "This is just as surreal as the 500," he said. "That's hard to say, but this has been so long."
In a way he came out of nowhere again, showing the strength of his Ford Mustang only when it mattered. His crew had sorted out the handling at just the right time.
"That was a last-minute save by [crew chief] Chad Norris," Bayne said. "I didn't think this car had it in it. I thought it might all week, but with about 14 to go, I didn't know if we'd be able to get up there and get the wins, but he dialed it in and the pit crew did a great job of getting me back out, and this thing was a beast at the end."
Bayne led but six laps -- the final six -- of the 200, after Edwards had led 157.
On the final restart, "I picked the outside because I thought, 'All right, Trevor's behind me; he'll help me out,'" Edwards said. "And he did. He helped me all the way down into Turn 1. I wasn't too worried about him turning in. ..."
But as they went down the backstretch on the first lap after the restart, "Those guys [Bayne's branch of Roush Fenway Racing, Edwards' team] at the end were just so fast on short runs. ..."
Edwards finished third, behind Hamlin, who was driving in place of the suspended Kyle Busch.
"It's frustrating to lose this race," Edwards said, "but I couldn't lose it to a better guy. He's a good friend."
Camping World Truck Series: Kyle Busch's antics steal show
Just for the record, the race continued after Kyle Busch's seismic dumping of Ron Hornaday Jr. Friday night at Texas Motor Speedway.
Kevin Harvick went from victim to victor, with the Brothers Dillon in hot pursuit at the end. Austin Dillon left himself with a cakewalk to the Trucks championship, and younger brother Ty finished third to show he'll be a solid replacement when Austin graduates to Nationwide next year.
But also for the record, here's a detailed recap of Busch's deeds, then back to the race that followed.
On the 14th lap, Busch was pressing James Buescher for the lead when Hornaday slipped alongside Busch. Hornaday, at that point still in the hunt for the championship, pulled slightly in front of Busch before they ran up on the lapped truck of Johnny Chapman.
Neither Busch nor Hornaday would lift as they went three-wide. Hornaday, in the middle, clipped Chapman and then came up into Busch, and they both scraped the wall.
Seconds after a caution came out, Busch ran down Hornaday and hammered on his bumper until Hornaday was turned into the wall head-on. Then Busch went into the wall himself.
NASCAR then parked Busch for the rest of the race and began the overnight deliberations that resulted in NASCAR's first fully Kyle-less weekend since 2004.
Now back to the race.
Harvick spent most of his Victory Lane interview fielding questions about his teammate and employee, Hornaday, being taken out of the race and championship contention by what might have been Busch's career masterpiece of flying off the handle.
Busch "definitely showed his immaturity and why he's just one of those guys who just can't stand to lose," Harvick told Speed TV reporters at the track.
Meanwhile, the Dillons were exhilarated about racing each other, and Harvick, at the end. And Austin got a gift he didn't particularly want -- his closest rival for the season title, James Buescher, ran out of fuel toward the end.
On the final restart, with three laps left, "I spun the tires getting going but I had my brother behind me helping me out," Austin, 21, said of Ty, 19. "I was hoping he could push me down the backstretch to clear Harvick, but I got a little loose on the right front and had to turn back under Harv."
"I really wanted to push him to the lead," Ty said, "but I lost the front end getting too close behind him."
Then Ty admitted about his older brother, "I really wanted to pass him, but he's got some bigger things coming."
Like a championship. Austin will collect that with a 16th-place finish or better in the season finale at Homestead-Miami on Nov. 18.
Then their grandfather, Richard Childress, will move Austin up to Nationwide and Ty into the Trucks ride for 2012.
Ed Hinton is a senior writer for ESPN.com. He can be reached at edward.t.hinton@espn.com.
Racing Resources says …
Sprint Cup Series

Tony Stewart won the AAA Texas 500 at Texas Motor Speedway.
Stewart posted his 43rd Cup win in his 462nd career race. It was his second win at Texas in his 20th race there.
Stewart has won four times in 2011 -- all in the Chase. His four victories ties Jimmie Johnson for most wins in a Chase playoff.
Stewart has won back-to-back races twice this year, both in the Chase. He has scored 20 bonus points in the Chase, the most of any playoff driver.
Stewart has 10 career Chase wins, ranking second to Jimmie Johnson with 20 Chase victories.
Stewart has won 10 times with crew chief Darian Grubb and Stewart-Haas Racing.
Stewart led seven times for 173 laps.
Stewart-Haas Racing posted its 12th career win but only its first victory at Texas.
Chevrolet posted its 17th win of 2011 and seventh victory overall at Texas.
Carl Edwards (second) finished in the top three in both races at Texas in 2011.
Kasey Kahne (third) had his fourth top-5 finish at Texas and his fourth top-5 of the Chase, the most by any nonplayoff driver.
Matt Kenseth (fourth) has had top-10 finishes in nine of the past 10 Texas races. He has five top-10 finishes in the 2011 Chase.
Greg Biffle (fifth) has finished in the top 10 in the past seven Texas races.
Jeff Gordon (sixth) had only his third top-10 finish in the 2011 Chase.
Dale Earnhardt Jr. (seventh) had his third top-10 finish of the 2011 Chase. He finished in the top 10 in consecutive races for the first time since Kansas (race No. 13) and Pocono (race No. 14).
Martin Truex Jr. (eighth) has posted top-10 finishes in the past three races, his longest top-10 streak since joining Michael Waltrip Racing.
Clint Bowyer (ninth) came back from two laps down to get his fifth top-10 finish in the past eight races.
The average race speed of 152.707 mph is a track record.
Nationwide Series

Trevor Bayne won the O'Reilly Auto Parts Challenge at Texas Motor Speedway.
Bayne posted his first Nationwide Series win in his 77th career start. He became the youngest driver to win at Texas (20 years, 8 months, 17 days) and the 14th series driver to win in 2011.
Bayne led once for the final six laps.
Roush Fenway Racing posted its 124th series win and a season-high 12th victory of 2011, most of all organizations. RFR won for the seventh time at Texas, most of all organizations.
Ford posted its eighth win at Texas and 13th victory of 2011 -- both win totals the most of all makes. Ford clinched the manufacturers' championship.
Denny Hamlin (second) matched his best Texas finish, which he had set in spring 2007, after starting the race in the rear after replacing a parked Kyle Busch.
Carl Edwards (third) scored his eighth straight top-5 finish of 2011. He led the most laps for the 12th time in 2011, which ranks third all time for most races leading the most laps.
Clint Bowyer (fourth) has top-four finishes in his past three starts after his fifth top-six finish in eight starts in 2011.
Brad Keselowski (fifth) had his sixth straight top-5 finish at Texas and fifth straight top-six finish of 2011.
Ricky Stenhouse Jr. (sixth) had his seventh straight top-10 finish of 2011, extending his points lead to 17 over Elliott Sadler.
Sam Hornish Jr. (seventh) had his fourth career top-10 finish -- all four in his past eight starts.
Sadler (ninth) lost two points to leader Stenhouse after getting his 23rd top-10 finish of 2011.
Danica Patrick (11th) had her fourth top-11 finish in 10 starts in 2011.
Kenny Wallace (13th) made his 520th series start, the most of all drivers.
Camping World Truck Series

Kevin Harvick won the WinStar World Casino 350K at Texas Motor Speedway.
Harvick posted his 13th career win in his 116th series start. It was his first win at Texas and fourth victory of 2011, tied for second-most with teammate Ron Hornaday Jr. It was Harvick's first win with crew chief Chris Carrier. Harvick has won with six different crew chiefs.
Harvick led four times for 61 laps, including the final 45.
Kevin Harvick Inc. posted its 43rd career win, second all time in the series, and its 10th win of 2011. KHI swept both Texas races this year. The No. 2 truck clinched KHI's third owners' championship.
Chevrolet posted a series-leading 14th win of 2011 and 11th win at Texas, most of all makes. Chevrolet clinched the manufacturers' championship for the seventh time but for the first time since 2005. It swept the top eight finishing positions.
Austin Dillon (second) had his sixth top-two finish of 2011. He could clinch the 2011 series championship with a 16th-place finish or better at Homestead-Miami Speedway even if Johnny Sauter wins the race.
Ty Dillon (third) had his first top-10 finish in his second series start.
Nelson Piquet Jr. (fourth) had his ninth top-10 finish of 2011. It was his second top-10 finish in three Truck series starts at Texas.
Matt Crafton (fifth) had his fifth top-5 finish of 2011. It was his fourth top-5 finish in the past six Texas Truck races.
Joey Coulter (sixth) had his 12th top-10 finish of 2011 but only his second in the past eight races.
Johnny Sauter (seventh) had his 15th top-10 finish of 2011. He moved up one position in points to second but still trails leader Austin Dillon by 20.
Ricky Carmichael (eighth) had his seventh top-10 finish of 2011 and third in the past five races. He started the race at the rear of the field because of an engine change.
James Buescher (19th) is now third, 28 points back, after running out of gas with fewer than five laps to go while running second.
Kyle Busch (33rd) and Ron Hornaday Jr. (34th) were involved in a Lap 14 accident. Hornaday is fourth in points, 48 back.

-- Racing Resources