Johnson's reign over, but what a ride

By Terry Blount
ESPN.com
Archive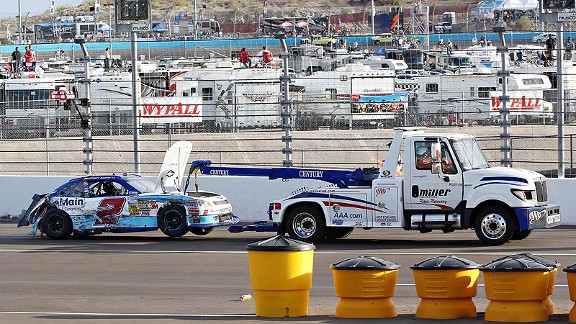 Christian Petersen/Getty ImagesElliott Sadler suffered his first DNF of the season in the Nationwide Series, making his chance to win the championship a slim one.
For the first time in the eight seasons of Chase history, Jimmie Johnson will go to the final event of the year without a chance of winning the championship.
Just think about that for a second. For seven consecutive seasons, Johnson had a shot at winning the Sprint Cup title in the final race. And he won the last five of them.
Pick any sport and any champion (individual or team) of any era. Johnson's run ranks with the best of the best. It is long past time to give the man his due.
Even in defeat, Johnson went down swinging. He wasn't eliminated officially until his 14th-place finish Sunday at Phoenix.
"There's definitely disappointment," Johnson said Sunday after the race. "I think that will be the emotion I deal with first. We won't be able to go to Homestead and race for our sixth [consecutive title], but that's motorsports. It's a very tough business.
"Over the offseason, I'm sure it will kick in some and [I will] reflect. What we did over the last five years was absolutely spectacular."
His entire Cup career has been spectacular. Johnson has finished first or second in the standings in seven of his nine Cup seasons. He has finished in the top five in all nine and has a chance to continue that with a good finish Sunday at Homestead (4 p.m. ET on ESPN2 and WatchESPN).
Johnson is fifth in the Chase standings, two points ahead of Matt Kenseth and only 13 points behind third-place Kevin Harvick.
It's a decade of excellence that may never be equaled.
"I've got to thank Hendrick Motorsports, [crew chief] Chad Knaus and this whole race team for giving me everything they have these 10 years," Johnson said. "We're going to go to Homestead and try to have our best race down there that we can and finish as high as we can in the points.
"To a certain degree, being on top for as long as we have been takes a lot out of you. So this winter it will be nice to unplug and relax and really look internally and dissect the different areas of the race team and what we do and come back stronger. I've always learned more from tougher moments, but by no means is this a tough moment."
Consider this comparison. In his first 10 full seasons, Richard Petty won two Cup championships and had an average points position of 2.8.
If Johnson maintains his No. 5 position after the race this weekend, he will have five championships in 10 seasons and an average points position of 2.4.
Dale Earnhardt had three titles in his first 10 seasons and an average spot in the standings of 5.2. Jeff Gordon won all four of his championships in his first 10 seasons with an average points spot of 4.7.
By any standard of measurement, Johnson deserves mention with the all-time greats. For the first time in a long time, he will go to South Florida with only one concern -- trying to win the race. I wouldn't count him out.
"Yeah, I'll definitely have more fun and get a lot of sleep going in there," Johnson said. "I'll bet you the 99 [Carl Edwards] and the 14 [Tony Stewart] won't."
Edwards leads Stewart by three points in a Chase finale that NASCAR officials always wanted -- two of the biggest stars of the sport having to beat each other on the final day to win the title.
But before that happens, when Johnson walks on that stage for the prerace introductions, every person in the grandstands should stand, cheer and applaud with gusto. Being thankful to have witnessed such a phenomenal achievement.
"I haven't won two in a row, much less five," Stewart said Sunday about Johnson's championship run. "I don't see anybody doing it again. I think it's been absolutely remarkable.
"I know this year hasn't ended up the way he wanted. But Jimmie can go to Las Vegas [the season awards ceremony] and hold his head up high knowing what they've accomplished. There's a real good possibility in the history of the sport for eternity that it will never happen again."
As the saying goes, records are made to be broken. I'm betting Johnson's achievement is one of those rare exceptions.
It's time to give the man his due.
David Newton column | Racing Live! rewind | Recap | Results
Nationwide Series: Series taking big steps to rebuilding identity
The Nationwide Series will crown a true champion for the first time in six years this Saturday at Homestead-Miami Speedway (4:30 p.m. ET on ESPN2 and WatchESPN).
Ricky Stenhouse Jr. probably is that man, thanks to a rule change this season that forced all drivers to declare which series they would race for the title. That meant Cup regulars were out on the championship battle in the lower series.
Barring a disastrous finish by Stenhouse and a run up front by Elliott Sadler, Stenhouse will win the title and officially end the string of five-straight Cup drivers winning the Nationwide crown. Stenhouse needs to only finish 37th or better to win the title.
There are a couple of other things fans could see at Homestead for the first time since 2005 -- a third consecutive trip to Victory Lane for a Nationwide regular and a seventh win in the same season by a non-Cup regular.
Sam Hornish Jr. earned his first career NASCAR victory in the Nationwide race at Phoenix on Saturday, joining Trevor Bayne (who won at Texas one week earlier) as a first-time winner in the series.
It also was the first time Nationwide-only drivers had earned first victories in back-to-back races since Brad Keselowski and Joey Logano did it in June of 2008.
The fact that Kyle Busch didn't race in the last two Nationwide events and won't race at Homestead increases the chances fans could see another Nationwide regular win to close out the season.
David Newton blog | Recap | Results
Camping World Truck Series: Dillon trying to seal the title deal
The Camping World Truck Series had an off weekend, which probably was a good thing after all the controversy with the Kyle Busch incident at Texas.
Now the series can head to Homestead for the season finale with all the focus on Austin Dillon's attempt to win the championship. This is Dillon's title to lose. He's 20 points ahead of Johnny Sauter and 28 ahead of James Buescher.
Sadly, the championship battle ended for veteran Ron Hornaday Jr. when he was taken out by Busch at Texas Motor Speedway. Hornaday was hoping to come from behind and win his fifth CWTS title.
Dillon or Buescher, both 21, would be the youngest champion in series history. No matter who wins it among the three contenders, he will end the series moniker as the "senior league" and become the first under-40 CWTS champion in eight years.
Terry Blount is a senior writer for ESPN.com. His book, "The Blount Report: NASCAR's Most Overrated and Underrated Drivers, Cars, Teams, and Tracks," was published by Triumph Books and is available in bookstores. Click here to order a copy. Blount can be reached at terry@blountspeak.com.
Racing Resources says …
Sprint Cup Series

Kasey Kahne won the Sprint Cup Series Kobalt Tools 500 at Phoenix International Raceway on Sunday, his 12th career win in his 287th race. It was his first win at Phoenix, making him the 22nd different driver to win at PIR. It was Kahne's first win of 2011, making him the 18th different driver to win in the series this year. Kahne's victory ended an 81-race winless streak. His last win was at Atlanta in September 2009. This was Kahne's 11th win with crew chief Kenny Francis.
This is the most drivers to win in a single season since 2002.
Kahne became the eighth driver to end a winless streak of over 32 races in 2011, and the fourth to end a streak of 60 or more. It was the fourth straight race at Phoenix in which the winning driver ended a winless streak of 66 races or more.
Kahne's win was the second career win for Red Bull Racing. It was the team's first win at Phoenix, the 13th different organization to win at PIR. It was the first win of 2011 for the team, making it the 10th organization to win in 2011.
Kahne's win was the first win at Phoenix for Toyota, the fourth different make to win at PIR. It was the maker's fifth win of 2011.
Carl Edwards (finished second) has an average finish in the Chase of 5.2.
Tony Stewart (third) has eight top-5 finishes in 2011, and this was his fifth of the Chase. He led the most laps for the third time in the last four races. He trails Edwards in the championship race by three points.
Jeff Burton (fourth) has four top-10 finishes in 2011, including three in the last four races.
Ryan Newman (fifth) got his best finish of the 2011 Chase and his first top-5 finish since Michigan in August.
AJ Allmendinger (sixth) has top-11 finishes in five of the last seven races.
David Reutimann (seventh) earned only his third top-10 finish of 2011 and first since he finished second at Kentucky.
Marcos Ambrose (eighth) has top-11 finishes in five of the last seven races.
Paul Menard (ninth) got only his second top-10 finish since his win at Indianapolis. He moved from 18th to second in the race with a two-tire stop on Lap 221.
Cole Whitt (25th) made his series debut.
Nationwide Series

Sam Hornish Jr. won the Nationwide Series Wypall 200 at Phoenix International Raceway on Saturday, his first career series win in his 32nd start. His previous best career finish was fifth at Chicagoland in September. Hornish is the third first-time winner of 2011 (Ricky Stenhouse Jr. and Trevor Bayne). Hornish is the first driver to score his first win at Phoenix and he's the 131st different driver to win a series race. It was his fifth top-10 finish in 12 races of 2011. Hornish led once for 61 laps, leading more laps in the race than he had in his previous 31 starts combined.
Hornish won twice at Phoenix in the Indy Car Series (2001 and 2005), but his previous best finish at Phoenix in NASCAR was 36th in November 2006.
Hornish's win was the 22nd career for Penske Racing and the team's sixth win of 2011 with three drivers. It was the team's first win at Phoenix and the second time Penske cars finished 1-2 (Brad Keselowski).
Hornish's win was the sixth of the season for Dodge, all by Penske. It was the manufacturer's second win at Phoenix.
Keselowski earned his best finish at Phoenix in his 10th start.
Carl Edwards (finished third) has top-three finishes in his last eight starts of 2011. He has top-10 finishes in 13 of his 14 races at Phoenix.
Joey Logano (fourth) has top-10 finishes in all six starts at Phoenix. The No. 18 car leads the No. 60 by one point in the Owners Championship.
Stenhouse (fifth) got his eighth straight top-10 finish. He will win the 2011 series championship if he finishes 37th or better at Homestead no matter where second-place Elliott Sadler finishes.
Bayne (sixth) got his first top-10 finish at Phoenix in five starts and has top-10 finishes in his last five races.
Clint Bowyer (seventh) earned his fourth straight top-10 finish after rebounding from a restart on Lap 91, where he overdrove the first turn and dropped to 17th after running second.
T.J. Duke (23rd) made his series debut.
Sadler (27th) had his first DNF of the 2011 season.
-- Racing Resources