Edwards' gamble paid off; JJ's didn't

By Terry Blount
ESPN.com
Archive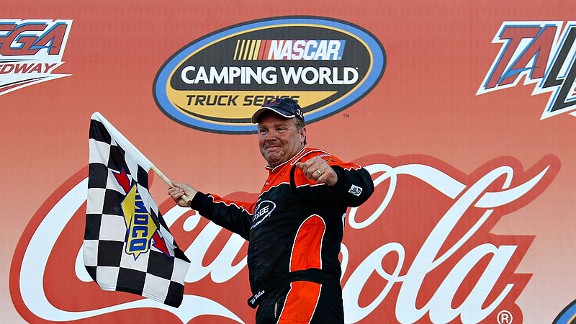 Chris Graythen/Getty ImagesMike Wallace waited a long time to get back to Victory Lane. His Camping World Truck Series win at Talladega was a highlight of the weekend.
Carl Edwards will not apologize for playing possum. If that's what it takes to win the championship, so be it.
But the exact same strategy probably cost Jimmie Johnson a shot at a sixth straight Sprint Cup title.
For one man it worked; for the other, it didn't.
Edwards and Johnson weren't really racing for 90 percent of Sunday's show at Talladega. But Edwards left the Alabama danger zone with his biggest lead of the Chase after avoiding all the wrecks and finishing 11th.
"If I had to do it over again, I would do the exact same thing," Edwards said after the race. "And I bet you the outcome would be wildly different, better or worse. At the end of the day we had a shot at it. Our car was intact and we could drive up there and that was our mission. It went well for us."
The same idea didn't go well for Johnson. Like Edwards, he elected to ride around at the back until near the end. Johnson finished 26th when he and drafting partner Dale Earnhardt Jr. had problems.
"We planned our strategy like we had hoped to," Johnson said. "On that last restart, we had some issues with my car overheating. I got some trash on the grill. We lost our momentum there and finished far worse than we had hoped."
Edwards could afford to lie back as the points leader. Johnson couldn't. He was 35 points back entering the race. Now he's 50 back.
Five-Time is done. Yes, I said it.
Edwards is 14 points ahead of Roush Fenway Racing teammate Matt Kenseth with four races remaining. Brad Keselowski is 18 points behind Edwards, one point ahead of Tony Stewart in fourth.
Along with Johnson, the other big losers of the Talladega shuffle were Kevin Harvick and the Busch brothers. Harvick and Kurt Busch left the track with torn-up cars and damaged chances of winning the Cup crown.
Harvick was only five points behind Edwards entering the race, but now is 26 points back in fifth place after finishing 32nd.
"Obviously, that wasn't the day we wanted," Harvick said after the race. "But the way the rest of those guys raced, it didn't devastate us.
"It is a little bit frustrating. You do what you think is right at this particular race track and you hope for the best. We had a lot of great runs in the weeks leading up to this and I guess the odds were against us coming into this one."
Harvick isn't out of it, but the Busch boys probably are done. Kurt Busch crashed and finished 36th. He's 52 points back now in eighth. Kyle finished a lap down in 33rd. He's sixth in the Chase, 40 points behind Edwards.
As expected, Talladega shook things up. It ended the championship chances for some, including Johnson. For Edwards, a little sandbagging might prove to be the thing that earns him his first Cup title.
Ed Hinton column | Racing Live! rewind | Recap | Results
Nationwide Series: Waiting on Texas race
The Nationwide Series is in the middle of a rare two-week break before ending the season with three consecutive races, starting at Texas Motor Speedway on Nov. 5.
It's a two-man race for the title now. Ricky Stenhouse Jr. holds a 15-point advantage over Elliott Sadler, who could become the first winless champion in series history.
Hopefully, Stenhouse or Sadler will get a victory in one of the last three races, but it isn't likely.
The last time a Nationwide-only driver won at Phoenix or Homestead was 2003 when Bobby Hamilton Jr. won at Phoenix and Kasey Kahne won at Homestead, the year before Kahne moved up to Cup. The last Nationwide regular to win at Texas was Jeff Purvis in 2002.
Cup drivers have won the past nine Nationwide races this season.
Camping World Truck Series: Dillon has to hope he doesn't regret Dega
If Austin Dillon fails to win the Camping World Truck Series title this season, the end of the race at Talladega on Saturday will haunt him.
Dillon was leading late in the race during a caution but failed to maintain pace when he was trying to conserve fuel. He was penalized and restarted 18th, but recovered to finish seventh.
Nevertheless, it was a possible victory gone to waste. He remains on top of the standings, but he's only three points up on James Buescher with three races remaining.
It's still a four-man race. Johnny Sauter is 14 points back and Ron Hornaday Jr. is only 16 behind Dillon.
The heartwarming part of Saturday's race was seeing Mike Wallace in Victory Lane for the first time in seven years. It was the first time any driver from the Wallace clan had won a race since Mike won the July Nationwide race at Daytona in 2004.
Terry Blount is a senior writer for ESPN.com. His book, "The Blount Report: NASCAR's Most Overrated and Underrated Drivers, Cars, Teams, and Tracks," was published by Triumph Books and is available in bookstores. Click here to order a copy. Blount can be reached at terry@blountspeak.com.
Racing Resources says …
Sprint Cup Series

Clint Bowyer won the Sprint Cup Series Good Sam Club 500 at Talladega Superspeedway on Sunday, his fifth series win in his 213th start. It was his first win of 2011, with his previous win at Talladega last October, with 34 starts in between. It was his second win at Talladega in his 12th start and he has finished first or second in the past three Talladega races. It was his second restrictor-plate win in his 24th start. Bowyer is the 17th different driver to win in 2011. All five of Bowyer's wins have come with Richard Childress Racing, and it was Bowyer's second win with crew chief Shane Wilson. Bowyer led eight times for 25 laps including the final lap. His past two wins have come on a last-lap pass.
It was the 100th series win for Richard Childress Racing and the team's sixth win of 2011, most in the series. RCR has won 12 times at Talladega, most of any team, and it now has 16 restrictor-plate wins. RCR has won three of the past four Talladega races, and has won four of the past five races that featured a last-lap pass. The team has finished 1-2 in the past two October races at Talladega.
Bowyer's win was the 15th of 2011 for Chevrolet and the maker's 38th Talladega win, most all time.
Jeff Burton (finished second) got his best finish of 2011 and first top-5 finish of the year. His previous top-5 was a second-place finish at Dover last September.
Dave Blaney (third) tied a career-best finish for the third time.
Brad Keselowski (fourth) got his 10th top-5 finish of 2011, fourth top-5 of the Chase and eighth in the past 12 races.
Brian Vickers (fifth) tied his best finish of 2011 and earned his fourth top-5 finish at Talladega.
Kasey Kahne (sixth) got his fourth straight top-six finish, but this was his worst finish in the past four races.
Tony Stewart (seventh) led the most laps (30) and got his fourth top-10 finish of the Chase.
Michael Waltrip (ninth) got his best finish of the three races he competed in in 2011.
Camping World Truck Series

Mike Wallace won the Camping World Truck Series Coca-Cola 250 at Talladega Superspeedway on Saturday, his fifth career win in his 115th series race. It was his first win since March 26, 2000, 42 starts ago. Talladega was Wallace's first truck race of the year, and he had not started a truck race since Talladega in October 2009. This was his first win at Talladega in his fifth race and his second superspeedway win (Daytona, 2000). He led eight times for 54 laps.
Wallace's victory was the 42nd career win for Kevin Harvick Inc., the first by Wallace. This was the team's ninth win this season, most in the series, and the team's first win at Talladega. Wallace is the sixth different driver to win for KHI.
This was Chevrolet's 13th win this season, but the maker's first win at Talladega in the series.
Ron Hornaday Jr. (finished second) got his 12th top-5 finish of 2011, and his second second-place finish at Talladega.
James Buescher (third) earned his 10th top-5 finish of 2011 and gained four points on the leader Austin Dillon.
Ricky Carmichael (fourth) tied his career-best finish and got his first top-5 of 2011.
Jason White (fifth) earned his first top-5 finish at Talladega and tied his best finish of 2011.
Austin Dillon (seventh) restarted 17th with two laps to go after being penalized for not maintaining caution speed while running fourth on the final caution.
Kyle Busch (ninth) made his 100th career start.
Johnny Sauter (15th) recovered from a mid-race accident which put him two laps down, took a wave around and free pass to get back on the lead lap.
-- Racing Resources