Fontana may help Johnson, haunt Hamlin

By Ed Hinton
ESPN.com
Archive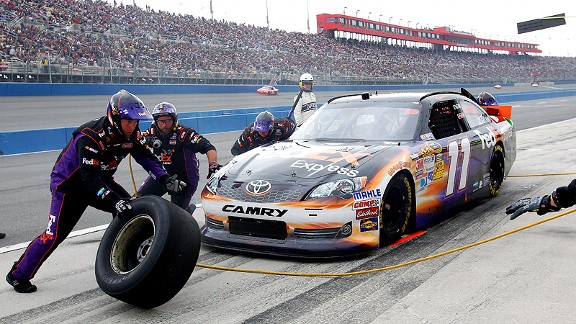 Jonathan Ferrey/NASCAR/Getty ImagesComing into the pits at the wrong time can prove costly, as Denny Hamlin & Co. found out Sunday at Auto Club Speedway.
Beyond the winners, race results tend to run together to fans and media during the course of a 36-race Cup season. But drivers have a knack for total recall of every little thing that happens to them every week.
By September, when they're about to make or miss the Chase, they start rattling off minutiae from months ago, because the race-to-race arithmetic is indelible.
Sunday, while Tony Stewart was running away sitting still -- his car was the class of Auto Club Speedway whether barreling down the backstretch or parked on pit road in the rain -- there was time to ponder a couple of situations we might file away, just in case they come up in September.
Jimmie Johnson, who wound up 10th, was the glaring case in point. Denny Hamlin, who gave away second and wound up 11th, was the undercard example.
Both situations developed just after the race-shortening rain began to fall. Johnson's smoking car was spared lengthy repairs and wound up 10th. Hamlin chose to relinquish second place by pitting, and he finished where he sat on pit road in the rain.
When you work Johnson's hypothetical math, he might have been the biggest scorer -- or salvager -- of points in a week's time since the system was revised last year.
Sunday's weather may have saved as many as 28 points for Johnson. Add the 35 he wound up scoring to the 25 he got back last Tuesday when a NASCAR penalty from Daytona was overturned. That's 60 for the week, 53 of them by luck or restoration, both numbers greater than it's even possible for a driver to score in a single race, 48. Stewart, by the way, got 47.
Just as crew chief Chad Knaus was caught by surprise when Johnson's spotter told him the car was smoking, a merciful yellow flag flew for rain, followed by the saving red and the early end, at 129 of the scheduled 200 laps.
Johnson's car was in critical condition: "We clipped an artery [an oil line]," as his metaphor to TV reporters went. "Bottom line, it's losing blood fast."
Didn't matter. The car was sitting locked in 10th. Fox TV analyst Larry McReynolds, a former crew chief, estimated Johnson would have lost a good 10 laps for the repairs had the race continued.
That could have left Johnson as low as 37th, good for seven points rather than the 35 for 10th.
That, even after the penalty restoration, would have left Johnson 18th in the standings, 67 points behind leader Greg Biffle.
Hamlin's and crew chief Darian Grubb's decision to pit under the rain caution cost them only nine points between the 43 they'd have gotten for finishing second plus leading a lap and the 34 they got for 11th plus leading a lap.
And Hamlin is seventh in the standings, two notches ahead of Johnson.
Hamlin shrugged off the decision to pit as a calculated gamble for a win that failed.
"We were planning on the race going back green," he said.
Despite the appearance that Stewart had faked Hamlin into the pits, both drivers said that wasn't the case.
"Looked good, though," Stewart said to TV reporters at the track of his zig toward the pits and his zag back out.
Those nine points look trivial -- now -- and we're more likely to hear from Johnson's total recall of Sunday than from Hamlin's down the road.
But you never know, come September.
Terry Blount column: Smoke rising | Racing Live! rewind | Recap | Results | Highlights

Nationwide Series: Logano fuels streaking Joe Gibbs Racing
Well, there went total ownership of the Nationwide Series by Nationwide regulars. You knew it had to end eventually, and it did Saturday.
Joey Logano got back to the cherry picking by Cup drivers dropping down, running away at the end of the Royal Purple 300 at Auto Club Speedway in California.
Before that, all four races had been won by drivers competing for championship points in NASCAR's version of Triple-A baseball.
Defending series champion Ricky Stenhouse Jr. did break out of the pack to chase Logano at the end, but Stenhouse wound up second after his Ford just didn't have enough for Logano's Joe Gibbs Racing Toyota.
The Gibbs team, by the way, got its eighth straight series win and 10th overall at the 2-mile track in Fontana.
Even before the final caution with 17 laps left, it appeared to be a done deal for Cup drivers, with Brad Keselowski, Kyle Busch and Logano running 1-2-3.
But on the final restart with 13 laps to go, Logano broke out front of the scramble and was challenged no more.
The best car won, Logano reckoned after leading eight times for 92 of the 150 laps.
"It was the class of the field all day," he told ESPN's Dr. Jerry Punch in Victory Lane. "They had plenty of shots at me. The restarts were hairy. I was good for a few laps and then I'd fall off, then my car would come back."
"I gave Joey a good push," Keselowski, who wound up third, said of the last restart, "and I guess I helped him get to the lead a little bit earlier."
After that, Keselowski faded after bumping with Trevor Bayne. Busch's chances ended on his final pit stop, when his crew had trouble with a right-front tire change. He came out 17th and staged a wild charge but could get back only to an eighth-place finish.
For the final sprint, Stenhouse's car just wasn't working as well as Logano's.
All afternoon, "We were back and forth, loose, tight, loose, tight," Stenhouse told ESPN reporters. "There at the end, the last couple of runs, we were just a little bit tight."
Elliott Sadler, who had won two of the first four Nationwide races as a regular, also fought a fitful car and finished ninth. Danica Patrick's miserable luck continued in a different way this time: She fell out with a midrace engine failure.
Brant James column: Danica's frustration mounts | Recap | Results | Highlights

Camping World Truck Series: Martinsville on deck
Off this weekend. The next race is March 28 at Martinsville Speedway.
Ed Hinton is a senior writer for ESPN.com. He can be reached at edward.t.hinton@espn.com.
Racing Resources says …
Sprint Cup Series

• Tony Stewart won the rain-shortened Auto Club 400 on Sunday at Auto Club Speedway. It was his 46th career Sprint Cup win in his 467th career race. His 46 wins tie Buck Baker for 14th all time.
• Stewart posted his second career win at ACS in his 21st start. The race was called after 129 laps due to weather. It was Stewart's third career victory in a rain-shortened event. He has won two of the past three races at ACS.
• Stewart became the first driver to win more than one race in 2012.
• Stewart has won seven of the past 15 races dating to Chicagoland last September.
• Stewart led twice for 42 laps, including the final 22.
• Stewart-Haas Racing posted its 15th win and second victory at ACS. SHR became the first team to win multiple races in 2012.
• Chevrolet posted a series-leading 12th win at ACS. The manufacturer has won the past five races at Fontana. Chevrolet became the first to win multiple races in 2012.
• Kyle Busch (second) had his best 2012 finish, leading a race-high 80 laps.
• Dale Earnhardt Jr. (third) has finished 15th or better in all five races in 2012.
• Kevin Harvick (fourth) has finished 11th or better in all five races this season.
• Carl Edwards (fifth) matched his best finish of 2012 (Las Vegas).
• Greg Biffle (sixth) posted his fourth top-10 in five races this season. All five of his finishes are 13th or better.
• Martin Truex Jr. (eighth) had his best finish and only top-10 in the past seven races at ACS.
• Jimmie Johnson (10th) was having car trouble when rain brought out the red flag and was fortunate the race was not restarted.
Nationwide Series

• Joey Logano won the Royal Purple 300 on Saturday at Auto Club Speedway. It was his 10th career Nationwide Series win in his 92nd start and his second victory in seven starts at ACS.
• Logano became the first full-time Cup driver to win a Nationwide race in 2012. He has won in each of his five seasons in the Nationwide Series.
• Logano posted his third top-10 finish in four starts this season.
• Logano led eight times for 92 laps, including the final 12.
• Joe Gibbs Racing posted its 69th career win in Nationwide. JGR has won eight straight Nationwide races at ACS.
• Toyota posted its eighth win at ACS -- tying Ford for the most -- and first victory of 2012.
• Ricky Stenhouse Jr. (second) posted his best ACS finish in his fourth start. It marked his fourth straight top-10 finish of 2012.
• Brad Keselowski (third) posted his fifth ACS top-10 finish in his 11th race -- all five were in the past five races.
• Brian Scott (fourth) had his best finish of 2012. It was his fourth career top-5 finish.
• Austin Dillon (fifth) made his first Nationwide ACS start. He has finished in the top 10 in all but one of the five races this season (worst finish of 12th in 2012).
• Brad Sweet (sixth) notched his first top-10 finish in his second start. He got the free pass on Lap 59.
• Kenny Wallace (seventh) got his first top-10 since Richmond (fifth) last September.
• Kyle Busch (eighth) and Kyle Busch Motorsports had ther first top-10 this season. He started at the rear after missing driver intros, and he lost 14 spots on the final pit stop after having trouble on the right front.
• Elliott Sadler (ninth) posted his first finish outside the top three this season.
• Danica Patrick had early engine trouble and finished 35th.

-- Racing Resources