Bubble boys take backseat at Bristol bullring

By Terry Blount
ESPN.com
Archive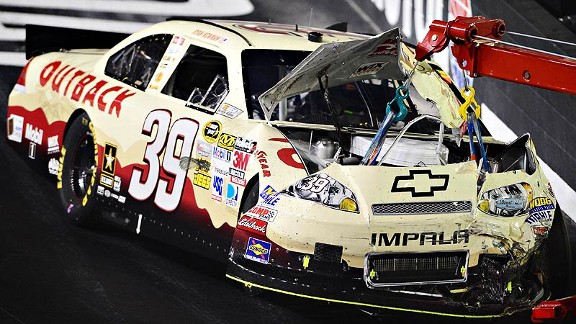 Andrew Weber/US PresswireRyan Newman's Chase chances took a serious hit Saturday night at Bristol Motor Speedway.
Carl Edwards knew he had to go for broke Saturday night. It didn't work. Ryan Newman cut a tire and wrecked at the new Bristol (which, fortunately, was a lot like the old Bristol) and saw his playoff spot vanish for the moment. Jeff Gordon finished an impressive third, but it means almost nothing.
But all is not lost, and they know it. Those three drivers are outside the Chase cutoff with two races to go before the playoff begins. However, one win and they could be in.
Five drivers outside the 12-man cutoff (Edwards, Newman, Gordon, Marcos Ambrose and Joey Logano) still have a chance to make the Chase with two regular-season races remaining -- Atlanta on Sunday night and Richmond on Sept. 8.
Jayski
Mark Garrow discusses Denny Hamlin's win at Bristol, Tony Stewart's helmet toss and the new surface on the track that surprised Jeff Gordon.
"I'm just trying hard," Ambrose said after his fifth-place finish at Bristol. "That's two top-5s in two weeks for us. It's been a great month. The track went away from us late in the race, so we couldn't contend for the win. Some of our races haven't been the best this year, so it's good to have a strong run and a shot to make the Chase."
Ambrose is 16th in standings with one victory. He won't make it into the top 10 on points, but one win in the next two races could earn him one of the two wild-card spots.
The same is true of Logano, who is 18th in the standings with one victory. He led the most laps Saturday night (139) but finished seventh.
"We led a lot of laps and have to be proud of that," Logano said. "But we need to win. Anything short of that is not good enough."
That's the bottom line for all these guys. They have to win one of the next two races.
Tony Stewart, who crashed at Bristol, finished 27th and threw his helmet at Matt Kenseth's car, is 10th in the standings.
Technically, that puts him on the bubble for a points spot, but not really. He has three victories, so he would earn a wild-card spot if he fell below the top 10.
However, instead of starting the playoff tied for the top with Jimmie Johnson, Brad Keselowski and Bristol winner Denny Hamlin, Stewart would start nine points behind them if he fell to 11th in the standings.
Stewart is 16 points ahead of Kasey Kahne, who likely is in the Chase with two victories. Edwards, who is winless, is 34 points outside of 10th.
He's not likely to make that up in two races, but one victory could place him in the Chase if the drivers with one win but still outside looking in don't win again before the Chase starts.
Edwards had the lead late in the race at Bristol, taking a chance on pit strategy to get up front and try to win, but fell back and ran out of fuel near the end and finished 22nd.
"It's all you can do is gamble like that," Edwards said afterward. "If we would have pitted when we should have pitted, we were going to run 10th or 15th anyway. I made the decision to stay out, which in hindsight was the wrong decision because we probably would have finished better. But I wanted a chance to win the race."
The biggest loser Saturday was Newman, who fell out of a Chase spot after a flat tire caused him to crash. He finished 36th and fell to 15th in the standings.
"It's just misfortune," said Tony Gibson, Newman's crew chief. "But we can't let this get us down. We've seen how one race can change this whole deal on who makes the Chase. We're not giving up. We'll fight to the bitter end."
The week's playoff-spot winner was Kyle Busch, whose sixth-place finish enabled him to regain the 12th playoff position for now.
"We had a Camry capable of getting a better finish tonight," Busch said. "We fought hard and did all we could. It was just a fight for the top."
And it's still a six-man fight for a Chase spot (one inside and five outside) with two more chances to win and get in.
David Newton column | Live! rewind | Recap | Results | Highlights
Nationwide Series: Bumping and banging back at Bristol
You had to know there was hope for the new Bristol when Trevor Bayne, the consummate Boy Scout kind of guy, got angry during the Nationwide race.
Joey Logano won at Bristol for the first time, but the real story was how the race had some old-style Bristol bumping, banging and tempers flaring, which most fans say they want to see.
Bayne had words with Austin Dillon after the race. Their cars made contact during the race, causing Bayne to wreck late in the event.
Ricky Stenhouse Jr. ran into the back of Elliott Sadler's car at the end of the race. Those two drivers are battling for the championship. Stenhouse talked to Sadler about it on pit road afterward, saying he didn't mean to do it. Sadler leads Stenhouse by 19 points in the standings.
Logano has a series-best six victories in only 15 starts, giving the Cup regulars a 12-11 lead over the non-Cup regulars in 2012 Nationwide races.
Danica Patrick had one of her best efforts of the season with a ninth-place finish after starting 34th.
Recap | Results | Highlights
Camping World Truck Series: Peters untouchable at Thunder Valley
Many people started doubting the success of the track changes at Bristol after Timothy Peters led every lap of the Camping World Truck Series race Wednesday night.
Peters just had one of those nights with a machine that outclassed the field, but it led to talk on Twitter and elsewhere that the grinding process on the top lane hadn't produced the results most fans wanted.
Track owner Bruton Smith asked everyone to reserve judgment until the rest of the weekend unfolded. And he was right, but maybe for the wrong reason. The top lane was surprisingly fast and the lower lane was slow, but it all worked out for the best.
Peters increased his lead in the Truck series standings to 17 points over James Buescher and 25 points over rookie Ty Dillon.
Terry Blount is a senior writer for ESPN.com. He can be reached at terry@blountspeak.com.
Racing Resources says …
Sprint Cup Series

• Denny Hamlin won the Irwin Tools Night Race at Bristol Motor Speedway on Saturday night. It was his 20th career win in his 247th race. Hamlin is the fourth driver to win three races in 2012, tied for most.
• Hamlin posted his first Bristol win in his 14th race there; his previous best finish was second in March 2009. He became the 40th different driver to win a race at Bristol. It was Hamlin's seventh short-track win.
• It was win No. 200 for the No. 11 in the Sprint Cup series, most by a single car number.
• Hamlin led five times for 70 laps, including the final 39.
• Joe Gibbs Racing posted its 98th Cup series win and sixth victory at Bristol. JGR has won five of the past eight races at Bristol. JGR has five wins in 2012.
• Toyota posted its fifth Bristol win and its sixth victory of 2012.
• The top three drivers in points clinched a spot in the 2012 Chase: Greg Biffle, fifth Chase appearance; Jimmie Johnson, ninth Chase appearance; Dale Earnhardt Jr., fifth Chase appearance.
• Drivers fourth through 10th in points can clinch a Chase spot at Atlanta.
• Kasey Kahne and Kyle Busch are the current wild-card drivers.
• Johnson (second) posted his seventh top-5 finish at Bristol, including five of the past seven races.
• Jeff Gordon (third) earned his fifth top-5 finish of the season, including three of the past five races.
• Brian Vickers (fourth) recorded top-5 finishes in both Bristol races this season. It was his third top-5 in six starts in 2012.
• Marcos Ambrose (fifth) got his fourth straight top-10 finish of 2012, his third straight top-5.
• Paul Menard (10th) got his sixth top-10 finish of 2012, including the past two races.
• The race featured 13 cautions, the most since March 2007.
Nationwide Series

• Joey Logano won the Food City 250 at Bristol Motor Speedway on Friday night. It was Logano's 15th career win in his 103rd start. He has a series-best six wins in 2012 in just 15 starts. The six wins in a season are a career high.
• Logano posted his first win in his eighth start at Bristol; his previous best was second in this race last year. Logano has finished in the top five in the past three races at Bristol.
• Logano led three times for 81 laps, including the final 35.
• Joe Gibbs Racing posted its 74th career win and series-leading sixth victory of 2012. JGR has four wins at Bristol, all in the past five races.
• Toyota posted its seventh win of 2012 and fourth victory at Bristol.
• Ricky Stenhouse Jr. (second) posted his best Bristol finish in his sixth start; his previous best finish was sixth in March.
• Kyle Busch (third) got his first top-5 finish in seven starts, and his 10th top-5 in 17 starts at Bristol.
• Austin Dillon (fourth) earned his 12th top-5 finish of 2012.
• Elliott Sadler (fifth) posted his fifth Bristol top-5 finish, including four in the past five races.
• Ryan Blaney (seventh) tied his career-best finish in his first Bristol start.
• Michael Annett (eighth) has finished in the top 11 in eight of his past nine starts.
• Danica Patrick (ninth) scored her best short-track finish and her fifth top-10 finish. She started 34th.
Camping World Truck Series

• Timothy Peters won the UNOH 200 at Bristol Motor Speedway on Wednesday night. It was his fifth Truck series win in his 131st start. He joins James Buescher as the only repeat winner this season. His previous 2012 win was at Iowa in July (three starts between).
• Peters posted his first win at Bristol in his eighth start. His previous best finish was fifth last year.
• Peters led all 200 laps.
• Red Horse Racing posted its ninth Truck series win and fourth victory of 2012. It was RHR's first win at Bristol. RHR finished 1-2 for the second time this season (Daytona).
• Toyota posted its fifth win of 2012 and its sixth victory at Bristol.
• Parker Kligerman (second) tied his career-best finish for the fourth time.
• Ross Chastain (third) notched his career-best finish in his 18th start.
• Joey Coulter (fourth) scored his sixth top-10 finish in the past seven races.
• Brendan Gaughan (fifth) got his third straight top-5 finish and his third top-5 at Bristol.
• Ryan Blaney finished sixth in his Truck series debut.
• Ty Dillon (21st) had the worst finish of his career, running out of fuel on the green-white-checker while running fourth.
-- Racing Resources