Sprint Cup: Welcome to the party, Ford fans
A hearty welcome back to the most vehement, vocal, us-against-the-world minority in NASCAR demographics: the Ford fans.
We knew going into Sunday that the Penske Fords had come out of the gate strong this season. But that, of course, was Roger Penske's end of things, and the maestro owner usually finds a way to the fore.
But Sunday at Bristol, along came Roush Fenway Racing, once the flagship Ford team but relatively dormant lately. Carl Edwards won and teammate Ricky Stenhouse Jr. finished second. Third was Aric Almirola for Richard Petty Motorsports, rounding out a 1-2-3 sweep for Fords.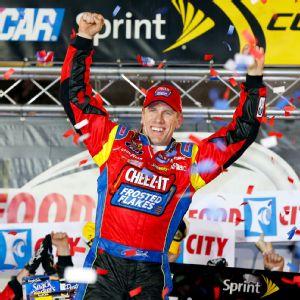 Matt Sullivan/NASCAR/Getty ImagesCarl Edwards gave Ford fans much to cheer about Sunday night at Bristol Motor Speedway.
This all finished under a caution created by a NASCAR foul-up. NASCAR was in turn saved by rain quickly after an official had inadvertently turned on the caution lights, according to competition vice president Robin Pemberton. So there didn't have to be a restart that might have snatched the win from Edwards' grasp.
But back to you, long-suffering Fordists. Though the hard-liners among you don't consider Fords real Fords nowadays -- the homogeneous models, first the Car of Tomorrow and now Generation 6, make all makes largely the same in your eyes -- the bottom line is that your beloved Blue Oval logo is back on top.
Penske's Brad Keselowski assumed the points lead. He had been a serious factor Sunday until his car got roughed up, and he wound up 14th after winning at Las Vegas last week. This after finishing third in both the Daytona 500 and at Phoenix.
Chevrolet's Dale Earnhardt Jr. tumbled off the top of the standings with a 14th-place finish -- a plummet from his win and two second-place finishes going into Sunday -- and is now 10 points behind Keselowski.
Six-time champion Jimmie Johnson struggled after a tire shredded on his Chevrolet. He finished 19th.
And so team owner Jack Roush wasn't exactly crowing after his Fords' resurgence in the results.
"We're real happy with the representation Ford was able to have tonight," Roush acknowledged to reporters at Bristol Motor Speedway. "[But] there were a lot of good cars that got crashed, a lot of good cars that got caught up in things that weren't their own fault.
"You've got to stand in line and just wait for the racing gods to smile on you or frown on you to see what you've got, but tonight we did have good fortune," Roush continued. "We had nobody that got caught up in a wreck and we didn't break a part and we didn't get involved in somebody else's wreck ..."
A Ford driver hasn't won a Cup championship since Kurt Busch did it for Roush in 2004, the first year of the Chase. (When Keselowski won the Cup for Penske in '12, they were fielding Dodges.) But Ford has kept up its engineering efforts trying to break out of the doldrums.
"Ford has deserved this kind of result for their effort," Roush said.
Under a new championship system that virtually guarantees a playoff spot to a driver who wins a race, Ford has pulled side-by-side with Chevrolet in the championship hunt, early as it is. Each manufacturer has two drivers all but seeded, Chevrolet with Earnhardt and Kevin Harvick, and Ford with Keselowski and Edwards.
Powerful Toyota doesn't have a winning driver in yet, but it is very likely to populate the Chase heavily by the end of regular season.
For now, Ford old-liners, just be glad you don't have to listen to that "Fix or Repair Daily" razzing of yore.
Edwards Rolls Into Chase Position
Nationwide: Larson learning

Busch
The good news for Nationwide Series sophomore Kyle Larson is that he's learning the veteran drivers' tactics. The bad news is that they're learning his.
Take Kyle Busch, who recognizes Larson for the sprint car whiz he was before rising to NASCAR. Sprint car drivers love to run against what they call the "cushion," which is a berm that forms on the high side as the open-wheel cars fly around a dirt track.
Busch held off Larson to win at Bristol on Saturday, figuring, "He loves the top, so I knew he was going to be up there," Busch told ESPN reporters in Victory Lane.
It was Busch's third straight Nationwide win at Bristol, and something of a repeat of the one there a year ago, when Busch and Larson finished 1-2.
On a restart with nine laps left and Larson right on his rear bumper, Busch took off and maintained the high groove the rest of the way, with a thought of protecting the top if need be against a Larson onslaught.
Larson had fallen back earlier with a pit road speeding penalty, but finally, he "got up by the wall where I like it, and we were able to make some time up."
But with five laps to go, Larson got too high and his car wobbled with debris on the tires, and Busch got away cleanly while Larson was forced to hold off Kevin Harvick for second place.
"I thought I might have a shot at Kyle," Larson said, "but I just got up over the cushion, I guess you could call it. I got some marbles on my tires and from there I had to fight off Kevin because Kyle got too far ahead."
Larson, also a rookie in Cup, is in his second year in Nationwide and has seen Busch's domination in the second-level series.
"I can always learn something when I'm behind him," Larson said of Busch. "Seems like this year I'm closer to them, so I can see the guys up front and learn some more."
Camping World: Getting closer

Peters
OK, Trucks fans, only one more weekend without them. Yes, they were still off this weekend, but their reappearance is getting closer, at Martinsville on March 29.
Martinsville is the home track to points leader Timothy Peters. Kyle Busch is still the only winner, from Daytona in February. Peters finished second there, and Busch is ineligible for the Trucks championship.
After Martinsville, there will be more downtime until Kansas on May 9, and then they'll run only a week later, at Charlotte on May 16.