Kevin Harvick A Happy Man
Sprint Cup: Earnhardt Laments Lost Opportunity
That Dale Earnhardt Jr. can lament a second-place finish at Darlington Raceway underscores just how well he is performing.
Very well, currently.
"If you scratch Texas off the map, that's how good we are," said Earnhardt, who has followed a Daytona 500 win with four more top-5 finishes -- including three runner-ups -- in eight races. "We were running that good the first two or three races. I think this is as good as this team has ever been. We've got areas where we can probably get a little better, but we're really right there."
Earnhardt had three top-5s and never finished higher than fourth at the odd-shaped 1.366-mile South Carolina track before this weekend.
He's made no secret of how much he has dreaded the place, but worried his sentiments would engender defeatism on his team. Earnhardt led off Turn 4 on a second green/white/checker attempt on Saturday, but Kevin Harvick, whose dominant No. 4 Chevrolet led 238 of 374 laps, used four fresh tires -- Earnhardt had taken two on the final stop -- and made the decisive pass. In the process, Harvick became the first two-time winner of the Sprint Cup season.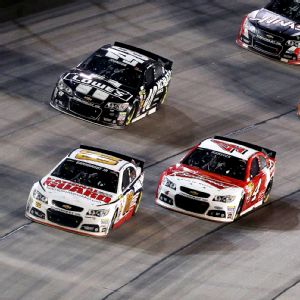 Sean Gardner/NASCAR/Getty ImagesDale Earnhardt Jr. couldn't hold off Kevin Harvick at Darlington.
"Everybody was telling me that I had a 15carlength lead, and I don't want to hear about that," Earnhardt said. "I'm going to hear about it all day tomorrow, man -- 'You almost won it.' "
Frustrating, for sure, but borne of increased expectations.
Virtually assured a Chase for the Sprint Cup slot as a race-winner, Earnhardt is fourth in driver points after recovering from his biggest misstep of the season, a self-inflicted crash just 12 laps into the race at Texas Motor Speedway last week.
In the oddity of the new system used to populate the Chase field, however, Harvick is in the advantageous position compared to Earnhardt Jr. despite residing 22nd in points. But although Harvick has finished 36th or worse four times amid misfortune and quality control inconsistency at Stewart-Haas Racing, he has been consistently fast and a persistent concern to his peers.
That made the Harvick-Earnhardt battle on Saturday a fitting snapshot of the first eight races of the season with an idle week upcoming.
"The performance of the 4 car, I saw that coming because I know how good [crew chief]  Rodney [Childers] is and I know how good Kevin is, and pairing them together, that's one of the best pairings in the garage next to [Hendrick Motorsports teammate Jimmie Johnson] and Chad [Knaus]," Earnhardt said. "That's going to really be a tough combination to battle all year.  They're going to win more races.  But our team, man, I'm proud and I'm happy where I'm at.  These guys are giving me some great stuff.  We've really learned each other, and they know they're giving me some really good cars because they know my habits and what I'm looking for."
"I definitely think he has been the fastest car all year long," Johnson said of Harvick. "You look at the races that he didn't finish: Vegas, Texas, some tracks where they've been the fastest car and had issues. I think that Rodney and Kevin both, they've really been on it to start the season, and I think we all have been chasing them, honestly."
Johnson, who finished third after recovering from a 26th-position starting spot at Darlington is winless, but fifth in points and hardly panicking as the collective hand-wringing over his supposed predicament intensifies.
Not always an early season winner and statistically very likely to manage at least one victory after amassing 66 in his career, his future playoff entry is all but a foregone conclusion. But even with a pair of tire failures and a bizarre crushed windshield at Texas marring his performances so far, and more laps led (501) than any driver except Harvick (515), Johnson is in the unusual scenario of pursuing. Not just in points or performance, but in path.
Johnson said it's crucial for his No. 48 Chevrolet team to be "just unloading closer," on race weekends, or arriving at the track with the car better tuned to the specifications needed to compete for wins.
"We seem to find a way come race time to get a good finish, and, honestly, have a shot to win some races," he said. "But showing up at the track a little bit closer is key for us. We're really just trying to get a grasp on these rules, and we go home with what we've learned from a previous race, bring a new mousetrap, and unfortunately we've had to continue to work on it each week."
Contributor, espnW.com
Brant James has covered the Daytona 500, Indianapolis 500, a World Series and Stanley Cup for the big hometown daily, an NCAA tournament and a Super Bowl. He's walked to the paddock with Kentucky Derby horses before post, ridden to the top of Mount Washington with Travis Pastrana and landed on an aircraft carrier with Dale Earnhardt Jr.
Late Surge Lifts Kevin Harvick To Darlington Win
The Rundown: Darlington
"The Rundown" features Elliott Sadler, Kyle Larson, Kyle Busch and Matt Kenseth commenting on their performances in the Nationwide Series race at Darlington.
Nationwide: Two In A Row

Elliott
Chase Elliott doesn't mind all those pesky Sprint Cup regulars clogging up the Nationwide Series entry lists.
Maybe because for the past two weeks, the rookie has beaten them all. That aside, the son of 1998 Sprint Cup champion Bill Elliott sees value in having all those veterans to measure himself against as he makes his way to NASCAR's highest level.
"There's too much to be learned from those guys. It would be a shame if we didn't have them around to learn from," Elliott said on Friday. At 18 years, four months and 14 days, he became the youngest to win twice in the same Nationwide Series season, and at Darlington Raceway.
"They're in the positions they're in for a reason," he added. "They know how to get the job done, and they're at the level they're at because they deserve it.
"I've been able to race against a few of them prior to the Nationwide Series this year at some short track levels with Kyle Busch and whatnot running some bigger super late model races, but to be able to race against those guys on a weekly basis at some racetracks that the Cup guys race at, I feel like that's a really good thing for the sport and it's good for a young driver like myself to learn."
Elliott, who missed his senior prom to race at Darlington, passed Sprint Cup wins leader Kevin Harvick late in the race to win at Texas last week and veteran Elliott Sadler on the final lap on Friday at Darlington.
Elliott, the current points leader -- 13 ahead of JR Motorsports teammate Regan Smith -- had never raced at Darlington until Thursday. His father won five times at Darlington in the Cup Series. Current Cup drivers filled three of the top five finishing spots.
JRM co-owner Dale Earnhardt Jr. predicts greatness, or at least great annoyance to his elders, once Elliott graduates from high school in May and invests full time in racing. JRM does not field cars in Sprint Cup, though it is affiliated with Hendrick Motorsports.
"I'd like to think we're going to hold on to him," Earnhardt said. "But he's ahead of scale."
Camping World: A Little History?

Crafton
Points leader and defending series champion Matt Crafton could claim consecutive races for the first time in his career with a win on May 9 at Kansas Speedway. He would also be the first to win twice at the 1.5-mile venue.
Crafton has four lifetime trucks victories after ending a 19-race winless streak two weeks ago at Martinsville Speedway. He would be the first to win consecutive truck races since Kyle Busch at Charlotte Motor Speedway and Dover International Speedway last season.