Denny Hamlin Tames Big Bad Talladega
Sprint Cup: Hamlin gets a plate win at Dega
Talladega was supposed to be the race that landed a genuine wild card into the Chase.
Instead, the winner of the Aaron's 499 was Denny Hamlin, a guy who was expected to win races in 2014 but to date had been suffering through an inconsistent and frustrating campaign.
Right behind Hamlin as the yellow and checkered flags flew were Greg Biffle and Clint Bowyer, two more men with Chase aspirations who were trying to end lengthy winless streaks. But they, along with late leader Kevin Harvick (who dropped to seventh place in the last two laps), were denied a shot at stealing the win from Hamlin because an accident unfolded near the start-finish line just after the white flag flew, forcing the race to end under caution.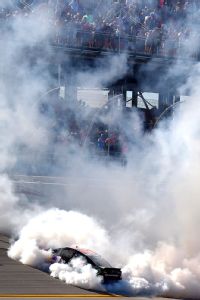 Patrick Smith/Getty ImagesDenny Hamlin was on cloud nine after winning the Aaron's 499 at Talladega Superspeedway on Sunday.
On this occasion, with a bumper cap lying in the middle of the racing groove, there was no question NASCAR needed to throw the yellow. But it ended a race that featured a little bit of everything -- the usual multicar wrecks, verbal fights between drivers and even the sight of Danica Patrick leading six early laps -- on an anticlimactic note.
That didn't matter to Hamlin and the No. 11 team from Joe Gibbs Racing, who have often struggled this year after dominating the run-up to the Daytona 500 and finishing second to Dale Earnhardt Jr. in the season opener.
Hamlin missed the race at Auto Club Speedway after initially being diagnosed with a severe sinus infection that affected his vision (a small piece of metal in an eye later proved to be the culprit) and hadn't finished higher than 13th in the four races since. But at Talladega, he ran near the front all day and put the FedEx Toyota in front when it really counted to earn his first restrictor-plate track points victory.
By becoming the eighth different winner in 10 Sprint Cup races this year, Hamlin also almost certainly locked himself into the Chase.
"We really just want to win races, regardless of what implications this means for the Chase," Hamlin said after his 24th career Cup series race win. "It feels good to be back in Victory Lane in a points-paying event anyway. Strategically, we saw that things were getting a little heavy there in the middle part of the race and those guys got in a wreck, but we were able to avoid that and just play our cards right there and make the right strategy. Just proud of our day today."
The wrecks started early and happened often. Perhaps the most surprising was the Lap 15 incident involving Patrick and 2012 Cup Series champion Brad Keselowski. Opinions were divided over who was at fault, but Patrick's Chevrolet tapped the left rear quarter of Keselowski's Ford as he tried to complete a pass for the lead of the race. The Penske star took a wild ride through the infield and didn't make wall contact, but damage to the left front corner of the Miller Lite car would cost Keselowski seven laps.
It also would have implications later in the race, when Keselowski lost control near the front of the pack while trying to get one of his laps back. The wreck swept in 15 cars and left a number of competitors unhappy with Keselowski's overall aggressiveness.
Matt Kenseth, one of the drivers caught out in the Lap 137 crash triggered by Keselowski, vented in a television interview, calling the move on Patrick for the lead earlier in the race "mind-boggling."
"Then I thought he was a bunch of laps down, but maybe he was trying to get back on the lead lap and just spun out in front of all of us and tore up a bunch of good race cars," Kenseth added. "I will say one thing: If it was the other way around and it was anybody else except for him, we'd all be getting lectured. He was racing pretty aggressively there to try to get it back."
Six-time Cup champion Jimmie Johnson triggered another multicar wreck with 13 laps to go, decimating the field even more. Twenty-seven of the 43 starters managed to complete the full 188-lap race distance.
Ten races into the uncharted territory of a new Chase format, the season is playing out exactly as NASCAR had hoped. Nobody is dominating so far, favorites such as Johnson, Jeff Gordon and Tony Stewart still haven't posted a win, and, with each passing week with a new winner, the likelihood of amassing 16 race-winning drivers to fill the Chase field looks more and more likely.
The record for number of race winners in a season was set in 2001, when 19 drivers won races. That year, along with 2011, produced a record 15 race winners in the first 26 events. The average number of pre-Chase winners over the past decade is 12.7; the low is 10, a number that has already been matched in 2014.
The bottom line: As the number of drivers winning races increases, so does the importance of the actual point standings. The way things are going, "Win and you're in" might no longer be enough.
Autos, Open-Wheel
Motorsports Writer for ESPN.com
Covered Indy car racing for 20 years
Work published in 12 countries
The Rundown: Nationwide At Talladega
Nationwide: Hornish returns
Sam Hornish Jr. was the perfect team player in his first Nationwide Series start running a partial 2014 schedule for Joe Gibbs Racing.

Hornish
Hornish, whose six-year stock car career with Team Penske ended after he finished second in the 2013 Nationwide Series standings, worked well with JGR teammates Elliott Sadler and Darrell Wallace Jr. in the group qualifying sessions for the Aaron's 312 at Talladega Superspeedway. The Ohio native ended up leading a JGR 1-2-3 sweep in his first qualifying run in the No. 54 Monster Energy Toyota Camry.
Hornish was unable to hold on to the top spot over the course of the 117-lap race. He had a glitch leaving the pits after the first round of stops and got shuffled to the back of the pack. But he worked his way back into contention despite suffering from severe understeer in clean air and claimed a fifth-place finish in a race won by teammate Sadler.
"It was a lot of ups and downs," Hornish reported. "The Monster Energy Toyota was really good and obviously I wish we could have done a little bit more, but happy for Elliott and all the guys at JGR. To get out of here with a top-5 and this be our first race together, I'll take it because it could have been a lot worse, that's for sure.
"This is the first I think of the restrictor-plate races I've ran at Talladega where I brought the car home as clean as I have," he continued. "I've been out there before where I've led the most laps on a restrictor-plate race and haven't finished that well. A top-5 finish on a restrictor-plate day is about all you can ask for. The only thing better than that is winning. Just real happy that we got out of it as much as we did and relieved that it's over."
The solid performance demonstrated that Hornish has the talent to succeed in stock car racing if he gets the right opportunity. He admits now that he would have taken a different path than the one that thrust him into Penske's new No. 77 Cup Series team as a NASCAR rookie in 2008.
But he has no regrets about chasing a stock car career after winning three IndyCar Series championships (2001, '02 and '06) and the 2006 Indianapolis 500. The first three years with Penske in the Cup series produced only two top-5 finishes and eight top-10s out of 54 starts 2008-10.
He ran only one Cup race in 2011, for Front Row Motorsports, but Penske ran him in a partial Nationwide Series entry that produced a win at Phoenix International Raceway. Full-time Nationwide campaigns resulted in fourth place and second place overall in 2012 and '13, but Penske opted to bring Ryan Blaney up instead of renewing Hornish.
Instead of taking a full-time Nationwide ride with a lesser team, Hornish opted to accept a seven-race deal with Gibbs.
"Obviously I'd like to be out there running full time, and I could have done it in other ways," he said. "But I wasn't going to be able to do it at this point in time in a car that was going to provide me an opportunity to win the championship. That's what I want, and this a great opportunity to go out and learn from great people. As soon as I sat down with Coach Gibbs the first time, I thought, 'I need to do this, no matter what else comes my way.' It's obviously a lot less than I would like, but I hope to grow it in the future.
"It would be difficult if I didn't have anything going on, but having a 6- and a 3-year-old and a newborn, I've got plenty on my plate," he added. "That's what's most important. For me, the racing bit is my fun. Obviously it's a job, but there's about 100 other people in my life that would rather have me do something different -- like be home. But they allow me to indulge myself and go out and race cars."
Hornish unwittingly became the poster child for IndyCar drivers who have struggled to adapt to NASCAR racing. But he insists he has no interest in going back despite being pursued by Chip Ganassi Racing in November as a potential replacement for retired Dario Franchitti.
"They went through my business manager at the time," Hornish revealed. "I told them that I had a lot of interest but it wasn't for me. I was appreciative that they even gave me the opportunity to think about it, but it wasn't on my front burner, I guess. At the end of the day, you can't go back and do it over again. You can just try to do the best that you can.
"It's a hard transition. It's everything that I wanted; I felt like I was complacent in the IndyCar Series once I got to the point where I thought I could win road course races. The only thing I really regret about the whole thing is not pushing the people around me hard enough to give me all the tools that it takes to make it over here. It wasn't until I failed that I figured out how to do the right things."
Hornish's next appearance in the JGR No. 54 car is at Iowa Speedway on May 18.
Camping World: Kansas on deck

Peters
The Camping World Truck Series' omission from the Talladega weekend card no doubt saved some sheet metal and steel tubing from damage. The Truck series returns to action May 9 at Kansas Speedway, with Toyota drivers Timothy Peters and Johnny Sauter tied atop the standings.