A Dream Come True For Almirola
Sprint Cup: Clock ticking for Chase hopefuls
DAYTONA BEACH, Fla. -- That he's running out of time in the Sprint Cup regular season is disconcerting enough for Brian Vickers. Losing 48 precious laps that could have fundamentally changed the course of his season on Sunday was worse.
Maybe the Michael Waltrip Racing driver would have rallied from second and claimed his first win of the season on Sunday in the Coke Zero 400, virtually securing a Chase for the Sprint Cup berth with eight races left until the playoffs. With the probability of more wrecks like the 16- and 26-car melees earlier, and the presence of ever-denied perennial restrictor-plate contender Kurt Busch, maybe not.
But losing that full 160-lap chance, and watching Aric Almirola parlay his first Cup win into a ticket to the playoffs left Vickers "shocked" that NASCAR didn't attempt to wait out the storm and finish the entire race.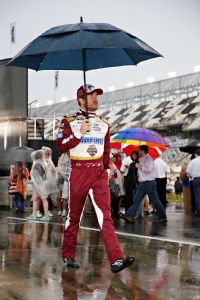 Chris Graythen/Getty ImagesBrian Vickers, for one, had hoped the rain-delayed Coke Zero 400 at Daytona would go the distance.
"Obviously, the fewer spots there are, the intensity picks up for the guys in that position," said Vickers, who is 16th in the driver standings, 10 points from a Chase spot. "You know, I think every week you go to every race trying to win and knowing what's at stake if you do and what's at stake if you don't. The closer to the Chase you get, the more that intensity is going to pick up.
"Our job is to go out there and try to win next weekend. We came close this weekend, but the weather didn't work in our favor, and that's that. We've just got to get on with it and go to next week."
Seven different drivers won races in the first seven events, fostering fanciful notions that one win might not be enough to earn a postseason berth in the new system. Sprint Cup's customary victory-accumulators began doing just that soon thereafter, however, and defending series champion Jimmie Johnson was the most recent first-time winner six events ago at Charlotte.
Now with a dwindling amount of races until the regular-season cutoff at Richmond, a new winner, and more importantly, an unexpected winner like Almirola, given that he has five top-5s in 125 Cup races, is certain to cause anxiety for drivers attempting to gain Chase entry via points standing. Sixteen will qualify for the postseason, with first deference to winners.
Almirola's win winnowed the points-position transfer spots to five, with Roush Fenway's Greg Biffle -- who finished 29th after being involved in an accident -- ejected from the field on Sunday at 15th in the driver standings. Currently, Matt Kenseth (fifth in points), Ryan Newman (eighth), Paul Menard (10th), Clint Bowyer (12th) and rookie Austin Dillon (13th) would advance on points. That drivers ranked 21st (Almirola) and 24th (Busch) in points have earned Chase spots with wins is potentially devastating to drivers on the periphery.
"We jumped from 18th to 13th in points," Dillon said after a fifth-place finish on Sunday. "There's less positions now, but [we've] just got to stay consistent."
Biffle is four points behind Dillon, rookie Kyle Larson and Kasey Kahne 12 back.
The win was monumental for Richard Petty Motorsports, which could put its entire driver lineup in the Chase if Marcos Ambrose can nab a third win in four seasons at Watkins Glen in August.
"We were just talking in Victory Lane, we've been fretting over the fact that, man, if we wouldn't have wrecked here and if we wouldn't have wrecked here and if we wouldn't have wrecked here and we wouldn't have had this happen, we'd probably be like 11th or 12th in points," Almirola said. "Well, you can't go back and you can't fix that, but this fixes everything."
Or in several drivers' cases, potentially ruins it.
***
Full plate, empty plate for Kurt Busch
With 11 top-5s, 14 top-10s and a valiant push of former Team Penske teammate Ryan Newman to a 2008 Daytona 500 victory, Kurt Busch held the dubious distinction of best restrictor-plate racer without a Sprint Cup plate points win even before leading a race-high 39 laps and finishing third on Sunday in the Coke Zero 400.

Busch
In 28 starts at the 2.5-mile superspeedway, Busch has won a Bud Shootout, and in Nationwide. He's finished second in the Daytona 500 three times. He even won an IROC race at Talladega. Busch has plate racing figured out, seemingly, except for the part that matters most to drivers. And he appeared profoundly dejected on Sunday, not that rain cost him 48 laps to make things right, but that he didn't exploit yet another opportunity. Busch and Aric Almirola exchanged the lead twice in the final 23 laps before the eventual winner took the top spot permanently on Lap 106 of an eventual 112 in a race truncated by rain.
"I've got to go to the videotape," Busch said. "I've got to go back and study more. When I'm the leader, I have to advance my game. I have to be better at blocking and strategically managing the race as a leader. I've been really good at seconds and thirds, top-5s, just got to break through for that win, and I believe I need to do more work to get better at it."
Film study would seemingly go only so far in a vein of racing so dependent on the actions, reactions and mistakes of opponents. Clever plans are easily undone by a bobble at 200 mph when cars race inches apart.
"You have to be in position to make mistakes or you have to be running up front more often to learn from it," Busch said. "You can't learn by dragging around in the back waiting for wrecks to happen. You learn by leading and getting shuffled out of the lead, and then trying a different approach to stay in the lead and to be able to make your car as wide as you can at certain spots and to make others have to rethink their strategy. The chess game definitely comes into play more so when you're the leader than anything else."
There could be more disappointment afoot from Sunday. NASCAR announced a possible problem with the "track bar splits" on his Stewart-Haas Racing No. 41 Chevrolet that would be further assessed by the series.
Contributor, espnW.com
Brant James has covered the Daytona 500, Indianapolis 500, a World Series and Stanley Cup for the big hometown daily, an NCAA tournament and a Super Bowl. He's walked to the paddock with Kentucky Derby horses before post, ridden to the top of Mount Washington with Travis Pastrana and landed on an aircraft carrier with Dale Earnhardt Jr.
Nationwide: Smith falls short again
Regan Smith had been in this situation before: leading on the final lap of a Nationwide race at Daytona, trying to contain the gathering swarm behind him. He wasn't concerned that this instance would end as horribly as the season-opening race of the 2013 season.

Smith
Smith had no chance to block Kasey Kahne's advance, as his JR Motorsports teammate used a push from Ryan Sieg to claim the Nationwide win on Friday night by 0.021 seconds.
In 2013, Smith's attempt to block Brad Keselowski -- an accepted and necessary procedure in restrictor-plate racing -- cued a multicar wreck that sent parts of Kyle Larson's car careening into the grandstands, injuring dozens of fans.
"Trust me, for the better part of a year I thought about that and definitely was hating that situation," he said. "Unfortunately, we're race car drivers and we want to go fast and we want to do all those things and we want to be up front. It really is the furthest thing from your mind when you are two or three wide and cars are about an inch apart from each other.
"You're trying not to make a mistake, more than anything you're trying to position yourself to get to the end of the race."
Smith seemed in good position with a two-car-length lead on the final lap, but Kahne used Sieg's push and a ricochet off Larson to find unimpeded space in the high line. He could console himself with a three-spot leap to the points lead. Smith now leads teammate Chase Elliott by 12 points.
Team co-owner Dale Earnhardt Jr., whose team has won a series-best six times with Elliott and Kevin Harvick (two each), Smith and Kahne, said it would "just be a dream come true to have those guys come down and battle it out together."
And Smith likely wouldn't be thinking about anything except the race in front of him then, either.
Camping World: Larson at Eldora
Larson
Kyle Larson had desperately wanted another chance to race a truck at Eldora Speedway after leading 51 laps but finishing second to Austin Dillon in the first NASCAR dirt race in 43 years.
He will get it.
It's not that Larson needs more to do as a Sprint Cup rookie for Ganassi Racing, skulking on the edge of the Chase boundary. He just enjoyed it. And so he will enter the July 23 race at Tony Stewart's rural track in a Turner Scott Motorsports entry.
"It was a blast last year at Eldora," he said. "[It was] a race that I looked forward to when it was announced last year, and then to get to race it and see how well the show was run and how great the racing was made me even more excited for this year.
"Getting beat last year made me really pumped up for this year's race. Anyway, I don't get to do a whole lot of dirt racing anymore, so to get back to kind of my roots makes it fun, too. I'm really looking forward to when we go test here. I think it's next week. So it would be nice to get back in the dirt and get dirty and sweat a little bit and get mud all over my face and stuff."
Meanwhile, the Truck series will resume racing Friday night at Iowa Speedway after taking a week off.