Jeff Gordon's Landmark Brickyard Win
Sprint Cup: Stenhouse, Bayne new faces of RFR
Ricky Stenhouse Jr. was leaning against a cabinet inside his hauler, dissecting a frustrating second full-time Sprint Cup season and how crew chief Mike Kelley would remedy one of his problems by building faster cars. Trevor Bayne slinked through the sliding entry doors as they closed behind a mechanic and acknowledged his friend and Roush Fenway Racing teammate with a nod and a raised eyebrow. He leaned against the opposite cabinet and extracted a smartphone from his firesuit pocket.
"We have Trevor Bayne coming in," said Stenhouse, quickly switching to the macro workings of RFR, referencing an earlier team announcement that the 2011 Daytona 500 winner finally had been introduced as a full-time Cup driver, in the No. 6 Ford beginning in 2015.
"We're gonna wear them out," Bayne said, indulging in a bit of bravado that seemed plucky and yet out of character.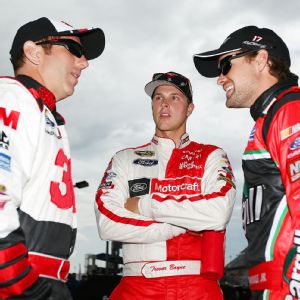 Chris Graythen/Getty ImagesThe 2015 driver lineup at Roush Fenway Racing will feature, from left, Greg Biffle, Trevor Bayne and Ricky Stenhouse Jr. -- but no Carl Edwards.
Stenhouse smiled.
Carl Edwards was three weeks from confirming he would leave their race team, but Stenhouse, 26, and Bayne, 23, kibitzed at Daytona about the possibility of their veteran teammate's departure with near certitude. After all, team owner Jack Roush already knew his most successful driver was leaving, and secrets are fleeting in motorsports. Stenhouse and Bayne seemed comfortable with the proposition. Perhaps it was youthful exuberance. Perhaps, in an organization underpinned by internal development and creative tension, it was the prospect of finally being the next in line.
A few years later than they planned, Stenhouse -- the kid from Mississippi with two Nationwide titles and a high-profile relationship with Danica Patrick -- and Bayne, the youngest winner in Daytona 500 history, are finally positioned for their chance to become the standard-bearers for Roush Fenway.
"It's been a while since we've been teammates," Stenhouse said, glancing at Bayne. "I think I'm really looking forward to it. Trevor and I, even when we weren't teammates, we would hang out and do a lot of things. After he won Daytona, everything got busy for him. We won our championships and we got busy. I think we haven't been really teammates ever since ... 2011, really, so him and I really feeding off each other and really giving a lot of input what we should have in the race cars, I feel like we want the same thing. We both like our cars to be fairly loose where we can carry some speed though the corners. So hopefully we can work on that together. Greg [Biffle], he's a guy I feel like who wants the car pretty loose, so I feel like we'll have a good three guys to baseline off of."
Granted, former Trucks and Nationwide champion Biffle was confirmed on Sunday as a member of the team's three-driver lineup for 2015, has finished in the top five in driver points three times and has 19 career wins, including one last season. But at 44, with his best chance to become the first to win titles in NASCAR's top three series lost with a loose lug nut at Texas Motor Speedway in 2005, Biffle will inevitably cede to his younger teammates as the faces of the team. Roush said on Sunday that Stenhouse -- who won eight Nationwide races with 35 top-5s in 2011-12, but has just two top-5s in his full-time Cup career -- "is gonna be as good in this business as anybody has been."
"Ricky and Trevor and Greg are gonna be great," Roush said. "I'm real excited about that for next year and not less excited than I've been at any time in the past."
But they will comprise a less statistically proven, less daunting version of an organization that has waned in recent seasons. A team that with talent and engineering might have placed all five drivers in what was then a 10-spot Chase for the Sprint Cup field in 2005 -- preceding a NASCAR rule limiting teams to four full-time programs -- has been surpassed by Team Penske as the top Ford performer. Roush lost 2003 series champion Matt Kenseth, who experienced a renaissance at Joe Gibbs Racing last season, and now has to absorb the loss of Edwards. Bayne has run 64 career Cup races, all in partial campaigns farmed to the Wood Brothers, with whom Roush has a technical alliance as a fellow Ford team.
Stenhouse and Bayne have become inextricably linked through friendship, Bible study and the intensely competitive nature of RFR. Stenhouse's breakout season in Nationwide came in 2011 as Bayne -- also contesting a full-time effort for Roush in the series -- missed five weeks with what was later diagnosed as Lyme disease after he became the youngest, at 20 years and a day, to win the Daytona 500.
Three seasons of sponsor shortfalls conspired to abate Bayne's progress to NASCAR's highest level. Stenhouse overcame a tumultuous rookie season in Nationwide in 2010 to win two titles, supplant Bayne as the team's next developmental graduate, and become Sprint Cup rookie of the year last season. Undertaking his fourth planned full Nationwide campaign with RFR, Bayne -- who announced last season that he has been diagnosed with multiple sclerosis -- is sixth in points.
So here they are again. They took different and circuitous routes, but beginning in 2015 they will have the opportunity they daydreamed about through all those Monday organization debriefs at Roush headquarters. Opportunity is theirs. And they seem excited about the prospect, the competition, the camaraderie.
The marketing, less so.
"This time, we can just be Ricky and Trevor instead of 'Ricky vs. Trevor,' " Bayne said, referring to a 2011 RFR promotional campaign that pitted the pair in quirky contests for video consumption.
"Somebody will try to bring that back," Stenhouse interjected. "We're not going to let that happen."
"We're going to be 'Us versus everybody else,' " Bayne concurred, grinning. "Us versus the world."
Their chance is coming.
Contributor, espnW.com
Brant James has covered the Daytona 500, Indianapolis 500, a World Series and Stanley Cup for the big hometown daily, an NCAA tournament and a Super Bowl. He's walked to the paddock with Kentucky Derby horses before post, ridden to the top of Mount Washington with Travis Pastrana and landed on an aircraft carrier with Dale Earnhardt Jr.
Cup Rundown: Disappointed Kahne Finishes 6th
Nationwide: Ty Dillon's turn
Ty Dillon has heard the privileged child dialogue, just as his older brother did. Austin Dillon just got to hear it first, always a rung ahead as they climbed toward hopeful Sprint Cup careers. Certainly, as the grandsons of Cup team owner Richard Childress and the sons of team vice president of competition, Mike Dillon, they had inherent and absolute advantages of opportunity over their peers. But unlike scores of other children of the connected or well-funded, the Dillon boys have exploited their opportunity to the fullest.
Dillon
And there was the added layer of pressure for Ty, 22. He was not only scrutinized because of his family, but against it.
Austin Dillon won a Truck series title at 21 and a Nationwide crown by 23, is 14th in Sprint Cup points and in the Chase for Sprint Cup boundary as he reintroduces the fabled Richard Childress Racing No. 3 Chevrolet to NASCAR's top series. On Saturday at Indianapolis Motor Speedway, Ty, who finished second in the Truck series last year, won his first Nationwide race.
In a season in which Ty Dillon had displayed further sparks of growth and rookie fallibility, there was great validation among the tears and hugs.
"I never lost confidence," said Dillon, who joined Dale Earnhardt, Kevin Harvick and Paul Menard in winning races at IMS for his grandfather. "I've always gone to the racetrack knowing that I can win and knowing that I have the best team there is because they just came off a championship year. So I never lost confidence. I've just been upset with myself. I have been upset with myself, and I know we all have. We just made mistakes that we are better than, and there's been a lot of reasons that we haven't been here already in Victory Lane."
The sensation, he said, was familiar from the early stages of his career, before he finally broke through with a first K & N East Series win in at Gresham Motorsports Park on Aug. 28, 2010.
"I went through a string of running asphalt late model races where I qualified last, and I didn't even think I could drive a race car. I got in one of my East cars and got in and finally won, and I finally got my confidence back," he said. "You go through times that you think you can't do it and then you get times that you think you're on top of the world, and you've got to remember those times when you're on top of the world and the people that you beat and you've got to keep that confidence in you all the time, and I've learned that over the years.
"I learned it through the ARCA series, I learned it through the Truck series. We had a slow start to both our Truck series seasons doing the same thing. It wasn't bad, we were just finishing eighth, ninth and 10th every week, and that's not what I hold myself to and I know that's not what my team holds itself to. I know what we're capable of, and we showed it today."
Camping World: Eldora magic
The growth of Tony Stewart from once-generational, multi-regimen champion, to proxy voice for his fellow drivers, to stake-holding team and track owner, could lead him to another evolutionary arc: the man who built NASCAR's bridge to the future.

Stewart
Even before Stewart's Eldora Speedway on Wednesday hosted a second successful installment of the wildly popular Truck series race on the track in Rossburg, Ohio, Stewart was pondering a future Nationwide or Cup race on its half-mile dirt oval. It is an idea the series has entertained since it first approached Stewart about hosting the Trucks race at the end of 2011. And with reason. Before the sanctioning body's first top-three-series dirt race in nearly 43 years last summer at Eldora, NASCAR senior vice president Steve O'Donnell said the series trusted Stewart to undertake such an endeavor because anything he involves himself with is conducted in a "first-class" manner.
Perhaps Stewart's credibility as a businessman, competitor, and caretaker of motorsports uniquely qualifies him for an even larger task. With NASCAR attendance still flaccid and a 36-race schedule seen by many in the industry as in need of an edit, the prospect of returning to a grassroots track on a non-typical day is being embraced by many as a concept worth exploring. So Eldora on a Wednesday night seemed a compelling idea.
"This is very important to the sport," Stewart said. "It probably is the best way to tie major NASCAR racing to grassroots racing. There are people here who haven't been to NASCAR races but come to dirt races. There are people here who have been to NASCAR races but not dirt shows. This is being able to cross-pollinate. We've got a lot of big things in mind."
Drivers tend to agree, with Ryan Newman lauding the idea of "our own special event" midweek.
"Eldora, that place is known nationwide regardless if you're an asphalt or a dirt guy," six-time Sprint Cup champion Jimmie Johnson said. "So I think it would be cool."