Sprint Cup: AJ Breaks Through At The Glen
Sprint Cup: Dinger the feel-better story Sunday
The duel would have been plenty dramatic had it been between two regular winners. But this head-to-head confrontation of the desperate sent the drama soaring, underdog beaten by ultra-underdog Sunday at Watkins Glen.
Marcos Ambrose, struggling to make the Chase and keep his Cup ride, had been projected as everybody's feel-good winner. Then here came AJ Allmendinger, his talent mired in obscurity since a substance-abuse suspension served two years ago, to scratch and claw and seize and hold a feel-even-better win.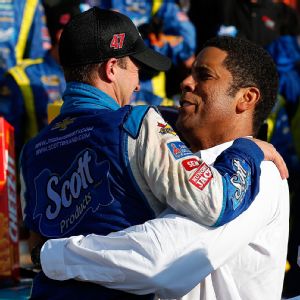 Tom Pennington/Getty ImagesAJ Allmendinger celebrated his Chase-clinching victory Sunday with one of his team owners, Brad Daugherty.
Ambrose wanted it bad. Allmendinger wanted it worse.
"I wanted it so bad for this team," Allmendinger told ESPN reporters in Victory Lane, referring to the little team that finally could, one partly owned by ESPN NASCAR analyst Brad Daugherty. "I wasn't gonna let Marcos take that from me."
On the final restart with two laps to go, Allmendinger got the jump on Ambrose, who appeared to be in the better car. Allmendinger then defined the old saying -- "drove the wheels off that thing."
Ambrose is known in NASCAR as perhaps its best road racer. What people forgot is that Allmendinger was CART's best road racer during that body's waning years.
Ambrose is trying to keep his ride with Richard Petty Motorsports. A win and a Chase berth would have helped enormously.
Allmendinger gave the shoestring JTG Daugherty team its first Cup win and, out of the blue, a totally serendipitous shot in NASCAR's playoffs.
Daugherty, an NBA Hall of Famer and longtime NASCAR enthusiast who has operated his team indefatigably on a relatively low budget since 2008, joyfully leapt into the arms of fellow analyst Rusty Wallace in the broadcast booth as Allmendinger took the checkered flag.
Ambrose, who formerly drove for Daugherty, "threw everything we could at it," he told reporters at the track. "We knew what was at stake, and we had a great race car, led a lot of laps, just came up a little bit short."
Allmendinger indicated he hadn't even thought about making the Chase in his hunger, his starvation, just to win. Told he'd made the playoffs, Allmendinger said: "We did? Nice."
Even two of the top team owners in NASCAR, Richard Childress and Roger Penske (plus Penske's top lieutenants) were so caught up in the feel-good atmosphere at The Glen that they went to Victory Lane to congratulate Allmendinger. Penske had helped Allmendinger restart his career, and Childress took the little JTG Daugherty team under the wing of an alliance with his Richard Childress Racing.
Their presence "meant the world to me, because it means, to me at least, that I'm still a part of their family, too," Allmendinger said, "and they care about me."
Cup Rundown: Larson, Keselowski Break It Down
Nationwide: Ambrose prevails
The winner shrugs, the loser seethes. Saturday at Watkins Glen there was another oft-told tale of two drivers tangling early, one of them stalking the rest of the way, the other winning and calling it "no harm, no foul."

Ambrose
That's what a beaming Marcos Ambrose told reporters at the track after winning his fourth straight Nationwide start at the storied road course.
Kyle Busch, the other early combatant for a corner, was still miffed after finishing second, falling just short of running down Ambrose.
"Another second place," Busch told ESPN reporters after recording his third straight runner-up spot in Nationwide. "We . . . tried to make a move on somebody who didn't give a crap and then he just turned into me and spun us out, so that put us behind."
"I turned in late because I was very committed," Ambrose acknowledged about the incident. "He bumped my left rear. It wasn't intentional. He was trying to get out of the way. No harm, no foul. Just hard racing."
It wasn't as if Busch, who runs Nationwide for fun and profit, needed the win as much as Ambrose did. Busch has three victories in the series this year.
This was Ambrose's first Nationwide race of the season. He won three straight at the Glen, 2008-2010, but missed the past three races because he couldn't find sponsorship.
In Cup, Ambrose's future with Richard Petty Motorsports is up in the air.
"There's a lot at stake, a lot of stuff going on in my mind," Ambrose said.
The Rundown: N'wide at The Glen
Camping World: Michigan on deck
Blaney
Trucks were off this past weekend but return to action Saturday at Michigan International Speedway.
Two winless drivers this season, Ryan Blaney and Johnny Sauter, sit atop the standings. Blaney leads Sauter by seven points (408 to 401).
The two winningest regulars in the series this year, Matt Crafton and Darrell Wallace Jr., with two each, are third and fifth in the standings, respectively.