Kenseth rolls to pole at Fontana
FONTANA, Calif. -- Matt Kenseth won the pole for Sunday's Auto Club 400 -- barely.
Kenseth had bumped Kevin Harvick from the top spot with about 90 seconds left in the final 5-minute qualifying session Friday at Auto Club Speedway, turning a lap at 187.315 mph. It turned out to be just fast enough to deny Brad Keselowski, who posted a quick lap of 187.105 just as the session ended.
It was Kenseth's 12th career Cup pole and first at Fontana. The 2003 Cup champion said he's looking forward to taking advantage of the positive track position Sunday, though a front-row start doesn't necessarily predicate success.
"Track position is important everywhere," Kenseth said after qualifying. "This is probably one of the best tracks we go to, though, as far as passing and all the different lanes … there's a lot of options here. … It's a really fun racetrack, especially when the car is driving good and doing the things you need it to do. Track position is important, but it is a track where I feel like you can come from anywhere if you have the best car and get up through there and do some passing."
Friday marked Keselowski's fourth consecutive front-row qualifying effort since he won the pole at Phoenix in the season's second race. He was second fastest the following weeks at Las Vegas and then Bristol.
"I've had a lot of fun with it," Keselowski said." I don't feel like I'm a very good qualifier, so it took me all three shots to get it in the top 10, so, fortunately, the last one was our best -- we came in second. I'm really proud of that effort and proud of my team for adjusting on the car to getting it to where we wanted it to be. … We needed all the time we could get to dial our car in and make the adjustments we needed, and we barely had enough time to get it done."
Jimmie Johnson qualified third fastest (186.935) on Friday, followed by Harvick (186.901) and Clint Bowyer (186.461).
This was the fourth knockout-qualifying run by the Cup series. The fastest 24 drivers advanced to the second round after the initial 25-minute session. The fastest 12 from that 10-minute period moved on to the shootout for the pole.
Denny Hamlin, Kyle Busch, Dale Earnhardt Jr., Ryan Newman and Kurt Busch were among those who failed to advance to the third round. Notable drivers who missed the cutoff after the first session included Jamie McMurray, Kasey Kahne, Danica Patrick and Casey Mears.
***
NEWS: @mattkenseth wins the #CoorsLight Pole for Sunday's #AutoClub400 -> http://t.co/tWZ1O94w8Z #NASCAR pic.twitter.com/N4zOAKegYX

— NASCAR (@NASCAR) March 22, 2014
***
Motorsports
Motorsports editor for ESPN.com
Turn 4 TV
Marty Smith welcomes Ryan Newman to discuss his feelings about the new way to determine a champion with a winner-take-all final race in Miami.
Johnson happy to be 'home'
Don't call Auto Club Speedway the House That Jimmie Built, but the 2-mile oval in the shadows of the iconic Kaiser Steel Mill has been Jimmie Johnson's personal playground.
The six-time Sprint Cup champion is the career leader in wins at Fontana with five. He's also the leader in top-5s (12), laps led and average finish (5.7).
Johnson, a California native, won his first Cup race in April 2002 at Fontana. He still is the only driver in ACS history to win from the pole.
No surprise, then, that Johnson is anxiously awaiting the start of Sunday's Auto Club 400 (3 p.m. ET, Fox).
"I love going back to California to race," Johnson said. "If I had a home track, Fontana is definitely mine. It was the site of my first win in '02, so it's very special to me."

In Auto Club Speedway, Johnson and his fellow competitors face their fifth contrasting track configuration in five weeks. After the season-opening Daytona 500 (2.5-mile tri-oval), they've had stops at Phoenix (1-mile D-shaped oval), Las Vegas (1.5 mile tri-oval) and Bristol (half-mile oval).
Fontana, meanwhile, dishes up a wide, 2-mile D-shaped oval with 14-degree banking in the corners and multiple grooves, posing yet another challenge for the aero package NASCAR overhauled to increase downforce and promote better side-by-side racing.
"I enjoy how the track has really spread out and the groove you can run from the bottom to the top," said Kevin Harvick, whose hometown is Bakersfield, Calif. "It's a lot of fun to move around; you can go four or five wide in the corners and down the straightaways. It's become pretty worn out over the last several years. You have to really pay attention to what your car is doing, to try and get it balanced throughout the whole run, because there is so much falloff from start to finish.
"It's also fun to race in front of a lot of your fans, family and friends that get to come to the racetrack from close to where we used to live."
Johnson certainly can relate. He hails from El Cajon, about 110 miles south of Fontana. Racing at his home track provides Johnson with an opportunity to reconnect with friends and family off the track. And on the track perhaps recapture the early-season form that saw him post three consecutive top-six finishes to open the season. A tire issue last week at Bristol put him 19th in the finishing order.
"It's a good track for us. It would be great to get the win and ourselves locked in the Chase," Johnson said. "I think our team has done well on low-grip-level racetracks. And this track's in that category. And pretty high on the list [by] today's standards. And that's usually been good for us. So hopefully we have that magic once again."
Motorsports
Motorsports editor for ESPN.com
Edwards feeling great after Bristol win
Good news for Carl Edwards fans: The No. 99 Roush Fenway Racing Ford is surging.
More good news for Carl fans: Auto Club Speedway, site of Sunday's Auto Club 400, is one of Edwards' favorite tracks.

Edwards
Edwards has just one victory at the 2-mile oval (2008), but in 16 career starts, he has finished seventh or better 13 times and sixth or better in the past three Fontana races. Only two drivers have a better average finish than 10.0 at ACS, and Edwards is one of them (six-time Cup champ Jimmie Johnson is the other).
Having all but locked up a Chase spot by winning last week's rainfest at Bristol Motor Speedway, Edwards enters the Cali race with momentum -- and a sense of relief.
"The biggest thing it does is take pressure off and allow us to go have more fun," Edwards said Friday. "It is nice to be able to race like that."
After four events, Edwards is tied with Jeff Gordon for third place in the Cup standings -- 11 points behind leader Brad Keselowski -- but Edwards has something the four-time champion doesn't have: a victory and peace of mind knowing that victory will likely get him an invite to the postseason party.
"I had a good time racing last week [at Bristol]. That last caution came out, and there was a lot of pressure there. Fortunately, it rained and we got the victory," Edwards said. "Now, to come here to one of my favorite racetracks, it has to be one of the most fun tracks to drive on the circuit because of the way the pavement has aged, and [with] the tire, you can slide the car around quite a bit. We are just working on our Subway Ford and hoping we can get another victory this weekend."
Newman fond of Fontana track
Sometimes old is better than new.
Take Auto Club Speedway, for instance.
Recognized as one of NASCAR's oldest tracks not to have been repaved -- it was completed in 1996 -- the 2-mile asphalt oval offers … well, "character."

Newman
"I like this racetrack," driver Ryan Newman told reporters outside of his hauler Friday. "Everybody, for the longest time, compared this one to Michigan and they were not even close to the same. They are entirely opposite. Michigan has been repaved and this is the old worn-out California. … It's a fun racetrack now, and the most fun it's ever been in my career of being here for 12 years. I look forward to it."
Drivers can run a number of grooves at ACS, including the apron. Three- and four-wide racing is commonplace.
"We can get off line. We drive down the straightaways. It's really just a lot of fun. It's got a lot of character," Newman said. "So many racetracks now are repaved and have no character, so to speak, with bumps and things like that. We can move around the racetrack a good bit and have some fun."
Newman, in his first year driving the No. 31 Richard Childress Racing Chevrolet, could stand to have some fun in Cali. He's enjoyed a solid but unspectacular start in the Caterpillar Chevy, with two top-10s in four starts.
"I think our cars have been good. We'll see," said Newman, 10th in points. "It's typically been a fun place to drive and a good place to race and we've seen a lot of excitement here, more so than we ever did at least last year compared to the years before."
Podcast: Marty & McGee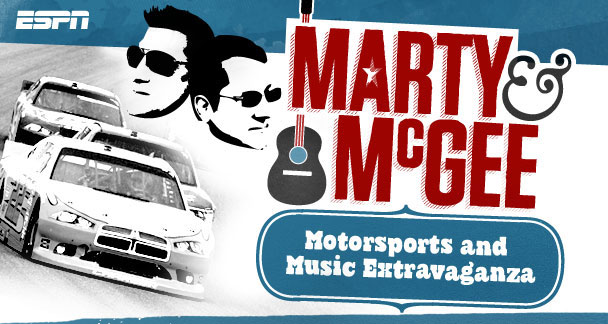 ESPN
Marty Smith and Ryan McGee discuss this weekend's race in Fontana, break down who they think will come away with the win, and talk with racing, hunting and fishing legend Hank Parker Jr. Listen

Vickers offers up some personal knowledge
Brian Vickers has some advice:
"I think the biggest message to get out there is, if you think you have something wrong, go see a doctor," he said. "Since the first time I had an incident I've worked really hard to raise awareness on clotting. It's not only an underdiagnosed issue but an unknown issue to a lot of people, and it's something that could affect anyone."

Vickers
Vickers, remember, was sidelined twice by the condition -- first in 2010 when he had blood clots in his lungs and left leg, then again in 2013 when a clot was discovered in his right calf.
"As soon as I suspected I had something wrong [the second time], I had some slight swelling and redness in my right calf, and I immediately called the doctor," Vickers said of the life-threatening condition that reportedly impacts 900,000 Americans annually.  "This time we caught it very early … "
Vickers met with the media Friday as it was announced that Janssen Pharmaceuticals Inc. -- the maker of medicine used to treat and prevent blood clots -- has become the official cardiovascular partner of NASCAR.
Vickers will drive the TreatMyClot.com Aaron's Dream Machine Toyota Camry co-sponsored by Janssen in Sunday's Auto Club 400 (the Nationwide Series race Saturday is sponsored by TreatMyClot.com). He enters the weekend 18th in the Sprint Cup standings after a ninth-place effort at Bristol. To be able to share his story in Victory Lane, Vickers said, would be monumental.
"Nothing would be more special to me for so many reasons as you can imagine," he said.
Meanwhile, Vickers continues to share his message: If you suspect something is wrong, see a doctor.
"That's really the bottom line."
Nationwide: Bayne looking to beat JGR
If only Joe Gibbs Racing could race every weekend at Auto Club Speedway.
JGR drivers have won the past nine straight Nationwide Series races at Fontana. They'll be looking to extend that streak in Saturday's TreatMyClot.com 300 (5 p.m. ET, ESPN and WatchESPN).

Bayne
Tony Stewart's victory in February 2008 started the streak. Kyle Busch, the career wins leader in the Cup feeder series, has won six of the past eight. Joey Logano, now with Penske Racing, won the other two.
What's it going to take to upend the JGR juggernaut?
"We are going to have to get faster cars than them, I guess," said Trevor Bayne, driver of the No. 6 AdvoCare Ford Mustang. "They have been really fast, and having the drivers that they do, running every single weekend, with Matt Kenseth, Kyle Busch, Elliott Sadler, they are able to bounce a lot of things off of each other. Normally, Kyle doesn't need anyone to bounce it off of -- he has just been fast on his own.
"We need to get our teammates up to speed a little and our car up to speed where we can try three different things in a weekend and figure out which package is going to be best and what direction we need to go. Hopefully we are going to be able to do that."
Bayne should be a threat. He has four top-eight finishes, including a third in the opener at Daytona, and trails standings leader Regan Smith by just one point. But will his Roush Fenway Ford have enough to challenge the boys at JGR?
"I love racing against those guys, and they are setting the bar high," Bayne said. "We have to go after them. We aren't sitting on our heels just hoping that something magically appears for something to make us faster someday. … We just need to unload a little closer at these racetracks to beat those guys."