Kyle Busch rolls to first Martinsville pole
***
Pole!! Ya baby!! RT @NASCAR: That's a wrap - @KyleBusch wins his first #CoorsLight Pole at @MartinsvilleSwy! #NASCAR pic.twitter.com/ToRQxeXHbK

— Samantha Busch (@SamanthaBusch) March 28, 2014
***
MARTINSVILLE, Va. -- Finishing ahead of Jimmie Johnson, Jeff Gordon and Denny Hamlin at Martinsville Speedway is never a bad thing, and fairly unusual these days.
So even though it was just a qualifying session and he didn't even set the new track record, Kyle Busch will take it.
As a matter of fact, he'll take about anything at Martinsville.
Busch, who won last week at Auto Club Speedway to virtually cinch a Chase for the Sprint Cup berth, earned the pole for Sunday's STP 500 with a best lap of 99.674 mph. Busch broke Denny Hamlin's previous mark of 99.595 mph.
"Denny is always really good at here at Martinsville," Busch said after his first pole in 19 attempts at Martinsville. "I think we always come here, we always predict him to either win or finish second to [Johnson].
"It's those two guys you really look at to be the best here. I think [Gordon] has been really good the past couple times as well. And he was really strong last week, so I'm sure he's a man on a mission as well. He really wants to see a win as well. Martinsville being early like this in the season and being one of Denny's favorite places, of course, I think you will see him try hard, work hard to be the guy who can win."
Busch has never won at Martinsville.
Busch's Joe Gibbs Racing teammate, Hamlin, will start second, followed by Penske Racing's Joey Logano -- who set a track record of 100.201 in the first round of the knockout session -- and eight-time Martinsville winner Johnson.
***
FRONT ROW! @KyleBusch wins the pole & @JoeGibbsRacing teammate @dennyhamlin starts 2nd Sunday at @MartinsvilleSwy! pic.twitter.com/lCbKH7O3BQ

— Toyota Racing (@toyotaracing) March 28, 2014
***
@KyleBusch turned the fastest lap and accepts the #CoorsLightPole flag from @AlphaMech exec #AlphaPoleDay #STP500 pic.twitter.com/VCShjveHGL

— Martinsville Spdway (@MartinsvilleSwy) March 28, 2014
***
Turn 4 TV
Ryan Newman talks about what it was like trying to break into the highest level of NASCAR racing and how thankful he was to have someone such as Buddy Baker to help him along.
Always emotional for Hendrick team
MARTINSVILLE, Va. -- Jimmie Johnson and Jeff Gordon enter the weekend -- having been denied late-race chances at victory last week -- as the active co-leading winners at Martinsville Speedway. It's also the 30th anniversary of their powerhouse team's first NASCAR Sprint Cup triumph.

And almost a decade after a Hendrick Motorsports team plane crashed on a foggy day into nearby Bull Mountain -- killing all 10 on board, including the son and brother of team owner Rick Hendrick as well as two of his nieces -- there is the distinct possibility of several storylines, emotional and purely statistical, resolving themselves in the hills of rural Virginia.
Trips to Martinsville are both raw and rewarding for Hendrick and its drivers. Time and place and circumstance often dictate the emotion, Johnson said. This weekend has been no different.
"It just depends on what activates my mind," he said. "Like today, I woke up, it's overcast. It's cloudy. The whole week leading into Martinsville I'm excited to come here, to race, and I feel like I have a great chance to win. And I wake up this morning and it's overcast and I can't help but think about the airplane accident. It depends on what triggers the thought process."
Johnson and Gordon have combined to win 11 of the last 19 races at Martinsville since Johnson earned his first win here in October 2004, the day of the plane crash. With eight wins each at the .526-mile oval -- the shortest on the Sprint Cup schedule -- the teammates again figure to be prime protagonists. Johnson won the spring race last season and Gordon won in the fall.
An early-season victory at Martinsville has never been so tangibly valuable, with a newly implemented points system for this season virtually guaranteeing entry into the Chase for the Sprint Cup with a win. Neither Johnson nor Gordon has won yet this season -- with Johnson sustaining a late tire failure last week while leading at Fontana, Calif., and Gordon losing the inherited lead after a late caution -- and Martinsville could provide the opportunity to begin gaming for the playoffs with 20 races left until they start.
Contributor, espnW.com
Brant James has covered the Daytona 500, Indianapolis 500, a World Series and Stanley Cup for the big hometown daily, an NCAA tournament and a Super Bowl. He's walked to the paddock with Kentucky Derby horses before post, ridden to the top of Mount Washington with Travis Pastrana and landed on an aircraft carrier with Dale Earnhardt Jr.
Behold Air Titan 2.0
NASCAR on Friday unveiled the next iteration of a technology it hopes to never use again -- but probably will use this weekend at Martinsville Speedway. Air Titan, the innovative track-drying device first used last year, has been redeployed as Air Titan 2.0.
The new system is expected to reduce track-drying time by 25 to 50 percent, according to NASCAR vice president of innovation and racing development Gene Stefanyshyn, and reduce fuel consumption by 78 percent (as much as 90 percent under optimal weather conditions).
***
Back & better than ever... #NASCAR pic.twitter.com/habnKEJVd2

— Air Titan (@AirTitan2Dryer) March 28, 2014
***
NASCAR senior vice president of racing operations Steve O'Donnell said the impact of the system goes beyond providing a timely event for those watching in person and on television. Company research, he said, has indicated that a fickle public, which often waits until just before events to purchase, factors the presence of Air Titan into its decision to attend.
"With people purchasing later and later, whenever they knew Air Titan was going to be there, they were 50 percent more likely to buy," he said.
O'Donnell said the total cost of the project would not be available for a few more weeks, but NASCAR has absorbed the developmental outlay. Decisions are ongoing, he said, about whether to lease the system to tracks or produce enough for them to purchase.
Stefanyshyn theorized a 200 percent increase in drying capacity for Air Titan 2.0, which is aided by drier and warmer ambient air, wind and sun.
There are 21 Air Titan 2.0s currently in service, with eight deployed at Martinsville, where a high probability of rain is forecast for Friday and Saturday. An accompanying sweeper truck collects the water pushed off the track by Air Titan 2.0.
"Essentially, it's a quick drying process that has two steps: The first thing we endeavor to do is remove as much water off the track as we can so it's a rapid water removal; then it's followed by an accelerated evaporation process of the remaining water film," Stefanyshyn said. "The Air Titan 2 is a self-contained unit, it's a low pressure unit, and it's capable of team deployment and independent tactical deployment, so we'll be able to pick these units individually and send them to the areas on the track where they need to be sent."
Contributor, espnW.com
Brant James has covered the Daytona 500, Indianapolis 500, a World Series and Stanley Cup for the big hometown daily, an NCAA tournament and a Super Bowl. He's walked to the paddock with Kentucky Derby horses before post, ridden to the top of Mount Washington with Travis Pastrana and landed on an aircraft carrier with Dale Earnhardt Jr.
Denny's optical allusions
An indignant Denny Hamlin said he was "done justifying and defending" himself amid speculation surrounding a left eye injury that prevented him from racing last week at Auto Club Speedway.
When asked about the aftermath of the injury, which wasn't clarified by his Joe Gibbs Racing team until mid-week, Hamlin launched into a controlled but pointed barrage against an unnamed faction he felt had impugned his reputation.

Hamlin
"It just bothers me because there's people that like to make rumors, and of course within our NASCAR community rumors become truth when enough people say it," he said. "I'm done."
Hamlin seemed particularly irked that he felt speculation had rushed in to fill a void regarding his private health information.
"My health is my business, but what if it was cancer or tumor?" he said. "I don't have to tell anyone that. It's my business. People who think negatively of me or think that we side-stepped some sort of drug test or something is ridiculous."
Dale Earnhardt Jr. had questioned information flow after the incident, in which Hamlin was replaced by Sam Hornish Jr. in the No. 11 Toyota at Fontana, Calif., on Sunday morning.
Earnhardt said today that he had been "worried," adding, "I thought that the lack of a statement from Denny's point of view left him vulnerable and unprotected. I just felt like it was important for him to have a very simple statement that sort of cleared up any kind of assumptions or whatever you have for him personally."
Hamlin cited his responsibilities with a 14-month-old daughter and his job driving "one of the top three cars in NASCAR" as reasons for maintaining professionalism.
"I would have to be an absolute moron, moron, to risk that," he said. "For people to question who I am inside and outside the race car, I've never done anything to even put that in question. I go to Bobcats games, I got out and hang out with friends out in public. I don't stay tucked in my motorhome, I don't stay tucked into my house. It's not what I like to do.
"Because I'm out there a little bit more people think I got out and I party. I got a wakeup call because I don't drink at all hardly, ever. I've never done drugs, ever. I'm as clean as they come. I don't know why people question who I am outside the race track."
JGR announced Wednesday -- it took that long for tests to be completed -- that Hamlin had been medically cleared to race this weekend at Martinsville Speedway. Hamlin had been seen at the Auto Club Speedway infield care center by local doctors on Saturday and Sunday after complaining of an eye irritation and was deemed unfit to race after a diagnosis of a sinus infection that impacted his vision.
Hamlin was then referred to a local hospital for evaluation, where a sliver of metal was discovered and subsequently removed, except for a small bit of rust. A CT scan found no other explanation for Hamlin's vision problems and he was released and allowed to fly home on Sunday. Hamlin was later re-evaluated in the Charlotte area and cleared to resume racing activities.
Hamlin said he was unsure how the sliver got in his eye, but speculated it could have come through a cooling unit hose hooked to his helmet March 21 during a practice. He began experiencing discomfort that evening, he said, in the upper corner of his eye lid. He experienced watering on Saturday but had no abnormal vision, he said, until Sunday. He said he "felt better instantly" after the sliver was removed.
He showed no ill effects on Friday, leading practice and predicting he would win for the fifth time at Martinsville on Sunday
.
"I'm going to win it this weekend, I promise," he said.
Gordon talks tires, is still mad
Jeff Gordon remains perturbed with the direction of Goodyear's tire construction a week after a failure possibly cost him a chance at victory at Auto Club Speedway.

Gordon
A spate of tire problems cost several cars in the waning laps, including teammate Jimmie Johnson, whose left front failed with his No. 48 Chevrolet leading. Gordon assumed the lead and nursed the No. 24 Chevrolet into a position for a first win of the season, but a tire-related spin by Clint Bowyer elicited a caution, and Gordon lost the lead in a flurry of pit strategies. He finished 13th, and blasted the tire manufacturer for not being prepared.
Gordon acknowledged teams' abuse of the tire, most of which involved utilizing air pressures well below that recommended by Goodyear. But he said the manufacturer bears some responsibility, too.
"I think when you have that many cars that are close to being on the edge or going over the edge, then the tire is too aggressive or something else needs to be looked at," he said. "The teams have all gotten, with the ride heights and everything they are doing, they have gotten more aggressive, no doubt, about it. But that is what it's going to take to win races and if no tire test happens at that track, then I think that I would question why not."
Gordon said he had no problem with tire wear rates because "I know how to manage tire wear," blaming problems with sidewalls that teams could not readily diagnose.
"You don't know, is it the bumps on the back straightaway? Is it the apron in Turns 3 and 4. Is it speed? Is it air pressure? Camber?," Gordon pondered. "I heard where people were low on [air] pressure, came up and that didn't seem to fix it.
"When those things are happening, it definitely makes you nervous, because you don't want to be that close to the edge. We all were very close to it."
Gordon tested tires on the Sonoma, Calif., road course this week but did not discuss his concerns with Goodyear officials, he said on Friday because, "I am too mad at them."
Podcast: Marty & McGee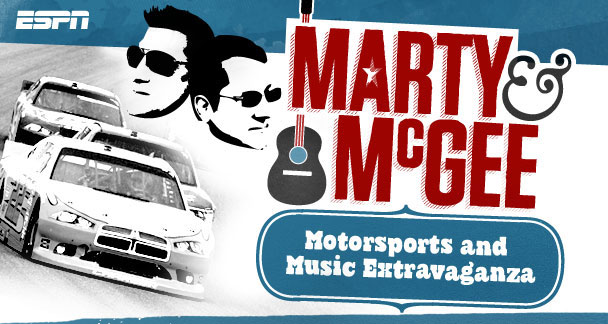 ESPN
Marty Smith and Ryan McGee talk with Kyle Larson about his first career victory in the Nationwide Series, what it's like to have endorsements from racing legends and much more. Listen

Short track, short on details
Carl Edwards doesn't need to be reminded how much Roush Fenway Racing in general and he in particular have struggled at Martinsville.

Edwards
Edwards hasn't produced a top-10 finish here since 2011 and Roush's last win was with Kurt Busch in the fall of 2002. So forgive Edwards if he's tried to plumb eight-time winner Jimmie Johnson for some usable information.
As a rookie, Johnson learned his way around the .526-mile track with the help of teammate Jeff Gordon, another eight-time winner. But Johnson wasn't amenable to Edwards' approach.
"I've talked to Jimmie a little bit about it, and he just says, 'You'll figure it out,'" Edwards said with a laugh. "He's really nice about it and then changes the subject. Those guys are very spectacular here. They're very good.
"I know my first few years I would get out of the car and go down and stand and watch Jeff Gordon. The way he drives around here is just so smooth and precise. They're able to do things that I'm not able to do, so I've just got to keep working on it."
Next Rhodes to take
Ben Rhodes' entry in the Camping World Truck Series race this weekend at Martinsville is a milestone moment for the NASCAR Next program, which is designed to identify and publicize young drivers.
A record four members of the program will contest the truck race: Rhodes, Jeb Burton, Gray Gaulding and Ben Kennedy.
Chase Elliott, Burton and Kennedy raced against each other in five truck series races last season.
Rhodes, 17, won his first K&N Pro Series East race last Saturday at Greenville (S.C.) Pickens Speedway to liberate the points lead from Gaulding, who fell to third. Rhodes has won three straight poles in the series.