Opportunity knocking at Sonoma road course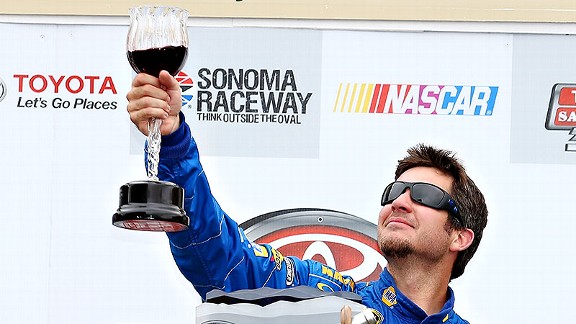 Todd Warshaw/Getty ImagesMartin Truex Jr. was the toast of Sonoma after winning the 2013 Toyota/Save Mart 350.
SONOMA, Calif. -- The race to the Chase takes some twists and turns this weekend as the Sprint Cup Series visits its first road course of 2014.
Two words best describe Sunday's Toyota/Save Mart 350 at Sonoma Raceway: wide open.
Nine different winners have celebrated in Victory Lane over the past nine races -- Martin Truex Jr. is the defending race winner -- and the past seven victors were first-time road-course winners in the Cup series.
That's good news for a number of winless drivers buried deep in the Cup standings. Under NASCAR's new Chase-qualifying format, a victory on the tight 10-turn, 1.99-mile road course virtually guarantees that driver a spot in the playoffs.

Allmendinger
So if you're, say, Jamie McMurray or AJ Allmendinger, who are 21st and 22nd in points with just one top-5 finish apiece in 15 starts, the opportunity to sneak into the Chase with a win Sunday is undeniable.
"Honestly, I thought we had a car capable of winning last week at Michigan, and then I did a terrible job on a restart and we struggled a little bit to get fuel in the car," McMurray told reporters on Friday. "But honestly, I look at each week as a chance to win. I don't use Sonoma as, like, the opportunity for other guys. There is so much that can happen here with fuel mileage and the way the cautions fall and the way you pit. The whole race can change in a matter of four or five laps if the caution falls at the right or wrong time for guys.
"So I don't look at this as a better opportunity. I really feel like each race between now and Richmond, we'll have the chance to win if we make all the right decisions. So yeah, I think this weekend is as good as any."
Said Allmendinger, a tested road-course vet driving for JTG Daugherty Racing: "A good opportunity to try and get a win. But you can't put too much pressure on yourself getting here saying this is the only race we have a shot to win at.
"I would be lying if I said I didn't come in here with the mindset that we have a shot to win this thing. But at the same point, the Sprint Cup Series every weekend, it is so tough now. It is a lot different than 10-15 years ago, when I thought you looked at the series and said maybe there are five or eight or 10 guys at most that can win on a road course race. Now it is so deep, and everybody has gotten so good at road course racing in general."
Truex struggling
Truex, meanwhile, limps back to Sonoma with a new ride.
He won the 2013 Toyota/Save Mart 350 in the No. 56 Michael Waltrip Racing Toyota. He returns this week driving the No. 78 Chevrolet for Denver-based Furniture Row Racing.
It's been a rocky marriage early on, performancewise.

Truex
Truex has only two top 10-efforts in 15 starts, and he is coming off a 37th-place finish at Michigan. Kurt Busch, remember, made the Chase with that car a year ago.
"It's been a really tough season. It's been a lot of tough luck and a lot of things that just keep happening," Truex said Friday. "You wonder what's going to happen next. So it's been a tough season. But through it all, I feel like the team has done a really good job of staying positive, working on race cars and focusing on the things we have learned to try to get better.
"Certainly we haven't been as competitive as we'd like to be, but we're definitely nowhere near a 25th-place team, which is where we are in points," he added. "Just keep plugging away and working on it. The guys are staying positive and that's been a good thing for us. The car has been getting faster. We just have to finish races. Hopefully this weekend we turn it around and have a good, solid run and a shot at defending the race win."
The 78 team is showing signs of turning the program around. Both of Truex's top-10s came on successive weekends at Dover and Pocono leading up to last weekend's disaster at Michigan. And he has a bit of a swagger knowing that he won here in 2013.
"As far as being the defending champion, it's a great feeling," Truex said. "It definitely gives you a lot of confidence, but you have to be careful with that. You can't get stuck on what you did last year and what did we have in the race car. This is a new season. The rules are a lot different and the cars are a lot different. You have to be open-minded. I have a different race team and our cars are a lot different than what I ran here last year. ... Hopefully we make the right decisions to put ourselves in position to win this thing again."
Pressure? What pressure?

Logano
One driver who should be feeling little pressure this weekend is Joey Logano, a two-time winner -- and virtual Chase lock -- this season in his No. 22 Penske Ford.
Logano, seventh in the standings, has two top-10s in five starts at Sonoma. He won the pole and finished a career-best sixth in 2011.
"I like coming here. It's such a fun racetrack for us, and obviously a changeup for NASCAR to come to these road courses," Logano said. "Sonoma, I always felt, is kind of like the short track of road course racing for me. Tire wear is definitely very high, too, so that strategy that comes into this race also, with people talking about the two-stop or three-stop race, that comes into play there.
"So strategy, passing each other, keeping the fenders on this thing, keeping it on the racetrack, it's just such a challenging place and makes it a lot of fun. Usually there are about four or five guys that are smiling after the race, and everyone else is really mad at each other, so I can't wait."
Motorsports
Motorsports editor for ESPN.com
What they're tweeting ...
A hero's welcome for JJ
It's been a happy -- no, "awesome" -- homecoming for six-time Sprint Cup Series champion Jimmie Johnson.

Johnson
His Jimmie Johnson Foundation golf tournament at Torrey Pines in San Diego raised $650,000 for charities in the Southern California, Oklahoma and Charlotte areas. During a visit to his hometown of El Cajon, Johnson was given a guitar -- not a key -- to the city, and Tuesday was declared Jimmie Johnson Day.
"Just a crazy experience and fans were everywhere," Johnson said Friday. "I couldn't believe how many people showed up. It was just an awesome experience."
The coolest moment of the week?
"I guess the moment would have been leaving and getting back on the interstate and driving out of there [El Cajon] with all that took place," Johnson said. "We all know you go back home, the memories come up in your mind and you think of what happened here, what went on there. All these stories start to emerge in your mind. To have that feeling of being back home and then to leave the event with all that they gave me and the huge fan support, friends that were in attendance and old schoolteachers.
"A lot of my friends, their parents are still in El Cajon, and they made a trip out, faces I haven't seen in 20 years. Leaving there, and to feel the pride that El Cajon has for what I have done on the track and the respect they paid me, that all tied into driving out of there, and had a very cool moment."
Hometown Hero: @JimmieJohnson http://t.co/D0zKSEHRu4 pic.twitter.com/Rogq0ENIkq

— NASCAR (@NASCAR) June 20, 2014
Jamie Mac's rules of the road

McMurray
Jamie McMurray called it "the demon."
It's his phrase for road rage.
It can be found not only on the road course at Sonoma Raceway -- it's on our highways.
And McMurray was asked about it Friday.
"My pet peeve on the highway is people who don't want to go the speed limit in the faster lane," McMurray said. "When I drive down the interstate -- even if I'm speeding slightly -- and I see someone coming faster than me behind, I'll get out of the way.
"I also hate people that try to become the police in their car when maybe you're passing them on the shoulder leaving the track ... the guy who pulls over to cut you off. If a guy wants to go on the shoulder, let him go on the shoulder. I don't really have an issue with that."
He would, however, have an issue with that on the road course.