Larson learning quickly
Sprint Cup rookie Kyle Larson is proving to be a quick study with media questions, something he flashed again Friday.
Larson
Race teams get four tests per season. Asked if using up one of his Chip Ganassi Racing with Felix Sabates tests at New Hampshire a few weeks ago was aimed at getting him and teammate Jamie McMurray better shots at making the Chase, he didn't hesitate.
"I'm sure when you only get four, any test they use is to get yourself in a better position for the Chase," he said. "I would say so."
Larson is 19th in points, but only 12 behind 16th place, which would be good enough to get him in the Chase on points should there be 15 or fewer winners by the time of the cutoff after Richmond in September. Either through a win, or points, he knows making the Chase may depend on putting some recent bad runs behind him. He's finished 28th, 40th and 36th in the past three races, respectively.
"Our chances [of making the Chase] were really good up until three weeks ago," he said. "Then we lost power steering at Sonoma and finished in the high 20s. Kentucky we were pretty fast and blew a right-front tire and then at Daytona we got caught up in a typical Daytona crash and got a 36th-place finish or something like that.
"I think we went from being tied for seventh to [19th] in points over three weeks.  It was looking great up until now. It makes you stress out a little bit just because each week it gets closer and closer to the Chase. Now we have fallen to where we have to fight really hard again. It makes it nerve-racking, but we are all pretty close. I think there are six or so guys that are pretty close in points. I have to have a couple of good runs and hopefully get back up there. It would be nice to get a win soon for sure."
Podcast: Marty & McGee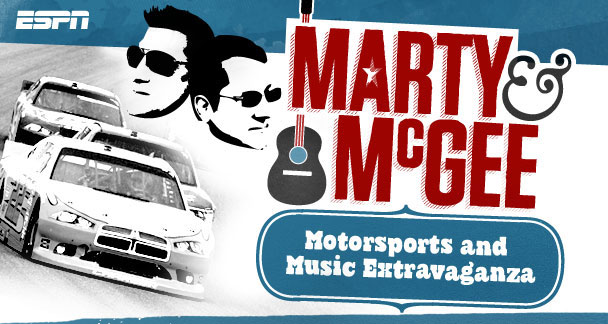 ESPN
Marty Smith and Ryan McGee welcome Brad Daugherty, co-owner of JTG Daugherty Racing, to discuss the Race Team Alliance and what it means for NASCAR. Listen

Almirola basking in the glow
Aric Almirola has work to do this weekend at New Hampshire, but you'll forgive him for still wanting to think about last week's victory in the Coke Zero 400 at Daytona International Speedway.

Almirola
"My week was really busy," he said. "It has sunk in. All the guys on the team are fired up. I did all my media obligations mostly on Monday because we did a tire test in Richmond Tuesday and Wednesday, and then yesterday I did a little bit of media and started off this morning at 9 a.m. with more media.
"It has been really busy but I will take that kind of busy any day. To come off a win and take all that comes along with that is really special."
Almirola claimed his first win in the Sprint Cup Series by holding his spot up front when rain finally ended the race, which already had been postponed a day because of the weather. It was the first time the No. 43 of Richard Petty Motorsports -- possibly the most famous car in all of racing -- reached Victory Lane in 15 years. It also came on the 30th anniversary weekend of Petty's 200th and final victory.
One of the coolest things for Almirola was finally getting the checkered flag from the race.
"So obviously I didn't win under green-flag conditions ... usually if you do, you swing back by and grab the flag from the flag man at the end of the race and so I didn't get to do that, and so this morning the flag man, Rodney, brought down to my team guys the checkered flag," he said. "When I got in the race car this morning the checkered flag was sitting inside my race car. That was really cool."
Logano headed to backup car
Joey Logano scored his first career Sprint Cup Series victory in 2009 at New Hampshire, winning a race shortened by rain.

Logano
But a victory is a victory (as Aric Almirola knows well from last week), and Logano has gone on to be a contender this year after joining Team Penske two seasons ago. He now has five career victories -- three with Penske -- and is still only 24.
So what does the Middletown, Connecticut, native think about his chances this weekend?
"This track is one of the tougher racetracks for me but it is a special racetrack for me and I consider it my home track not growing up too far from here," he said. "I watched my first Cup race here and won my first Cup race here, so it has always been special for me. We had a good test at Milwaukee a couple weeks ago getting ready for this race and I think we are ready to go.
"We learned a couple things there that are a little different than we have normally done. We are going to get out of the box a little bit and try a few different things to try to wake up this AutoTrader.com Ford Fusion."
The car woke up in the day's first practice, but not in the way he and his team would have liked. His left-rear tire blew out and he crashed, forcing him to a backup car for the rest of the weekend.
"The same exact thing happened in this race last year," he said. "I wasn't even close to saving that. I needed about 500 more yards of straightaway to save that one.
"Unfortunately we will have to get the second [car] out here and try to get it tuned up for the race. It is a bummer. I felt like our car was pretty good. It wasn't great but we were getting closer and I felt like we were a top-5 car. Hopefully the other one is just as good. Team Penske does a great job of making these cars consistent so I am not too worried about it."