SportsCenter: Is Ambrose The Man To Beat?
Harvick, Allmendinger pace practices
WATKINS GLEN, N.Y. -- Kevin Harvick led the first practice session on Friday at Watkins Glen for Sunday's Cheez-It 355 at The Glen (1 p.m. ET, ESPN and WatchESPN).
Harvick's No. 4 Chevrolet covered the undulating, 11-turn, 2.45-mile road course with a best lap of 66.652 seconds at 128.474 mph. Jimmie Johnson was second at 68.992 (127.841), also posting his best time on his final lap of the session.
Defending race winner Kyle Busch was 10th in the No. 18 Toyota at 70.049 (125.912). Marcos Ambrose, who won here in 2011 and 2012 and would likely secure a Chase for the Sprint Cup berth with a win, was fifth at 69.083 (126.359).
AJ Allmendinger, who finished fourth at Watkins Glen in 2010 in Cup and has won Nationwide races at Mid-Ohio and Road America, led the final session at 68.688 (128.688 mph). Ambrose was second at 68.541 (128.682).
A very rough day for Patrick
Danica Patrick emerged from the side door of the infield car center at Watkins Glen International visibly beleaguered but healthy. And that was one of very few positive aspects of her afternoon of Sprint Cup practice on Friday.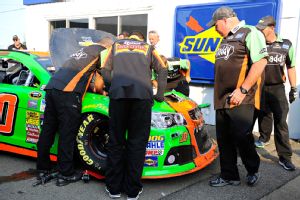 Jared C. Tilton/Getty ImagesDanica Patrick kept her crew busy on Friday, damaging an engine and later her primary car.
Patrick crashed hard into a Turn 5 tire barrier with about two minutes left in the final practice because a shock absorber failed, according to crew chief Tony Gibson, allowing the No. 10 Chevrolet to compress and rupture the tire.
Patrick, who had undergone a tire change just two laps earlier, was first alerted to a problem when driver Matt Kenseth radioed that her car was smoking. She could not make it back around the remainder of the 2.45-mile track to pit lane.
"I never saw any [smoke], but he said he saw it and said, 'You guys should pit,'" Patrick said. "Just in the carousel there is so much load on the left-front [tire] there that I guess that was the go spot for it. It has been a record horrible day, I'm pretty sure."
Such was the conclusion of a frustrating and expensive day that cost one car, two engines, and a measure of humility. Patrick missed a shift during the first practice session, damaging her first motor and forcing a change that would force her to start in the back of the 43-car field. The team will install a third new motor in the backup car, Gibson said.
Patrick reported a vibration in her Hendrick Motorsports-built motor after over-revving following the mistake, and Stewart-Haas Racing competition director Greg Zipadelli said an examination revealed damage. By NASCAR rule, she will start at the back of the field regardless of qualifying performance.
"I went to second [gear] instead of fourth, so … that'll do damage," Patrick said, "going up the hill down the back straight."
With passing typically difficult on road courses, Patrick figures to have a laborious 90 laps ahead on the 11-turn course on Sunday.
"It is hard to pass, but on the other hand, there's a million strategies that play out on road courses," she said. "I think it's not the worst place in the world to start in the back."
Patrick finished 20th from the 35th starting position last season in her first Cup start at Watkins Glen. In 2012, she was wrecked out of her only Nationwide race here on the first turn of the first lap as Ryan Truex appeared to lock his brakes and slid backwards into her, fouling the motor.
Patrick was 36th in Friday's final practice session.
"The only positive thing is that I'm hoping I'm using up all my bad luck and mistakes and all the bad stuff in one day, so that I can get it out of the system before we go to the next one," she said. "On the second thought, I suppose that after an engine change this morning we were starting in the back anyway.
"Third, I would say if you are going to have to start at the back of a track the strategies are all over the place on road courses, and it just might push us into something that works."
Ambrose focused on 'now' at Watkins Glen
Marcos Ambrose could win at Watkins Glen International for the third time in four years on Sunday, qualify for the Chase for the Sprint Cup and change the complexion of his nine-year NASCAR career.
But it wouldn't change the course, he told ESPN.com.
"It will make absolutely no difference," he said, on where he races next season.
The 37-year-old Australian could accept an offer to return to Richard Petty Motorsports for a fifth season. Or he could fulfill a pledge to repatriate while his children are still young, and according to reports from Australian media, he is being courted by Dick Johnson Racing to drive in a possible new collaborative V8 Supercars effort with NASCAR and IndyCar owner Roger Penske. Ambrose won that series title in 2003 and 2004.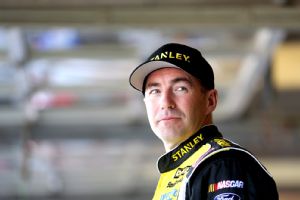 Nick Laham/Getty ImagesMarcos Ambrose knows Watkins Glen presents a great opportunity for him to make the Chase.
It's a pending decision, he said, but not an immediate one, as his focus remains "in the now" on qualifying for the NASCAR playoffs. At 49 points from the current Chase grid perimeter with five races remaining in the regular season, Ambrose seemingly has a win as his only logical avenue to the new postseason.
That doesn't seem a far-fetched outcome considering the locality of the race this week. Of Ambrose's six NASCAR wins, two have come at the 2.45-mile New York road course in Sprint Cup, three more in Nationwide.
"Right now I am putting my best effort into making the Chase and we have a few races left to do that, so that's what I've really been thinking about," he said in a telephone interview.
"Every year we come up for renewal. I have had to balance out my family life versus my professional life and I've always been open and honest that my family is Australian and I want to give them a chance to enjoy Australian life growing up. And so I just balance this out every time I come up for a contract renewal, you know? When is a good time to keep going, and when is a good time to stop?"
Chase Elliott getting ready to move up?
Dale Earnhardt Jr. has selfish reasons for wanting points-leading Nationwide Series rookie Chase Elliott to remain in the second-tier developmental series for another season. He's his team co-owner at JR Motorsports. But Earnhardt agrees with one of his partners that the 18-year-old son of former Sprint Cup champion Bill Elliott is readying to begin his merge into NASCAR's top level beginning next season.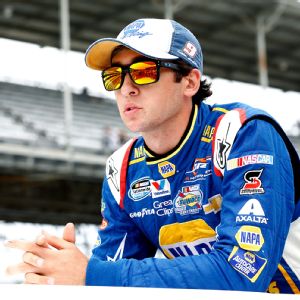 Sean Gardner/Getty ImagesChase Elliott is expected to get in some Sprint Cup races next season.
Rick Hendrick, whose Hendrick Motorsports team supplies extensive support to JRM, said on SiriusXM this week that he would expect Elliott to "run a few races next year" in Sprint Cup. They would be his first.
Good idea, said Earnhardt, a two-time Nationwide champion.
"I think it makes great sense," he said, "two Nationwide seasons, runs a little Cup in that second season and go on right into Cup. I think that's the plan. And he's running well enough and that seems to make a lot of sense. I wasn't expecting anything else."
The timetable is sure to increase speculation about the future of Hendrick's Kasey Kahne, whose current contract expires after next season. Kahne has been comparatively underachieving this season -- winless, 14th in the driver standings and a point from the Chase for the Sprint Cup boundary, as Earnhardt and defending series champion Jimmie Johnson have three wins each and points leader Jeff Gordon two.
Elliott has three wins, eight top-5s and 14 top-10s in his first Nationwide season -- he had never before raced in the series -- and leads teammate Regan Smith by two points after 20 races. Elliott had a win, five top-5s and seven top-10s in nine truck races for a Hendrick-owned and sponsored program last year.
"This kid is phenomenal," Gordon said. "You just introduce him to new things and he just excels at it. When it comes to young talent like Chase, I think the sooner that you can ... not necessarily the sooner, but you don't want to keep them in a Nationwide car too long. You want to get them in that Cup car and I think that is a perfect plan is to put him in there for some races next year to give him an idea and I wouldn't be surprised if you see him in there fulltime the following year."
Gordon, who has playfully hinted at retirement if he can win a fifth championship this year, was then asked which car Elliott could take over in an organization at the four-program limit.
"I don't know," he responded. "That has not been discussed."
Ganassi honored, but still looking ahead
Chip Ganassi is too busy in the immediate to dwell much on past accomplishments, even if they include 17 major championships and more than 150 victories.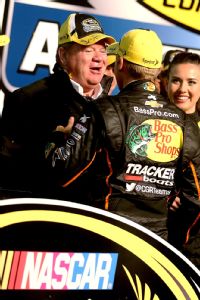 Nick Laham/Getty ImagesChip Ganassi's list of accomplishments in racing is a long one.
Fielding NASCAR Sprint Cup, IndyCar and sports car teams keep him too busy for all that, and he's not much of one to linger on moments for long anyway.
But Ganassi, the only owner to hold the winner's trophies from the Daytona and Indianapolis 500s, Brickyard 400 (in 2010) and Rolex 24 (2011) at one time, was made to pause for reflection on Friday as he was presented with the inaugural Cameron R. Argetsinger Award for outstanding contributions to motorsports at the International Motor Racing Research Center Award Dinner.
NASCAR president Mike Helton encapsulated Ganassi's accomplishments by referring to a program photograph of the owner standing with those four storied trophies.
"That is significant hardware," he said. "If you stop and think about it, and really let it sink in, motorsports is a very challenging business to be in, particularly as a car owner, and there's a few sitting here who can attest to that.
"The more aggressive you get, the more challenging it gets. So when you look at that photograph, understand that in today's world you can count on one hand the individuals who are able to compete at the level that Chip Ganassi does today as successfully as he does."
So what's left for him to accomplish?
"Lots of things," Ganassi said. "We certainly have goals we want to accomplish: Cup championship. We don't have that. We haven't won every race yet. That's a goal right there. People say you can't win every race. They didn't say you can't try, right?"
Contributor, espnW.com
Brant James has covered the Daytona 500, Indianapolis 500, a World Series and Stanley Cup for the big hometown daily, an NCAA tournament and a Super Bowl. He's walked to the paddock with Kentucky Derby horses before post, ridden to the top of Mount Washington with Travis Pastrana and landed on an aircraft carrier with Dale Earnhardt Jr.
What they're tweeting ...