Johnson's Potential; Stewart Misses Third Race
Kenseth feeling confident at Bristol
BRISTOL, Tenn. -- It's not quite the same old story for Matt Kenseth. Yes, he needs a win. Badly. Worse than ever this season. So what's new? It's been that way all year.
What's different, a little more hopeful, is that Kenseth is defending champion of the notorious Bristol Night Race.
And, in his theory of alternately wrecking and winning here, Saturday night is time to win again.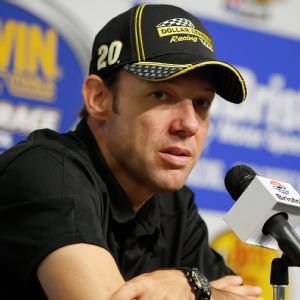 Matt Sullivan/Getty ImagesMatt Kenseth is feeling pretty good heading into Saturday night's race.
"The last few races we've had really fast cars here," Kenseth said Friday. "We were fortunate enough to win one of them and wrecked in the other two. So I'm hoping this is our turn to win because it's been every other race."
Last spring here, he "slowed up for a wreck and got run over from behind and that kind of ruined our day," he said.
Kenseth, fifth in points, should make the Chase even without a win in the last three regular-season races.
But "I never feel like you're in," he said. "We want to win."
Last August was vastly different for him.
"Last year we had four wins up to this point," Kenseth pointed out. "We were on a few poles. We led a ton of laps. Obviously we haven't performed like that this year."
So "my confidence isn't nearly as high with how we're running at this point [as it was] last year," he said.
But regardless of circumstances, he stated the bottom line: "It's the Bristol Night Race."
Logano gaining momentum as Chase looms
Joey Logano might be peaking at just the right time. Stuck at two wins since Richmond in April while three drivers ahead of him have three, Logano thinks he has been building momentum in recent weeks.
Last week at Michigan, Logano lost a late restart to Jeff Gordon and wound up third, but that made his fourth straight finish of sixth or better.

Logano
"We're still pretty proud of what we've been doing the last few weeks," Logano said Friday.
"Recently we've been able to finish at least where we deserved to finish. We haven't won that [third] race we've been talking about, but we've been finishing where we've run. We've been running in the top five and we've been finishing there.
"That's important, and that just builds momentum throughout our team," Logano continued. "That confidence heading into the Chase is very important ... I do feel like towards the middle part of this season we did lose a little bit of speed compared to the field, and recently I feel like we've picked it back up."
And this "is a good time to do it," he said. "Hopefully we pick up a little bit more, because everyone is going to when the Chase starts."
Three races remain until the Chase begins Sept. 14 at Chicagoland Speedway. Logano is locked in with his two wins and fourth-place standing in points.
But, "it's all about winning" under the new points structure, and "we've capitalized twice." Trouble is, "we've been in position to win quite a few more races than that ..."
Where can you find the race on TV?
The NASCAR Sprint Cup Series race at Bristol Motor Speedway is being broadcast live nationally by ABC on Saturday night, but viewing will be affected in 15 markets due to NFL preseason games airing on local ABC affiliates.
In all 15 markets where the race telecast is being pre-empted, NASCAR fans who are satellite TV subscribers will be able to watch the race on ESPN alternate channels (DirecTV -- Channel 209-1; DISH -- Channel 145). For cable subscribers, the race will air on alternate channels in 11 of the 15 markets.
The telecast begins with "NASCAR Countdown" at 7 p.m. ET, and the race's green flag is scheduled for 7:43 p.m.
The affected markets:
Austin, Texas: Race telecast on digital cable: Time Warner channels 811 and 1240, Suddenlink Channel 721, AT&T Channel 3024.
Charlotte, N.C.: Race telecast on WAXN TV64. Available on Time Warner Channel 1230, Charter Channel 703, Compas Channel 16, Comporium Channel 110. WSOC-TV will join race in progress after football game ends.
Casper, Wyo.: Only available to satellite TV subscribers.
Cheyenne, Wyo.: Only available to satellite TV subscribers.
Duluth, Minn.: Race telecast on digital cable: Charter Channel 398, Mediacom Channel 113.
Harrisburg, Pa.: Race telecast on digital cable: Comcast Channel 246, Verizon Channel 461, Blue Ridge Cable Channel 152, Kuhn Channel 67, Nittany Media 228.
Houston: Race telecast on digital cable: Comcast channels 315 and 685.
Louisville, Ky.: Race telecast on digital cable: Comcast Channel 432, Time Warner Channel 207.
Nashville, Tenn.: Race telecast on digital cable: Comcast Channel 245, Charter Channel 136.
St. Joseph, Mo.: Only available to satellite TV subscribers.
San Antonio, Texas: Only available to satellite TV subscribers.
Sioux Falls, S.D.: Race telecast on digital cable: Mid-Continent channels 596 and 614. (Also DISH Channel 36).
Tulsa, Okla.: Race telecast on digital cable: Cox Channel 131.
Washington, D.C.: Race telecast on digital cable: Comcast Channel 205, Cox Channel 806, Verizon FiOS Channel 467.
Weslaco, Texas: Race telecast on digital cable: Time Warner Channel 877.
In Milwaukee; Little Rock, Ark.; Jonesboro, Ark.; Fort Smith, Ark.; and Tyler, Texas, the local ABC affiliates will not air "NASCAR Countdown" due to airing local newscasts but all will join ABC for the race telecast at 7:30 p.m. ET.
What they're tweeting ...
Getting better for Dinger?
AJ Allmendinger made his point. And then he made it again. And again. And again. And again.

Allmendinger
All told, Allmendinger spoke some variation of "getting better" 16 times during a 15-minute media availability Friday -- which has to be some sort of record.
Maybe he was trying to convince the NASCAR world that he and his underdog JTG Daugherty team are more than nominally in the Chase after winning at Watkins Glen, N.Y., on Aug. 10.
Allmendinger and Aric Almirola, who won at Daytona in July to make the Chase as another dark horse, are given chances of slim to none to actually contend for the championship.
Or, as Matt Kenseth put it Friday, "there's going to be ... cars that get in the Chase that aren't going to have a prayer of winning the championship."
Unless they -- well -- get better.
"We are working hard in the next few weeks to just try to get better," was the way Allmendinger put it in the 10th variation. In his opening remarks alone, he'd blitzed it four times: "Just trying to get better," and again "trying to get better," then "we need to get better in the Chase," then "keep working to get better."
For the shoestring-budget team, the extra money and confidence from the Glen win helped the team toward "what it's all about, just trying to get better," he said, completing the 16th variation.
Record speeds in practice
Kyle Larson blistered Bristol Motor Speedway in Friday's first Cup practice with a lap at 131.083 mph that, if official, would have obliterated the track qualifying record of 129.991.
Larson
Larson led six drivers who topped the official mark. Denny Hamlin was second fastest at 130.557, followed by Kevin Harvick at 130.504 and Brian Vickers at 130.495.
Dale Earnhardt Jr. and Aric Almirola both had laps at 130.132 to round out the top six.
Earnhardt teammates Jeff Gordon and Jimmie Johnson were 17th and 22nd respectively, Gordon at 128.434 and Johnson at 128.382.
Ricky Stenhouse Jr. was the surprise fastest in final practice, with a lap at 131.048 mph, still short of Larson's speed in the first practice.
Johnson was second quickest in the afternoon session at 131.012, with Kasey Kahne third at 130.869, followed by Aric Almirola at 130.780. Larson was fifth in the second session, at 130.762.
Biffle gets a sponsor
Roush Fenway Racing on Friday filled the primary sponsorship vacancy on Greg Biffle's car created last week when 3M announced it will sponsor Jeff Gordon at Hendrick Motorsports next year.

Biffle
Ortho, a fire-ant control brand of Scotts lawn products, will be on the 16 car next week at Atlanta, then for two more races this season, and then into 2015.
Roush Fenway president Steve Newmark, asked whether the team had to scramble with the departure of 3M,  said that "We had engaged in discussions with Scotts .... even before some of those things unfolded."