Hopkins hopes to reverse fortune against Jones

By Dan Rafael
ESPN.com
Archive
LAS VEGAS -- Perhaps the public doesn't care much anymore about seeing Bernard Hopkins and Roy Jones fight again, and judging by the poor ticket sales and low pay-per-view expectations, it doesn't. However, the fight means an awful lot to the future Hall of Famers.
Yes, it has come years too late, but they don't seem to care.
"You know why I don't have no regrets? First of all, I beat him the first time," Jones said. "So I wasn't the one that needed to make the sacrifices to make the fight happen again. I'm not seeking revenge. I already beat him one time.
"So I can't regret that man not wanting to get in the ring with me until my career is over. The only reason he's fighting me now is because he feels like I'm done. He feels like I'm washed up. He feels like I'm old goods. He feels like there's no way I can survive 12 rounds with him now, but he's wrong. But that's the only reason he came to fight now."
Said Hopkins, "This ain't a joke to me. I know I'm not getting the Roy Jones that I would like to have five, six, seven years ago. It is what it is. I can't B.S. that. But my thing is I got him where I want him and won't let him get away. He's going to show up because he rather lose to you than lose to me. It's about ego and pride."
Seventeen years after Jones convincingly outpointed Hopkins -- essentially with his left hand because of an injured right -- to win a vacant middleweight belt in 1993, they still don't like each other. Both are taking their light heavyweight fight Saturday night (PPV, 9 ET, $49.95) at Mandalay Bay seriously and personally.
"There's so much passion and emotion in this fight," said John Wirt, CEO of Jones' Square Ring Promotions. "These guys really just plain don't like each other, and you know that's what a fight is all about. A lot of it's sport, but a lot of it's just that these two guys don't like each other."
The fighters realize that the rematch should happened years ago, when it would have been huge. They blame each other for it not happening until now despite numerous attempts to put it together during the past decade. But that, they say, is water under the bridge. Now they're focused on ending their rivalry once and for all, whether anyone else likes it or not.
"As a coach, I would have liked to have seen it eight years ago," said Alton Merkerson, Jones' trainer. "The guys would have been more at their prime. Everybody would have been more excited about it. But still, there's no closure to the fight. Bernard wants to beat Roy because he don't think Roy was going to beat him the first time. Roy wants to beat Bernard because he said, 'Well, I beat you then, and I can beat you now.'"
Hopkins, the former middleweight and light heavyweight champ, is just happy to finally have the rematch, however long it took to make.
"This is 2010. That was 1993. That's 17 years I've been waiting for this fight," said Hopkins, the former middleweight and light heavyweight champ. "It's personal to me, and it's important to me that I get this man in the ring and that I send him on his way to the Hall of Fame. I want to make sure that the last person he remembers is 'The Executioner.'
"You listen to Roy Jones, and he says something I agree with. You hate to say it, but we are rivals, and you hate to say it, but it took us 17 years to get here. A lot of other things have happened in our lives in the time it took to get here, but now that it's here, his worst nightmare has come to pass. Me. This means a lot to me."
How much?
"Every fight I am motivated by something different," Hopkins said. "This time around it's all about healing the 17-year-old wound that has been with me since I lost to Roy in '93. A win will finally close this particular chapter of my career.
"I want to punish and destroy Roy Jones Jr. for good."
Because of the way Jones (54-6, 40 KOs), 41, has been fighting lately -- including a first-round knockout loss to Danny Green on Dec. 2 -- Hopkins (50-5-1, 32 KOs) could do just that. The 45-year-old is still widely considered one of the top fighters in the world even though he hasn't had a knockout since he stopped Oscar De La Hoya with a body shot in 2004.
The Rivals
TV lineup for the Golden Boy Promotions and Square Ring pay-per-view card Saturday from the Mandalay Bay Events Center in Las Vegas (9 p.m. ET, $49.95):
• Light heavyweights: Bernard Hopkins (50-5-1, 32 KOs) vs. Roy Jones Jr. (54-6, 40 KOs), rematch, 12 rounds
• Junior lightweights: Jason Litzau (26-2, 21 KOs) vs. Rocky Juarez (28-5-1, 20 KOs), 10 rounds
• Middleweights: Sergio Mora (21-1-1, 5 KOs) vs. Calvin Green (21-4-1, 13 KOs), 10 rounds
• Light heavyweights: Ismayl Sillakh (11-0, 10 KOs) vs. Daniel Judah (23-4-3, 10 KOs), 10 rounds
Despite his status as a heavy underdog, Jones figures he beat Hopkins once with a bad hand and could do it again with two good ones.
"I only hit with one hand last time," said Jones, a former four-division champion. "I've got two hands now. With two hands, I'm going to beat the hell out of this old man. Hopkins has been waiting a long time for this fight, [but] this fight is going to have the same result that it had the first time. Bernard is not going to feel happy with himself on Sunday morning. He is going to be in a lot of pain on Saturday night. I know how he fights. He is going to try to rough me up. I will be ready for anything he tries to do.
"I want to show him that he still can't beat me. He hates me now because he wasn't better than me then. He can keep on hating me for another 17 years."
Hopkins, as intense as he has ever been before a fight, says he remains wary of Jones, even though most have written him off.
"I know that I have to go in there and execute and do what I've been waiting to do for all these years," Hopkins said. "I have everything to lose; Roy has everything to gain. On that note, he is dangerous. He's desperate. A desperate man is a dangerous man. He can't be underestimated because he still brings a punch to the game. Your legs can go, your reflexes can go. One thing never leaves -- the crack."
Naazim Richardson, Hopkins' trainer, said they haven't gotten caught up in Jones' decline.
"I guarantee the Roy Jones Jr. you are going to see Saturday is not the one you saw against [Antonio] Tarver, [Glen] Johnson or Green," Richardson said. "This is going to be the very best Roy Jones Jr. you've seen in years. I am confident of that, and that is the Roy Jones Jr. we prepared for."
Ruiz ready for Haye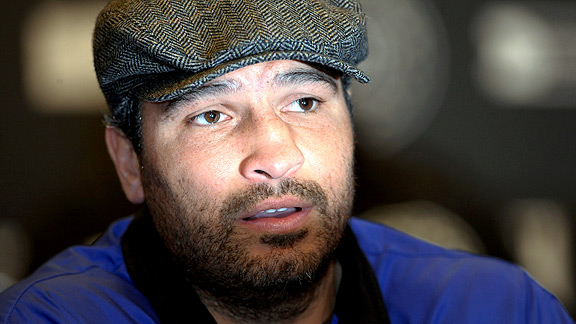 Paul Ellis/AFP/Getty ImagesNew team, new attitude: John Ruiz feels a change in personnel will help lead him to victory.
With a new corner and a new promoter, former two-time heavyweight titleholder John Ruiz (44-8-1, 30 KOs), 38, hopes he can turn back a younger, quicker foe in David Haye, 29, and come home with a new belt. Ruiz will challenge the Briton for his title in Manchester, England, on Saturday night.
"Experience plays an important part, but so does youth," Ruiz said. "We'll see what comes out on top. I have a new team -- trainers Miguel Diaz and [assistant] Richie Sandoval, and a new promoter, Golden Boy -- but there are still some people who've been part of the team for a long time [such as attorney Tony Cardinale]. I'm at peace, blessed with my family, and I've never been in tune with boxing like this during my career."
Haye (23-1, 21 KOs), who is also with Golden Boy, is making the first defense of the title he won in Germany in November via majority decision against Nikolai Valuev, who owns two tight decisions against Ruiz.
"[Haye's] fast, moves around a lot, and gives different angles. I have to be prepared for that, like corralling an animal," Ruiz said. "It's going to be a tough fight, the only way I want to see it. He won the title, nobody gave it to him."
Ruiz and Diaz hooked up last year. This will be their second fight together.
"We've created a special relationship that's very important for a fighter and trainer," Diaz said. "Fighters are smart, and they soon know who is telling them the truth or B.S.ing them. John didn't respond to everything I said right away. Now, if I tell him to jump off the second floor … he may wonder why, but he'll do it. … There's nothing really new to John, just things we've brought back from his past, when he was an amateur and his early pro career. People who are seeing him now that knew him back then are saying it's so good to see his old jab. We added a few things, bobbing and weaving and coming off the ropes throwing punches, putting his shoulder behind his punch. Things like that. We're going to win."
Dan Rafael covers boxing for ESPN.com.
QUICK HITS

Cotto
• Miguel Cotto has shaken up his corner again by hiring Hall of Famer Emanuel Steward as head trainer in preparation to challenge junior middleweight titlist Yuri Foreman on June 5 (HBO) at Yankee Stadium. Steward will be with Cotto on April 9 at the kickoff news conference at the stadium, Top Rank announced.
After Cotto split with trainer and uncle Evangelista Cotto, he promoted assistant Joe Santiago to train him for his November fight with Manny Pacquiao, who dominated and stopped him in the 12th round. Now, Steward is in to try to put Cotto back on track. Adding intrigue to the pairing: Steward was hired by Foreman manager Murray "Shpipples" Wilson as a consultant for Foreman's camp. But Cotto made an offer, and Steward took the better deal without informing Wilson.
Top Rank's Bob Arum doesn't want to be in the middle of the drama. "I think Emanuel is a great trainer and he'll help Miguel, but Murray isn't happy," Arum said. "I promote both fighters. Emanuel is my friend, Murray is my friend and I don't want to be involved."

Bika
• ESPN2 picked up a significant May 28 card in Quebec City for "Friday Night Fights." In the main event of the InterBox-promoted show, ex-super middleweight titleholder Eric Lucas, in his second bout since ending a nearly four-year retirement in December, faces Librado Andrade. In the opener, Jesse Brinkley meets Sakio Bika in a super middleweight title eliminator. The winner gets a mandatory shot at Lucian Bute, who already owns a 2007 decision against Bika. Although InterBox doesn't promote Brinkley or Bika, it won the purse bid for $134,616. InterBox promotes the Montreal-based Bute, and according to Don Majeski, an agent who works closely with InterBox, it wanted the fight so it could showcase one of Bute's future opponents to the Canadian audience. If Bute beats Edison Miranda on April 17 (HBO), he may go to his native Romania for a summer defense before the fall mandatory in Montreal, Majeski said.

Guerrero
• On Saturday, Golden Boy will host a news conference in Las Vegas to announce the return of lightweight Robert Guerrero (25-1-1, 17 KOs), who withdrew from a March 27 HBO fight to care for his ill wife, Casey. She's doing better, and the former two-division titleholder will headline a card at the Tropicana in Las Vegas, which marks the return of weekly boxing to Spanish-language network Telefutura. The network canceled "Solo Boxeo" at the end of 2008. Guerrero will face Argentina's Roberto Arrieta (34-15-4, 16 KOs), who dropped a decision to ex-junior lightweight titlist Cassius Baloyi in an October title eliminator.

Soto
• Lightweight titlist Humberto Soto, who won a vacant belt against David Diaz last month, was supposed to face mandatory challenger Anthony Peterson on June 5 on HBO. However, he was given permission for an optional defense and will fight May 15 in his hometown of Los Mochis, Mexico, against Ricardo Dominguez on "Top Rank Live" (FSN). Top Rank's Bob Arum told ESPN.com that Soto-Peterson would come after that. Arum said that fight, as long as Soto beats Dominguez, would take place in Las Vegas and open a July 24 HBO card in the works that will be headlined by featherweight titlist Yuriorkis Gamboa against Celestino Caballero, as long as Caballero defeats Daud Yordan on April 10 (HBO).
Jones
• Now that Peterson-Soto is off HBO's June 5 card headlined by Foreman-Cotto, Arum and HBO are working on a replacement match. At the top of the list is a fight involving rising welterweight prospect Mike Jones (20-0, 16 KOs). Jones has to first defeat Hector Munoz on April 17 on the Kelly Pavlik-Sergio Martinez undercard. "We're working on a big fight for Mike Jones, but we obviously have to hold back until April 17," Arum said, adding that he was working with Russell Peltz, Jones' promoter, on the fight. "Russell is a good guy to work with and a friend of the company. Mike Jones will become a fine welterweight, and we want to do a good fight." Also in the mix for the television slot is junior welterweight contender Lamont Peterson, who fights in a weight class in which HBO is heavily invested. Top Rank's Carl Moretti told ESPN.com that one possibility, although a long shot, is Jones facing Peterson at a catchweight between 140 and 147.

Duddy
• Middleweight Julio Cesar Chavez Jr. will return to the ring June 26. His seven-month suspension in Nevada for testing positive for a diuretic after a Nov. 14 bout in Las Vegas against Troy Rowland will end on June 14. He'll meet John Duddy in the main event of Top Rank "Latin Fury 16" pay-per-view, Arum told ESPN.com. Arum has wanted to make the fight between Mexico's Chavez and Ireland-born, New York-based Duddy for the past year or so and said he finally nailed it down. It will take place at San Antonio's Alamodome, which Arum said would be set up for about 20,000 fans. In the co-feature, Arum said junior bantamweight titlist Jorge Arce will move up to bantamweight and challenge interim titlist Eric Morel. Arce first has to navigate an April 24 "Top Rank Live" fight at bantamweight against Cecilio Santos in Mexico. Other fights on the PPV could involve featherweight prospect Salvador Sanchez, nephew of the late Hall of Famer with the same name, and junior middleweight prospect Vanes Martirosyan.

Alvarez
• Welterweight Saul Alvarez (31-0-1, 23 KO), 19, who recently signed with Golden Boy, will appear in the co-feature on the May 1 Shane Mosley-Floyd Mayweather HBO PPV card, Golden Boy's Richard Schaefer told ESPN.com. Schaefer said Alvarez, who has a significant fan base in Mexico, likely will face Jose Miguel Cotto (31-1-1, 23 KOs), 32, brother of Puerto Rican star Miguel Cotto. Schaefer said he was in the process of finalizing the fight.
• A second title bout has been added to the May 29 Integrated Sports pay-per-view card from Bayamon, Puerto Rico. In addition to Puerto Rico's Wilfredo Vazquez Jr. (18-0-1, 15 KOs) making his first junior featherweight title defense against German mandatory challenger Zsolt Bedak (15-0, 5 KOs) in the main event, junior lightweight titlist Roman Martinez (23-0-1, 14 KOs), also of Puerto Rico, will make his second defense against Nicaragua's Gonzalo Munguia (17-6-3, 13 KOs).

Dirrell
• Showtime's "Fight Camp 360°," the documentary series following the Super Six World Boxing Classic, returns for its fifth episode Wednesday (10 p.m. ET/PT). The 30-minute show goes behind the scenes at last week's Andre Dirrell-Arthur Abraham fight from fight week tension between the camps through Dirrell's dominant victory, which ended with Abraham's 11th-round disqualification for a brutal blow after Dirrell had slipped to the canvas. Included is footage of Dirrell at the hospital after the fight and a look ahead to April 24 tournament fight between super middleweight titlist Carl Froch and Mikkel Kessler.

Thompson
• Heavyweight Jason Estrada suffered an ankle injury and is out of the April 16 "Friday Night Fights" main event against Tony Thompson. According to ESPN, Thompson will instead face Owen Beck. … Although not slated for HBO's May 8 telecast featuring Paul Williams against Kermit Cintron in a junior middleweight bout from Carson, Calif., promoters Dan Goossen and Lou DiBella put together a crossroads fight for the co-feature: junior lightweight contender Martin Honorio (28-4-1, 14 KOs) against prospect Argenis Mendez (15-1, 9 KOs), who is taking a major step up in competition. … Although ex-junior welterweight titlist Vivian Harris probably won't get the rematch he wants with Walter Matthysse after Matthysse's controversial fourth-round TKO in February, Harris may get a bigger fight. Golden Boy is talking about matching him with ex-lightweight champ Joel Casamayor. … Although HBO is distributing Saturday's Hopkins-Jones pay-per-view, it's not producing the telecast, which means no delayed broadcast next week and a different lineup of announcers than the ones who usually handle HBO PPV cards. Calling the action: ESPN blow-by-blow announcer Joe Tessitore with analysts Sugar Ray Leonard and Doug Fischer.
QUOTABLE

Hopkins
"I will knock this guy out. It's going to be up to Merkerson whether he lives or dies. It's going to be up to you to stop it."
-- Bernard Hopkins, pointing at Alton Merkerson, Roy Jones' trainer, and predicting the outcome of Saturday's fight during the final news conference
QUOTABLE

Jones
"This is going to be vintage Roy Jones. I feel the best I have felt in a long time. In past fights I have felt like I overtrained. This fight I feel just right. Roy Jones Jr., ready as ever."
-- Jones, at the final news conference on Saturday's fight with Hopkins