Khan out to conquer Malignaggi in U.S. debut

By Dan Rafael
ESPN.com
Archive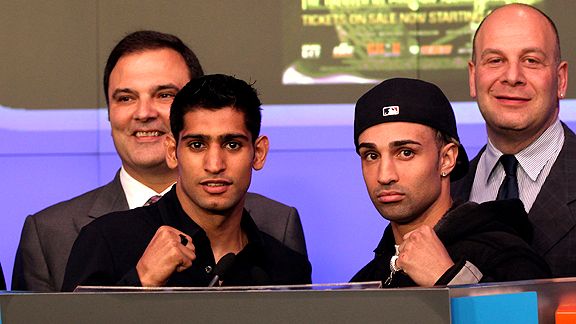 John Gichigi/Bongarts/Getty ImagesLet's get down to business: Amir Khan, left, and Paulie Malignaggi put their fists to good use Saturday.
Amir Khan has fame, fortune and comfort when he fights at home in England, where he's been a star since claiming a 2004 Olympic silver medal when he was just 17.
But the junior welterweight titlist wants to be more than just a big fish in a small pond. So he's crossed the pond and hopes to make a splash in New York.
If he can make it there, he can make it anywhere, right?
"Its always been my dream to fight here in the U.S. and I know there will be a lot of pressure on me not fighting in front of my U.K. fans, but I made a name over there and now I'm ready to come make a name for myself here," Khan said.
Khan, now 23, gets the opportunity when he makes his second defense against Brooklyn's slick former titleholder Paulie Malignaggi at the Madison Square Garden Theater on Saturday night (HBO, 9:45 ET/PT).
In the co-feature, 23-year-old junior welterweight Victor Ortiz (26-2-1, 21 KOs), in his third fight since quitting against Marcos Maidana in '09, faces ex-lightweight titlist Nate Campbell (33-5-1, 25 KOs), 38, who was roughed up for three rounds by titleholder Tim Bradley before being cut by an accidental head butt in a three-round no contest in his last bout nine months ago. The winner puts himself in position for a major fight in the deep 140-pound division, perhaps against the main event victor.
Khan, the 2007 ESPN.com prospect of the year, didn't want to wait until late in his career to fight in the United States the way countrymen Joe Calzaghe, Ricky Hatton and Naseem Hamed did.
"A lot of fighters in the U.K. leave very late in their career to come to the U.S.," Khan said. "You look at Calzaghe and Hatton, I think they were over [40 fights] when they had their debut. I want to do it early. I think I won a world title a lot quicker than most British fighters because I trained at [Freddie Roach's] Wild Card Gym in L.A.
"I always used to get the question asked to me, 'When are you going to fight in the U.S.?' And that just made me more hungry, and now signing up with Golden Boy Promotions, I think, in a way, has made me more hungry to fight over here."
"Amir could've stayed in the U.K., where he has been extremely successful and gone for the paycheck," Golden Boy's Richard Schaefer said. "But no, he wanted to come to the U.S. and fight the very best. He's here to capture not only the New York fans, but the American fans as a whole."
Khan almost didn't make it, though, because he had to leave Los Angeles, where he had been on a tourist visa, to go to the consulate in Vancouver to handle paperwork issues related to a work visa. It turned into a nearly two-week ordeal of red tape. Roach and sparring partners flew up to be with him so he could finish training. It wasn't until last Friday that Khan, who is of Pakistani decent, received the visa -- which was no guarantee -- and was able to return to Los Angeles before heading to New York on Sunday.
Even with all the hoopla about his visa, which the Department of Homeland Security eventually cleared after a close look at him, most likely because of his name, background and the recent Times Square bombing attempt linked to the Pakistani Taliban, Khan is ecstatic to be fighting in New York.
"I really wanted the fight at the Madison Square Garden. I think it's the Mecca of boxing," Khan said. "I've been to a fight there. There've been some huge fights over in the Madison Square Garden. You've had [Muhammad] Ali fights. You've had [Mike] Tyson and big, big names. And hopefully they can put my name down there as well. Also, you had Naseem Hamed, who made his American debut there, and I'm sure my debut can be as good or maybe better."
Khan (22-1, 16 KOs), who blew away overmatched mandatory challenger Dmitriy Salita in 76 seconds in his first defense in December, may be hard pressed to make his American debut better than Hamed's.
However, the circumstances mirror Hamed's in many ways. In 1997, Hamed, then the brash and flamboyant featherweight champion from England, came to the MSG main arena to fight New Yorker Kevin Kelley, the experienced former titlist and trash-talker extraordinaire.
They produced a classic slugfest with numerous knockdowns with Hamed eventually scoring a fourth-round knockout. Khan, who already has been knocked out in his lone first-round loss to Breidis Prescott, isn't as flamboyant or powerful as Hamed. And Malignaggi (27-3, 5 KOs), closer to his prime than Kelley was, isn't nearly the puncher that Kelley was. Still, it's a similar situation.
"I'm fighting a guy who is very experienced, who is well-known in New York, and I'm going to be fighting him in his own backyard and hopefully be the guy to beat him there as well," Khan said.
Another similarity to Hamed-Kelley is that Malignaggi, like Kelley, feels disrespected as the B-side of the fight in his own hometown and in terms of the way the fight is being promoted.
"[Khan] may have a great career ahead of him, but on [Saturday], he will get his second loss," Malignaggi, 29, said. "The Hamed-Kelley fight was the first live fight I ever saw, when I had only been training for six months and wasn't even a pro yet. That was the fight that inspired me to pursue my career as a fighter. All of these Brits come to the U.S. to make their debuts against New Yorkers, and yes, they all have the common denominator that they have all beat us, but they were never tested like I will test Amir in his debut.
"I have a lot of respect for Amir, but he's going to get beat because when I get in the ring, I throw down. Madison Square Garden is Paulie Malignaggi. This is New York and it's my town. I will have all the answers."
Although Malignaggi is a pure boxer with very little pop, he talks like a knockout artist taking aim at Khan's questionable chin.
"If I get hit on chin, I'm not going to wobble," Malignaggi said. "If Amir Khan starts wobbling, I hope they have a pillow for him in the corner, because he's going to sleep. I'm going to enjoy sinking my punches into Khan. Some fights are just business, but not this one. I'm going to enjoy every punch I land.
"He talks a lot, and he's really getting a little bit ahead of himself, and now he's getting a little bit on my nerves. Actually, he's getting a lot a bit on my nerves, to tell you the truth. I think the most enjoyable part of [the fight] is going to be beating the s--- out of him, not even winning the world title. That's going to be like the second most enjoyable part."
Khan laughed off Malignaggi's tough talk.
"Malignaggi is a funny character," he said. "I think I'll be the first guy to shut him up properly with my boxing skills and speed and power."
Guerrero-Casamayor talks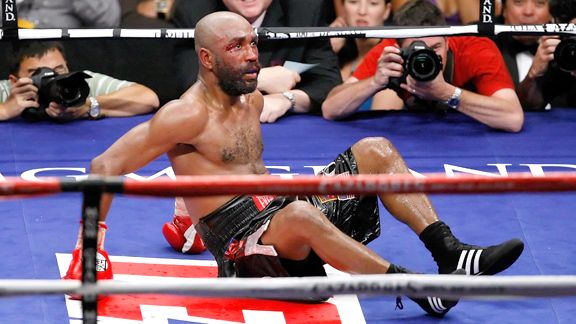 Ethan Miller/Getty ImagesJoel Casamayor wants to see the money before he dusts himself off for a fight with Robert Guerrero.
One of the fights Golden Boy's Richard Schaefer is proposing for the July 31 HBO PPV undercard of the Juan Manuel Marquez-Juan Diaz rematch is an intriguing match between Joel Casamayor (37-4-1, 22 KOs), 38, and 27-year-old Robert Guerrero (26-1-1, 18 KOs).
The vastly experienced Casamayor, an ex-junior lightweight and lightweight champion, has been inactive but rebounded from his September 2008 knockout loss to Marquez to outpoint Jason Davis last fall. Guerrero, a former featherweight and junior lightweight titlist, returned from an eight-month layoff April 30 for a knockout of Roberto Arrieta. The winner of the proposed bout would be in a tremendous spot for a bigger fight.
Schaefer said if it's made it would be at a catchweight between 135 and 140 pounds because Casamayor can no longer make lightweight.
Luis DeCubas Jr., Casamayor's manager, told ESPN.com that they're considering the fight.
"Golden Boy offered it. Joel will fight anybody, but we have to talk about the purse," he said. "If we can work out the money he'll fight him. We didn't talk about the specific weight but it would have to be closer to 140 than 135. We'll see. Joel needs to do something. He's not getting any younger."
The Guerrero side is also interested and willing to concede weight to Casamayor. "We would fight at 137 or so. We'd meet him in the middle," said Shelly Finkel, Guerrero's manager. "We would like to make it."
QUICK HITS

W. Klitschko
• Unified heavyweight champ Wladimir Klitschko and titleholder David Haye continue to negotiate a fall fight but with a deadline looming. The IBF has given them until Monday to let it know if they can make a deal or it will order Klitschko to make his overdue mandatory defense against Alexander Povetkin. "The ball is on Haye's side," Klitschko's adviser, Bernd Boente, told ESPN.com. "We are willing to make it happen. The IBF gave us until [Monday] to find an agreement. But [Haye manager/trainer Adam] Booth said he has to talk to Haye to see whether he is willing. Strange because I always heard and read of Haye calling out Wladimir. My feeling is that Haye is afraid and I wouldn't be surprised if he fights Audley Harrison. Let's hope that I'm wrong." There has been talk of Haye defending against underachieving Harrison, the 2000 British Olympic gold medalist who claimed the European title in April.

Pascal
• Contrary to rumors making the rounds, Yvon Michel, Jean Pascal's promoter, told ESPN.com that the light heavyweight titlist is healthy, training and looking forward to his Aug. 14 HBO fight in Montreal against interim titlist Chad Dawson (29-0, 17 KOs). There has been speculation that Pascal (25-1, 16 KOs), who suffered a shoulder injury during his rematch victory against Adrian Diaconu in December and had surgery, would withdraw from the bout. Michel, however, said Pascal's shoulder is fine and that he is in Jacksonville, Fla., working with his strength coach in preparation for the bout. Michel said Pascal will return to Canada in early June for a brief media tour to promote the fight before heading to the mountains of Colombia for his boxing training camp. "You can tell everybody that Jean Pascal is healthy, training hard and excited for the fight against Dawson," Michel said.

Morales
• Former three-division champ Erik Morales (49-6, 34 KOs), who ended a 2½-year retirement to decision ex-lightweight titlist Jose Alfaro March 27 at welterweight, plans to return July 17 in Mexico and could face 2004 U.S. Olympian Vicente Escobedo (22-2, 14 KOs) at junior welterweight, Golden Boy's Richard Schaefer, Escobedo's promoter, told ESPN.com. He said the fight was "being discussed and negotiated."

Darchinyan
• Although junior bantamweight champ Vic Darchinyan ended talks for an Aug. 21 Showtime-televised rematch with interim titlist Nonito Donaire -- who scored a massive fifth-round knockout of Darchinyan in a 2007 flyweight title bout -- he'll return in a bantamweight bout in Australia, his home country, May 20. Darchinyan will face Filipino Eric Barcelona (51-17-4, 19 KOs). Gary Shaw, Darchinyan's promoter, said Darchinyan wanted to remain active and that he had planned to take an interim bout even if the Donaire fight had been finalized. If Darchinyan (34-2-1, 27 KOs) wins, he could return to Showtime in August, Shaw said, adding that Darchinyan would like to fight the winner of either May 22 Showtime fight -- the featherweight main event between Israel Vazquez and Rafael Marquez or the co-feature between bantamweight titlist Yonnhy Perez and Abner Mares. "Hopefully for August, but it depends on who wins and what condition they are in when they win," Shaw said. Donaire, meanwhile, probably will open the July 10 Showtime card headlined by the Juan Manuel Lopez-Bernabe Concepcion featherweight title bout in Puerto Rico against an opponent to be named, Top Rank's Carl Moretti told ESPN.com.

Mayol
• The rematch between junior flyweight titlist Rodel Mayol (26-4-2, 20 KOs) and Omar Niño (28-3-2, 11 KOs) will take place June 19 in Queretaro, Mexico, and be televised on "Top Rank Live (FSN en Espanol/FSN), Top Rank's Carl Moretti told ESPN.com. Mayol, with a history of fights with bizarre endings, and Niño fought to an odd three-round technical draw in Mexico on Feb. 27. Although Mayol retained his belt, he left the ring on a stretcher after his first defense. Late in the third round, Niño nailed Mayol with a low blow, Mayol winced and dropped his hands. As referee Vic Drakulich was moving in to call a timeout, and had grabbed Niño's right arm to pull him away, Niño unleashed a left hook that knocked Mayol out.

V. Klitschko
• Few give Albert Sosnowski (45-2-1, 27 KOs) a chance to upset heavyweight titlist Vitali Klitschko when they meet at the 61,000-seat Veltins Arena in Gelsenkirchen, Germany, on May 29 (Integrated Sports PPV, 3 p.m. ET, $24.95), but the Polish challenger is confident. "I will shock the world," he said. "Everything happens for a reason and this is my time. Klitschko has ruled the heavyweight world long enough. I will win this fight for all of my Polish fans across the world. … I have nothing to lose and I know people aren't giving me much of a chance. That's OK though. They don't know what I can do or how hard I'm training. I will be aggressive and take risks against him because too many fighters have gone in the ring against Klitschko just to earn a paycheck. I will move sideways, trying to explore his defensive errors, and see what happens when he gets hit. Aggression, movement and speed are the keys for me to win. I will not just stand there and let him beat me like others did. It's all or nothing for me."

Moses
• Lightweight titlist Paulus Moses will make his second defense in the capital of his native country -- Windhoek, Namibia, in Africa -- against interim belt holder Miguel Acosta, promoter Don King announced. King won the rights to the bout at a purse bid a few months ago, offering $150,000. Moses is entitled to 55 percent ($82,500) with Acosta due 45 percent ($67,500). Moses' first defense was also in Windhoek in July, when he unanimously outpointed Japan's Takehiro Shimada. Venezuela's Acosta claimed an interim belt on the same night in Mexico by upsetting Urbano Antillon via ninth-round knockout. "This is a dream come true for me," Acosta said. "At one point, I thought this fight would happen in my home country. I knew Moses was willing to fight me here, so that's why I'm willing to go to fight him in his hometown. I don't care where the fight is as I plan to prove I am a true world champion."

Tapia
• Troubled former three-division champ Johnny Tapia (57-5-2, 29 KOs) fights on at age 43. After a three-year layoff because of legal and drug problems, Tapia returned in March for a win and fights again June 12 in a junior lightweight rubber match against Frankie Archuleta (26-7-1, 14 KOs) at Ohkay Owingeh, N.M. … Unable to finalize a fight with Luis Collazo, Turkey's Selcuk Aydin (19-0, 15 KOs) instead faces Montreal-based Romanian Ionut "Jo Jo" Dan (26-0, 14 KOs) for an interim welterweight belt June 5 in Istanbul, according to Aydin promoter Arena Box. … Hot Philadelphia welterweight prospect Mike Jones (21-0, 17 KOs) faces Puerto Rico's Irving Garcia (17-4-3, 8 KOs) in what should be his toughest test July 9 in the ballroom at Boardwalk Hall in Atlantic City, promoter Russell Peltz announced. Peltz hoped ESPN2 would televise, but the fight was rejected. … John Beninati has joined TKO Boxing as matchmaker after serving in the role for promoter Gary Shaw for the past few years while helping develop the careers of Timothy Bradley, Vic Darchinyan, Alfredo Angulo and Yonnhy Perez.
QUOTABLE

Marquez
"It's going to be a great fight. Just like the other three. I can't wait to get in the ring. It's going to be a spectacle. Israel is a good fighter and that's the kind of fights that we make. We're here to please the fans and that's exactly what we're going to do."
-- Rafael Marquez, on his featherweight showdown May 22 (Showtime) at the Staples Center in Los Angeles against rival Israel Vazquez, against whom he has already waged three epic battles, going 1-2 in the junior featherweight championship fights
QUOTABLE

Ward
"In my opinion, Allan Green is a beast. That's what I am preparing for. That's what I am eating, sleeping and drinking. I'm getting ready to fight a monster, that's how I am looking at it."
-- super middleweight titlist Andre Ward, at a news conference this week formally announcing his June 19 (Showtime) Super Six World Boxing Classic bout
QUOTABLE

Green
"Andre Ward is a good fighter, a good young fighter. Very skilled, very talented and I do respect his skills. But against a fighter like myself, he is going to have to bring a lot more to the table than he did against Mikkel Kessler. I did admire what he did to Kessler. No disrespect there, but at the same time, come June 19th I will be WBA super middleweight champion."
-- Green, on challenging Ward