Shot at title a long time coming for Green

By Dan Rafael
ESPN.com
Archive
Allan Green was 23-0 and steaming his way toward a super middleweight title shot as one of boxing's hottest contenders when he was seriously derailed by a unanimous decision loss to Edison Miranda in March 2007.
Making his HBO debut on a Miguel Cotto undercard, Green had dropped Miranda in the eighth round but didn't have the energy to put him away. Miranda stormed back to drop Green twice in the 10th and final round and came away with a clear unanimous decision.
A few months later, Green had 85 percent of his colon removed because of an ongoing problem he had been dealing with even before the Miranda fight. Clearly Green should not have fought Miranda, but he didn't pull out because of the opportunity to fight on HBO. Green has maintained he was not even at 50 percent strength for the fight, yet he made it to the final bell and had his moments.
Green is 6-0 since the loss, but it's taken him three years to get back into position to fight for a world title, which he'll do against Andre Ward on Saturday (Showtime, 10 p.m. ET/PT) at the Oracle Arena in Ward's hometown of Oakland, Calif.
Super Six Scoreboard
Standings for Showtime's Super Six World Boxing Classic. The final bout of three Group Stage 2 bouts takes place Saturday with the Ward-Green fight in Oakland. Fighters are awarded three points for a knockout win, two points for a decision win, one point for a draw and no points for a loss. The top four fighters advance to the semifinals following the three-fight Group Stage 3, which begins in the fall:
Record
Fighter
Points
1-1
Arthur Abraham
3
1-0
Andre Ward
2
1-1
Mikkel Kessler
2
1-1
Carl Froch
2
1-1
Andre Dirrell
2
0-0
*Allan Green
0
* Green replaced Jermain Taylor, who withdrew after Group Stage 1.
The bout, the final one of Group Stage 2 of the Super Six World Boxing Classic modified round-robin tournament, marks Green's debut in the event.
Getting into the tournament was not easy. Green came on board as an alternate to replace Jermain Taylor, who was knocked out by Arthur Abraham in the first stage in the fall before formally withdrawing earlier this year.
Green (29-1, 20 KOs) was miffed that he wasn't among the original inclusions in the tournament, which also includes Ward, Abraham, Mikkel Kessler, Carl Froch and Andre Dirrell.
Before the tournament was put together, Green and Taylor fought on the same Showtime card. Taylor was knocked out in the 12th round by Froch in the main event, while Green destroyed Carlos De Leon Jr. in two rounds on the undercard.
But Taylor, the former middleweight champion, was a much bigger name and he got in when Showtime put the event together.
"I think I belonged in the tournament originally," said Green, 30, of Tulsa, Okla. "As far as Dirrell goes, I don't think he was ready. The thing I didn't understand was Jermain Taylor getting into the tournament. No offense against Jermain, but we fought on the same show and I won my fight and he lost his fight. I got pushed back to [Showtime's lower-level series] 'ShoBox,' and he got put into the tournament. That's what I didn't understand."
But now Green is in, although he comes into the tournament at a bit of a disadvantage when he faces Ward (21-0, 13 KOs), who is making his first title defense.
Without the benefit of a Group Stage 1 bout, Green has zero points. He needs to pick up the two points that go with winning (three if he scores a knockout) if he is to have a reasonable shot at making the semifinals following Group Stage 3. Ward will clinch a semifinal berth with a victory.
"I'm not coming into this tournament thinking about points," said Green, who will face titleholder Kessler in his next fight regardless of Saturday's outcome. "I'm thinking about victories. With victories come points. I don't want to put any more pressure on myself than I already have. The only points I'm worried about are the points in the fight. And that's up to the judges. So I can't worry about that. I can't put pressure on myself like that."
Ward has two points based on his title win in the opening round against Kessler, who claimed another title by beating Froch in the second stage.
Even though Ward, the betting favorite to win the tournament, is positioned well in the standings, he's a fanatical trainer and said he is not taking Green lightly.
"I think a lot of people think I'm coming in here really well rested and really enjoying the fact that I've got a championship," Ward said. "But it's been all work. For me, I try to say as little as possible before a fight. I'm not going to stand there and get pushed down or get bullied. but at the end of the day I just shut my mouth, work hard and take care of business. So that's what I plan on doing."
Lopez-Marquez in the works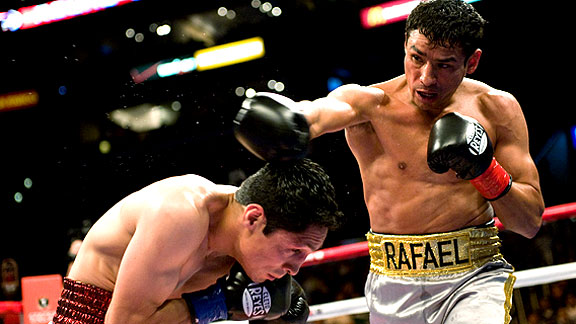 Chris Cozzone/Fightwireimages.comRafael Marquez might be assigned to defend Mexico's honor if a fight with Puerto Rico's Juan Manuel Lopez is finalized.
Although Top Rank promoter Bob Arum and Gary Shaw couldn't finalize an August rematch between Nonito Donaire and Vic Darchinyan, they haven't been stopped from trying to work out a Showtime fight that would pit featherweight titlist Juan Manuel Lopez and Rafael Marquez on Sept. 18 at Las Vegas' MGM Grand.
The match, which would instantly become part of boxing's traditional Puerto Rico (Lopez) vs. Mexico (Marquez) rivalry, would take place on the weekend of Mexican Independence Day.
"The only thing disputing it is the kid holding it up," Arum said, referring to Bernabe Concepcion, whom Lopez would have to defeat July 10 on Showtime. "If he whips 'Juanma,' goodbye Marquez fight. But otherwise, I'd say it would happen. It's a huge weekend for Mexicans and a really good fight."
Marquez, who is coming off his third-round knockout win in May against Israel Vazquez in the fourth fight of their epic rivalry, would not have an interim bout.
Although Arum said he and the Lopez camp want the fight, he has yet to finalize with Showtime. Shaw, who co-promotes Marquez with Fernando Beltran, Arum's close associate, said their side already has agreed to terms.
"I have an offer on the table from Showtime, and I have accepted the offer. We are good to go on our side," Shaw said. "I think we knock 'Juanma' out. I don't think he's as talented as everyone thinks he is. He's not Trinidad or even Cotto, and I have all the confidence in Marquez. He's always been underrated and in the shadow of his brother [lightweight champ Juan Manuel Marquez]."
Golden Boy to celebrate Mexico's bicentennial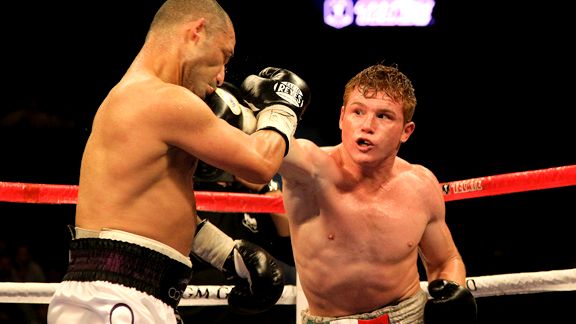 Jed Jacobsohn/Getty Images
There is usually a Hispanic-themed pay-per-view card in mid-September to coincide with Mexican Independence Day, and this year won't be any different. As Mexico readies for its Sept. 16 bicentennial, Golden Boy is planning a Sept. 18 split-site PPV with fights from Mexico City and either Las Vegas or Los Angeles, Golden Boy CEO Richard Schaefer said. He said the company is planning several days of festivities because of the significance of Mexico's 200th birthday.
In the works, Schaefer said, is a mariachi festival from the U.S. site a few days before the card, a dinner open to fans featuring many of Mexico's all-time boxing greats and a Telefutura card the night before the pay-per-view.
If junior middleweight Saul Alvarez (32-0-1, 24 KOs), the rising Mexican star now with Golden Boy, comes through July 10 against Luciano Cuello in Mexico, he'd be on the card from the U.S. site. Junior welterweight Victor Ortiz could also be on.
The show's card is still fluid, but Schaefer said he wants to include at least two title bouts. Golden Boy has ties to German promoter Universum, and Schaefer said fights being tossed around include junior lightweight titlist Vitali Tajbert against Daniel Ponce De Leon, interim middleweight titlist Sebastian Zbik against Sergio Mora and light heavyweight titleholder Jurgen Brahmer against Librado Andrade.
"These fights aren't set, but they're the kinds of fights we're talking about," he said.
QUICK HITS

Klitschko
• With heavyweight titlist David Haye avoiding a showdown with unified champion Wladimir Klitschko, whom he's called out for the past couple of years, in order to fight English countryman Audley Harrison instead -- British media is reporting that Harrison has agreed to an offer for a Nov. 13 fight -- Klitschko intends to go forward with his mandatory defense against Alexander Povetkin. The IBF would have allowed Klitschko to delay the mandatory in order to make the unification bout, but Haye declined an offer that would have seen him get a 50-50 deal without having to yield options on future bouts. Klitschko's camp asked the IBF this week to order a purse bid for the Povetkin fight. The IBF set the bid for June 29. The fight must take place within 90 days of the bid.

Gamboa
• Although HBO and Top Rank finally came to terms on the money for a July 24 "Boxing After Dark" doubleheader from Las Vegas, to include Yuriorkis Gamboa against Orlando Salido in a featherweight unification fight and a lightweight eliminator between Anthony Peterson and Brandon Rios, the card was postponed Thursday. HBO won't have boxing that night. Top Rank's Carl Moretti told ESPN.com the reason for the postponement was because Salido suffered a cut during his May title win against Cristobal Cruz that hadn't completely healed yet. Top Rank and HBO are talking about moving the card to the fall. "Having come off a very physical battle, the last thing Salido or Top Rank wanted for the fans and HBO is a cut opening up immediately and having an impact on the potential result," Moretti said. "By pushing the fight back, it ensures the quality of the unification match."

Martinez
• Promoter Lou DiBella, whose frustration with HBO boiled over last week because middleweight champ Sergio Martinez hadn't been assured of a fall date, said the network has come around. DiBella said HBO's "clear preference" is for a rematch between Martinez and Paul Williams, who edged him in December, one fight before Martinez beat Kelly Pavlik for the middleweight title. However, DiBella said if it can't be made (Williams' side says he's going down to welterweight) it's possible the fighters will appear together on a doubleheader. DiBella has given HBO a lengthy list of fighters Martinez is willing to face, including Williams. "HBO is trying to create economic incentives to make the rematch, but they're not leaving Sergio with nothing if it can't be made," DiBella said. "I had conversations with [HBO Sports president] Ross Greenburg and [HBO Sports senior vice president] Kery [Davis] and they indicated their preference for Williams, but they also indicated that if the fight wasn't happening they would entertain a doubleheader with Sergio against a reasonable opponent. They absolutely stepped up for Sergio and said he'd either be fighting Williams or an opponent we can agree on. Sergio is very happy to continue his career on HBO and appreciates everything they've done for him."

Pacquiao
• Top Rank promoter Bob Arum said nothing would be determined related to the next fight new junior middleweight titlist Miguel Cotto until the situation with Manny Pacquiao and Floyd Mayweather plays out, one way or the other. If Pacquiao-Mayweather isn't made, Arum said a Pacquiao-Cotto rematch was possible, adding that so too is an Antonio Margarito-Cotto rematch. "Nothing is going to happen in that world until we see what's happening with Pacquiao-Mayweather. I can't talk about it, but that's the fight we are trying to make. Arum and Pacquiao want it to happen. That's all I can say." Whether Pacquiao, who will be sworn in to office as a Filipino congressman on June 30, fights Mayweather or not, Arum said Pacquiao is fighting Nov. 13. "It will be his first fight as the fighting congressman and we want Mayweather," Arum said.

Barrera
• Top Rank has finalized the televised undercard for next Saturday's "Latin Fury 15" pay-per-view card from the Alamodome in San Antonio, which is headlined by middleweights Julio Cesar Chavez Jr. and John Duddy. Marco Antonio Barrera faces Adilton DeJesus in a 10-round lightweight fight in the co-feature. In an all-San Antonio grudge match, junior bantamweight Raul Martinez faces rival Gabriel Elizondo in a 10-rounder. Featherweight Salvador Sanchez, the nephew of the late Hall of Famer with the same name, meets Tomas Villa in an eight-rounder. There will also likely be highlights of blue chip junior welterweight prospect Jose Benavidez's bout. Junior welterweight Mike Alvarado was supposed to be on the card but is off because he was in jail this week on a probation violation. "I was shocked when I heard about it," Top Rank's Arum said. Alvarado recently got out of a Colorado jail for a previous probation violation and won his comeback fight in April after an 11-month layoff.

Arreola
• Heavyweight Cris Arreola (28-2, 25 KOs), looking to get back on track, could be headed for an August fight on ESPN2's "Friday Night Fights." Promoter Dan Goossen and the network are discussing a potential fight, according to the network. "He's in the gym, but waiting to hear," trainer Henry Ramirez said. "We're fighting in August. Who it will be against? It's a mystery to you, me and everybody else." The main hang-up is coming up with an opponent acceptable to both sides. One potential opponent is Friday Ahunanya. Arreola has lost two of his last three fights, including an upset decision loss to Tomasz Adamek in April and a 10th-round TKO loss to Vitali Klitschko in a title fight.

Holt
• Former junior welterweight titlist Kendall Holt, scheduled to face Jesse Feliciano in a welterweight bout on the Ward-Green undercard, withdrew from the fight. Promoter Lou DiBella, who said he is finalizing a promotional deal with Holt, said Holt "knew he was heavy. He was trying to come down in weight and couldn't come down to where he was comfortable in time. He'll fight again soon. He knows he can't mess around, that he has to be in shape and in his best shape every time he gets in the ring." Holt has lost two in a row: a decision to Timothy Bradley in an April 2009 unification bout followed by a sixth-round TKO loss to Kaizer Mabuza in a major upset in a title eliminator in February. "Kendall knows he can't afford another bad night," DiBella said. "His weight had ballooned, so he made the decision to not fight."

Angulo
• Promoter Gary Shaw told ESPN.com that Alfredo "Perro" Angulo will vacate his interim junior middleweight belt. Angulo was ordered to face full titlist Sergei Dzinziruk, whom Shaw co-promotes, in a mandatory fight, but has no intention of doing so. Angulo is already scheduled to face ex-titleholder Joachim Alcine July 17 on HBO. … Doug Jacobs' Integrated Sports has secured the rights to the David Tua-Monte Barrett heavyweight fight in Atlantic City, N.J., on July 17 and will offer the card as a $24.95 pay-per-view … Ex-heavyweight champ Hasim Rahman (46-7-2, 37 KOs) looks for his second consecutive win since Wladimir Klitschko destroyed him in seven rounds in a December 2008 title defense when he faces Shannon Miller (16-4, 9 KOs) in Niagara Falls, N.Y., on Saturday. … With talks for a summer fight with Erik Morales falling through, 2004 U.S. Olympian Vicente Escobedo (22-2, 14 KOs) faces Raymundo Beltran (23-4, 15 KOs) in Denver on July 9 (Telefutura) in a junior lightweight bout. … Junior bantamweight titlist Hugo Cazares (31-6-2, 22 KOs), who defeated Nobuo Nashiro in Japan to win the belt in May, returns home to Mexico for his first defense July 3 against Everardo Morales (34-14-2, 23 KOs).
QUOTABLE
Alexander
"Kotelnik is a good, solid fighter, but I'm a better fighter. His time has come and gone. He was a champion, but he's not anymore, and he's certainly not going to be champion after this fight."
-- unified junior welterweight titlist Devon Alexander, at a news conference announcing his Aug. 7 (HBO) defense against ex-titleholder Andreas Kotelnik
QUOTABLE
Kotelnik
"They say it's a long way to come for an ass kicking, but I have a question for Devon Alexander after his people have made all these boasts. Will Devon come back and fight me in a rematch in the Ukraine after I kick his ass? There will be an ass kicking, but St. Louis will be surprised who will be doing it."
-- Kotelnik, following some harsh remarks from Alexander trainer/manager Kevin Cunningham, at a testy news conference announcing the fight