AP Photo/Reed Saxon
Timothy Bradley, left, and Nate Campbell excude confidence ahead of Saturday's clash.

AP Photo/Reed Saxon
Nate Campbell says he feels stronger than ever at 140 pounds.

John Gichigi/Getty Images
Timothy Bradley, left, seized a world title by outpointing Junior Witter in May 2008.

Icon Sports media
Nate Campbell, left, was forced to dig deep to gut out a decision over Ali Funeka.
Bradley and Campbell both confident
Before Timothy Bradley Jr. won his junior welterweight title, he was scheduled to fight an elimination bout against Jose Luis Castillo in Cancun, Mexico, in March 2008.
Unfortunately for Bradley, Castillo failed to make weight, and the fight and his payday were canceled. So Bradley went to the show as a spectator and watched Nate Campbell pull a major upset in the main event when he outpointed Juan Diaz to claim three alphabet lightweight belts.
Bradley remembers being ringside for the fight and how impressed he was with what he saw from Campbell as he dominated the much younger Diaz in the best performance of his career.
"I couldn't believe it," Bradley said. "I actually lost money on that fight. I bet my [co]-promoter, Alex Camponovo, that Juan would be able to come back. When I saw Nate put his hands on Juan, I was like, 'Wow, this dude is unbelievable.' I was like, 'I would never want to get in the ring with that dude.'"
So guess what happened? Bradley went on to win a world title by outpointing Junior Witter on his home turf in England, made two defenses and now finds himself about to "get in the ring with that dude."
"It came down to it," Bradley said. "Basically, to be the best you've got to beat the best. I consider Nate Campbell one of the best fighters at 140 pounds. That's why I'm taking this challenge. I want to be the best fighter in the world at 140 pounds and I have to beat Nate Campbell to do that."
Bradley (24-0, 11 KOs) and Campbell (33-5-1, 25 KOs) will meet at Agua Caliente Casino Resort Spa in Rancho Mirage, Calif. -- minutes from Bradley's hometown of Palm Springs -- on Saturday night (Showtime, 9 p.m. ET/PT).
In the televised opener, St. Louis' Devon Alexander (18-0, 11 KOs) faces Witter (37-2-2, 22 KOs) for one of the belts Bradley vacated after beating Kendall Holt to unify titles in April.
Bradley, 25, said that although he was surprised by how easily Campbell beat Diaz, he's no Diaz.
"I'm not one-dimensional," Bradley said. "He can't box and he can't adjust in the ring. That's what makes me confident because I can do it all. I can box, I can bang, and I can stand there and trade with you. I can move the fight, too. I can make my adjustments in the ring and that's what makes me so confident."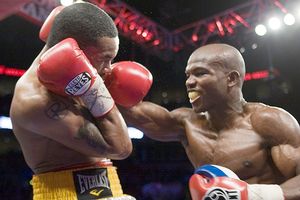 AP Photo/THE CANADIAN PRESS - Ryan Remiorz
Timothy Bradley, right, knows a thing or two about making adjustments.
Campbell is also confident even though he is moving up in weight.
"Every fight for me is the fight of my life. Because of the danger that I carry in the ring, no one wants to fight me anyway," he said. "I'm just a fighter, that's what I do. When the bell rings, I fight. I make adjustments. I think I'm one of the most complete fighters in boxing. I can do anything I want whenever I want to do it. I'm an angry guy to deal with."
Campbell has fought only once since beating Diaz. He was supposed to make a mandatory defense against Joan Guzman last fall, but Guzman failed to make weight, refused to participate in a nontitle bout, and it was canceled. In February, Campbell failed to make weight for a mandatory against South Africa's Ali Funeka and was stripped of the titles, but he won a close decision in a nontitle bout.
Although Campbell has had only one fight in 17 months and is 37, he said people make too big a deal about his age.
"I really don't understand why people worry about my age," he said. "I was 25 years old the first time I fought. I've taken care of my body. I don't drink, I don't smoke. I've been an athlete my entire life. Even when I wasn't participating in sports, I was always athletically involved in something. I don't think I have too much to prove to the fans. It's just the media that makes those kinds of statements. As you all know, fighters are fighting longer and better."
Campbell also shrugs off issues related to his moving up in weight and fighting in Bradley's backyard.
"I turned pro as a featherweight, but I was fighting at welterweight. Not because I couldn't make featherweight, but because I couldn't get fights at featherweight," Campbell said. "So I was fighting and getting knockouts at a higher weight, 147, 140 and 135. In my case, I'm stronger than I've ever been at 140. I'm really, really strong 140 right now. I'm going to be here for a while."
As for the perceived hometown advantage Bradley may have, Campbell said, "I don't care. I can get you out during all rounds and every round. I don't know if people want me to feel pressured, but I have no pressure. They already think that Timmy's going to win, so I'm just coming to do my thing. … At this point in my life, whenever they put me in the ring with a fighter, my only quest is to ruin that fighter. My job is to ruin the fighter they put in front of me. I'm going to make them fight me. I'm going to ruin everyone I fight until there is no one else to fight but me."
Haye burns Golden Boy
David Haye and manager/trainer Adam Booth have reneged on a deal for Haye to challenge heavyweight titlist Vitali Klitschko on Sept. 12, and bypassed Golden Boy Promotions, Haye's co-promoter, in the process, according to Golden Boy CEO Richard Schaefer. Instead, Haye has signed to fight titlist Nikolai Valuev on Nov. 7.
"I was surprised, let's put it that way," Schaefer told ESPN.com. "Adam told me it was close on a Klitschko fight, basically it was agreed to. So this took everyone by surprise. It took me by surprise, the Klitschkos, HBO. I didn't know. I was as surprised as everyone else."
Schaefer was on vacation in Mexico with his family when the deal went down and was not informed of it until after it was made, and neither was anyone else at Golden Boy, he said. Golden Boy, of course, would have a financial interest in the fight, but wasn't included in the contracts even though it signed Haye to a five-year deal in May 2008.
"One would think so. One would think that would be the proper thing to do," Schaefer said when asked if Booth should have discussed the plans with Golden Boy. "If you have a co-promotional agreement, the appropriate thing would be to inform your co-promoter."
Schaefer said he had OK'd both of Haye's aborted title fights, a June 20 bout with Wladimir Klitschko that had been signed and the Sept. 12 bout that had been agreed to but hadn't been signed. After the fight with Wladimir fell through, Schaefer said he spoke with Booth and Haye about a possible September fight in the United States against contender Cris Arreola.
"But David really wanted to fight Klitschko. They made it clear they wanted Klitschko," Schaefer said. "So I was really taken by surprise when it was Valuev, because they didn't tell us about it. Am I happy about it? No. Am I just gong to accept it and do nothing about it? No. I don't want David to lose the opportunity to fight for the heavyweight title, so I had a good conversation with Chris Meyer [from Valuev promoter Sauerland Event]. I am dealing with the situation."
Booth was unavailable for comment.
Joining forces
Golden Boy and Universum, one of Germany's leading promoters, announced that they have formed a "strategic alliance" in which they'll work together co-promoting some of their fighters.
The fighters formally covered under the deal are Universum junior middleweight titlist Sergei Dzindziruk, interim junior welterweight titlist Marcos Maidana (who stopped Golden Boy prized prospect Victor Ortiz last month) and middleweight prospect Gennady Golovkin. They'll address other fighters on a case-by-case basis, according to Golden Boy CEO Richard Schaefer. For example, they're talking about a possible Felix Sturm-Winky Wright middleweight title bout.
"I am very excited to start a new relationship with Klaus-Peter Kohl and Dietmar Poszwa of Universum Box Promotions," Golden Boy president Oscar De La Hoya said. "They have one of the best stables of fighters in the world, many of which are already world champions, and they have a keen eye for recognizing and developing talent. Together, we will be able to truly offer our fighters the opportunity to shine globally."
Said Kohl: "Oscar is absolutely correct. We need to help these world champions and young fighters to become global attractions. I am convinced that with this alliance between Golden Boy Promotions and Universum Box Promotions, we will take a huge step in that direction."
Dan Rafael is the boxing writer for ESPN.com.
QUICK HITS

Adamek
• Light heavyweight star Bernard Hopkins said on "Friday Night Fights" last week that he was hoping to make a deal to fight the winner of the Nov. 7 rematch between Chad Dawson and Glen Johnson. Hopkins would like to fight around his 45th birthday, which is Jan. 15. Golden Boy CEO Richard Schaefer said he'll try to deliver the fight for Hopkins but that he will also "revisit the conversations with Tomasz Adamek as well." Hopkins called out the cruiserweight champ a few months ago, but talks sputtered. Schaefer said he thinks he can make the fight now. "I had a good conversation with [Main Events CEO] Kathy Duva," Shaefer said. Schaefer said HBO is interested in either Hopkins-Adamek or Hopkins against the Dawson-Johnson II winner. "I think both fights are big," he said, although he acknowledged the Adamek fight would be bigger. "We must be total idiots if we can't get it done. If we want it, if HBO wants it and if they [Adamek's camp] want it, we can make it. I'm willing to go east and sit down with Kathy face to face and get it done."

Gamboa
• Top Rank's Bob Arum told ESPN.com that the proposed "Latin Fury 12" card at New York's Madison Square Garden has been moved to Oct. 10 from Sept. 26. The card will be headlined by junior featherweight titlist Juan Manuel Lopez, who probably will face Rogers Mtagwa. Arum also said the fight between featherweight titlist Yuriorkis Gamboa and Whyber Garcia, which was postponed from July 25, will be the co-feature as Arum builds toward an eventual Gamboa-Lopez fight. The heavyweight fight between unbeaten rising contenders Kevin Johnson and Odlanier Solis will be on the show (this fight was originally supposed to take place Aug. 15). The fourth televised bout will involve 2004 U.S. Olympian and junior middleweight prospect Vanes Martirosyan. According to Top Rank matchmaker Brad "Abdul" Goodman, Martirosyan's opponent probably will be Pawel Wolak.

Valero
• Arum's staff is also busy formulating the undercard for the Nov. 14 Miguel Cotto-Manny Pacquiao HBO PPV showdown at the MGM Grand in Las Vegas. Arum hoped to match lightweight titlist Edwin Valero with junior lightweight beltholder Humberto Soto, but said it likely would happen on a different card when there's a bigger budget. If they don't face each other, they'll still both appear on the card, Arum said. Valero's past medical issues have kept him from fighting in Nevada, but he figures to finally be licensed because of an impending rule change in the state; he would defend his title, possibly against mandatory Antonio DeMarco. Top Rank has talked to DeMarco promoter Gary Shaw about the bout. Soto is moving up to lightweight and could face ex-champion Joel Casamayor or ex-titlist David Diaz. Arum promotes Diaz and could make the fight easily. But Arum said Golden Boy's Schaefer called him about Casamayor. A fourth TV fight has been agreed to, although it's not signed yet: welterweight Jesus Soto Karass (who would have to win a scheduled Aug. 29 fight) against former "Contender" star Alfonso Gomez in what figures to be a slugfest. Whatever fights are finalized, Arum said he's determined to make a strong card. "We have such a great fight in the main event and we want to enhance it with a strong undercard," he said. "No appearance fights. People who are paying money in this climate, even though most are paying to see the main event, still want to be entertained. We're going to entertain them."

Bika
• One of the bouts being discussed for the Sept. 19 Floyd Mayweather-Juan Manuel Marquez HBO PPV undercard is a super middleweight bout between Allan Green and former "Contender" winner and world title challenger Sakio Bika, who scored a first-round knockout of Nestor Casanova in Australia Thursday. Schaefer told ESPN.com that Golden Boy has entered into a co-promotional deal on Bika with Jeff Wald of Tournament of Contenders. A lightweight bout between 2004 U.S. Olympian Vicente Escobedo and Australian brawler Michael Katsidis is also under consideration for the card. "Oscar [De La Hoya] likes Bika-Green," Schaefer said. "He said, 'As a fight fan, it's one of the fight I wants to see. Belt or no belt, it's one of the fights you want to see and it's in an important division,'" Schaefer said. Schaefer added that if Escobedo-Katsidis doesn't land on the PPV, it will still happen, but later in the year on one of Golden Boy's HBO undercards. Also on Sept. 19, featherweight titlist Chris John meets Rocky Juarez in a rematch, and Zab Judah will appear. Judah was originally lined up to fight Matthew Hatton before the card was postponed from July to September. With Hatton looking at other bouts and Judah wanting to come down in weight a little bit, Golden Boy matchmaker Eric Gomez said a deal had been agreed to for Judah to face former title challenger Antonio Diaz, probably in the 144-pound range. "We really want to make a statement with this kind of undercard," Schaefer said.

Pacquiao
• The Miguel Cotto-Manny Pacquiao fight will be formally announced at a kick-off news conference Sept. 10 at Yankee Stadium, Arum told ESPN.com. That's an off day for the Yankees. Arum said the event would be open to the public. Boxing media conferences don't usually make news, serving instead as interview and photo opportunities to promote the event. This one, however, could make news. There have been questions about whether the fight will be for Cotto's welterweight belt. According to Arum, Pacquiao wants to fight for it, but Cotto is reluctant to put it up since the weight limit for the bout is 145 pounds, which still makes it a welterweight fight but not one with the division's 147 maximum weight. So will the belt be at stake? "I really don't know, but I will know by Sept. 10 and then you will know at Yankee Stadium. It will be revealed," Arum said. Pacquiao has won belts in a record-tying six weight divisions. If Cotto's belt is up, Pacquiao could break the record he shares with De La Hoya.

Calderon
• Junior flyweight champ Ivan "Iron Boy" Calderon (32-0-1, 6 KOs) of Puerto Rico will meet the Philippines' Rodel Mayol in a rematch in San Juan on Sept. 12 (Integrated Sports PPV, $29.95). Their first bout resulted in a six-round technical draw because Calderon was unable to continue due to a serious cut from an accidental head butt. In the co-feature, Puerto Rican junior lightweight titlist Roman Martinez (22-0-1, 13 KOs) will make his first title defense against Mexico's Michael Lozada (31-5-1, 24 KOs). Martinez impressively won the belt via fourth-round knockout of Nicky Cook in England in March.

Guzman
• Former junior featherweight and junior lightweight titleholder Joan Guzman (29-0, 17 KOs) of the Dominican Republic has signed with Golden Boy. The chronically inactive Guzman, 33, hasn't fought since December 2008, not long after blowing a title shot against then-lightweight titlist Nate Campbell because Guzman didn't make weight and refused to box in a nontitle match. "This is a special day for me in my career," Guzman said. "I've always admired Oscar De La Hoya in the ring as a boxer and outside of it for what he's done with his promotional company. This is the team that will take me to the top of the lightweight division again and I couldn't be happier." Golden Boy's Schaefer said Sycuan Ringside Promotions retains a financial interest in Guzman's contract, but Golden Boy will guide his career. "I think in these weight classes [lightweight and junior welterweight] he is one of the best fighters, and I think he has the capability to beat most of the guys," Schaefer said. "His task is to win the fights and our task is to put him in the biggest fights. He wouldn't mind fighting an Edwin Valero or a Joel Casamayor. He'll fight anybody."

Hearns
• Junior middleweight Ronald Hearns (21-1, 17 KOs), the son of legend Thomas Hearns, will try to shake off the first loss of his career when he faces journeyman Patrick Thompson (15-14-1, 5 KOs) in Rochester, N.Y., on Aug. 13. Hearns, 30, suffered his first defeat in March when Harry Joe Yorgey stopped him in the ninth round. Hearns promoter Lou DiBella said he still has confidence in Hearns' potential. "There is no doubt Ronald Hearns has all the tools to challenge for a world title," he said. "He has all the skills, and of course the power, that comes with his last name."

Flores
• The pay-per-view undercard for the Aug. 15 Roy Jones-Jeff Lacy light heavyweight in Biloxi, Miss., is coming along. Besides the main event and cruiserweight Danny Green facing Julio Cesar Dominguez two other bouts will be on the telecast. Cruiserweight B.J. Flores (23-0-1, 14 KOs) is scheduled to fight, although opponent Mauro Adrian Ordiales (21-6, 20 KOs) of Argentina fell out because of a visa issue. Also, lightweight Verquan Kimbrough (21-1-2, 7 KOs) meets Jason Litzau (24-2, 20 KOs), who will be fighting for the second time since suffering a knockout loss to Robert Guerrero in a February 2008 featherweight title bout.
QUOTABLE

Jones
"I was chosen for the challenge. When you're challenged, it's simple. A lot of guys in boxing do a lot of talking, but when it's time they don't step up to the plate. Jeff Lacy said he wants to fight Roy Jones and we'll get it on." -- Roy Jones, on his Aug. 15 pay-per-view bout against Jeff Lacy
QUOTABLE

Lacy
"I've always watched him. He's a great fighter. I'm glad to be one of the names on his roster. Too bad I'm going to be beating him. It still will be good to be on the roster." -- Former super middleweight titlist Jeff Lacy, on Roy Jones