Chris Cozzone/Fightwireimages.com
Top Rank, Cotto carve out a tradition
If you're a baseball fan, you know there is a World Series to look forward to each October. In college basketball, there's March Madness. The first Saturday in May is the Kentucky Derby in horse racing. Most sports have a traditional time of year for their biggest events.

In boxing, there is no offseason and no centralized authority to schedule events. Big fights can happen just about any time of year. It all depends on what event promoters decide to try to put together for their fighters.

Although it is common for there to be some sort of big Hispanic-themed card in Las Vegas around the time of Mexican Independence Day in mid-September, and to a lesser extent a notable Las Vegas card in early May on Cinco De Mayo weekend, what about the rest of the country? Or a different nationality?

Bob Arum's Top Rank, which has been promoting fights for 43 years and certainly has done its share of those May and September cards, has been developing a tradition the past few years of having a major card at New York's Madison Square Garden in mid-June on the eve of the annual National Puerto Rican Day Parade.

What began as just a way of linking one of its top stars, Puerto Rico's Miguel Cotto, to a weekend when many of his countrymen would be looking for entertainment options has become one of the centerpieces of the weekend and a weekend for boxing fans to circle on the calendar.

"It just made sense," Arum said. "Miguel wasn't as big then [when the tradition started in 2005] as he is now and Puerto Ricans were coming up from San Juan to New York and it made all the sense in the world."

Top Rank and Cotto will invade the Garden yet again on June 13 (HBO, 10:35 p.m. ET, free preview weekend) when Cotto (33-1, 27 KOs) defends his welterweight belt against former titleholder Joshua Clottey (35-2, 20 KOs), who gave up an alphabet title to make the fight possible.

Cotto enjoys being part of the parade weekend.

"It means a lot to me. I am a big fan of Puerto Rican weekend there in New York, and to be a part of that would mean a lot for any person," Cotto said from his training camp in Tampa. "Now, in my career, it is like a tradition. Every year fighting in front of thousands of Puerto Rican people at Madison Square Garden means a lot to me."

The idea to tie Cotto to the Puerto Rican parade weekend was the brainchild of Todd duBoef, president of Top Rank and Arum's stepson.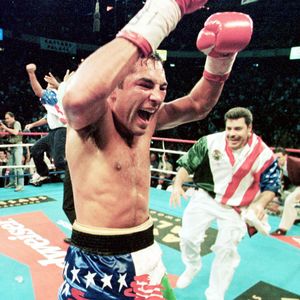 JOHN GURZINSKI/AFP/Getty Images
Oscar De La Hoya, above, proved to be a ticket seller on Mexican Independence Day weekend.
"The revelation came largely from kind of applying the Las Vegas model of Mexican Independence Day weekend in September," duBoef said. "The Las Vegas casinos look at that weekend as a big weekend for the hotels and fights. We had been promoting shows on Mexican Independence Day weekend with Oscar [De La Hoya]. Julio Cesar Chavez had gone a couple of times on that weekend, and they were big successes. After Chavez, we jumped on those dates for Oscar."
In 2000, Top Rank signed several members of the Puerto Rican Olympic team, including Cotto and Ivan "Iron Boy" Calderon, who also will be on the card.
DuBoef said that after he made the commitment to get involved with several Puerto Rican prospects, it was a "natural symbiosis with the Puerto Ricans in New York in June, when they have their big weekend, and the Mexicans in Las Vegas in September. So I said why don't we try putting an event on the Puerto Rican parade weekend? That was the genesis of it."
It has worked like a charm.
Next weekend's fight will be Cotto's sixth appearance at Madison Square Garden -- four of which will have come on the eve of the parade, which is a huge cultural event for New York's large Puerto Rican population as well as thousands who head north from the Caribbean island to celebrate.
The first time Cotto fought on parade weekend, as well as his first time fighting at the Garden, came in 2005, when he made his third junior welterweight defense against Mohamad Abdulaev, the 2000 Olympic gold medalist who had eliminated Cotto in his opening match in Sydney. He drew 10,231.
In 2006, Cotto again defended his 140-pound title, this time against New Yorker Paulie Malignaggi in an exciting fight, and drew 14,365.
When Cotto defended his welterweight belt in 2007 against another New Yorker, Zab Judah, in one of the fights of the year, it drew a record crowd of 20,658.
Cotto went west last summer to fight Antonio Margarito in July in Las Vegas but is returning to his now-traditional weekend and venue to face Clottey, a Ghana native living in the Bronx.
Clearly, Top Rank is on to something with its development of a big show on the second weekend of June because Arum said the fight already has sold about 14,000 tickets.
The weekend has become one when Puerto Rican fighters aspire to box.
Calderon (32-0, 6 KOs), a former long-reigning strawweight champion and now the junior flyweight champion, had wanted to fight on the Puerto Rican parade card for several years, but it never worked out until this year. He'll defend the 108-pound championship against Rodel Mayol (25-3, 19 KOs) of the Philippines in the chief supporting bout, although it won't be part of the HBO telecast.
You can tell how pumped Calderon is just listening to him talk about his spot on the card.
"It has been my dream to fight at Madison Square Garden with Miguel Cotto," Calderon said. "I had never been able to fight at Madison Square Garden or on the weekend of the Puerto Rican parade. People are always asking to see me fight there on that weekend. This year, I get to."
Top Rank plans to continue the tradition long after Cotto and Calderon retire.
"What this means is, you make it a full weekend for the Puerto Ricans who live in New York and the thousands that come into New York for the parade," Arum said. "This just adds having a big fight at Madison Square Garden with a prominent fighter to the festivities. It's something that we like doing and the Garden likes doing and we hope to be doing it for years to come, not only with Miguel but with the other Puerto Rican fighters that are being developed."
Fight falls in Malignaggi's lap
This past weekend, former junior welterweight titlist Paulie Malignaggi was down after Mike Alvarado withdrew from their June 27 fight on Top Rank's pay-per-view card. But things change fast in boxing, and a few days later, Malignaggi felt good again because another fight, one that is higher-profile and more lucrative, fell in his lap.
Golden Boy Promotions' Eric Gomez, hunting for an opponent to face former lightweight titleholder Juan Diaz on HBO in the main event of a "Boxing After Dark" tripleheader Aug. 22, called Malignaggi promoter Lou DiBella to inquire about their interest in the fight, which HBO already has approved. The parties have been negotiating the deal for the past few days.
Malignaggi (26-2, 5 KOs), on the comeback trail from a one-sided 11th-round TKO loss to Ricky Hatton in November, and DiBella want the fight.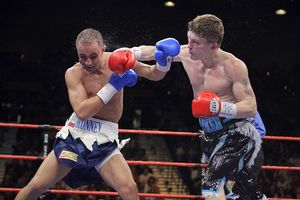 AP Photo/Jae C. Hong
Paulie Malignaggi, left, wants to be remembered for something other than a humiliating loss to Ricky Hatton.
"I was excited about the opportunity to fight on the Top Rank pay-per-view," Malignaggi told ESPN.com. "The Hatton fight left a bad taste in my mouth. I'm in a rush to show people what I'm about, that I'm not finished. I'm only 28, and I still have a lot to give."
Now, he hopes to show it against Diaz (34-2, 17 KOs), who was knocked out in his hometown of Houston in the ninth round by Juan Manuel Marquez on Feb. 28.
"A fight with Diaz gives me another opportunity against a top opponent," the New Yorker said. "We're both coming off big losses in big fights, so it's like an elimination. He needs to win or it's three losses in four fights. And I can't afford to lose a fight like this, either."
Diaz would have to come up from 135 pounds and get close to the 140-pound junior welterweight limit. Malignaggi said he can do the fight at 139.
"I would like maybe 139. If I could make 135 pounds, I'd be fighting at 135," he said.
Malignaggi also said he is willing to go to Houston, where Golden Boy plans to put on the fight.
"I would just like a situation with the fairest shake possible," Malignaggi said, noting that because neither of them is a big puncher, the fight likely will go to the scorecards. "I feel like I can beat Diaz. No disrespect to him. He's a quality fighter, a champion and a warrior. I'm glad it fell in my lap. It will bring out the best in both of us. I'm really grateful to HBO. I didn't have a great performance against Hatton, but I will put on a great show on my end, and Juan Diaz is never in a bad fight."
Said DiBella, "It's a good matchup. We prefer the fight outside of Houston, but as long as the money is fair, Paulie will go there. It's a great opportunity. It's a bigger opportunity than the Alvarado fight."
Malignaggi returned from the loss to Hatton on April 25 to win a lopsided decision against Chris Fernandez on the Carl Froch-Jermain Taylor undercard.
Dan Rafael is the boxing writer for ESPN.com.
QUICK HITS

Dawson
• The light heavyweight rematch between Chad Dawson and former champ Glen Johnson has been agreed to in principle, Johnson co-promoter Lou DiBella told ESPN.com. DiBella, co-promoter Leon Margules of Seminole Warriors Boxing and Dawson promoter Gary Shaw were together last week at the HBO card in Hollywood, Fla., where they all had fighters on the show. They were able to meet in person and iron things out. "I have a draft of a contract. We reached an agreement, but now we are putting that agreement on paper," DiBella said. "I am also waiting for Gary to tell us the date, but he's waiting for HBO to tell him the date." The bout is likely to take place in November, although September is also a possibility. Dawson edged Johnson in a highly competitive slugfest in April 2008. Dawson opted to dump his sanctioning organization belt to make the rematch rather than accept far less money for a lesser fight with obscure mandatory challenger Tavoris Cloud.

Cintron
• Kermit Cintron's decision victory against Alfredo Angulo last Saturday earned him a mandatory rematch with junior middleweight titleholder Sergio Martinez, who dominated Cintron in February despite receiving a controversial draw and having a knockout victory overturned. However, that is not the only title opportunity Cintron has. Fellow junior middleweight titleholder Cory Spinks, who is looking for a notable fight, said he was so impressed with Cintron's performance that he wants to offer him a crack at his belt. "I think it would be a great match up with myself and Cintron after his big win over Angulo," Spinks said, adding that he feels like "Spinks vs. Cintron would be al lot more attractive than a Martinez vs. Cintron rematch."
• George Foreman III, one of the five sons of former two-time heavyweight champion George Foreman who are all named George, will make his professional debut on Saturday night in a four-rounder at the Coushatta Casino Resort in Kinder, La. Foreman, 26, who goes by his nickname "Monk," will fight Clyde Weaver (0-1) in a four-rounder that is part of a 10-fight card. But Foreman's is the most notable given his bloodlines and that fact that his father is scheduled to be ringside. Foreman, a 6-foot-5, 240-pounder and Rice University graduate, had no amateur experience, but has been training since 2007 in anticipation of fighting professionally. His older sister, Freeda Foreman (5-1, 3 KOs), had a brief professional career from 2000 to 2001.

Adamek
• After David Haye fell out a June 20 heavyweight title fight with Wladimir Klitschko, the hunt was on for a potential replacement since Klitschko still intends to fight somebody. Shelly Finkel, Klitschko's adviser, called Main Events' Kathy Duva on Wednesday to gauge the interest of cruiserweight champion Tomasz Adamek stepping in on short notice if Finkel consulted with their side and had interest in the fight. Finkel's call came, ironically, just as Duva and Adamek were about to begin a news conference to formally announce Adamek's July 11 defense against Bobby Gunn. "The call came a bit late," Duva told ESPN.com. "But I said, 'Well, I guess I need to tell Tomasz about this,' so I told him. He was smiling but we had to tell him we were serious. He said not on two weeks' notice. It was just funny because we were literally walking up to the dais when I got the call. He said maybe someday because someday he'd like to move to heavyweight. I took the interest to be a wonderful thing. If the opportunity comes now, it will come again."

Donaire
• Top Rank's Filipino-themed pay-per-view card originally scheduled for Aug. 22 has been moved to Aug. 15 in Las Vegas, Top Rank president Todd duBoef told ESPN.com. Flyweight titlist Nonito Donaire will be on the card as will featherweight titlist Steven Luevano, who will defend against Bernabe Concepcion in a rescheduled match. They were supposed to fight May 2 on the Manny Pacquiao-Ricky Hatton undercard, but Luevano was injured and postponed the match. Luevano manager Cameron Dunkin, who also manages Donaire, said Luevano was healthy and would be ready. Another televised bout likely will include junior welterweight Mark Melligen, a Filipino prospect Top Rank recently signed. Ex-junior welterweight titlist Kendall Holt is also supposed to fight, although not necessarily on the televised portion, in his first bout since losing his belt to Tim Bradley in April. Junior flyweight Brian Viloria was slated to defend on the card, but his bout probably will go to another date and take place in the Philippines, where one of the major networks is interested in featuring him.

Lopez
• Junior bantamweight titlist Jose "Carita" Lopez is still slated to make his first defense on the Floyd Mayweather-Juan Manuel Marquez HBO PPV undercard on July 18, but it won't be against the Philippines' A.J. Banal as originally planned. Golden Boy was drafting the contract when it was informed that Banal would be unable to make 115 pounds. "Banal's people hadn't checked with their fighter if he could make the weight. Turns out he couldn't, so the fight isn't happening," Golden Boy matchmaker Eric Gomez told ESPN.com. So to replace Banal, Gomez is working to finalize a match between Lopez and southpaw Marvin Sonsona (13-0, 12 KOs), who is from General Santos City in the Philippines, Manny Pacquiao's hometown.

Foreman
• Junior middleweight Yuri Foreman's title elimination bout with Cornelius "K9" Bundrage will replace the Mike Alvarado-Paulie Malignaggi bout originally scheduled to be part of Top Rank's June 27 pay-per-view card in Atlantic City, N.J., Top Rank matchmaker Brad Goodman told ESPN.com. Alvarado-Malignaggi was called off because of an Alvarado injury. Foreman and Bundrage, who will meet for a the right to challenge titlist Cory Spinks, were originally going to fight on Top Rank's August pay-per-view card in Las Vegas in a fight that would have taken place after that PPV show went off the air. The reason: Foreman observes the Jewish Sabbath and doesn't fight until after sundown on Saturdays. By moving the fight to June 27, Foreman can observe the Sabbath and fight on the televised part of the show because it will take place after sundown.

Urango
• Although Juan Urango was soundly outpointed by welterweight titlist Andre Berto last Saturday, he still holds a junior welterweight belt. Urango (21-2-1, 16 KOs) moved up for the shot at Berto and, having lost, intends to return to 140 pounds to defend his title. He has a mandatory defense due against ex-titlist Randall Bailey (39-6, 35 KOs), who erased Frankie Figueroa with a spectacular fourth-round knockout in April to get the mandatory shot. Bailey promoter Lou DiBella told ESPN.com that the fight has been ordered by the IBF. "We were informed that we have to begin negotiations," DiBella said. The fight would have to take place by mid-October.

Guerrero
• Junior lightweight contender Robert Guerrero (23-1-1, 16 KOs), a two-time featherweight titleholder, is looking for a new opponent for his ESPN2 fight June 12 in his hometown of San Jose, Calif. Johnnie Edwards withdrew this week, citing a back injury, Golden Boy matchmaker Eric Gomez told ESPN.com. Guerrero, training at the Glendale Fight Club in South California, will be fighting for the first time since a second-round no contest March 7 against Daud Yordan in which Guerrero took a lot of heat for quitting because of a cut from an accidental head butt, which resulted in the no contest. He's trying to put that fight behind him. "Training camp is always rough," he said. "It's the total sacrifice to leave your family for six weeks. I feel great and I'm happy that I'm getting great sparring. Every day that I'm out here I keep thinking about the sacrifices I'm making and it's getting me extremely hungry to get back to the ring. Everyone watching will know that I'm one of the best fighters in the world come fight night. I'm coming to make a statement." A victory could propel Guerrero into an Aug. 22 HBO fight.

Molitor
• Former junior featherweight titlist Steve Molitor (28-1, 11 KOs), who lost his title via fourth-round knockout to Celestino Caballero in a November unification fight, will have a new trainer in his corner for his June 26 return against Heriberto Ruiz (41-7-2, 23 KOs) in Rama, Ontario. After two fights with Montreal-based Stephane Larouche, Molitor decided to train closer to home and will be trained by Billy Martin of Brampton, Ontario. "I've trained on the side with Billy before, and I know we work well together," Molitor said. "And as a new father this is a chance to stay close to home and train for a fight at the same time."
QUOTABLE

Juarez
"When Chris John and I fought on Feb. 28 it ended in a draw. It was a good, tough fight and Chris John is tough fighter. If Chris John thinks the fight on Feb. 28 was tough, he better be ready, because this fight is going to be harder." -- featherweight contender Rocky Juarez, on his title rematch with John on June 27 (HBO).
QUOTABLE

Klitschko
"I am very disappointed that the fight got cancelled. I've been in training camp for weeks. I am in top condition and I was really looking forward to fight night. I don't want to disappoint the fans and I am willing to fight a different opponent." -- unified heavyweight titleholder Wladimir Klitschko, reacting to Wednesday's news that injured David Haye had pulled out of their June 20 fight.