Photo by Alex Livesey/Getty Images
Barrera, Khan meet at the crossroads
Amir Khan was a couple of weeks shy of his third birthday when Marco Antonio Barrera made his professional debut in 1986. Khan was only 8 when the Mexican legend won a world title in the first of the three divisions he would conquer.
They couldn't have traveled more disparate paths to get where they are right now -- years apart in age with a vast difference in their experience level and accomplishments, but each in dire need of a notable victory to keep his career afloat at the top level of boxing when they face each other in a 12-round lightweight bout in Manchester, England, on Saturday (Integrated Sports PPV, 4 p.m. ET).
It's the main event of a bill that also features Enzo Maccarinelli against Ola Afolabi for a vacant interim cruiserweight title and Nicky Cook making the first defense of his junior lightweight belt against mandatory challenger Roman Martinez.
To call the fight a "must-win" for Barrera and Khan would be a major understatement.
Barrera toiled for years out of the spotlight in his native Mexico before surging to the top of the sport with a series of exciting performances. He won titles at junior featherweight, featherweight and junior lightweight and was one of the top pound-for-pound performers for the better part of a decade. His trilogy with Erik Morales is one of the best in boxing history and his 2001 upset of Naseem Hamed one of the most memorable of the decade.
But after back-to-back losses in 2007 to Juan Manuel Marquez and Manny Pacquiao -- otherwise known at the moment as the best two fighters in the world pound-for-pound -- Barrera was left for dead by many.
On TV
TV lineup for Saturday's Frank Warren-promoted pay-per-view card (Integrated Sports, 4 p.m. ET) from the MEN Arena in Manchester, England: • Lightweights: Amir Khan (19-1, 15 KOs) vs. Marco Antonio Barrera (65-6, 43 KOs), 12 rounds
• Cruiserweights: Enzo Maccarinelli (29-2, 22 KOs) vs. Ola Afolabi (13-1-3, 5 KOs), 12 rounds, for a vacant interim title
• Junior lightweights: Nicky Cook (29-1, 16 KOs) vs. Roman Martinez (21-0-1, 12 KOs), 12 rounds, for Cook's title
Although Barrera (65-6, 43 KOs) rebounded with two victories, they came against extraordinarily low-level opponents. But the wins set the stage for his meeting with Khan, a fight that surprised many when it was made because it came out of the blue.
"I got this opportunity to come here and win. I am a warrior," Barrera said.
He believes the fight makes perfect sense.
"The reason I took this fight is because a win here puts me in line to realize my top remaining goal to become the first Mexican-born fighter to win world championships in four separate weight divisions," Barrera, 35, said. "I've been world champion in three weight divisions and my goal is to win a world championship in the lightweight division. I don't want to wait. I want to get there as fast as I can. A win over Khan puts me right where I want to be."
Barrera promoter Don King sounded confident -- when doesn't he? -- in Barrera.
"He will knock Khan out and catapult himself back into prominence," King said. "Khan is taking the gamble. He figures Barrera is at the end of his career. Oh, have we got a surprise for him."
Khan never had to toil like Barrera did. He was expected to be a pro star from the moment he claimed a silver medal at the 2004 Athens Olympics.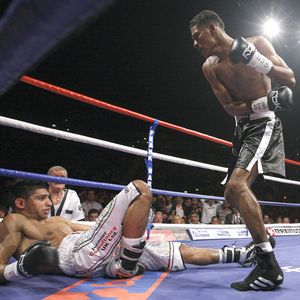 AP Photo/Jon Super
Amir Khan was on the fast track to fame and fortune -- until he ran into Breidis Prescott.
Blessed with size, skills, power and outrageous speed, he looked like he was on his way to the top quickly as promoter Frank Warren put him the fast track. However, one attribute also necessary for any top fighter -- a strong chin -- has failed him. Khan, 22, suffered several knockdowns, a major cause for concern. Then he met Breidis Prescott in September. Prescott waxed Khan, knocking him down twice in brutal fashion and winning on a first-round knockout.
"I've just got to be more careful in this fight," Khan said. "In the Prescott fight I rushed in a little bit. I was running into punches. That's not my style. My style is more slick, hit and move. That's what I'm going to stick to. The biggest improvement under Freddie has been my defense. After the Prescott fight I needed to work at it and working on my defense has made me a better fighter in a whole different way. It made me more focused and composed and made me think about things more."
Although Khan (19-1, 15 KOs) returned to stop Oisin Fagan in two rounds in December in his first fight with trainer Freddie Roach, the fight with Barrera represents a quantum leap in level of opponent. Having already gone down in flames once, Khan can hardly afford to do it again if he wants to remain a hot commodity.
Khan knows it, too, which is why he spent six weeks in Los Angeles training with Roach.
"I can't wait for the fight," Khan said. "I've still got to prove a few people wrong and hopefully I can do that against Barrera. He's a great fighter but I think his style is made for mine. This is the right fight at the right time for me. I've had a fantastic training camp in the States, and everything has gone brilliantly.
"Freddie is such a knowledgeable trainer and so is everyone around him. We've worked out a good game plan for Barrera, and now it's a case of putting it into action."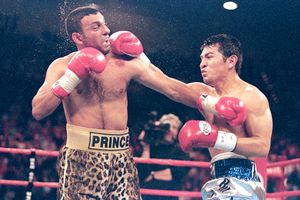 Al Bello /Allsport
Amir Khan's camp believes Marco Antonio Barrera's best days are behind him.
Roach has liked what he has seen from Khan, which is why he didn't hesitate to approve Barrera as an opponent when the fight came up.
"Barrera's best was at 122 and 126. Amir is a big 135-pounder," Roach said. "It's the perfect time -- 22-year-old kid against a 35-year-old veteran. We respect Barrera and there's a lot we have to look out for from him. Barrera can set up guys with his experience but we've really prepared for that. Amir reminds me a lot of Pacquiao.
"They're both very athletic and Amir is the only guy who can run with Manny. I remember Manny getting knocked out early in his career [in the third round by Rustico Torrecampo in 1996] and everybody writing him off. Amir came in on a bigger stage from the Olympics, but I believe he'll rebound and become world champion."
Before he faced Fagan, Khan estimates that he sparred around 90 rounds with Pacquiao, who is also trained by Roach and was preparing for his eventual knockout win against Oscar De La Hoya in December.
"Manny's been giving me some great advice," Khan said. "We sparred a lot ahead of my last fight, and he's had some input this time around as well. Obviously he's beaten Barrera [twice] before, and he's given me some good tips. He knows how tough these Mexicans can be and what it takes to beat them, and fingers crossed a bit of his magic can rub off on me."
Barrera isn't buying Khan's bravado. He believes he will undress Khan the same way he did Hamed, who was hugely popular in England during his heyday.
"I will beat Khan because I have more experience than him and I'm still a much better fighter than he is," Barrera said. "He is a good young fighter but there's nothing he can do between to surpass my skills and experience. Don't forget what I did to Prince Naseem Hamed, too, another highly touted guy with fast hands.
"Amir is young and he is quick, but he doesn't have the chin or the experience to deal with me."
HBO's '24/7' returns
HBO made official the return of its hit Emmy-award-winning reality series "24/7." The fifth installment, "Pacquiao/Hatton 24/7," will feature four episodes devoted to following the buildup to the May 2 HBO PPV fight between junior welterweight champ Ricky Hatton and pound-for-pound king Manny Pacquiao. Both fighters agreed to give HBO's cameras round-the-clock access to their training camps. Figuring to add spark to the series is the presence of rival trainers Freddie Roach and Floyd Mayweather Sr.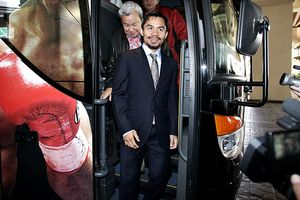 Chris Farina/Top Rank
HBO cameras will take boxing fans inside the Manny Pacquiao camp with the return of "24/7."
Instead of Sunday night episodes with the finale on the Thursday before the fight, the schedule other installments have followed, "Pacquiao/Hatton 24/7" will air on Saturday nights with the finale the night before the fight. The first episode premieres April 11 (9:30 p.m. ET/PT) with subsequent episodes April 18 (10 p.m. ET/PT), April 25 (10:35 p.m. ET/PT) and May 1 (9:30 p.m. ET/PT). Liev Schreiber returns as narrator.
"This latest edition of '24/7' features two of the most talented and personable fighters in boxing today, and we look forward to bringing their compelling story lines and personalities to our subscribers in what promises to be engaging television," HBO Sports president Ross Greenburg said in announcing the series. "The trainers, Floyd Sr. and Freddie Roach, will likely add fireworks to the series. This fight is sure to generate a lot of excitement and energy worldwide, and we hope to capture those dramatic moments."
Dan Rafael is the boxing writer for ESPN.com.
QUICK HITS

Adamek
• Talks are under way between Main Events and Golden Boy Promotions to match cruiserweight champion Tomasz Adamek with Bernard Hopkins in an HBO main event in July, Main Events chief Kathy Duva told ESPN.com. Duva said she and Golden Boy CEO Richard Schaefer began negotiating Wednesday. "HBO is interested," Duva said. "Obviously, it's an intriguing fight and if the deal makes sense, it's something we want to do. [Adamek] is interested in the deal that makes the most sense and Bernard may be it. Hopefully, we can work things out quickly."

Kirkland
• Junior middleweight terror James Kirkland, fresh from a six-round destruction of Joel "Love Child" Julio on Saturday in the HBO "Boxing After Dark" main event, has landed a coveted spot on the May 2 Ricky Hatton-Manny Pacquiao HBO PPV undercard, manager Cameron Dunkin told ESPN.com. Dunkin said he and Golden Boy are talking over opponents. The leading candidate is Michael Walker, Dunkin said. Top Rank is looking to put on junior welterweight Michael Alvarado in another of the televised slots. Alvarado (25-0, 18 KOs), who scored a spectacular 10th-round knockout of Emmanuel Clottey last week, could face Lucas Matthysse (23-0, 21 KOs) of Argentina, manager Shelly Finkel told ESPN.com.

Ortiz
• If Kirkland takes care of business May 2, he'll be back on HBO's "Boxing After Dark" June 27 co-headlining with junior welterweight Victor Ortiz, the 2008 ESPN.com prospect of the year who also dazzled on Saturday by stopping Mike Arnaoutis in the second round. Both rising stars could find themselves fighting for world titles. Golden Boy is talking to German promoter Universum about bringing titleholder Sergei Dzindziruk (36-0, 22 KOs) of Ukraine to America to defend against Kirkland. Dzindziruk had some rocky moments in his last fight, a decision against Julio. Another possibility, but a more remote one, is for Kirkland to face Don King-promoted titleholder Daniel Santos (32-3-1, 23 KOs). "We'll fight either guy," Dunkin said. "Kirkland has no problem fighting anybody. Whatever Golden Boy and HBO want." Finkel, Ortiz's co-manager, told ESPN.com that Golden Boy was talking with Universum about titleholder Andreas Kotelnik (31-2-1, 13 KOs) of Ukraine defending his belt on the same card against Ortiz.

Urango
• One of the names that has emerged as a possible challenger for welterweight titleholder Andre Berto is exciting junior welterweight titlist Juan Urango. Berto promoter Lou DiBella and Urango promoter Leon Margules of Seminole Warriors Boxing are discussing the bout, they both told ESPN.com. If made, it would headline HBO's "Boxing After Dark" on May 30, possibly from the Hard Rock resort in Hollywood, Fla. DiBella said he's talking about the fight with HBO (whose first choice is Zab Judah) and waiting for Urango to be approved as an opponent. Margules said he's also interested but needs to talk it over with his fighter. DiBella said former titleholder Carlos Quintana, whom he also promotes, is another possibility.

Gamboa
• 2004 Cuban Olympic gold medalist Yuriorkis Gamboa (14-0, 12 KOs), one of the hottest prospects in boxing, is slated to face Jose "Cheo" Rojas for a vacant featherweight belt April 17 on Showtime's "ShoBox." Lightweight Breidis Prescott was supposed to be on the card but he's off because of an injury suffered Feb. 20 against Humberto Toledo, who was disqualified in the 10th round for biting Prescott's neck. Replacing Prescott will be welterweight prospect Selcuk Aydin (17-0, 14 KOs). He may face Said Ouali.

Barrios
• Jorge Barrios suffered a broken upper jaw -- near his ear -- during a recent sparring session and has been forced to withdraw from a fight with fellow former junior lightweight titleholder Carlos Hernandez, according to Golden Boy's Eric Gomez. The bout was supposed to be part of Golden Boy's all-lightweight pay-per-view card April 4 in Austin, Texas. Gomez said that Vicente Escobedo, a Golden Boy prospect and 2004 U.S. Olympian, might replace Barrios against Hernandez. Escobedo had been scheduled to face faded ex-featherweight titlist Kevin Kelley on March 26, but it was postponed until April 30 because Kelley got sick. However, Escobedo may opt to fight Hernandez rather than wait for Kelley. Edwin Valero faces Antonio Pitalua for a vacant title in the main event. Joel Casamayor meets Julio Diaz and Michael Katsidis faces Jesus Chavez in other televised bouts.

Caballero
• Unified junior featherweight titleholder Celestino Caballero (31-2, 22 KOs) of Panama will make his mandatory defense against South Africa's Jeffrey Mathebula (22-1-2, 12 KOs) at the Hard Rock resort in Hollywood, Fla., on April 24. The bout will be the main event of a "ShoBox" card (Showtime), Seminole Warriors Boxing promoter Leon Margules said. Showtime had been interested in seeing if a fight between Caballero and titleholder Juan Manuel Lopez could be made, but Lopez is going to defend his belt in his native Puerto Rico on HBO against bantamweight titleholder Gerry Penalosa on April 25.

Bailey
• Rather than go to a purse bid, handlers for Randall Bailey and Frankie Figueroa reached an agreement this week. For the right to challenge junior welterweight titleholder Juan Urango, Bailey and Figueroa will meet April 3 in Memphis on "Friday Night Fights" (ESPN2).
• Welterweight contender Delvin Rodriguez's close decision against Shamone Alvarez in a rough fight on last week's "Friday Night Fights" came with a price. Rodriguez injured his right hand in the eighth round. He visited a hand specialist Wednesday and was diagnosed with tendinitis in the area between the top of his thumb and wrist, manager Stan Hoffman told ESPN.com. Hoffman said the doctor said Rodriguez could have a hairline fracture but won't know for sure until the swelling goes down. Rodriguez will have a follow-up exam April 25. Also, when Rodriguez knocked Alvarez down in the 11th round, he further injured his right hand. "He hit the guy so hard when he knocked him down that he also got himself a problem with his middle finger where he has a badly bruised tendon."

Dirrell
• Super middleweight contender Andre Dirrell (17-0, 12 KOs) will face Derrick Findley (13-2, 8 KOs) on March 28 in Showtime's "ShoBox" main event. Findley replaces former "Contender" participant David Banks, who withdrew because of legal problems. Junior middleweight Ronald Hearns (21-0, 17 KOs) meets Harry Joe Yorgey (21-0, 9 KOs) in the co-feature. Showtime will also air a four-rounder featuring featherweight Gary Russell Jr. (2-0, 1 KO), a 2008 U.S. Olympian, against Kristian Magallon (4-3, 1 KO), according to Showtime's Gordon Hall.

Valuev
• Heavyweight titleholder Nikolai Valuev is anxious to make his mandatory defense against so-called "champion in recess" Ruslan Chagaev, who has twice pulled out against Valuev. Chagaev returned to defeat Carl Davis Drummond last month -- meaning he is no longer "in recess." Valuev, whose lone defeat came via majority decision to Chagaev in a 2007 title bout, wants to fulfill his mandatory immediately. "Enough is enough," Valuev said. "All this confusion has to end. There is just one way to determine the true [WBA] champion and that is by meeting in the ring. & I want to avenge the only loss of my career. I want to take on Chagaev as soon as possible." According to Chris Meyer of promoter Sauerland Event, Valuev is willing to skip a lucrative potential optional defense. "We have therefore submitted a formal request to the WBA asking for the negotiations between the two camps to begin immediately," Meyer said. "If a voluntary agreement cannot be reached, a purse bid should be scheduled by the end of March. We have proposed that the fight will be eventually staged by the end of June."
QUOTABLE

Mayweather Sr.
"They've got him in the Hall of Fame. He should be in the Hall of Shame. Let's tell the truth like it is. You see Freddie Roach training, you see me training -- it is night and day. Don't even compare, don't even come close. I mean, let's be for real. Tell the truth. Freddie Roach is a joke. And that's what I say, that's why his name is 'Freddie the joke coach Roach,' as far as I'm concerned." -- Floyd Mayweather Sr., junior welterweight champ Ricky Hatton's trainer, ripping Roach, the trainer of Hatton's May 2 opponent, pound-for-pound king Manny Pacquiao, on a recent teleconference with reporters
QUOTABLE

Bradley
"Bernie Madoff's investors have a better chance of recouping their money than Kendall Holt has against me." -- junior welterweight titleholder Timothy Bradley, on his April 4 [Showtime] unification fight