Marcos Perez/Fightwireimages.com
Julio looks for breakthrough victory
Joel "Love Child" Julio was once the can't-miss kid. He's hoping to claim that title again.
At the end of 2005, the Colombian power puncher with the big smile was all the rage. He was knocking everyone out, had been named 2005 ESPN.com prospect of the year and was a few months away from making his HBO debut in a welterweight title eliminator against Carlos Quintana.
He was on his way. But although Julio scored an early knockdown against Quintana, he was outclassed and lost a unanimous decision.
During the rebuilding process, Julio reeled off seven consecutive victories, including notable wins against Cosme Rivera, Cornelius "K9" Bundrage and Ishe Smith in nationally televised bouts. Now a junior middleweight, the winning streak set him up for a shot at undefeated titleholder Sergei Dzindziruk in Germany in November.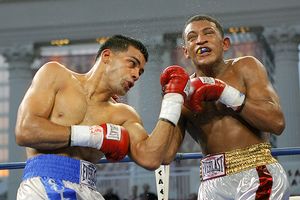 AP Photo/Jae C. Hong
Joel Julio, right, suffered his first defeat at the hands of Carlos Quintana.
Julio had some big moments and hurt Dzindziruk early, but he was ultimately outboxed in a competitive fight.
That's two strikes in his two biggest fights. Julio, 24, is hoping he doesn't whiff at strike three when he meets one of the newest can't-miss kids, 24-year-old power puncher James Kirkland, when they meet in the main event of a "Boxing After Dark" tripleheader Saturday night (10 ET/PT) at the HP Pavilion in San Jose, Calif.
"This is definitely it. I lost my two biggest fights. I can't go back," Julio said. "This is a big opportunity and I will take advantage of it to the max. Those two losses taught me. [Kirkland] is strong, but I'm stronger than him and I am a better boxer than him."
Also on the show, junior welterweight Victor Ortiz (23-1-1, 18 KOs), the 2008 ESPN.com prospect of the year, faces contender Mike Arnaoutis (21-2-2, 10 KOs) in a 12-rounder and former featherweight titlist Robert Guerrero (23-1-1, 16 KOs), now a junior lightweight who will be the crowd favorite since he is from nearby Gilroy, Calif., faces Indonesia's Daud Yordan (23-0, 17 KOs) in a 10-rounder.
But Julio-Kirkland figures to be the most explosive of the three bouts, given their penchant for big knockouts.
The fight is also a chance for Julio to begin fulfilling his considerable potential.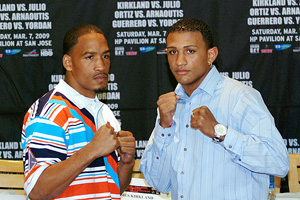 Laura De La Torre/Hoganphotos/Golden Boy Promotions
Don't blink: It'll be bombs away when James Kirkland steps into the ring against Joel Julio.
"I think it's a very important fight. It's very critical for him to win the fight," said Felix "Tutico" Zabala, who co-promotes Julio with Main Events. "He had those two losses and right now is a moment that he has another big opportunity. A win over Kirkland on HBO might even be bigger than beating the champion in Germany. We didn't have the [American television] exposure for that fight that we will have against Kirkland."
Julio (34-2, 31 KOs) and Zabala understand that Julio is not the so-called A-side of the fight. It is Kirkland who is the fresh face. He's the fighter who is promoted by Golden Boy and fighting in the main event on a Golden Boy card. Kirkland (24-0, 21 KOs) is the one HBO has been marketing.
It is not lost on Julio or Zabala.
"The position Joel is in now, he knows how important this is," Zabala said. "He wants to take Kirkland out of his position and himself back to where he is supposed to be."
Said Julio: "I'm going to handle him good. I feel calm and I'm going to handle him. It's going to definitely be a great fight and I am programming myself for a long fight. I will bring the fight to him after the fifth round. It will be a long fight."
If there is one concern in the Julio camp, it's that Kirkland is a southpaw. Julio's two losses came to left-handers.
However, they say that he has prepared well for a lefty. Julio's chief sparring partner in Miami was Kassim Ouma, a former titleholder.
"Quintana was a southpaw runner and Dzindziruk was a fighter who also moves a lot," Zabala said. "Kirkland is not like them. He's a southpaw but he is right in front of you and that will make the difference. Kirkland has not fought the opponents of the caliber that Joel has."
Said Julio: "I can handle a southpaw. People are going to see me win this fight and it will open a lot of doors."
Alexander wants Campbell
St. Louis junior welterweight prospect Devon Alexander (17-0, 10 KOs) still can't manage to get a televised fight and has been virtually ignored by promoter Don King, but that hasn't stopped Alexander from offering to fight a who's who of the 140-pound division. His problem is finding a taker.
For example, when HBO inquired about whether Alexander would face fellow undefeated prospect Mike Alvarado on its April 25 undercard, Alexander and manager/trainer Kevin Cunningham were very interested. Alvarado and his team at Top Rank wouldn't even talk about it.
Alexander's newest target is Nate Campbell (33-5-1, 25 KOs), a former lightweight titleholder who recently moved up in weight after being stripped of his belts for failing to make weight before a Feb. 14 defense.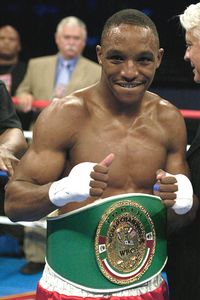 AP Photo/Tom Gannam
Rising prospect Devon Alexander has set his sights on Nate Campbell.
"I will fight anyone that Don King or the television networks want me to fight," Alexander said. "I want to prove that I am one of the best fighters in the world, and what better way to do that than to take on a guy who was the king of the lightweights before making the recent decision to move up to junior welterweight."
Cunningham admitted he was apprehensive about such a tough fight for the still relatively untested Alexander, 22, but conceded that it may be the only way to get Alexander on television and it was a risk they were willing to take.
"There is no question this would be a big step up in terms of opposition for Devon, but it's a challenge he's ready to have," Cunningham said. "Somebody brought up Nate Campbell to face Devon. I'm all for Nate vs. 'The Great.' HBO has expressed interest in making it happen, so we'll see."
Campbell, who is looking for bigger game, such as Juan Manuel Marquez, the Ricky Hatton-Manny Pacquiao winner (or loser), or the Kendall Holt-Tim Bradley winner, told ESPN.com he'd take the fight if he had to.
"I like Devon and I think he could develop into a top fighter," Campbell said. "I think the people handling his career are giving him bad advice. Do they want him to get wrecked? If they really want to get a piece of me, though, it don't take much to coax me into something. Just show me the money and give me the date, and we can go from there. But what does Devon really bring to the table for me? But if it has to be done, it has to be done."
Olympian Molina going pro
With two team members electing to remain amateur, junior welterweight Javier Molina will become the final member of the 2008 U.S. Olympic team that competed in Beijing to turn pro unless the others (Rau'Shee Warren and Raynell Williams) have a change of heart.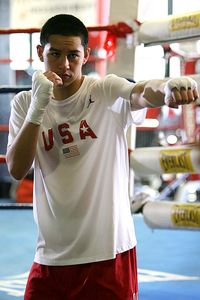 AP Photo/Mary Altaffer
Time to get paid: Olympian Javier Molina has decided to turn pro.
The 19-year-old from Commerce, Calif., signed with promoter Dan Goossen and makes his debut March 27 in Los Angeles on the "Friday Night Fights" (ESPN2) card headlined by heavyweight Samuel Peter against Eddie Chambers.
"One of our main goals in boxing is to build and promote the next generation of boxing stars," Goossen said. "In Javier Molina, we have a young man who has the talent, style and charisma to not only win a world championship, but to become a true crossover star. We're going to do everything to get him there, and we know Javier will be working tirelessly in the gym and in the ring to do his part."
Molina, whose father, uncle and older brother have boxed professionally, said: "My California fans who've watched me as an amateur know what I can do, and I'm excited to let the rest of the world know who I am. I like to fight, and I promise to do my best not to disappoint anybody who comes to see me."
Molina, a high school senior with college aspirations, lost in the opening round in Beijing.
Dan Rafael is the boxing writer for ESPN.com.
QUICK HITS

Cotto
• Although no deal is signed, Miguel Cotto's June 13 fight at Madison Square Garden on the eve of New York's annual Puerto Rican Day parade probably will be a welterweight unification bout with New York's Joshua Clottey, Top Rank's Bob Arum, who promotes both fighters, told ESPN.com. "It'll be Clottey," he said. "It's the logical fight to do. Clottey wants the fight very badly and Miguel says fine. We still have come to terms with both fighters, but we'll get it done." Arum said. He's negotiating with HBO, and although they're apart on money, Arum said he thought it would work out. HBO, he said, was not interested in Cotto-Kermit Cintron, and titleholder Andre Berto was also out of the running. Arum said he also offered Cotto's next fight to Showtime, but it was "more concentrating on trying to do [Kelly] Pavlik's next fight."

Berto
• Promoter Lou DiBella hoped that Berto would get the fight with Cotto, but now that it looks like he won't, he's working on a Berto title defense for May 30 on HBO's "Boxing After Dark." "I was holding up to see what happens with Cotto, but I've been led to believe he's fighting Clottey, so now I'm talking to HBO about May, but I haven't even gotten to who Andre would fight yet," DiBella told ESPN.com. DiBella said if he could reach him, he'd like to talk to Don King about putting together a rematch with Luis Collazo, who lost a tight decision to Berto in a January slugfest.

Froch
• Super middleweight titleholder Carl Froch's American debut has been set for April 25, when he'll make his first defense against former undisputed middleweight champion Jermain Taylor, who will make his Showtime debut after spending his career with HBO. They'll meet at the Foxwoods resort in Connecticut. Super middleweight Allan Green faces Carlos De Leon Jr., son of the former cruiserweight titleholder, in the televised opener, DiBella told ESPN.com.

Lacy
• Ex-super middleweight titleholder Jeff Lacy, who lost a lopsided decision to Taylor, his 2000 U.S. Olympic teammate, in a November title eliminator, is planning his return. Having been released from his promotional contract by Golden Boy, Lacy (24-2, 17 KOs) will fight at light heavyweight against an opponent to be determined April 10 at the USF Sun Dome in his hometown of Tampa, Fla. Lacy's newly formed Left Hook Promotions is promoting the card with Tampa's One Punch Productions. "I've always wanted to come back and fight in Tampa, but it just wasn't possible under the circumstances," said Lacy, who last fought there in December 2006. "But now that I formed Left Hook Promotions, I have the freedom to fight wherever I choose, and I wanted my first fight back to be right here in Tampa."

John
• When featherweight titlist Chris John drew with Rocky Juarez on Saturday in Houston, it was John's first fight in America. The Indonesia native could find himself here for a second fight with Juarez, according to Golden Boy matchmaker Eric Gomez. Gomez told ESPN.com that the fighters, their camps and HBO are all interested in a sequel to the exciting fight. "There is some interest from HBO to do the rematch," Gomez said. Sampson Lewkowicz, John's adviser, told ESPN.com that John would embrace a rematch even though most believed he deserved the decision. "John will accept a rematch with Juarez only to prove that he is the best featherweight champion of the world," he said. "The sponsor of John in Indonesia would love to host the fight there; however, the champion's wish is to do it in Los Angeles where over 40,000 Indonesians reside."

Peterson
• The interim junior welterweight title bout between Lamont Peterson (26-0, 12 KOs) and France's Willy Blain (20-0, 3 KOs), slated for the April 4 Showtime undercard of the Tim Bradley-Kendall Holt junior welterweight unification fight in Montreal, is being moved. Top Rank's Bob Arum told ESPN.com, and HBO confirmed, that the bout will open the April 25 HBO "Boxing After Dark" in Puerto Rico. Junior featherweight titleholder Juan Manuel Lopez headlines against bantamweight titlist Gerry Penalosa. Arum said Montreal promoter Alexandre Choko, who made the deal to bring Bradley-Holt to Montreal's Bell Centre, was having problems with financing for the show. They're trying to work things out, but Peterson-Blain is off the show. Blain (20-0, 3 KOs) beat Peterson (26-0, 12 KOs) in an amateur bout. Showtime's telecast likely will open with another bout already on the card, Librado Andrade vs. Vitali Tsypko, who meet for the right to challenge Montreal-based titleholder Lucian Bute.

Gomez
• Welterweight Alfonso Gomez (18-4-2, 8 KOs), the popular former "Contender" star who hasn't fought since Miguel Cotto stopped him in an April 2008 title fight, returns May 1 in Las Vegas to fight on an Azteca America card the night before Hatton-Pacquiao, according to Top Rank and Gomez manager Gary Gittelsohn. "Alfonso is very anxious to get back in the ring and we are grateful to Top Rank for putting him on this show," Gittelsohn said. "The pot of gold at the end of the rainbow is for Alfonso to fight Julio Cesar Chavez Jr."

Guzman
• The main event being planned for the May 1 Azteca show was going to be Joan Guzman against Yuri Romanov for one of the lightweight belts vacated by Nate Campbell, who was stripped when he failed to make weight for a Feb. 14 defense. However, Sean Gibbons of Guzman promoter Sycuan Ringside Promotions, told ESPN.com that the IBF rescinded its order for Guzman to face Romanov when it discovered that Guzman is on indefinite administrative suspension in Mississippi for his failure to make weight for a title challenge against Nate Campbell in the fall and subsequent refusal to go through with the bout as a nontitle fight. Because of the suspension, the IBF deems Guzman unavailable, angering the Guzman camp. Romanov instead will likely face Fernando Angulo, the next available contender, for the vacant belt.

Brewster
• Former heavyweight titleholder Lamon Brewster (34-4, 30 KOs), 35, signed with Germany's Sauerland Event and will face Michael Sprott (31-12, 16 KOs), the first man to knock out Audley Harrison in 2007, on March 14 in Kiel on the undercard of middleweight titleholder Arthur Abraham's defense against Lajuan Simon. Brewster is known in Germany. In 2004, he knocked out Wladimir Klitschko in a title bout in Las Vegas and defended the title in Germany in 2005 by knocking out Luan Krasniqi before returning to Germany and being stopped by Klitschko in their 2007 rematch.

Linares
• Junior lightweight titlist Jorge Linares, who has been beset by injuries and limited to just two fights since mid-2007, has again postponed a fight. Linares, 23, has withdrawn from his first title defense, which was scheduled for March 14 against Josaphat Perez in Mexico. Linares, who is from Venezuela but based in Japan, sustained a cut over his right eye while sparring in Tokyo on Feb. 12. Teiken Promotions said it is looking to reschedule the fight in April or May.

Siler
• While the 2008 U.S. Olympians trickle into the pros, one of the members of the 2004 team is preparing for his pro debut. Ron Siler, the American flyweight in Athens, has had a variety of legal problems since the '04 Olympics, delaying his pro career. But Siler, 28, punches for pay March 21 in his hometown of Cincinnati. The card also features two other Olympians from Cincinnati. Welterweight Ricardo Williams, a 2000 silver medalist, fights in the main event, and 2004 and 2008 Olympian Rau'Shee Warren, a flyweight who aims to compete in the 2012 London Games, will participate in an amateur contest.

Duddy
• Middleweight John Duddy, who split with promoter Irish Ropes in a dispute over past purses, is freelancing on other promoter's cards. After appearing Feb. 21 at Madison Square Garden on the Miguel Cotto-Michael Jennings undercard and easily defeating Matt Vanda, Duddy returns April 24 at the Prudential Center in Newark, N.J., on a card promoted by Main Events, which is doing a regular series at the arena. Duddy's opponent hasn't been determined.
QUOTABLE

Mayweather Sr.
"Everything is mapped out. Ricky is trying to be nice, but it's a simple fact that we gonna bust his ass up. Simple as that. We gonna whup his ass." -- Mayweather Sr., predicting a big win for the less braggadocios Hatton when he faces Pacquiao
QUOTABLE

Pacquiao
"I was surprised to see so many of my people in Manchester. I think Ricky Hatton was surprised to see them, too. Although it is Hatton's place, I think Manchester is now Mannychester." -- Manny Pacquiao, on the overwhelming number of Filipino fans who turned out to see him during the media tour in Hatton's native England to promote their May 2 fight