Chris Cozzone/Fightwireimages.com
Angulo the next Mexican star?
Antonio Margarito is disgraced, having been banished for trying to cheat against Shane Mosley. Marco Antonio Barrera and Erik Morales are semi-retired, long past their best days. Julio Cesar Chavez Jr., though popular, isn't regarded as a serious contender.
Rivals Israel Vazquez and Rafael Marquez are closer to the end than the beginning. The same goes for Juan Manuel Marquez, who, although one of the best fighters in the world, is 35.
Who, then, can carry the mantle as the next star fighter from boxing-mad Mexico?
Ask junior middleweight Alfredo Angulo and his handlers, and they'll tell you it's Angulo.
"He's got a chance to carry that banner," promoter Gary Shaw said. "There was Chavez [Sr.], Barrera, Morales. They carried that banner. Now, Angulo has a chance to follow in their footsteps."
Said manager Mike Criscio, "The Mexicans needs someone to fall in love with after Margarito got caught [trying to load his gloves against Mosley]. Alfredo can step into those shoes and be their hero."
With the quintessential Mexican fighting style -- aggression and a willingness to take two punches to land one -- Angulo wears his national pride on his sleeve. When describing his style, he says he is "a warrior who gives everything, like the majority of Mexican fighters. That's how we are."
Although Angulo lives in Southern California, he grew up in Mexico and represented his country as a middleweight in the 2004 Olympics, losing by decision to Ireland's Andy Lee in the opening round. As a professional, Angulo, nicknamed "Perro" or "Dog" for his relentless style, has been moved exceedingly fast by Shaw and Criscio. With a victory in his 16th pro fight -- against former welterweight titleholder Kermit Cintron (30-2-1, 27 KOs) on Saturday (HBO, 9:45 p.m. ET/PT) at the Seminole Hard Rock resort in Hollywood, Fla. -- Angulo will become titleholder Sergio Martinez's mandatory challenger.
"We moved him very fast. I put my guys in with the best I can find," Criscio said. "I don't believe in bringing a kid up fighting tomato cans. It builds false confidence. The way to build confidence is put him in with a good fighter. I don't want to baby my guys. This way, they can move faster."
Criscio did it with light heavyweight Chad Dawson and is doing it again with Angulo (15-0, 12 KOs), who will be making his fourth consecutive appearance in a year on HBO's "Boxing After Dark." HBO also has included the 26-year-old in an advertising campaign this year that features boxing's next generation of stars.
In the main event, Andre Berto (24-0, 19 KOs), from nearby Winter Haven, Fla., makes the third defense of his welterweight belt, against Colombia's Juan Urango (21-1-1, 16 KOs), a junior welterweight titlist moving up one division for the opportunity.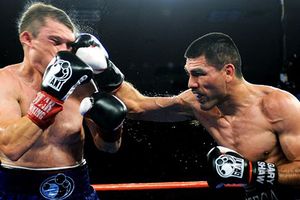 Naoki Fukuda
Alfredo Angulo, right, has looked impressive even as the level of competition has improved.
The kind of exposure Angulo has gotten on HBO, combined with his crowd-pleasing style and friendly demeanor outside the ring, has made him a growing fan favorite.
One thing that makes Angulo such an endearing sort is the love he has for those fans.
"The most important thing in boxing is to give a good fight to the people, the people who come to see the fight in the arena or the people that are watching at home on TV," said Angulo, who is trained by Clemente Medina. "It's not just about getting a check for my fights. It's more important that the people come up to me and say they like the way I fight. That pays me more than the check I receive at the end of the fight."
His blossoming career, of course, has been helped by the fact that he has performed well even as his competition has improved, especially in his past three fights: knockouts of Cosme Rivera, Andrey Tsurkan and Richard Gutierrez. Cintron, a strong puncher in his own right, is yet another step up.
Not bad for a guy who didn't enter a gym until he was 17. Angulo, the father of 3-year-old daughter Rebecca, tried boxing because he was a fan of the sport. He wanted to follow in the footsteps of his heroes, Chavez Sr., considered the greatest Mexican fighter of all time, and Hall of Famer Ricardo Lopez.
"I went to the gym because I was a fan. I just loved it," said Angulo, who takes English lessons but, for now, still conducts interviews through an interpreter. "I saw the gym was the right place for me. Once I got in that ring, I decided that is where I wanted to follow my dreams."
As a regular at fight cards, Angulo often is mobbed by fans looking for an autograph or photo.
"My fans dedicate time to me, so I want to dedicate my time to them," Angulo said. "That's what keeps me motivated. I guess they like me because I'm a humble dude and do anything for them. I was in a position of being a nobody, and I appreciate that they think that I'm now a somebody. They like how I fight, always going forward like a real boxer should. No jumping, no running. It's not track. I tell my opponent, 'Step up and let's work.' That's what my fans like, to see me do my job the way it is supposed to be done."
Shaw has seen the frenzy Angulo can whip up when they are at fights.
"It's amazing how popular he has become, especially with the Mexican and Mexican-American fans," Shaw said. "When we were leaving the Mosley-Margarito fight at the Staples Center to go to the HBO postfight party, it took us literally one hour to go from our seats upstairs to the party because of how many people wanted his picture and autograph. You know what? He took every picture and signed every autograph. He gets angry if you try to rush him. That's how much he loves his fans."
Criscio also has seen Angulo's popularity blossom in the past year.
"They know who he is, and he is not afraid to put his face out in the crowd. He loves the limelight, that kid," Criscio said. "He loves to tell people who he is. To be a star, you have to get your name and face out there. He goes to every fight, and no matter where we go, they swarm to him. Mexicans love their fighters, and I think they saw him fight a few times because he's been on TV a lot between Showtime and HBO. Nobody with 15 fights has been on HBO or Showtime like six or seven times, but Alfredo has. The fans come up to him and cheer, 'Perro! Perro! Perro!' They know who he is. It's also [publicist] Fred Sternburg getting his name out there and me and Gary pushing for TV."
Angulo knows that a victory will land him a title shot.
"I'm very excited about being in that position," he said. "I will push forward as long as I have my people behind me. At this point, I don't fear anything, no hard punches. I am looking at this like Mexico vs. Puerto Rico [where Cintron is from]. I fear none of his hard punches."
And if the day comes when Angulo has won a title, has had memorable fights and is retired?
"What I hope for is that the day that I retire, people will remember Alfredo Angulo's name as a fighter that's very Mexican who gave everything in the ring and poured his heart out to give a great show to the people of Mexico."
Cunningham set for eliminator
Former cruiserweight titlist Steve Cunningham, hoping for a rematch against champion Tomasz Adamek, faces ex-titleholder Wayne Braithwaite with a mandatory shot at Adamek at stake.
Cunningham, who lost a split decision in a slugfest with Adamek in December, meets Braithwaite on July 11 off TV on the Joseph Agbeko-Vic Darchinyan undercard.
Although Cunningham (21-2, 11 KOs) figures to be a significant favorite against faded Braithwaite (23-3, 19 KOs), he's buoyed by the fact that he'll have a new trainer in his corner in Naazim Richardson, who has earned rave reviews in recent years for his work with Bernard Hopkins and Shane Mosley. Richardson, who replaces Anthony Chase, is the one who discovered that Antonio Margarito's hand wraps had been tampered with in the dressing room before Margarito fought Mosley in January.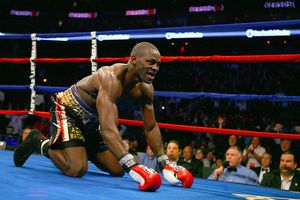 All Bello/Getty Images
Steve Cunningham is ready to dust himself off and make another run at a title.
"I've been training with Brother Naazim since March," Cunningham told ESPN.com. "I've been working hard, and he's been pushing me to a new level."
Cunningham, who has known Richardson for years because they're both from Philadelphia and have worked in the same gyms, said that he tried to hire Richardson in 2001 but that "He had too many fighters and said he couldn't give me the attention I needed." They planned to work together in 2007 when Cunningham was going to Poland for a rematch with Krzysztof Wlodarczyk, but Richardson suffered a stroke that he has since recovered from. Now, they've finally made it official.
"Naazim reminds me of my father so much," Cunningham said. "I respect him for his knowledge and for the way he trains his fighters."
Cunningham hoped for an immediate rematch with Adamek, but the champ went in another direction. However, beating Braithwaite will guarantee Cunningham another shot.
"I still feel like I'm the cruiserweight champion," Cunningham said. "I still feel like I should have gotten nothing less than a draw, so I don't feel like I lost. I want the rematch more than I want this eliminator, but I need to fight this fight to get it."
Dan Rafael is the boxing writer for ESPN.com.
QUICK HITS

Gamboa
• Top Rank is finalizing a deal to become the co-promoter of interim featherweight titlist Yuriorkis Gamboa and heavyweight prospect Odlanier Solis with Ahmet Íner's Arena Box, Bob Arum told ESPN.com. Gamboa and Solis won 2004 Olympic gold for Cuba before defecting. "I know Gamboa is very exciting," Arum said, adding that Top Rank president Todd duBoef was handling the deal with Íner. If finalized, Gamboa would defend on Top Rank's July 25 Julio Cesar Chavez Jr.-headlined pay-per-view card in Mexico. Originally ticketed for Cancun, it's been moved to another resort city, Nuevo Vallarta, Arum said. An August Showtime fight between Gamboa and unified junior featherweight titlist Celestino Caballero had been discussed, but the promoters and network were about $200,000 apart. Solis' first bout under the new arrangement would be June 27 in Atlantic City, N.J., on the untelevised undercard of another Top Rank PPV show.

Segura
• Besides Chavez and probably Gamboa, other matches in the works for Top Rank's July 25 card include Giovani Segura defending his interim junior flyweight title against Sonny Boy Jaro of the Philippines and welterweight Jesus Soto Karass against Antonio Diaz in what figures to be a slugfest.

Bradley
• Junior welterweight titlist Tim Bradley thought he'd be defending against Joan Guzman on Showtime on Aug. 1 after the sides had reached an agreement. However, it was contingent on the WBO sanctioning the fight, which it refused to do, Bradley promoter Gary Shaw told ESPN.com. With that fight off, Bradley likely will defend against former lightweight titleholder Nate Campbell, Shaw said. Campbell, who is in bankruptcy, has been tied up in court with promoter Don King over the promotional contract Campbell rejected when he filed for bankruptcy. However, Campbell adviser Terry Trekas told ESPN.com that because the case won't finish until June 27, the team is talking to King about a one-fight deal to make the Bradley bout.

Casamayor
• Joel Casamayor, the former lightweight champion, has resumed training after a back injury that forced him out of an April fight with Julio Diaz, manager Luis DeCubas Jr. told ESPN.com. DeCubas said there are a couple of fights for Casamayor that he's been talking about with Golden Boy. One is against Juan Diaz on Aug. 22 on HBO, although DeCubas added, "Diaz doesn't want any part of Casamayor, so I'm not so sure about that one." The other was a September fight against titleholder Edwin Valero in Las Vegas. That match would come with its own set of issues. Valero is not licensed anywhere in the United States other than Texas because of a licensing problem in New York several years ago stemming from a failed medical exam on account of a non-boxing head injury he suffered many years ago. Nevada is the strictest state in the nation when it comes to licensing fighters, especially ones who have suffered past head injuries.

Alexander
• The WBC announced that promoter Don King and Mick Hennessy had come to an agreement on the Devon Alexander-Junior Witter vacant junior welterweight title bout and that it would take place July 11. Although it's true the sides made a deal, the fight isn't scheduled for July 11, which is when King is co-promoting a Showtime card headlined by bantamweight titlist Joseph Agbeko against junior bantamweight champ Vic Darchinyan. "Don told me he has an agreement with Hennessy, but the fight ain't happening on that date," Kevin Cunningham, Alexander's manager and trainer, told ESPN.com. "We won't be ready for that date. We're not planning to be ready for July 11. Don hasn't told me anything other than he has an agreement with Hennessy and that he will get back to me on the date."

Sithsamerchai
• King is planning another card in China. In November, with the help of the Chinese government, he promoted a show in conjunction with the WBC's annual convention in Chengdu, which had been ravaged by an earthquake. It went so well that King has been invited back and is working on a card for October in a city to be determined. The probable main event will pit strawweight titlist Oleydong Sithsamerchai of Thailand in a mandatory defense against interim belt holder Juan Palacios of Nicaragua. Palacios defended his interim belt on the 2008 China card.

Quintana
• Citing illness, former welterweight titleholder Carlos Quintana has withdrawn from his June 5 ESPN2 main event in Miami against junior middleweight brawler Danny Perez. "He had a fever for eight days and lost a tremendous amount of weight and was in no condition to fight," promoter Lou DiBella told ESPN.com. "We got a note from the doctor." Quintana was going to move up to junior middleweight for the fight. It's the second time this year Quintana has pulled out of an ESPN2 fight on short notice. He also withdrew from a Jan. 16 bout against Eromosele Albert, blaming a sprained ankle. No replacement to face Perez is set yet, but DiBella told ESPN.com Thursday night that Joe Greene might step in. He was scheduled to fight Saturday night on the Andre Berto-Juan Urango card, but his opponent fell out. Another possibility is Ishe Smith, the first-season participant on "The Contender" who recently signed with DiBella.

Adamek
• Main Events has announced that cruiserweight champion Tomasz Adamek -- who saw proposed matches with Bernard Hopkins, Glen Johnson and Matt Godfrey fall through for various reasons -- instead will defend against Bobby Gunn (21-3-1, 18 KOs) on July 11 at the Prudential Center in Newark, N.J., where Adamek has developed a loyal following in the Polish community. Gunn, a club fighter who was knocked out in the first round of a 2007 title match with Enzo Maccarinelli, lives in Hackensack, N.J., so it figures to be a lively arena. Adamek originally was scheduled to fight July 10, but that was before Showtime backed off on buying the Godfrey match. Main Events boss Kathy Duva said the fight will be televised in the U.S., but she declined to offer details until the deal is finalized.

Maccarinelli
• Former cruiserweight titlist Enzo Maccarinelli (29-3, 22 KOs) will try to rebuild his career starting June 27 in London on the undercard of the Andreas Kotelnik-Amir Khan junior welterweight title bout. Wales' Maccarinelli, who has parted ways with trainer Enzo Calzaghe and is working with Karl Ince, will face Denis Lebedev of Russia in a 12-rounder. Maccarinelli had rebounded from a second-round knockout loss to David Haye in a March 2008 title fight with an easy win in December. But then Maccarinelli faced Ola Afolabi for an interim belt March 14 on Khan's last undercard and was upset by Afolabi, who knocked him out in the ninth round with a crushing blow. "I've been a world champion once before, and I want to become a world champion again," Maccarinelli said. "This is a great chance for me to prove myself against an undefeated fighter, and I can't wait for June 27. I'm going to knock out Lebedev and then I'm going after Afolabi for a rematch."
Jones
• Rising Philadelphia welterweight prospect Mike Jones, scheduled to face Larry Mosley on June 6 in Atlantic City, N.J., withdrew from the fight this week. Jones suffered a strained muscle in his left biceps this past weekend, promoter Russell Peltz announced. According to Peltz, Jones, who will have to lay off hard training for about six weeks, was told by his doctor that continued strenuous use of his left arm could result in a torn muscle. The co-feature of junior featherweight prospect Teon Kennedy against Lucian Gonzalez will now be the main event.

Mares
• Bantamweight contender Abner Mares (18-0, 11 KOs), a 2004 Mexican Olympian based in California, has signed with manager Frank Espinoza, best known for managing junior featherweight champ Israel Vazquez and former junior bantamweight titlist Martin Castillo. Mares, 23, who is promoted by Golden Boy, returned from an 11-month layoff caused by an eye injury to knock out Jonathan Perez in the sixth round on the May 2 Manny Pacquiao-Ricky Hatton undercard. "His work with world champions such as Israel Vazquez and Martin Castillo speaks volumes," Mares said. "I'm confident that having him guiding my career will be a huge advantage as I make my way to a world title bout. The 118-pound division is very hot right now, and I'm looking forward to facing the very best, whether it is Fernando Montiel, Joseph Agbeko or Vic Darchinyan." Espinoza said Mares is tentatively scheduled to return July 18 on the Floyd Mayweather-Juan Manuel Marquez undercard.
QUOTABLE

Khan
"Every time I go out running, I see that big Hollywood sign up in the hills and think, 'I fancy some of that when I'm done with boxing.' I've always wanted to be an actor later on in life, and being here in Hollywood has given me even more motivation to go and do it. After I'm done with boxing, I'm going to treat myself to some acting lessons to help my dream become a reality. I want to become a world champion and an Oscar winner." -- Amir Khan, who is training under Freddie Roach at his Hollywood gym in preparation for a June 27 shot at junior welterweight titlist Andreas Kotelnik, on what he wants to do after boxing.