Super Six tune-up trepidation?
Showtime's Super Six World Boxing Classic -- the tournament featuring six of the world's best super middleweights -- won't start until Oct. 17, when Arthur Abraham faces Jermain Taylor and Carl Froch defends his belt against Andre Dirrell.
The third fight is scheduled for Nov. 21, when titleholder Mikkel Kessler heads to the United States to face 2004 U.S. Olympic gold medalist Andre Ward, probably in Ward's hometown of Oakland, Calif.
However, before the official start of the tournament, Kessler and Ward each have a little business to take care of Saturday night (Showtime, 10 ET/PT).
Idle since October because of a dispute with his former promoter, Kessler (41-1, 31 KOs) returns to defend his version of the 168-pound title in his native Denmark against mandatory challenger Gusmyr Perdomo (16-2, 10 KOs) of Venezuela in a bout Showtime will televise on tape delay.
It will pair the same-day coverage of Kessler's defense with Ward (19-0, 12 KOs), the only American Olympic boxing gold medalist in 2004, tuning up against club fighter Shelby Pudwill (22-3-1, 9 KOs) at the Pechanga Resort and Casino in Temecula, Calif.
Although Kessler and Ward are expected to roll past inferior opposition to set the stage for their November showdown, you just never know what'll happen when men are punching each other in the face. Of course, there is the possibility of a loss or an injury, either of which would damage the tournament before it even begins.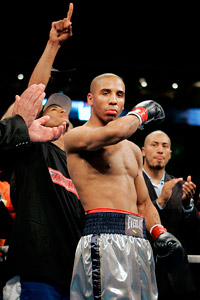 AP Photo/Jeff Chiu
Andre Ward hopes to emerge unscathed when he meets Shelby Pudwill on Saturday.
"There are a lot of what-ifs -- injury, cuts, not looking good, a loss," Ward said. "But as a fighter, I just approach every fight the same way. I just want to win. I love to win, regardless of if it's against Pudwill or Kessler."
So with so much potentially on the line, it makes a pair of otherwise pedestrian matches a bit more interesting.
"I would describe my feeling as anxious because I want to get the tournament going," said Showtime's Ken Hershman, the driving force behind the Super Six. "I can't wait for Oct. 17 and Nov. 21, but I know we have to get these bouts behind us. I will be watching as intently as ever and keeping my fingers crossed."
Kessler, staying cool, said he's not thinking about Ward at all, at least not yet.
"I am only thinking about [Perdomo]," Kessler said. "I am taking one step at a time. Of course, there is a risk in taking this fight before the Super Six, but I am not the kind of guy who is avoiding risks. I am confident of success against Perdomo. There is a lot of pressure on me, especially with the Super Six tournament coming up, but I love pressure."
Ward has a slightly different view. He said he's prepared for Pudwill but can't help looking ahead.
"I'm juggling Pudwill and Kessler," said Ward, who estimated that the split of his thinking is 70 percent on Pudwill and 30 percent on Kessler. "Kessler is on my mind every single day and winning the title. I also want to look good and make a statement going into the tournament. I'm looking ahead to the point where I understand Pudwill is next and I have to win to get to the next fight."
Not necessarily, according to Hershman.
"There are no plans to eliminate either guy from the tournament based on what happens on Saturday night," Hershman said. "You have to play the odds that they will both come through successfully. If there is an injury that delays the November fight, that's what we'll do. If it jeopardizes someone's ability to participate, we would go to our replacement mechanisms."
Hershman admitted it was a bit of a gamble for both guys to fight right before their fight, but didn't sound too worried about one of them losing or getting hurt.
"We have no plans now to dump someone now because of a loss, but my guess is that this conversation is moot," he said.
When the tournament was being put together, Hershman agreed to allow Kessler to fight before it began because he had been idle for so long and Kessler didn't want to be stripped of his belt for failing to make the mandatory defense.
"In fairness to Mikkel, he's been out of the ring going on a year and was not comfortable going into the tourney cold, and he wanted to keep the WBA title, which we endorsed," Hershman said. "That trickled down to Ward, who wanted to keep pace. We agreed to it. It's not without risk, but we felt it was fairly calculated."
With Kessler fighting, Ward's promoter, Dan Goossen, also wanted a tune-up for his fighter, even though Ward fought in May and scored the best win of his career, a dominant decision against Edison Miranda.
"We know strange things can happen and that we could look foolish doing what we are doing, but the way we looked at it, Kessler was in the same position. We felt if Kessler was going to fight and take the risk, so was Andre. You're always in the position of being second-guessed, but if everything comes out the way you hope, you've given your fighter equal footing with Kessler going into the Nov. 21 fight."
Said Ward, "It's a bit risky, to be honest, but we're in a risky sport. Ideally, you'd sit until November. But Kessler's been off. I don't want him to get a tune-up and me have to sit around. He's going to fight, so let's go for it. It's great promotion for our fight. There's risk involved, but I think everything will work out. If you pull it off, you're a genius. If you don't, you're an idiot."
Sonsona bursts on scene
The Philippines' Marvin Sonsona (14-0, 12 KOs), who won an exciting decision against Jose "Carita" Lopez to claim a junior bantamweight belt at age 19 last week, will make his first defense Nov. 21 against an opponent to be determined. The fight will take place at Casino Rama in Rama, Ontario, the site of his title win, co-promoter Sampson Lewkowicz told ESPN.com.
Ontario's Steve Molitor, a former junior featherweight titleholder who won on the undercard, also is expected to be on the card.
For Lewkowicz, Sonsona's victory was the culmination of his belief in the fighter.
"This kid was something special. The first time I saw him, [it was] like it was the first time I saw Manny Pacquiao," said Lewkowicz, who was responsible for bringing Pacquiao to the U.S. in 2001. "Nobody believed in Pacquiao back then, but I did. This is exactly the same case. I am very, very proud of this kid."
Lewkowicz, who is looking for an American television network to show interest in Sonsona, quashed talk of a showdown between Sonsona and Nonito Donaire, a former flyweight titlist and recent winner of an interim junior bantamweight belt.
"Sonsona will be fighting but not against Donaire," Lewkowicz said. "I will never put two Filipinos against each other for a world title. I will never allow any of my Filipino fighters to fight another Filipino champion. I love the Philippines too much to take away one of their champions. Even for money, I won't do it. Money will not talk."
Lewkowicz said he was open to an eventual fight with recognized division champion Vic Darchinyan, but not right away.
"The money would not be there right now, and he's coming off a loss [at bantamweight]," Lewkowicz said. "Maybe in the future if Sonsona continues winning. He will be a busy champion."
Calderon ready for Mayol rematch
Junior flyweight champ Ivan "Iron Boy" Calderon (32-0-1, 6 KOs) and Rodel Mayol (25-3-1, 19 KOs) of the Philippines are set for a rematch Saturday night (Integrated Sports pay-per-view, 9 ET, $29.95) in San Juan, Puerto Rico, Calderon's home.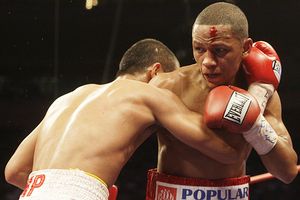 AP Photo/Stephen Chernin
Take two: An ugly cut forced an early stoppage in Ivan Calderon's first fight with Rodel Mayol.
They fought to a bloody six-round technical draw in New York in June when Calderon was badly cut from an accidental head butt and couldn't continue. Calderon, one of the most technically gifted boxers of this era, had some trouble with Mayol but wants to take care of him and move on to bigger bouts.
"The fight at the time of the stoppage was very tight," Calderon said. "The fight was my first in Madison Square Garden, and I felt pressure to look good and put on a good performance. Mayol has fast hands. He came to box, not to try for a knockout like everybody else. He's one of the best fighters in the world right now in the 108-pound division. Fans can always expect from me to hit and not be hit. I am the best pure boxer in the business, and I need to do that to win this fight. I want to unify my title with the other champions -- Edgar Sosa, Brian Viloria and Giovanni Segura -- and then try and move up to 112 pounds to become world champion in three divisions and retire undefeated."
In another title bout on the four-fight telecast, junior lightweight beltholder Roman Martinez (22-0-1, 13 KOs) of Puerto Rico makes his first defense against Colombia's Feider Viloria (22-4-2, 15 KOs), a last-minute replacement for Argentina's Vicente Martin Rodriguez, who bowed out because of visa issues.
Dan Rafael is the boxing writer for ESPN.com.
QUICK HITS

Jones
• Roy Jones (54-5, 40 KOs) and Australia's Danny Green (27-3, 24 KOs) have come to terms for a cruiserweight bout Dec. 2 at the Acer Arena in Sydney, John Wirt, CEO of Jones' Square Ring promotion, told ESPN.com. "The fight is agreed to. We're just waiting for the signatures. Roy has been traveling. The terms have been agreed to," Wirt said. The fight is supposed to be officially announced Wednesday, Wirt said. Jones and Green each won fights on the same card on Aug. 15 in anticipation of their fight being finalized. Jones will move up to cruiserweight to light heavyweight with an eye on Green's minor title.

Ortiz
• Two of manager Shelly Finkel's prized prospects, heavyweight Deontay Wilder (7-0, 7 KOs) and junior welterweight Victor Ortiz (24-2-1, 19 KOs), are recovering from injuries but expected back in action before the end of the year, Finkel told ESPN.com. Wilder, a 2008 U.S. Olympic bronze medalist, broke the pinkie and ring finger on his right hand during a first-round knockout of Travis Allen on ESPN2 on Aug. 14. "Deontay is fine and should be back in the gym at the end of the month," Finkel said. Ortiz suffered a right wrist injury and underwent tendon surgery after his sixth-round loss to Marcos Maidana on June 27, a fight of the year candidate in which Ortiz surrendered. "Victor will be able to fight by the end of the year," Finkel said.

Maidana
• Three more potential opponents have emerged for a proposed Nov. 28 HBO opening bout involving interim junior welterweight titlist Marcos Maidana. Golden Boy and Top Rank have discussed ex-titleholder Kendall Holt, but another Top Rank fighter, Anthony Peterson, is also in the mix. The Peterson camp requested tapes of Maidana to take a look at him. There also has been discussion of a match with titleholder Devon Alexander, who stopped ex-titlist Junior Witter in eight rounds Aug. 1 to win a vacant belt. Kevin Cunningham, who trains and manages Alexander, really wants the fight. "We would love to give Maidana a shot at the title," he said. "We want the fight, HBO wants the fight, so why isn't [promoter Don King] getting off his ass to make the fight? It's the kind of exposure a young champion like Devon needs. Don should step out of the way and let Devon get on HBO and do his thing with another young, up-and-coming guy like Maidana. He had a huge win over Ortiz, and Devon had a huge win over Witter. Don should step back and let his star shine." Another possibility is former lightweight titlist Nate Campbell, who is also with King. HBO has approved all four fighters for Maidana. One issue that could knock Maidana off the show, however, is a battle over his TV rights in Argentina, according to Maidana co-promoter Golden Boy. Maidana has been fighting on a network there that wants to continue showing his fights, but HBO wants the rights to the bout for its South American arm, which is available in Argentina.

Salita
• After much confusion over who would get the first shot at junior welterweight titlist Amir Khan -- longtime mandatory challenger Dmitriy Salita or interim beltholder Maidana it appears as though Salita is first up. John Wirt, CEO of Salita promoter Square Ring, told ESPN.com he was negotiating the fight with Khan promoter Frank Warren for Dec. 5. Part of the WBA's ruling is that the winner of Khan-Salita must face Maidana within 90 days.

Spinks
• Junior middleweight titlist Cory Spinks (37-5, 11 KOs) is scheduled to return Oct. 31, trainer Kevin Cunningham told ESPN.com. Cunningham said promoter Don King told him Spinks would go on the untelevised portion of the Joseph Agbeko-Yonnhy Perez bantamweight title main event on Showtime. One of the possible opponents King mentioned to Cunningham was James De La Rosa (19-0, 12 KOs), whom King recently signed over the objection of promoter Dino Duva, who says he still has a contract with him.

Peterson
• Promoter Gary Shaw, who won a purse bid for the Tim Bradley-Lamont Peterson fight last week with a $575,000 offer and made a deal with Showtime to air the fight Dec. 5, plans to stage the card at the Agua Caliente resort in Rancho Mirage, Calif., which neighbors Bradley's hometown of Palm Springs. However, Bradley hasn't committed to the bout yet, Shaw and Bradley co-manager Cameron Dunkin told ESPN.com. The WBO's rules say Bradley would get only 40 percent of the bid because Peterson would fight in Bradley's home area. Shaw said the WBO has amended the purse split to 50-50, but the Bradley camp believes it's still entitled to a larger share based on other language in the murky rules. Bradley is deciding what he wants to do, Shaw and Dunkin said.

Darchinyan
• Showtime's Ken Hershman said he believed the Bradley-Peterson issue would be resolved, but whatever happens, there will be a card Dec. 5. Junior bantamweight champ Vic Darchinyan is on the show, and Shaw is trying to wrap up a deal for his mandatory defense against interim beltholder Tomas Rojas. Hershman said another possibility for a card (which might become a tripleheader) is same-day taped coverage from Germany of the fight between cruiserweight titlist Marco Huck and interim titlist Ola Afolabi. "It's a question of economics and how we can make it fit into the show, but it has the potential to be a very entertaining fight," Hershman said. If Bradley-Peterson falls apart, Hershman and Shaw said another fight that could wind up on the show is Joan Guzman-Ali Funeka. They're due to meet for a vacant lightweight belt, and Shaw co-promotes Funeka. A purse bid is scheduled for Tuesday.

Guerrero
• Junior lightweight titlist Robert Guerrero (25-1-1, 17 KOs), who dazzled in outpointing Malcolm Klassen to win a title Aug. 22, wants to unify with Roman Martinez if Martinez retains his title Saturday night. "Bring it," Guerrero said. "If Martinez gets past his next opponent, I would love to fight him. He is a worthy champion that says he never refuses to fight anyone, anywhere. Well, if that is the case, then let's do this. A unification bout between Martinez and me is great for our sport, and the fans deserve these types of fights." Guerrero, a Mexican-American, also played up the storied rivalry between Mexican and Puerto Rican fighters. "Being that I'm Mexican-American, a fight against Martinez brings two cultures together for a fabulous night of boxing. He says nobody can stop him. We'll see if he can handle the heat that's going to be coming from my fists. If he steps in the ring with me, he'll find out real quick that he's in a battle. I hope this fight happens."

Banks
• Although HBO will televise only one live fight on Sept. 26, when Vitali Klitschko defends his heavyweight title against Cristobal Arreola at the Staples Center in Los Angeles, a pair of heavyweight bouts have been added to the undercard. Belarus native Alexander Ustinov (17-0, 14 KOs), who is promoted by Klitschko's K2, faces Cedric Boswell (31-1, 24 KOs) in a 12-rounder. Also, former cruiserweight title challenger Johnathon Banks (21-1, 15 KOs) looks for his second win at heavyweight since his eighth-round knockout loss to cruiserweight champ Tomasz Adamek in February. Banks, of Detroit, faces Javier Mora (22-4, 18 KOs) of Anaheim, Calif., in a 10-rounder.

Chagaev
• Former heavyweight titleholder Ruslan Chagaev (25-1-1, 17 KOs), who took a beating from champion Wladimir Klitschko before retiring moments into the 10th round June 20, plans to return early next year, according to promoter Universum. When he does, he'll have a new trainer in his corner in Magomed Schaburow. He replaces Michael Timm, who had trained Chagaev since 2003. "I've had a difficult time with my Achilles tendon injury, the cancellation of the fight [against Nikolai Valuev] in Helsinki and the defeat in Schalke, [Germany]," Chagaev said. "Now I'm looking for new impulses in training. I hope for that from Magomed Schaburow. "I owe Michael Timm for the great teamwork. In football, a team change often helps a player progress further. I'm curious." Said Schaburow, who also trains former super middleweight titlist Denis Inkin, "This is very a very big challenge for me. Ruslan is only 30 years old. He still has many good years ahead at heavyweight. I'm looking forward to making this time with him as successful as possible."

Harris
• Former junior welterweight titlist Vivian Harris, who suffered a brutal head butt and collapsed in a second-round no contest against Noe Bolanos in the Aug. 14 main event on "Friday Night Fights," said he has been medically cleared to resume training. Harris, 31, who was in his first bout since signing with Golden Boy, was taken to the hospital as a precaution and released later that night. He said he later visited his neurologist as a further precaution. "I'm OK. All the tests came back negative," Harris said. "My health is my No. 1 concern, so I made sure I took all the necessary medical precautions before I resume fighting. Unfortunately, these types of things happen, but I'm back in the gym, and I look forward to fighting again before the end of the year."
QUOTABLE

Arreola
"I guarantee that it's going to be an exciting fight, and I guarantee that I'm going to come out with the world title." -- Cristobal Arreola, who challenges heavyweight titleholder Vitali Klitschko on Sept. 26 (HBO) at the Staples Center in Los Angeles