Manny Pacquiao vs Antonio Margarito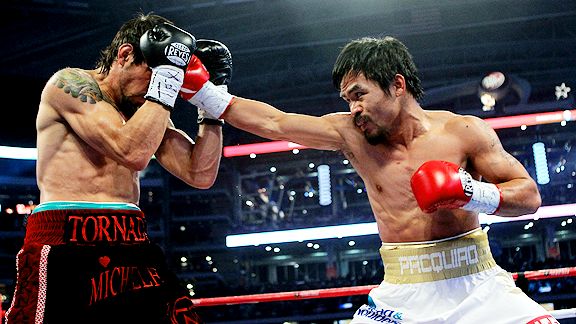 Manny Pacquiao defeated Antonio Margarito by unanimous decision to win the vacant World Boxing Council super welterweight title Nov. 13 at Cowboys Stadium in Arlington, Texas. The bout was at a 150-pound catch weight, but Pacquiao earned the 154-pound title -- giving him a title belt in a record eighth division and improving his record to 52-3-2 (with 38 knockouts). Margarito, who was banned from fighting in several states after being caught using illegal hand wraps after a 2009 bout, saw his record drop to 38-7-0.
The Pacquiao-Margarito fight was scheduled after a bout between Pacquiao and Floyd Mayweather Jr. failed to materialize earlier in the year. The two initially agreed to a matchup in March, yet Mayweather insisted on Olympic-style drug testing, including blood tests, leading right up to the fight. The Pacquiao camp would agree to blood testing only if there was a cutoff date of at least a week before the fight. The negotiations broke down, and Mayweather moved on to fight Shane Mosley while Pacquiao fought Joshua Clottey.
The Mayweather and Pacquiao camps tried again to set up a fight, with Mayweather's side again insisting on Olympic-style drug testing. Pacquiao publicly agreed to the testing and an even split of the prize money. Promoter Bob Arum and Pacquiao's camp set a July 16 deadline for Mayweather to agree to the fight, but Mayweather let the deadline pass with no comment. Later, one of Mayweather's advisers said no negotiations had ever taken place while Mayweather himself said he had fought two months prior and wasn't interested in rushing into another fight.
While uncertainty over a potential Mayweather fight has marked Pacquiao's year, 2010 also has proved controversial for Margarito. In January, the Mexican-American boxer had his boxing license revoked in California (for one year) after the state's athletic commission determined he had used illegal hand wraps during a 2009 fight with Shane Mosley. The hand wraps -- seized by the commission following the fight after Mosley's trainer had noticed a white substance on them -- were found to contain sulfur and calcium, which, when combined with oxygen, will harden and form plaster of paris.
With the suspension of Margarito's license upheld in other states, he scheduled a fight in Mexico (in May), defeating Roberto Garcia to claim the WBC International light middleweight title. After being denied in his attempt to become licensed in California again in August (after his one-year revocation period had expired), Margarito had his license request approved by the state of Texas in September, paving the way for the November matchup with Pacquaio.
The day before the fight at the official weigh-in, Antonio Margarito weighed in at exactly the 150-pound catch weight for the fight, while Pacquiao weighed an official 144.6 pounds. By the time they arrived at Cowboys Stadium the next day, Pacquaio had gone up only to 148 pounds, while Margarito had re-hydrated all the way up to 165, giving him an unofficial 17-pound weight advantage in the ring.
Controvery erupted before the fighters even entered the ring. Both fighters had representatives watching the other's hand-wrapping process, and neither went smootly. Pacquiao's team spotted the weight-loss supplement Hydroxycut in Margarito's dressing room, and also observed him with a cup of coffee (the fight contract called for the fighters to drink nothing but water from the weigh-in to the fight). Pacquiao's trainer, Freddie Roach, wanted Margarito to take a pre-fight drug test, with Hydroxycut being an Ephedra-based supplement. Roach was concerned that the banned substance would be out of Margarito's system by the time they took a post-fight drug test. Texas officials, though, said the testing would be done after the fight as usual.
In Pacquiao's dressing room, the controversy was over pre-rolled tape that was used in his hand wraps. Margarito's representatives said that because the tape was pre-wrapped, they hadn't been able to observe the entire process as called for by the contract. Rather than make Pacquiao re-wrap, Texas officials allowed Margarito's camp to observe Pacquiao's camp making one of the tape rolls, and approved Pacquiao's wraps.
Once the fighters got in the ring, all the controversy was quickly forgotten, as Pacquiao used his speed to dominate the bigger Margarito. Pacquiao landed some big left hands early, cutting Margarito beneath the right eye and causing it to swell. By the middle of the fight he couldn't see out of that eye and his left eye began closing, too. Margarito showed flashes of potential in the middle rounds, but every time he got close Pacquiao would land a four- or five-punch combination that snapped his head back and stopped him in his tracks.
Ringside punch stats reflected Pacquiao's dominance, showing him landing 474 punches to 229 for Margarito. The beating was so thorough that Pacquiao turned to referee Laurence Cole several times in the 11th round, imploring him to stop the fight. It went on, though, even though Margarito had no chance to win.
Pacquiao won every round on one scorecard, 120-108, and was ahead 119-109 and 118-110 on the other two. The Associated Press had it a 120-108 shutout. Pacquiao earned a guaranteed $15 million, though he is likely to make millions more on his cut of the television revenues. After the fight, Margarito had to be taken to the hospital, where he was diagnosed with a fractured orbital bone.
TOP STORY
Pacquiao Pummels Margarito
Size didn't matter in Big D, as Manny Pacquiao's speed and power were too much for Antonio Margarito in Saturday's WBC title bout. Story »
FIGHTER PROFILES

Manny Pacquiao
Manny Pacquiao is the reigning World Boxing Organization (WBO) welterweight world champion and the IBO junior welterweight champion. Full Profile »

Antonio Margarito
Antonio Margarito is a former World Boxing Association welterweight champion. He enjoyed a successful pro career throughout most of the 2000s. Full Profile »
TALE OF THE TAPE
Pacquiao vs. Margarito - Nov. 13, 2010
| Manny Pacquiao | | Antonio Margarito |
| --- | --- | --- |
| Philippines | From | Mexico |
| 51-3-2 (38 KO) | Record | 38-6-0 (27 KO) |
| 31 | Age | 32 |
| 144.6 | Weight | 150 |
| 5-6½ | Height | 5-11 |
| 67 inches | Reach | 73 inches |