Discussion
Ronaldo is the world's best player
Consistency, clutch play, complete attacking game separate Portuguese star
There are always going to be a number of factors when making a declaration on the world's best player. The standard measurements of individual performance, team success and ability to make teammates better typically fluctuate in importance, and that fluctuation is often a result of the most recent performances of the elite players in contention for such an honor.
Cristiano Ronaldo is the reigning Ballon d'Or winner, and after recently winning the UEFA Champions League with Real Madrid, his sights are set on proving himself at this summer's World Cup. There is still much to prove, as many believe that Barcelona star Lionel Messi is the world's best player and point to his four Ballon d'Or trophies compared with Ronaldo's two as proof. (In fact, in Wednesday's unveiling of the top three players in ESPNFC's #WorldCupRank, Ronaldo finished second behind Messi, with Andres Iniesta third and Luis Suarez fourth.)
While individual awards partially present a valid argument, I believe that Ronaldo is the best player in the world, based not only on his technical ability, but also because of his track record of success on the biggest stages, his adaptability and utter dominance as an attacking player, and his sustained success across teams, leagues and systems.
Performance in clutch situations
The best player in the world has to show up on big occasions, and over the past year, no player has done that as well as Ronaldo. The attacker's tournament-record 17 goals in the 2013-14 Champions League are evidence that he is not afraid of performing in big games, but more important is the fact that he scored the majority of his domestic goals this season when Real Madrid was either tied or losing by a goal.
To read the full piece on why Cristiano Ronaldo is the world's top player, become an ESPN Insider.
Insider
Soccer on ESPN Insider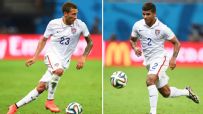 Adrian Melville weighs in on the best position fits for five key U.S. players whose roles are in flux, including Michael Bradley and DeAndre Yedlin.