Discussion
Three keys to beating Portugal
Limiting Johnson's defensive duties, developing wide attack crucial for U.S.
After securing a crucial three points against Ghana, the United States is in prime position to advance into the second round of the World Cup with a win or draw against Portugal on Sunday. Of course, this is easier said than done, as the 4-0 loss that Portugal suffered against Germany in its opening match means that the talented team is in a virtual must-win situation against the U.S.
Portugal and Ghana create different challenges for their opponents, and while the U.S. used a pre-World Cup friendly against Nigeria to prepare for Ghana, manager Jurgen Klinsmann has stressed that "you can't imitate Portugal, because there is no second Cristiano Ronaldo out there."
At the same time, the U.S. must also cope with the loss of striker Jozy Altidore, and in addition to keeping Ronaldo from establishing momentum in the attack, Klinsmann will need to make tactical adjustments to deal with Altidore's absence in the U.S. attack.
Here are the keys to the United States successfully handling both of these elements, while also doing enough in other critical areas of the field in order to earn a positive result versus Portugal.
Limit Fabian Johnson's defensive duties
There is a lingering question regarding how to stop Ronaldo, and it is clear the U.S. will need to focus on avoiding situations where Ronaldo can generate enough momentum to run at the team's back line. This defensive posture is especially important on the right side of the U.S. defense, as throughout World Cup qualifying Ronaldo exhibited a higher scoring proficiency in games where he was able to run at defenders and establish himself on the left side of Portugal's attack.
Ronaldo recorded 17 take-ons in the four qualifying games in which he scored (eight total goals), compared to 26 take-ons in the six games he did not score. However, the location of his take-ons in games where he scored implies that getting comfortable on the wing and taking on defenders gives him the confidence necessary to create space and finish scoring opportunities.
To read Adrian Melville's full analysis on the keys to beating Portugal along with his match outlook, and to gain access to all of Insider's World Cup content, become an ESPN Insider.
Insider
Soccer on ESPN Insider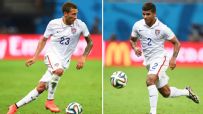 Adrian Melville weighs in on the best position fits for five key U.S. players whose roles are in flux, including Michael Bradley and DeAndre Yedlin.