Discussion
Stop blaming Michael Bradley
He's had bad moments, but Bradley is doing more than his share for the U.S.
Two days after a thrilling 2-2 draw against Portugal, much of the attention toward the United States team is still focused on Michael Bradley. The central midfielder was a lightning rod for criticism after making a couple of critical mistakes in the second half, including a turnover in the waning seconds that led to Portugal's game-tying goal. Was Bradley to blame?
While the mistakes Bradley made were clear, there is also plenty of circumstantial evidence to show that he was not the reason that game got away from the U.S. (a point my colleague Jeff Carlisle illustrated in this piece). In fact, the shot attempt that Bradley had blocked off the goal line was arguably his most egregious error, yet that was quickly rectified nine minutes later when Jermaine Jones tied the game at 1-1. In the error many are focused on -- Bradley getting dispossessed 65 yards away from his goal in the final seconds -- the U.S. had a number of players back, and three defenders in the penalty area when Silvestre Varela snuck past to head in a beautiful cross from Cristiano Ronaldo for the game-tying goal.
While the game against Portugal felt like a loss for the U.S., there is no way the result can be attributed to one player. In fact, although Bradley is yet to play his best in this tournament, there are still plenty of positives to take away from his performance so far, and there are some notable reasons Bradley isn't to blame for the U.S. still being one result away from advancing to the knockout stage.
Navigating a crowded midfield
Some argue that Bradley's underwhelming play in this World Cup is a result of him playing out of position. While this argument is true (and I subscribe to it myself), it appears that a bigger circumstance of Bradley's play is that the U.S. midfield is so crowded that he essentially has to adapt his game to the rest of his teammates in order for the group to succeed.
For example, most will agree that the U.S. did a great job of getting forward up the right side of the field against Portugal. This had to do with the combination of Ronaldo's lack of defending, along with the injury loss of Real Madrid defender Fabio Coentrao in behind Ronaldo to provide support.
To read Adrian Melville's full analysis on why U.S. fans shouldn't blame Michael Bradley, and to gain access to all of Insider's World Cup content, become an ESPN Insider.
Insider
Soccer on ESPN Insider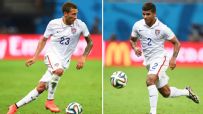 Adrian Melville weighs in on the best position fits for five key U.S. players whose roles are in flux, including Michael Bradley and DeAndre Yedlin.