Discussion
The Altidore domino effect
The U.S. attack has stalled in Jozy's absence. Is he worth playing if not fully fit?
The United States advanced to the round of 16 of the World Cup on Thursday despite a 1-0 loss to Germany in the final game of the group stage. However, while Germany rolls on as the Group G winner and a favorite to win the tournament, the U.S. must cope with the fact it managed only four shot attempts in the game, with none of them being on target.
This is perhaps a symptom of the absence of striker Jozy Altidore, who has been relegated to cheerleading duties after an unfortunate hamstring injury suffered in the opening game. Altidore's absence has created a domino effect through the entire U.S. attack, and, as a result, manager Jurgen Klinsmann will need to decide early next week if even a partially healthy Altidore would improve the team's chances of getting by Belgium to advance past the round of 16.
Here is a look at how Altidore's absence has affected the U.S. attack -- in particular Clint Dempsey and Michael Bradley -- and what his possible return would mean for the Americans' chances of advancing.
Effect on Clint Dempsey
One of the areas in which Altidore was beginning to become a more versatile asset to the U.S. involved his attacking runs into wide areas. This was something that began to improve in the team's pre-World Cup friendlies and was even evident against Ghana during the play on which he injured his hamstring near the sideline in the opponent's attacking half.
Throughout World Cup qualifying, Altidore played as the target striker in Klinsmann's 4-2-3-1 formation. Similar to his time at Sunderland, Altidore spent much of that time parked in between the opposing central defenders and found himself expending a lot of energy battling for touches and waiting for good service from the creative attacking players behind him.
To read Adrian Melville's full analysis on how Jozy Altidore's absence has affected the U.S. attack, and what his potential return could mean for the Americans, become an ESPN Insider.
Insider
Soccer on ESPN Insider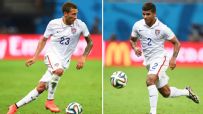 Adrian Melville weighs in on the best position fits for five key U.S. players whose roles are in flux, including Michael Bradley and DeAndre Yedlin.