Discussion
Ranking round of 16 teams
Brazil tops rank of remaining teams at the World Cup. Where does U.S. land?
The 2014 World Cup now comes down to 16 teams, and the games are guaranteed to provide even more intensity in a single-elimination format. The diverse group of remaining teams consists of established nations that have a track record of success in previous World Cups, along with some surprise inclusions that are playing with a lot of confidence coming out of the group stage.
Spain, Italy and England are all out, but surging sleepers such as Costa Rica and Mexico are carrying a lot of momentum into the knockout round. Based on group-play performance and individual talent, here is my ranking of the top 16 teams remaining in the tournament.
1. Brazil
The host nation entered the tournament as the favorite, and so far it has done nothing to make the general population worried about that title. Brazil is also playing the attacking brand of soccer many expected and is as capable of creating dangerous chances from a slow, patient buildup as it is an aggressive, counterattacking situation. Most importantly, Neymar has lived up to expectations so far and not only is tied for the tournament lead with four goals but also has put eight of his team-high 11 shot attempts on target. Neymar's central positioning in Brazil's midfield means he has total control over Brazil's attack, and his ability to lead the team in the later rounds could put him on another level in his placement among the world's best players.
2. Argentina
Similar to Brazil, Argentina has a game-changing player in Lionel Messi, and his timely goals for Argentina in this tournament compared with his previous World Cup appearances could be a sign of his impact in the later rounds (see heat maps below).
To read Adrian Melville's full piece ranking the remaining World Cup teams, become an ESPN Insider.
Insider
Soccer on ESPN Insider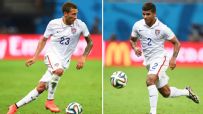 Adrian Melville weighs in on the best position fits for five key U.S. players whose roles are in flux, including Michael Bradley and DeAndre Yedlin.