Discussion
Baseline Buzz: Federer's best chance
After two-year Grand Slam drought, all signs pointing toward Swiss to win again
LONDON -- Tennis is a delicate balance of heart and head.
You can't be a professional, never mind a multi-Slam winner, without some serious fortitude coming from somewhere deep inside.
Fortunately for Novak Djokovic, he is a living, breathing example of both. And that's a good thing, given that he's navigated his way to the Wimbledon final playing with anything but his A-game.
Take for instance the Serb's last match, a queasy 3-hour, 2-minute slip-fest against Grigor ...

Read full story
2014 WIMBLEDON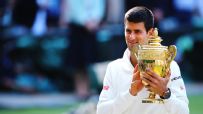 In a magnificent display of shot-making, Novak Djokovic outlasted Roger Federer to win his second Wimbledon title. Greg Garber »
VIDEO