Discussion
Barcelona is now Europe's best
Why the Luis Suarez signing makes Barca the top team on the continent
Luis Suarez's agreed-upon five-year deal to move from Liverpool to Barcelona signifies yet another shift in power across the European football landscape, as Barcelona should now be considered the most dominant club on the continent.
Suarez's talent is obvious, and the striker was convincingly crowned the Professional Footballers' Association (PFA) Player of the Year after scoring 31 goals and guiding Liverpool to a second-place finish in the 2013-14 Premier League. Now he will team with arguably the best player in the world in Lionel Messi, along with the most promising player in the world in Neymar, to form one of the most fearsome attacking trios the game has seen in a long time.
Here is a look at why the team is now favored to repeat its treble season of 2008-09, and how Suarez will fit in with Neymar and Messi.
A formidable attack
Towards the end of the 2013-14 season, I noted that while Barcelona appeared to be doing everything right in the attacking third -- including averaging more shots and being more aggressive dribbling at defenders -- the team was not producing the way it should have.
The team's uncharacteristic domestic stumbles toward the end of the season led to an open debate among the football community about the effectiveness of the tiki-taka style, and Spain's early exit from the World Cup only emboldened critics of the possession-based philosophy.
While new Barcelona manager (and former Barcelona midfielder) Luis Enrique looks to tweak the team's principles in ball movement and attacking runs, the addition of Suarez will make his life much easier, because the skill sets of Messi, Neymar and Suarez look to complement each other well (as the heat maps below show).
To read the rest of the piece about why Barcelona is now Europe's best team after the Luis Suarez signing, and for all of Insider's World Cup content, you must be an ESPN Insider.
Insider
Soccer on ESPN Insider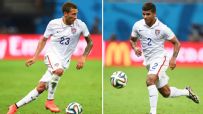 Adrian Melville weighs in on the best position fits for five key U.S. players whose roles are in flux, including Michael Bradley and DeAndre Yedlin.