Discussion
Fits for top transfer candidates
Javier Hernandez to Inter Milan among eight moves that make sense
The transfer market has been lively since the World Cup ended, and the moves that have already been made, such as Barcelona's acquisition of Luis Suarez, will have a significant impact on the 2014-15 European season.
At the same time, there are still a number of top players looking to make a move that enhances their individual career trajectory. For certain players, that means moving away from a club that has a logjam of players at a specific position, while for others that means making a move in response to new arrivals at their current club.
Here are eight potential transfers involving high-level players that I think should happen in the August window based on fit for both player and club. Some of these transfers have been rumored or are close to being finalized, while others are purely my suggestion.
---
Arturo Vidal | Age: 27| Position: midfield
From: Juventus (Serie A)
To: Manchester United (Premier League)
Vidal recently pledged his loyalty to Juventus and refuted any moves to Manchester, but the sudden departure of Juventus manager Antonio Conte is an indication that the club will not be a major buyer in the transfer market, and entering the prime of his career it would be wise for Vidal to leave as well. The Chilean star did not have a great World Cup -- perhaps because of a knee injury going into the tournament -- but he remains one of the best box-to-box midfielders in the world because of his ability to maintain a defensive central presence while also recognizing numerical advantages in the attack and getting forward to create chances at the right moments.
Vidal's attributes would make him invaluable in United manager Louis van Gaal's 3-5-2 formation, and the fact that he could either play as a defensive anchor for the other two attacking central midfielders or as an attacking central midfielder himself would give the manager multiple options based on the surrounding personnel. His arrival would likely diminish the role of Michael Carrick, who was United's most consistent midfield performer last season, but when compared side-by-side it is clear why the team is so intent on bringing Vidal to Manchester.
To read Adrian Melville's full list of high-profile transfer fits, sign up for Insider today.
Insider
Soccer on ESPN Insider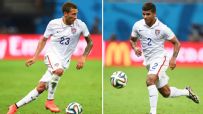 Adrian Melville weighs in on the best position fits for five key U.S. players whose roles are in flux, including Michael Bradley and DeAndre Yedlin.