Discussion
Julian Green should stay at Bayern
Why going out on loan could stunt the USMNT phenom's development
HARRISON, N.J. -- The United States surprised many with their burgeoning crop of talent at the 2014 World Cup, and the team's advancement to the round of 16 stirred up interest in previously unheralded prospects like DeAndre Yedlin and Matt Besler.
At the same time, the most prominent U.S. prospect from the World Cup was Julian Green, who played just 16 minutes but left American fans with high hopes for the future after scoring a technically proficient goal against Belgium in the round of 16.
As Green resumes play with club team Bayern Munich -- which defeated Chivas Guadalajara 1-0 in a friendly Thursday with Green sidelined with a minor knee injury -- there is a growing debate about whether he should be loaned out to another club to see if he can earn more playing time with a club that is not as front-loaded with talent as Bayern.
While a loan deal might benefit in the short term as far as forcing Green to mature quickly as a player and potentially establish a leadership role, it's clear after speaking with Bayern staff, Green and others close to the situation that his best move development-wise is to stick with a Bayern club that already thinks highly of him.
Here's a look at some key reasons why Green should stay with Bayern Munich instead of going out on loan to another club.
A new club could change Green's trajectory
To read Adrian Melville's full piece on why Julian Green shouldn't go out on loan, sign up for Insider today.
Insider
Soccer on ESPN Insider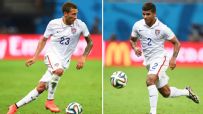 Adrian Melville weighs in on the best position fits for five key U.S. players whose roles are in flux, including Michael Bradley and DeAndre Yedlin.