Discussion
How United becomes a contender
Transfer additions and tactic, lineup adjustments that will aid Red Devils' rise
The lingering nightmare that was the 2013-14 Premier League season is finally coming to an end for Manchester United, and the start of the 2014-15 campaign represents new hope for a team that is looking to rebound from its worst domestic result since the 1990-91 season.
United has already made changes in response to its uncharacteristic seventh-place finish, the most notable being former Netherlands manager Louis van Gaal taking the reins as manager. Van Gaal has brought a new attitude and focus to United since joining the team this summer, and in addition to sending a clear message to players he deems no longer necessary at the club, the manager is continuing to adjust the team's tactical philosophy and the players' individual roles.
Can the Red Devils return to the top level of the table this season? Here are keys to United becoming a Premier League contender, including tactical adjustments, lineup modifications and potential transfer additions.
Become a dominant team in wide positions
The biggest adjustment that van Gaal plans to introduce at United is implementing a three-man back line (likely 3-5-2 formation), and he has spent the entire preseason looking for the right personnel to carry out the tactical duties all over the field.
Perhaps the most important positions that van Gaal needs to evaluate are the wide midfield positions.
To read all of Adrian Melville's keys to Man United becoming a Premier League contender this season, sign up for Insider today.
Insider
Soccer on ESPN Insider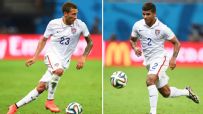 Adrian Melville weighs in on the best position fits for five key U.S. players whose roles are in flux, including Michael Bradley and DeAndre Yedlin.