Discussion
Robin van Persie's diverse range
The Arsenal striker is finding the back of the net in a variety of ways
Updated:
November 17, 2011, 1:33 PM ET
By
Albert Larcada
| ESPN Insider
Arsenal, winner of its previous four English Premier League matches, travels northeast on Saturday to face a surprise top half of the table Norwich squad (7:30 a.m., ESPN2 and WatchESPN). The Gunners have lost once in all competitions during the past two months, reviving a season that seemed destined for failure after an 8-2 thrashing at the hands of Manchester United in August. It took Arsenal some time to find its footing after a near complete revamp of its lineup. Of its top six players in terms of passes completed last EPL season (Bacary Sagna, Gael Clichy, Jack Wilshere, Alexandre Song, Samir Nasri and Cesc Fabregas), only Song remains in the top six this year.
The obvious upgrade for the Gunners recently is the stellar play of Dutch forward Robin van Persie. While his quality has never been questioned, van Persie's oft-injured status has rarely allowed him to be the focal point of Arsenal's attack over an extended period of time. That has changed in a big way this season. The newly appointed captain leads the Premier League with 11 goals, including the second-ever hat trick by an EPL opponent at Stamford Bridge.
Van Persie actually started this goal-scoring binge at the beginning of this calendar year. Since Jan. 1, van Persie has scored a league-high 29 goals, 10 more than any other player. In the big five European domestic leagues, only Cristiano Ronaldo has scored more during that time span.
To see why van Persie has been so lethal -- plus a look at why Swansea's possession edge won't matter against Manchester United -- become an ESPN Insider.
Insider
Insider Soccer Content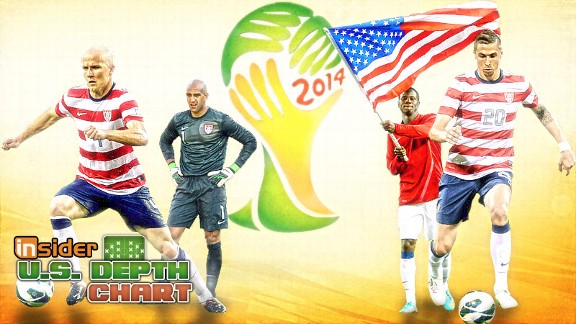 Latest content
Feb. 1:
USMNT: January transfer impact
Jan. 31:
USMNT: Shea's big chance at Stoke
Jan. 31:
El Tri: Youth report card from friendly
Jan. 30:
USMNT: How U.S. can fix its defense
Jan. 29:
El Tri: Who should be Mexico's keeper?
Jan. 28:
USMNT: Projecting U.S. WC lineup
Jan. 25:
USMNT: Josh Gatt's promising future
Jan. 24:
USMNT: Omar Gonzalez's big chance
Jan. 24:
El Tri: Carlos Vela's murky El Tri future
Jan. 23:
El Tri: Depth Chart 1.0
Jan. 23:
USMNT: Nick Rimando's important role
Jan. 22:
El Tri: Jorge Enriquez on Mexico future
Jan. 21:
Latham: Top 25 U.S. U-21 prospects
Jan. 21:
USMNT: Jozy Altidore on the rise
Jan. 18:
USMNT: Jones on his U.S. future
Jan. 17:
USMNT: Depth Chart 1.0
Jan. 17:
USMNT: Breakout players for 2013
Jan. 16:
USMNT: Where does Holden fit in?
Jan. 14:
USMNT: Hot List: Agudelo's big chance
Jan. 9:
USMNT: Can Wondolowski produce?
Jan. 8:
El Tri: WC chances for four veterans
Jan. 7:
USMNT: Stock watch
Jan. 6:
USMNT: Jan. camp surprises
Jan. 3:
El Tri: A wish list for 2013
Jan. 2:
USMNT: A wish list for 2013
Dec. 31:
USMNT: 2012 USMNT awards
Dec. 28:
USMNT: Top 5 moments of 2012
Dec. 27:
El Tri: Top moments of 2012
Dec. 26:
USMNT: Top transfer rumors
Dec. 21:
USMNT: Players who missed Top 25
Dec. 20:
El Tri: 2012 year-end awards
Dec. 19:
Top 25 American players
Dec. 19:
USMNT: Bradley is Yanks' best player
Dec. 18:
El Tri: Players who may transfer to Europe
Dec. 13:
Larcada: Projecting the UCL draw
Dec. 11:
El Tri: Top 25 U-21 prospects
Dec. 10:
USMNT: Young prospects on the rise
Dec. 5:
USMNT: Matt Besler's chances
Dec. 4:
El Tri: Players who struggled in Liga MX
Dec. 3:
USMNT: U-17s impressive in Nike Friendlies
Nov. 28:
USMNT: Would Aron Johannsson help?
Nov. 27:
El Tri: Standouts in Liga MX
Nov. 26:
USMNT: MLS' development problem
Nov. 21:
USMNT: Things to be thankful for
Nov. 20:
El Tri: Mexico's tough '13 schedule
Nov. 15:
El Tri: Brazil Board 2.0
Nov. 14:
USMNT: Russia friendly takeaways
Nov. 13:
El Tri: U-17s retain lofy status
Nov. 8:
Larcada: Ranking Europe's top teams
Nov. 6:
El Tri: High hopes for U-20s
Nov. 5:
USMNT: Qualifying challenges for U-20s
Oct. 30:
How would Mexico fare in CONMEBOL?
Oct. 29:
USMNT: Potential solutions at winger
Oct. 25:
Projecting U.S. 2014 World Cup roster
Oct. 24:
USMNT: Ranking CONCACAF Hex teams
Oct. 24:
El Tri: Mexico is top Hexagonal team
Oct. 23:
What USMNT looks like minus Donovan
ESSENTIAL LINKS